Mediterranean-Style Baked Lima Beans Gluten-Free & Vegan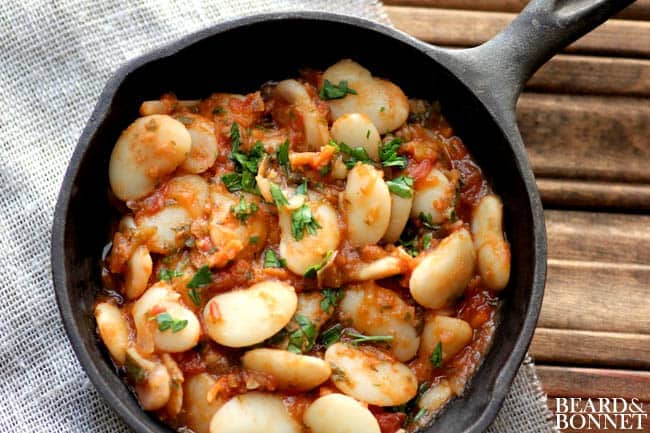 There is a massive cold front sweeping through our house and it has nothing to do with the weather! The past few days we have wanted nothing more than our pj's and comfort food, OK maybe a few reality TV shows to get our minds off of how incredibly puny we are. I thought that today I would share one of the most comforting bean dishes that you will ever come across. These aren't your average run of the mill Lima beans, these are kicked up a few notches with the addition of a rich velvety tomato sauce and just a hint of mint for a little Mediterranean flare. This Lima bean dish will change the mind of even the most avid Lima hater!
Mediterranean-Style Baked Lima Beans
adapted from Veganomicon
Serves 4-5
1/2 lb. dried, large lima beans
1 quart water
1 bay leaf
1 cup GF vegetable broth
1/8 cup olive oil
2 cloves of garlic, minced
1 small yellow onion, chopped very fine
1/2 cup shredded carrot
2 cups diced, crushed or strained tomatoes
1 tsp. red wine vinegar
1 Tbsp. tomato paste
1/2 Tbsp. agave nectar
1/2 Tbsp. dried oregano
1 tsp. dried thyme
1 tsp. salt
1/8 tsp. fresh ground nutmeg
Freshly ground coarse black pepper
1/4 cup fresh parsley, finely chopped
1 1/2 Tbsp. fresh mint, finely chopped
Sort through the dried lima beans and place in a large bowl, cover with water by at least 3-4 inches and soak for 8-12 hours. Check on them periodically as they absorb water and you may need to cover with more. As the beans are soaking the skins will appear cracked and shriveled, don't worry, this is normal.
When the beans have finished soaking drain and rinse them well then place in a large pot and cover with the quart of water. *If you need to add more water to cover the beans it's OK to do so. Add the bay leaf to the pot with the water and the beans then bring to a boil over high heat. Once the water boils, place a lid on the pot and reduce the heat to medium. Simmer the beans for about 20-30 minutes until the beans are tender but not fully cooked through. *In my experience I have found that the longer I soak the beans the shorter amount of time I have to cook them, keep a close eye on them when you get to 20 minutes so that they don't over cook during this process and turn to mush in the oven when you bake them. When the beans are done with the first cooking period skim off any foam that is on the top and drain the cooking liquid. Reserve the bay leaf with the beans.
Meanwhile, as the beans are cooking, preheat the oven to 375°F. Lightly rub olive oil on the inside walls of a 4 quart dutch oven. *You can use a casserole dish for baking if you do not have a dutch oven, but you will have to start the tomato sauce in a skillet on the stove. Place the 1/8 cup of olive oil and the minced garlic in the dutch oven and heat over medium heat until the garlic starts to sizzle. Add the onion and cook for about 3-4 minutes until translucent, stirring frequently. When onion is translucent add the shredded carrots and cook for another minute to soften. Then add the tomatoes, vegetable stock, red wine vinegar, tomato paste, agave, thyme, oregano, salt and freshly grated nutmeg. Bring this mixture to a boil stirring frequently, when it reaches the boiling point reduce the temperature to low and simmer for 10 minutes so that the sauce can reduce slightly and the flavors intensify. Taste and adjust seasoning by adding more salt and pepper then stir in the parsley and mint. Once all of this is combined, cut the heat off and add the lima beans and bay leaf stirring well making sure that all of the beans are happily coated in the tomato sauce.
Place a lid on the dish and bake the beans for 30 minutes, stirring occasionally. Taste the beans and if they are tender and creamy it is time to remove the lid and bake for an additional 10 minutes to reduce the sauce just a little bit more. Remove from the oven and discards the bay leaf. Allow the beans to cool for 10 minutes before serving.
My favorite way to serve this comforting dish is on top of a bed of saffron rice but I also really enjoy the beans piled high on a thick slice of buttered and toasted GF bread.
We are happy to have shared this post at the Gluten-Free Friday's link up party hosted by Vegetarian Mama, Eat.Live.Make, and Gluten Freed R.D.! Hop on over to find more great gf recipes.