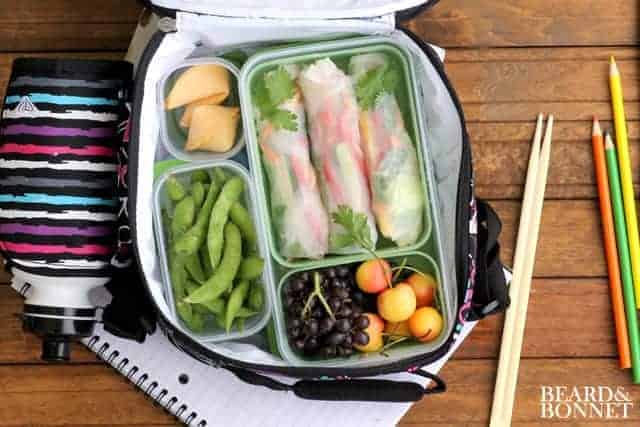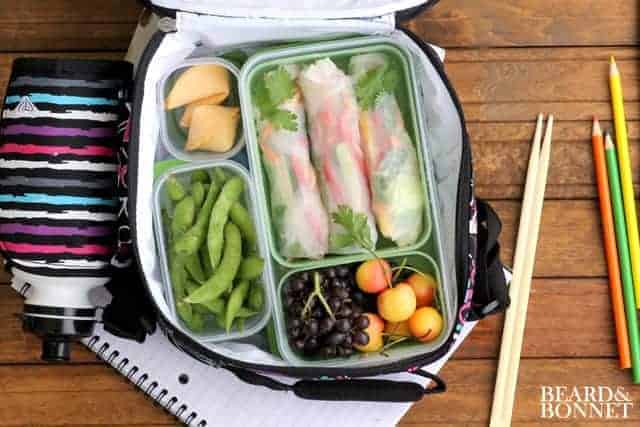 Gluten-free diet or not Eliza has never been one to take the standard PB & J with chips and cookies. She has always been an adventurous eater and loves to help plan her school lunches. She started brainstorming lunch for the first week of school about a month ago. Can you say future foodie? We found inspiration perusing Marla Meredith's Project Lunch Box over on her blog, Family Fresh Cooking, and by clicking through the Project Lunch Box board on Pinterest. Eventually, Eliza decided that she wanted to build an entire lunchbox around her new-found love for steamed edamame. This lunchbox is gluten and dairy free except for the fortune cookies which came with our dinner at PF Chang's a few nights ago. Did you know that they have a gluten-free menu? We order takeout from there now and I especially love the individual packets of gluten-free soy sauce that come with our meals. They are perfect for packing in lunches like this!
Eliza's Spring Rolls
1 red bell pepper, julienned
1 yellow bell pepper, julienned
1 Persian cucumber, julienned
1 handful of shredded carrots
¼ cup cilantro leaves, no stems
½ cup butter lettuce, torn into small pieces
If you have never worked with rice papers before I suggest that you click here for a great tutorial on how to use these fabulous gluten-free wrappers.
Prep all of the ingredients and set aside.
Working with 1 rice paper at a time dip the paper into a pie plate filled half way with water until the entire wrap is dampened. Lay flat on a cutting board for about 30 seconds so that the water can seep into the wrap and it becomes pliable and sticky. Place a small amount of all of the veggies into the middle of the rice wrap and roll like you would a burrito.
Roll as many of these little beauties as you need and store the rest of the prepped veggies for lunches later in the week.
Besides the steamed edamame sprinkled with sea salt and the spring rolls filled with veggies that mimic the colors of the rainbow we packed a handful of rainier cherries and champagne grapes. All of these fruits and veggies are sure to give her the energy boost she needs to make it through the second half of her day at school.
We are happy to have shared this post at the Gluten-Free Friday's link up party hosted by Vegetarian Mama, Eat.Live.Make, and Gluten Freed R.D.! Hop on over to find more great gf recipes.