I am officially a bad blogger! I let Beard and Bonnet's 1st birthday sneak past me, it wasn't intentional, it was just one of those things where I didn't quite know what to post or what to share. How do you give a blog a birthday party? I figured it should be something big; after all we have spent the past year + 1 month learning, testing, writing, photographing, and eating. We have laughed, we have cried, and I may have eaten more brownies than a girl should; but this past year has been one of the best of our lives. We have met some of the most amazing new friends in the past year all because of this little space we carved out for ourselves on the internet – and we have truly been humbled by our readers love for our recipes and family. So to say thank you we have teamed up with our favorite snack company for a giveaway of epic birthday proportions and will also be posting twice today! See, I am making up for being a bad blogger, right?
In our house we have a chip bowl, not like a little reach in and grab yourself a chip bowl, more like a vat of bags of chips that is always overflowing with the scrumptious flavors from Food Should Taste Good! Have you tried their chips? If you have then I am sure you are an addict like we are, if you haven't then you should read this post, enter our giveaway, and immediately run to your nearest grocery store and grab a few bags. A few weeks ago when the great people at Food Should Taste Good and I started talking about a giveaway here on B&B I could hardly contain myself. I knew that this was the perfect celebratory post for B&B's birthday and I couldn't have paired with a company more close to our heart to help us celebrate this occasion. The people at Food Should Taste Good are so great that when I initially reached out to them they immediately sent us a box chocked full of free goodies to try so that we could share our love for them here with our friends.
We have been enjoying Food Should Taste Good chips for a while now; Todd's mom originally turned us on to them when she shared a bag of Olive Tortilla chips with us when we were visiting her earlier this year. I can honestly say that the bag was opened and finished in the same seating. I am not ashamed at all, they were that good! Crispy, golden chips studded with green, black, and kalamata olives were the beginning of our Food Should Taste Good chip obsession. All four of us really enjoyed them although there is only one true olive lover in the bunch. Can't you almost hear the toddler begging for olive chips? It happened.
Our household pantry staples are lime, jalapeno, and blue corn Food Should Taste Good chips. I always have them at the ready for lunches, snack time, and for impromptu dipping needs. I crush them to a powder and bread veggies and tofu in them before a quick pan fry. We have also been known to mix all three and make beautiful red, white, and blue nachos. Each chip has such an amazing distinct flavor profile it is fun to pop one of each all at the same time and experience the flavor explosion in your mouth.
My personal favorite is their chocolate tortilla chips! These chips have the PERFECT balance of savory and sweet due to the real semi-sweet chocolate used in the chips. I happily munch on these chips throughout the day and I have absolutely hidden a bag that was running low a time or two to keep the last few remaining chips out of little hands. I'm not proud of it, just being honest! My newest creation with these insanely tasty chips is a scrumptious vanilla "cheesecake" with chocolate chip crust which I am also posting today, so be sure to check that one out.
Food Should Taste Good has a flavor profile for every taste bud and foodie out there. From their newest flavor that we received in our sample box of kimchi chips, which were insanely good by the way, to kettle cooked sweet potato chips. We have tried almost all of them and have yet to be disappointed. All of their products are certified gluten-free so you can happily eat with no worries of gluten retribution. Also, Food Should Taste Good remains committed to using non-bio-engineered ingredients in all of their products and are in the process of enrolling in the Non-GMO Project. Be sure to look for their new packaging, reflecting their continued commitment to non-GMO on grocery shelves soon!
Finally before you enter the giveaway or run to the grocery for a bag of chips, I want to say from the bottom of our hearts, thank you! Thank you for reading and for cooking along with us, we honestly can't imagine our daily lives without each and every one of you in it. Now, go win some chips!!!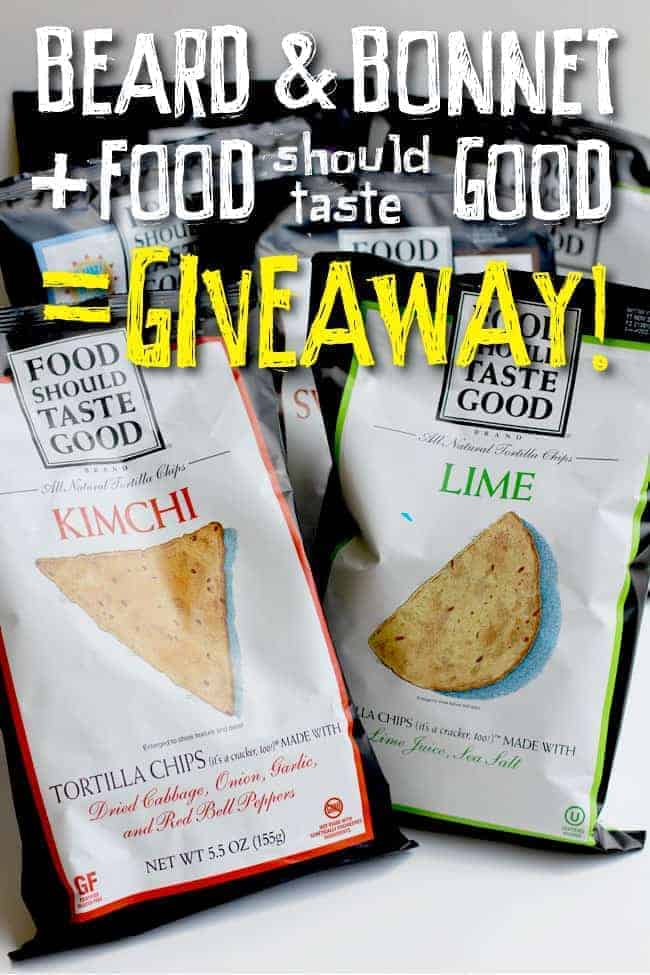 Congratulations Marsha A. Corns please check your inbox for an email from Beard and Bonnet with the next steps!