The best dessert for Thanksgiving has a laundry list of requirements. It has to feed a crowd. Should be easily made ahead. It needs to have that WOW factor! And above all else, it must taste incredible! There is only one dessert that I know of that checks all of those boxes and it is our gluten-free Pumpkin Cake Roll recipe.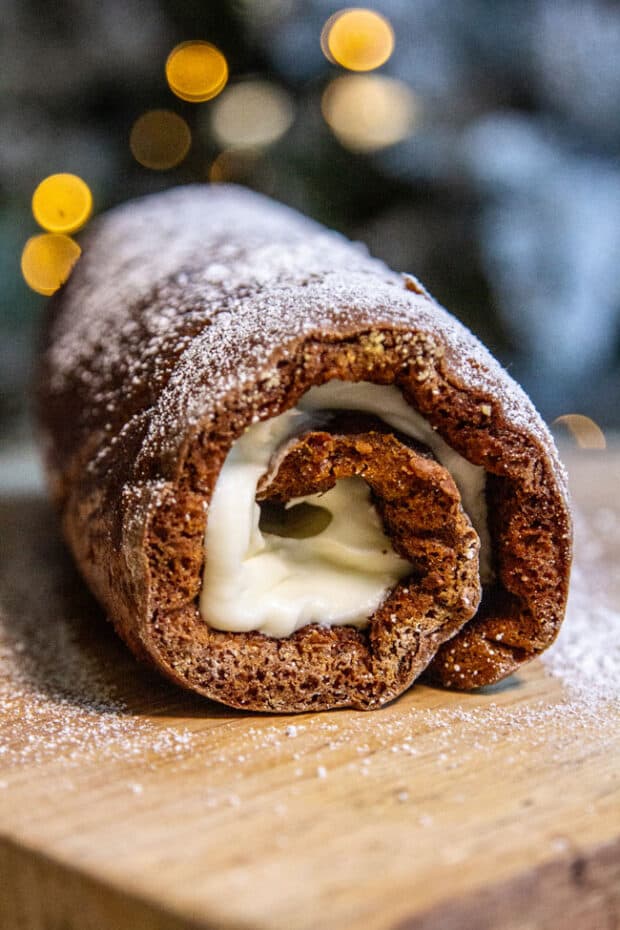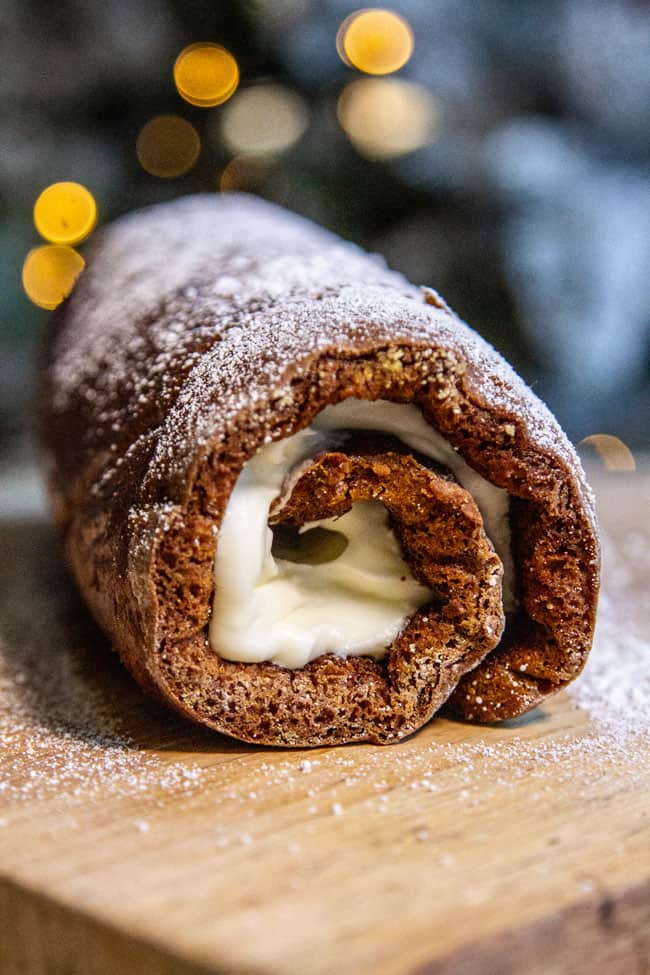 This pumpkin cake roll may look impressive, but the best part is how easy it actually is to make. The gluten-free pumpkin cake batter comes together quickly with pumpkin puree and spices you probably already have on hand in your spice cabinet!
What is a roll cake?
That is actually a really great question because this type of cake has lots of names that it goes by! A Swiss roll, jelly roll, roll cake, cream roll, cake roll, roulade, or Swiss log is a type of rolled sponge cake filled with whipped cream, jam, or icing. Even the traditional Yule log cake that is served at Christmas is a roll cake...you know before they make it look like a fallen limb from a tree.
Step-by-step how to roll and ice a cake roll.
Baking the sponge cake for a cake roll is easy; it is forming and icing the actual roll cake that can be intimidating. Do not fear, I have you covered with a picture tutorial that starts the moment you remove the cake from the oven and ends when you are ready to slice it!
Be prepared to see just how simple making a cake roll really is.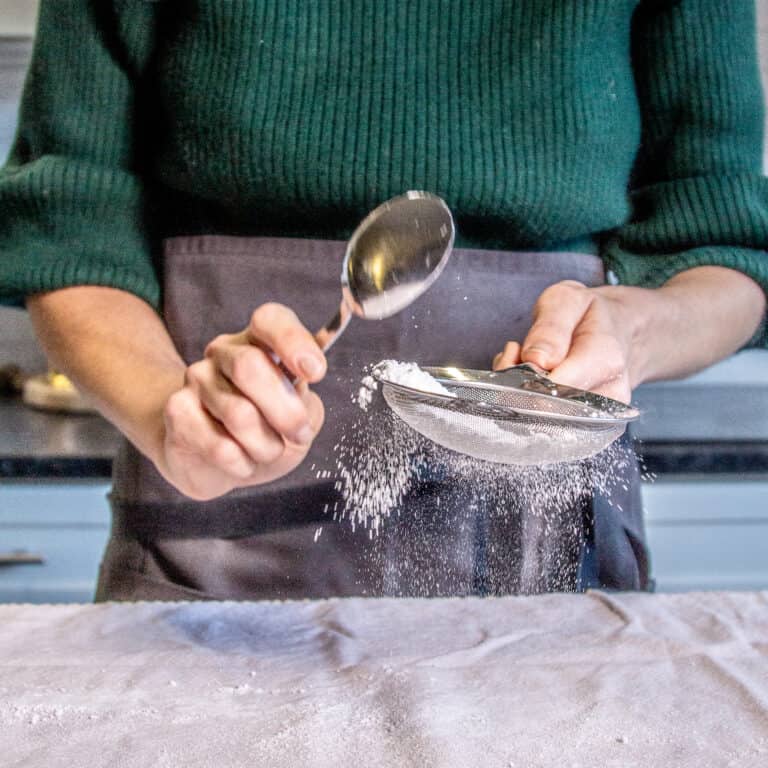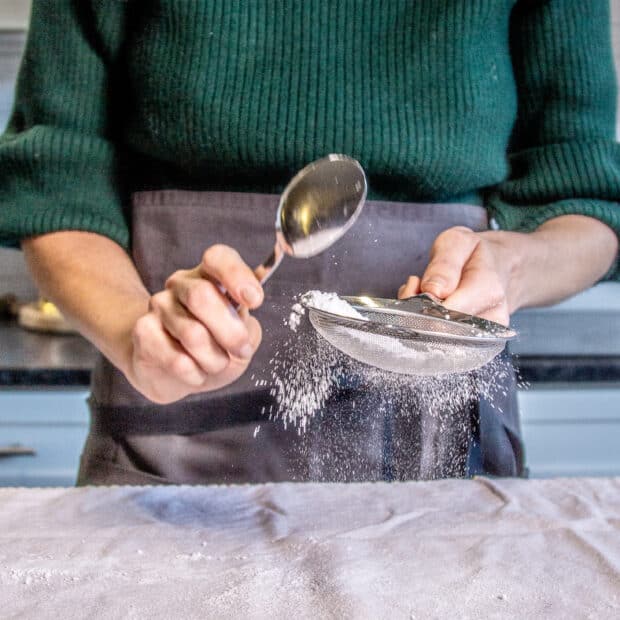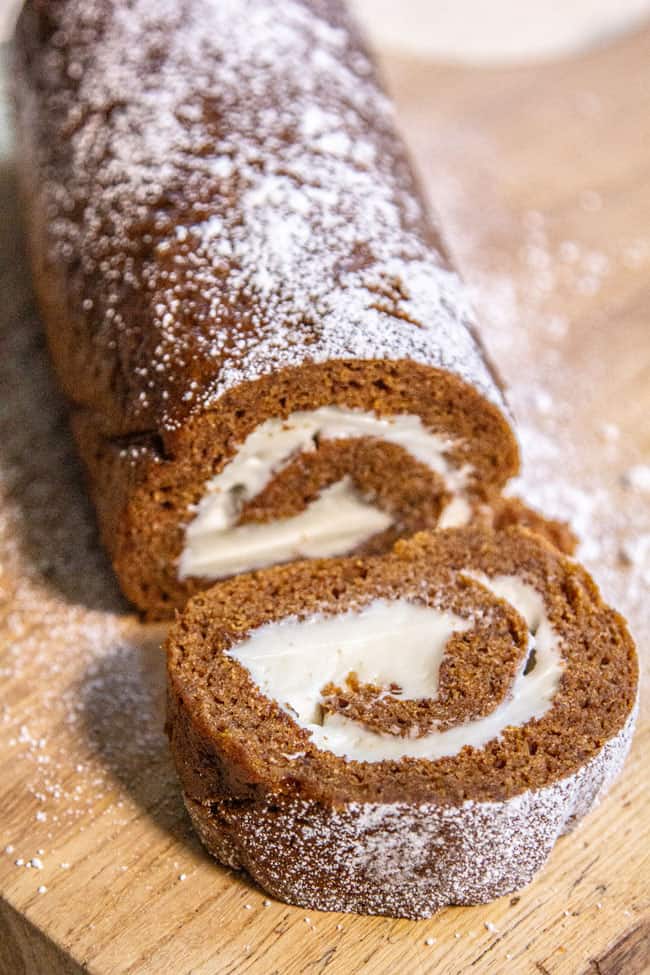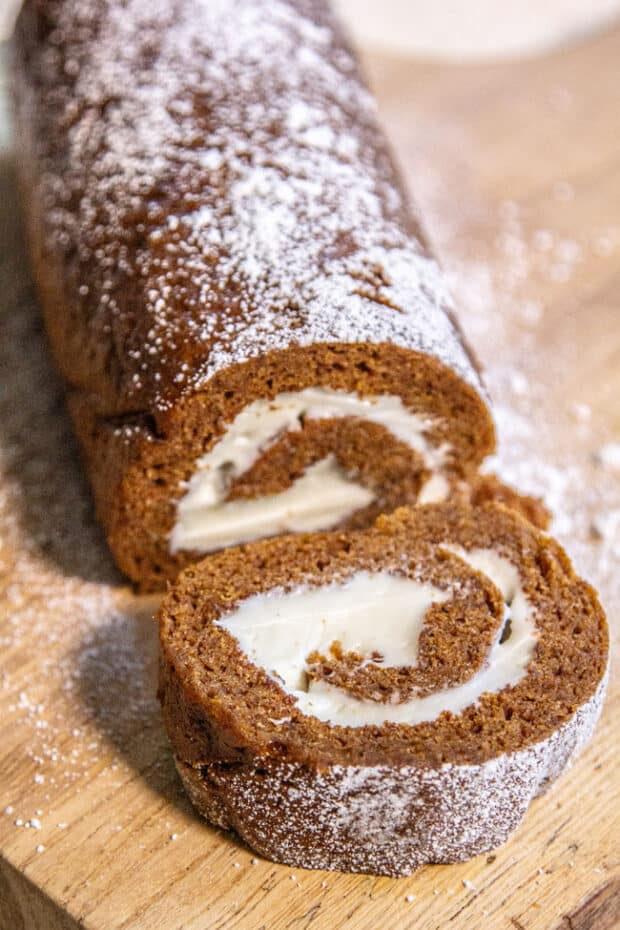 Roll cakes really are the best dessert for Thanksgiving, but they are great for other holidays too!
Anytime you need a gorgeous make-ahead cake for festivities an elegant roll cake is the best way to go. Here are a few more of our favorite roll cake recipes!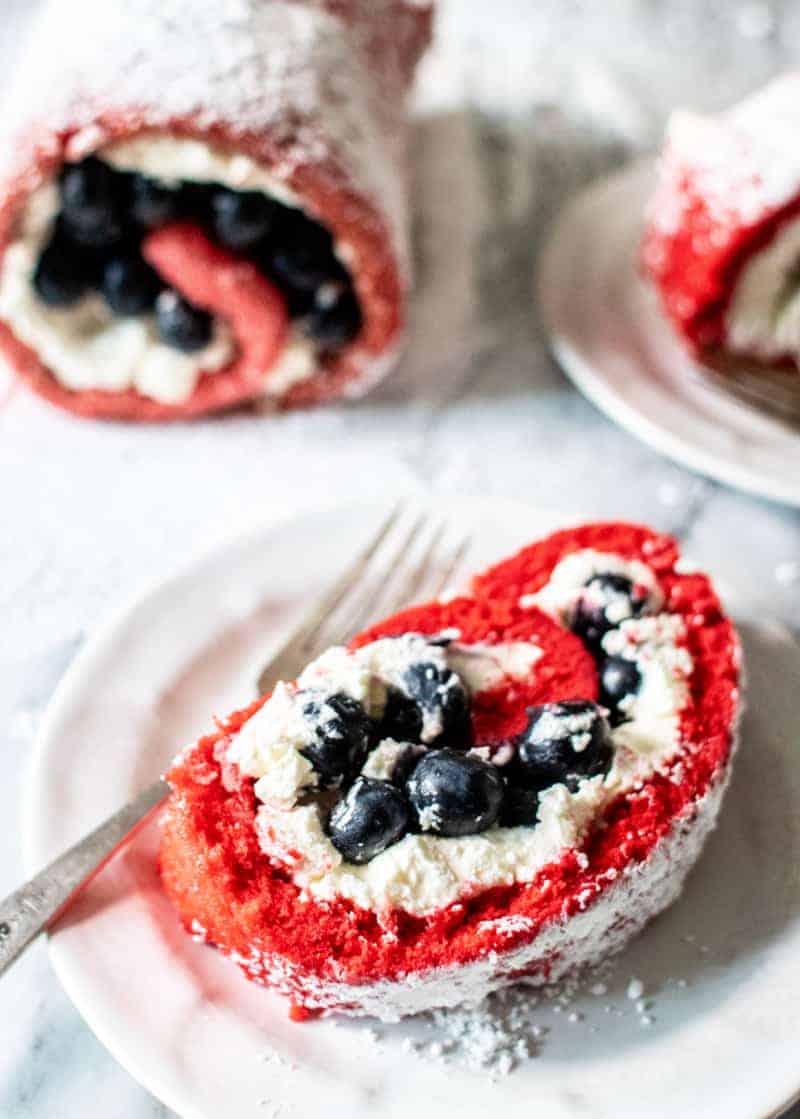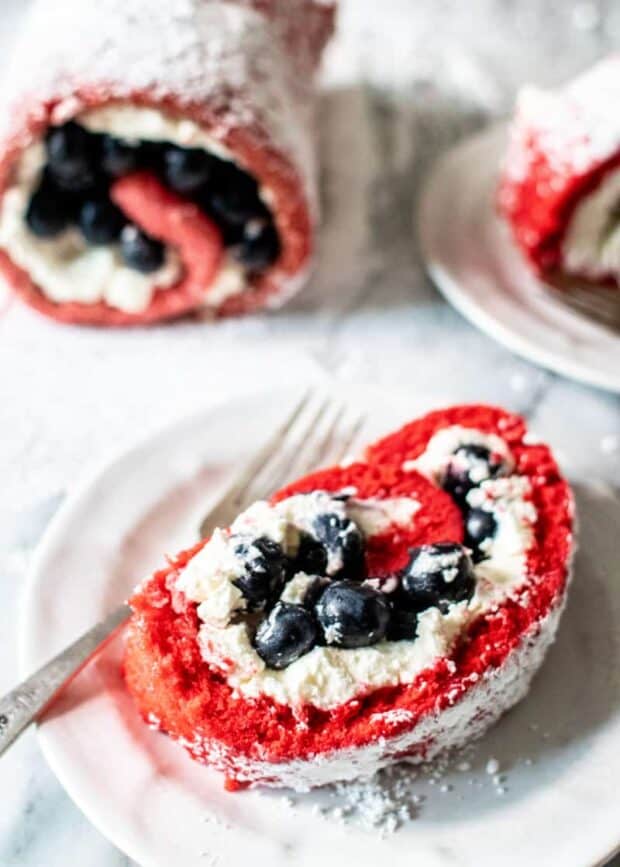 This recipe from GFree Foodie is a quick and easy cake roulade that would be perfect for your patriotic picnic! It's our favorite red, white and blue dessert.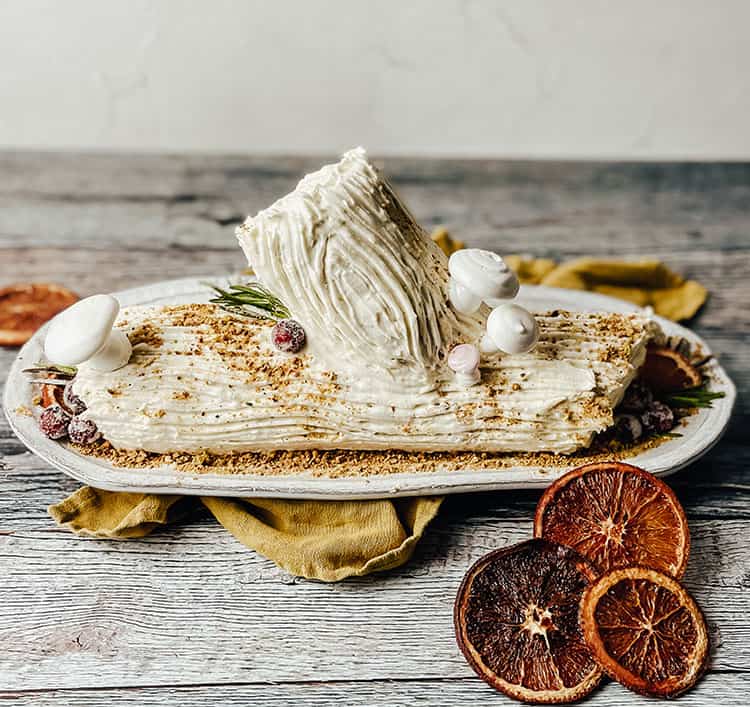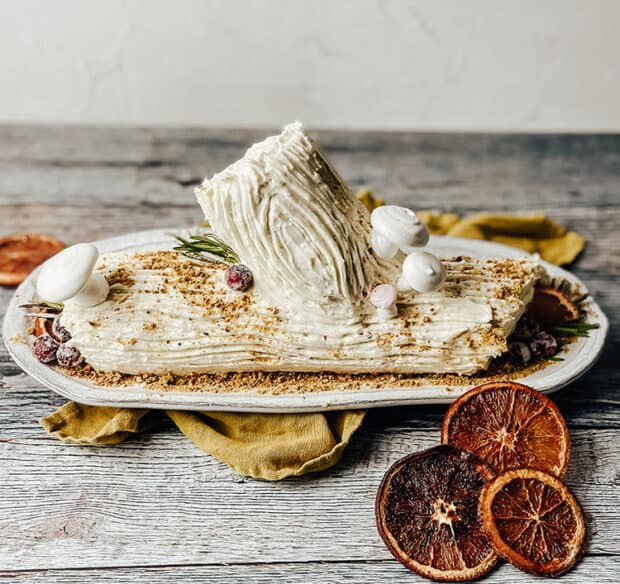 Nothing will delight folks quite like the whimsy of this beautiful Bûche de Noël from Jojotastic! A more traditional Yule log is usually chocolate, so this unexpected orange spiced variation is a nice surprise.
While this recipe isn't gluten-free to start a simple substitute of 1:1 gluten-free all-purpose flour will make for an easy swap.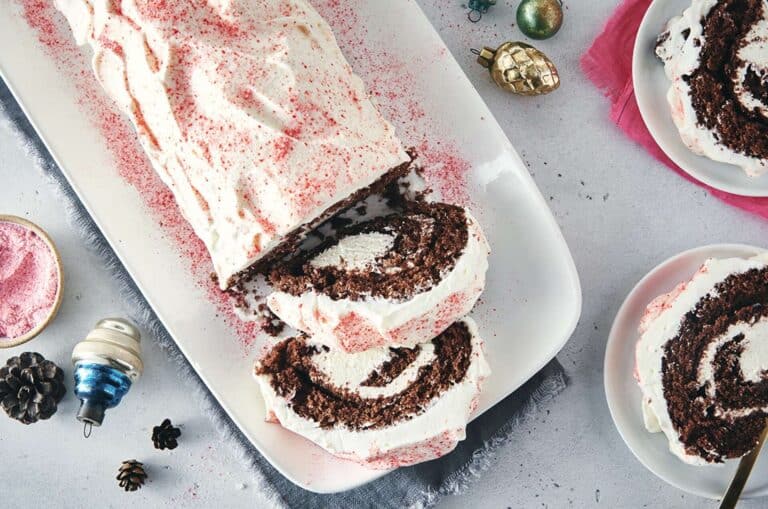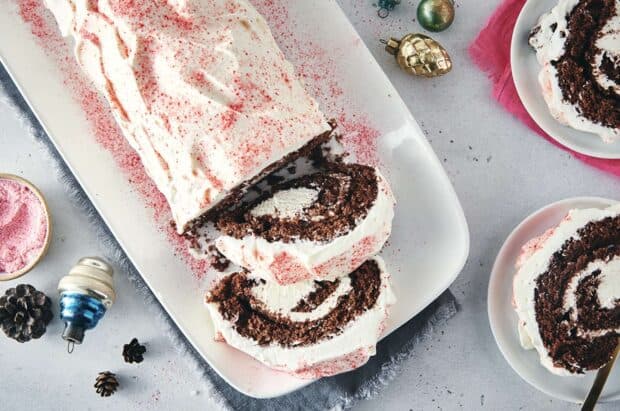 This traditional Christmas treat from King Arthur Baking Company is sure to delight "gluten-free-ers" and regular cake lovers alike. It is on my 'must-make holiday list this year for sure.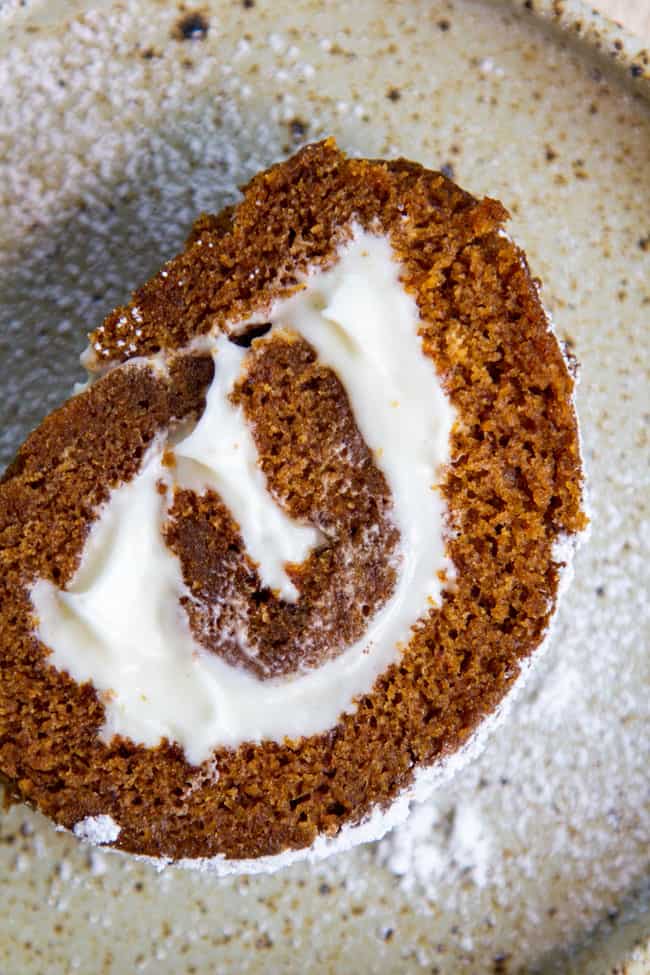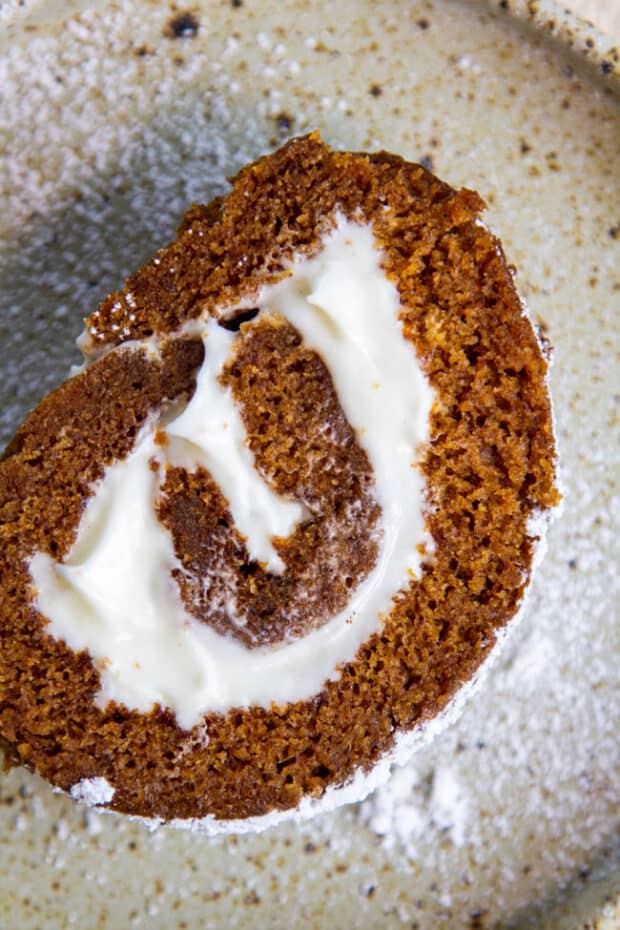 Frequently asked questions about cake rolls (AKA: the best dessert for Thanksgiving)

Why do roll cakes crack?
When a roll cake is rolled while warm, the heat and moisture will help lead to a crack-free cake. The cake is much more likely to crack if it is rolled when cooled.
What is a jelly roll pan?
A jelly roll pan is a type of flat sheet pan that features a 1-inch rim around the pan's sides. It is designed to make thin sponge or sheet cakes that are sturdy enough to coat with creme, jelly, or other fillings and roll into a cylinder shape.
Is a cookie sheet the same as a jelly roll pan?
A jelly roll pan (typically 10½ by 15½ inches) is simply a smaller version of a rimmed baking sheet (about 12 by 18 inches). For this cake roll recipe you will need the smaller pan for the amount of batter that you will have.
How do you keep a cake roll from sticking to itself?
Cover the side of the hot cake that does not have parchment with a clean dish towel and then gently roll it into a log. The cloth will prevent the cake from sticking to itself and will also absorb some of the moisture that develops from the cooling cake roll. When it's completely cool, gently unroll the cake, frost the inside, and roll it back up again.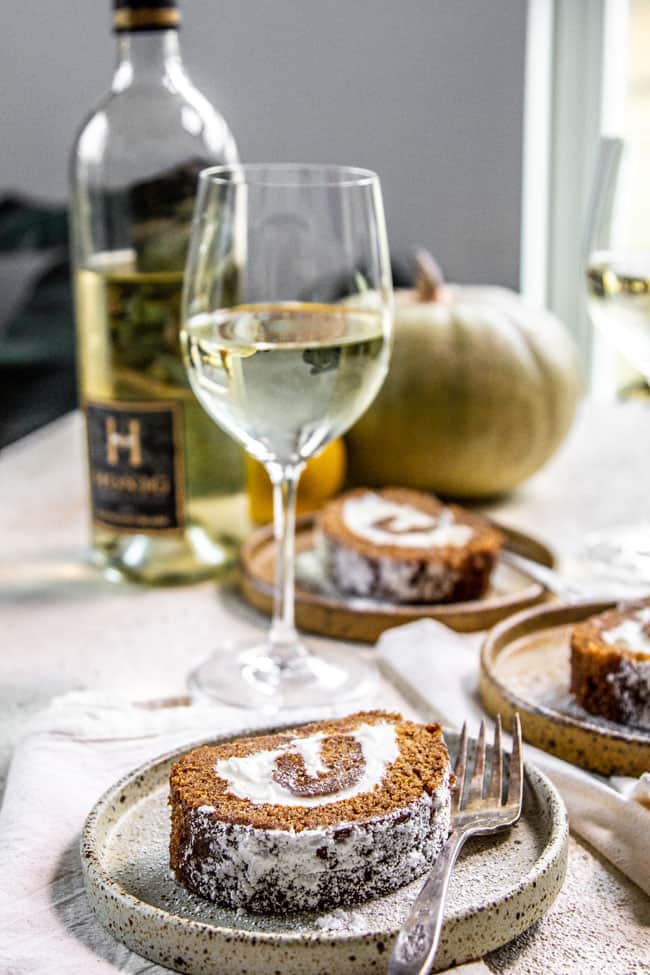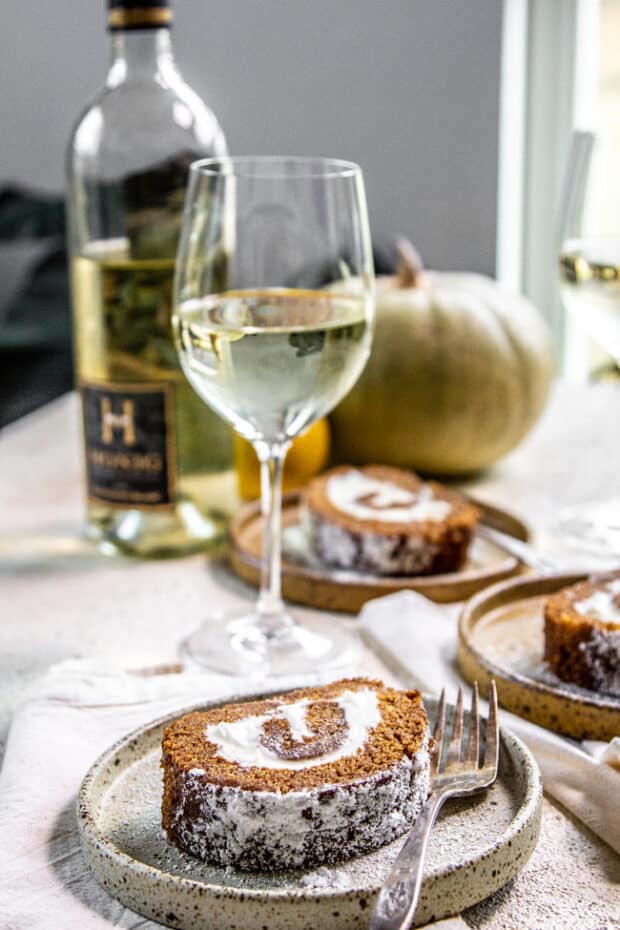 What type of beverage pairs best with a slice of Pumpkin Cake Roll?
Coffee and wine are both beverages that are often offered with dessert during the holiday season and both of them are great pairings for this pumpkin cake roll.
When choosing coffee beans to pair with this cake go for beans that are from regions like Guatamala or Colombia. These coffee beans typically have tasting notes indicating a full body, a rich chocolatey-cocoa flavor, and a toffee-like sweetness.
Espresso is always a great option for coffee with dessert as well. It's intense rich flavor cuts through the sweetness of the cake and icing with ease.
White wine, like Chardonnay, Viognier, Chenin Blanc, Sauvignon Blanc, or Dessert wines are all great choices to pair with this pumpkin cake roll. They light crisp flavor plays perfectly on the palette with the spices in this gluten free pumpkin cake roll.
If you've made this Pumpkin Cake Roll recipe I would be so grateful if you would rate the recipe and let me know what you think in the comments below!
Print
Gluten-Free Pumpkin Cake Roll
The best dessert for Thanksgiving has to check a variety of boxes like it has to look good, taste great, and be really easy to make. Thank goodness this Gluten-Free Pumpkin Cake Roll checks every box and then some! 
Author:
Prep Time:

20

Chill Time:

30 minutes

Cook Time:

15 minutes

Total Time:

1 hour 5 minutes

Yield:

6

-

8

slices

1

x
Category:

Dessert

Method:

Baked

Cuisine:

Thanksgiving

Diet:

Gluten Free
For the pumpkin cake 
3 large eggs
⅔ cup plain pumpkin puree, homemade or storebought
1 cup dark brown sugar
1 teaspoon baking soda
1 teaspoon vanilla extract 
1 teaspoon cinnamon
½ teaspoon ginger
½ teaspoon nutmeg
¼ teaspoon allspice
¼ teaspoon ground cloves
¼ teaspoon coarse kosher salt
¾ cup gluten-free all-purpose flour 
For the cream cheese filling
6 ounces cream cheese, softened
¼ cup salted butter, softened
1 ⅔ cup powdered sugar
½ teaspoon vanilla extract 
Instructions
Bake & form the cake 
Preheat the oven to 350F and line a 10x15-inch jelly roll pan with parchment paper, leaving about an inch of parchment hanging over the sides of the pan to use as a handle later. Lightly spray the parchment with nonstick cooking spray. Set aside.
In a stand mixer fitted with the paddle attachment, beat the eggs on medium speed until combined and slightly frothy.
Add in the pumpkin, brown sugar, baking soda, vanilla, spices, and salt. Mix for about a minute until completely combined. 
Turn the mixer to low and add the gluten-free flour, mixing until smooth, stopping to scrape the sides if necessary. 
Spread the batter into the prepared pan evenly. Bake for 15 minutes until the cake is set and a toothpick inserted into the center comes out clean.
While the cake is baking, spread out a large clean kitchen towel and lightly dust it with powdered sugar so that the cake will not stick if it comes in contact with the towel.
For ease in forming the roll cake and to avoid cracking see images in the blog post above for transferring the cake from the hot pan to the prepared towel.
As soon as the cake comes out of the oven, while hot, lift the cake out of the pan using the parchment paper "handles" and place it on the prepared kitchen towel. 
Leaving the parchment paper on the cake, roll it up carefully starting at the narrow end and rolling away from you. Once rolled place the wrapped cake roll seam side down on a wire rack to cool completely. 
Make the filling
While the cake is cooling, prepare the cream cheese filling. Place the softened cream cheese and butter in the bowl of a stand mixer fitted with the paddle attachment. Beat on medium speed for 1 minute until combined and smooth. 
Add in the powdered sugar and vanilla then mix for another minute until creamy, stopping to scrape the sides if needed. 
Assemble the cake roll
When the cake is completely cooled, carefully unroll it. Use an offset spatula and spread the cream cheese filling evenly over the cake leaving about an inch border all around the edges.
Carefully, roll the cake back up tightly, pulling the remaining parchment paper away as you roll. Once rolled place on a serving dish, cover, and refrigerate for at least 30 minutes, or until ready to serve. 
Dust with powdered sugar before slicing. 
Notes
To make nice clean slices, wipe the knife blade clean in between each slice you make.
Nutrition
Serving Size:

1 slice

Calories:

399

Sugar:

50.1 g

Sodium:

337 mg

Fat:

15 g

Carbohydrates:

63.7 g

Protein:

4.7 g

Cholesterol:

106.5 mg
Keywords: cake roll, best dessert for Thanksgiving, Thanksgiving, Thanksgiving dessert, pumpkin cake roll, pumpkin roll cake, gluten free cake, gluten free roll cake, pumpkin cake
Recipe Card powered by
Looking for MORE recipes in your search for the best dessert for Thanksgiving?
Over the years I have created quite a few dessert recipes worthy of your Thanksgiving holiday table. Here are some of my family's all-time most requested show stopper desserts!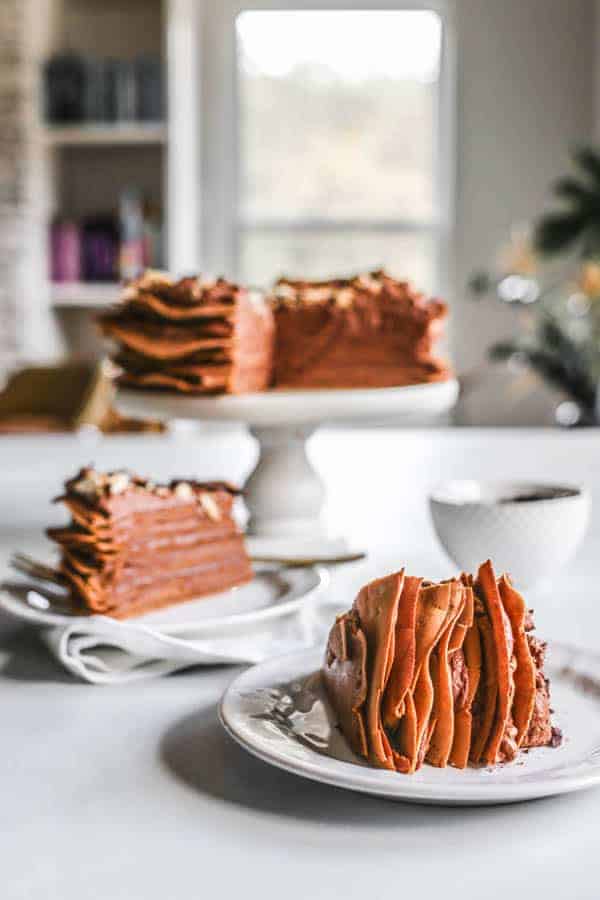 Grab your blender and get ready to impress when you serve up our easy-to-make Chocolate Crepe Cake!
This no-bake cake is a mile-high showstopper with layers of chocolate cream filling sandwiched between thin chocolate crepes.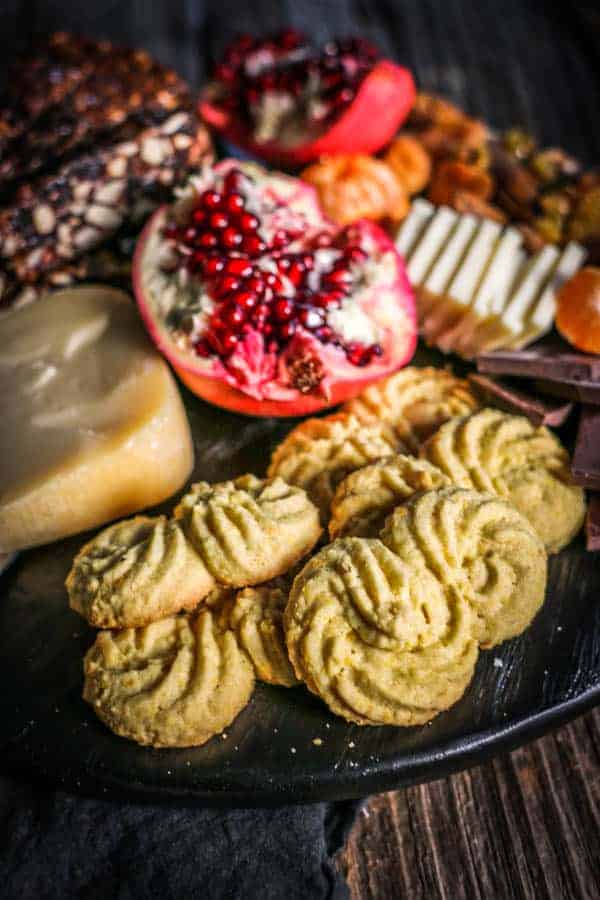 My gluten-free holiday cookies have just the right amount of crunch in every bite and are loaded with vanilla beans and fresh citrus zest!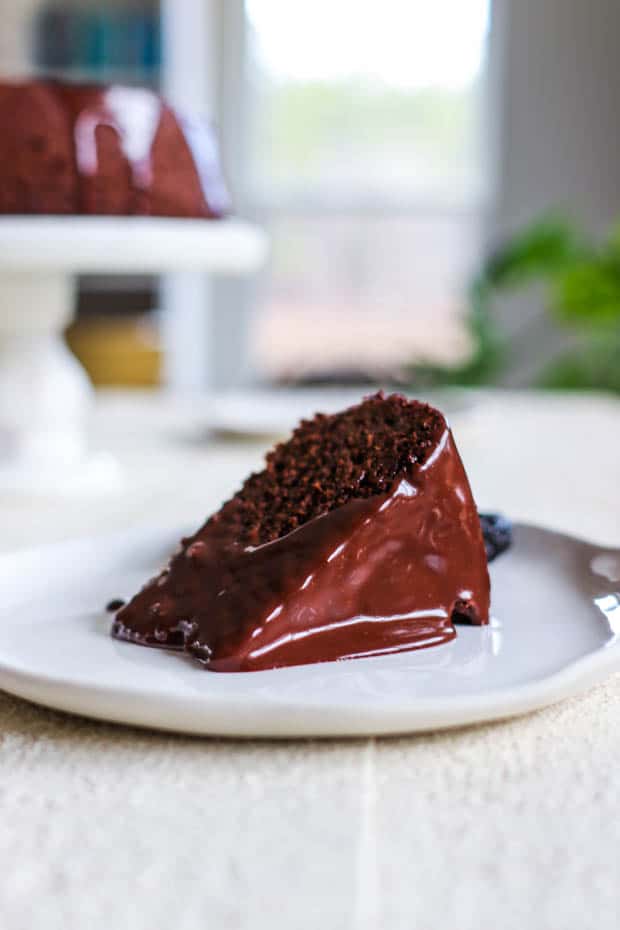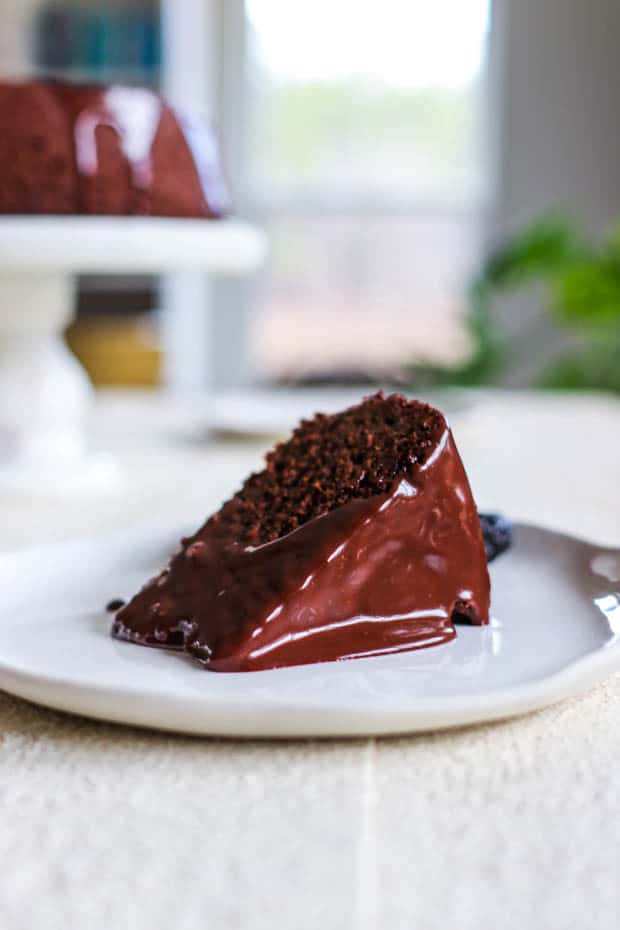 This decadent, fudgy chocolate cake is naturally sweetened and grain-free, but your tastebuds will be none the wiser! Each bite is like a little slice of chocolatey heaven for your tastebuds!