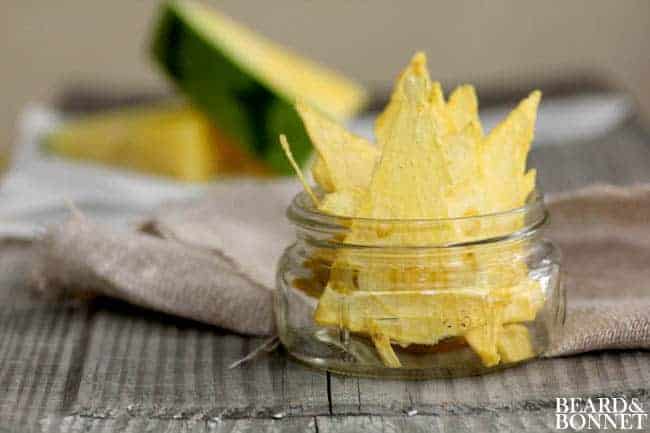 Eliza and Kash will eat watermelon chunks by the cereal bowl full and it seems to disappear so fast that I don't have time to experiment with any other ways to use it. For the past couple of months I have been buying beautiful melons with every intention of creating a melon-inspired masterpiece, but before I can blink they are gone! Devoured by the 2 sweet little melon monsters living in our house.
Last weekend I purchased the most beautiful yellow watermelon; seedless, juicy and sweet. I was sure that this little gem wouldn't last long either. So yesterday, when I saw the still-intact melon sitting on the kitchen counter I was elated! Turns out the key to keeping a watermelon around our house is to have 2 kids and 2 parents with schedules so full that we can't even think about busting into it. We have been running crazy this week and our once lazy watermelon eating days of summer have now given way to afternoons filled with building rugs, auditions for Christmas dance performances and tryouts for the school play. Not to mention a 19 month old little boy with his own agenda, school, work, homework and life in general! Anyone else tired yet?
Back to that melon… there it was, beckoning to me. In retrospect, I probably should have been taking a much needed nap. Instead I headed to the pantry for a little melon inspiration where I saw my food dehydrator tucked away on the top shelf, patiently waiting for me. I had never tried to dehydrate watermelon but, I was pretty sure that it was possible and dried fruit is one of Eliza's all time favorite snacks. I headed over to the counter and began dismantling the melon. First slicing it into 1 inch rounds then halving it, removing the rind and quartering the crescent moon pieces into wedges. I was left with perfect little triangles of watermelon goodness that filled all 8 trays of my food dehydrator. Totally stoked to get this show on the road I decided to add one more element to the mix…a little heat to go with all of that sweetness. Ginger, probably one of my all time favorite spices, pairs perfectly with sugary sweetness in cookies. Why not melon?! I quickly brewed up a little ginger "tea" and ran a handful of crystallized ginger chips through my food processor until they were a shimmery little pile of ginger dust. I basted and sprinkled every last wedge of melon on those trays and then I let my dehydrator do the rest. For 12 hours it worked away, quietly on the counter until those juicy hunks of watermelon had been turned into chewy little flavor packed chips. I tried to wait patiently for them to cool so that I could taste the magic that my dehydrator had created. I have to say that it was everything I was hoping for and more. The ginger infused itself into the melon and gave a much needed little kick of heat to the super sweet fruit treats.
Gingered Watermelon Chips
1 small to medium seedless watermelon
1 2-inch piece of ginger, roughly chopped, no need to peel
1 cup of water
1/8 cup of crystallized ginger chips
Place the chopped ginger and 1 cup of water into a small saucepan and bring to a boil for 1 minute. Reduce heat and simmer on low for 15 minutes while breaking down the watermelon. Wash the melon well and then begin dismantling. First slicing it into 1 inch rounds then halving the rounds, removing the rind and quartering the crescent moon pieces into wedges. I then sliced each pie shaped wedge in half to make 2 thin triangle pieces. Almost like chips. *Any shape will work, the key is to get the pieces as thin as possible for crispy wedges like mine or if you like chewier hunks of fruit jerky thicker slices of melon are better.
Using a food processor or spice grinder, process the crystallized ginger chips into a fine powder.
Line the trays of your food dehydrator with the melon making sure that there is enough room around each piece for the air to circulate and that no two pieces are touching. Use a basting brush to mop the ginger "tea" onto each wedge and sprinkle lightly with ginger dust. The more "tea" and ginger dust you use the spicier kick your melon will have.
Stack trays of the food processor according to the manufacturers instructions and leave the fruit to dehydrate for 10-12 hours. I use a Nesco American Harvest Food Dehydrator on the fruit and vegetable setting (135°F) for 12 hours. Once dehydrated and the melon has cooled gently remove the pieces from the trays (a clean-a-screen tray is really helpful here) and store in an air tight container.
We are excited to share this recipe on The Veggie Nook for Healthy Vegan Fridays! Follow the link for more fabulous vegan recipes.
(Visited 1 times, 1 visits today)