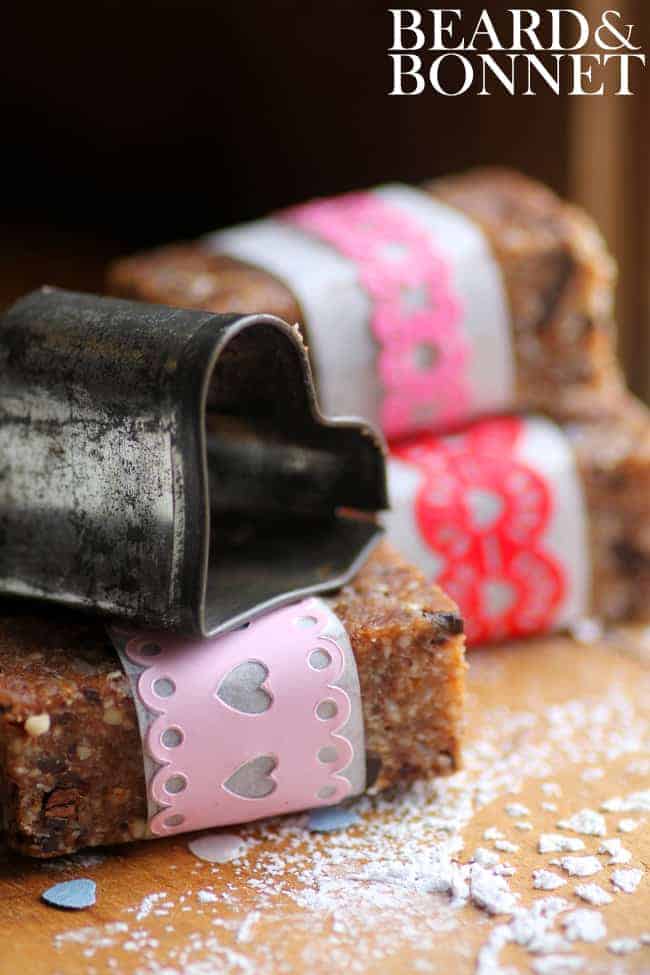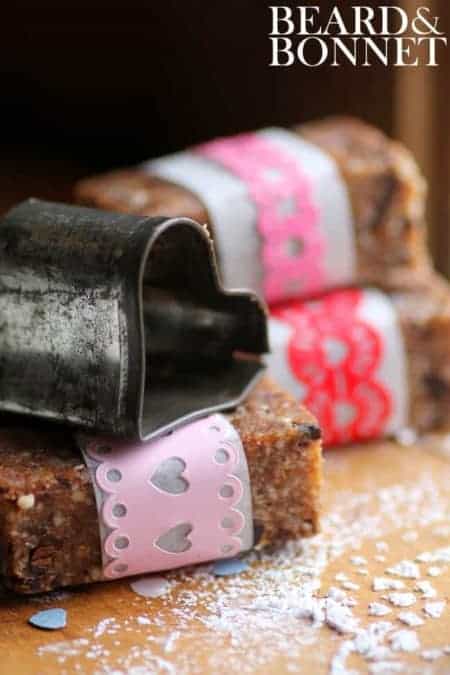 Here I am, mid 30's, with a business to run, a fabulous husband, 2 amazing kids, and a handful of doughy-eyed animals that all depend on me to be here, be active, and to always be in tip top shape.  So for those very reasons, I try to do my best and always think about the choices I make and how I fuel my body. For me, it is imperative that I have healthy snacks on hand to eat on the go, like this Almond Joy Raw Bars Recipe.
I will always hold out for a home cooked meal when I am hungry for something substantial, but for some reason it is the times when I just need a little something to get me through that I get in trouble. I try to keep a variety of trail mixes, fruits, and raw bars on hand for easy heart healthy snacks to keep me going and out of the drive through line.
I wish I could say that I love to read articles about staying fit, what the new super food is, or how foods work in your body, but I don't.  I try though, I make an effort and 9 times out of 10 as I am reading the newest buzz article I tune out just like I did in school during health class.  When I tried to sit and write this post and fill it full of heart healthy information for you I knew that I had to assemble the information in such a way that it would speak to me too if I was reading it.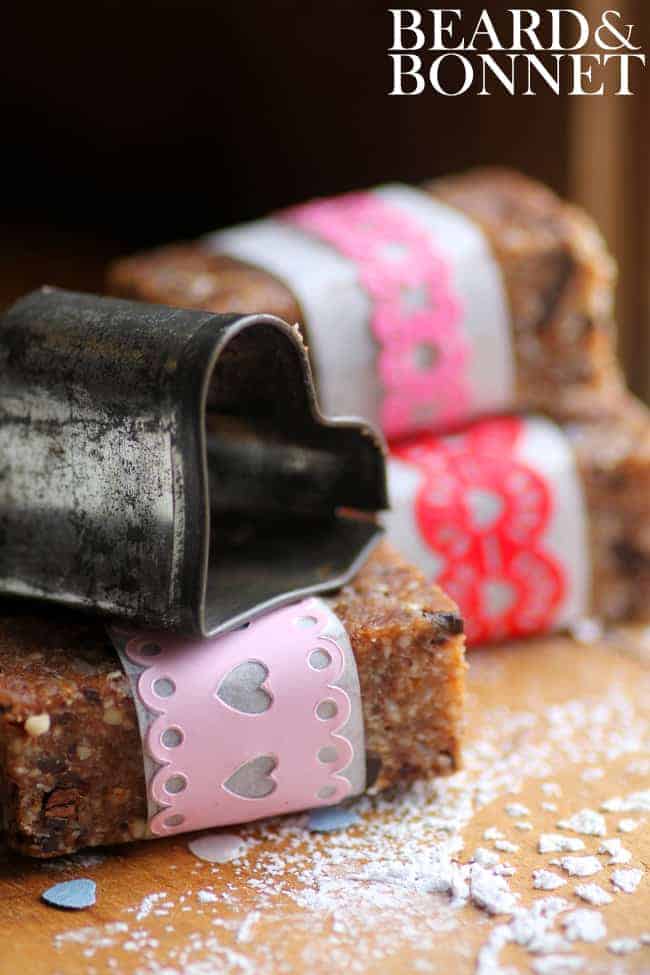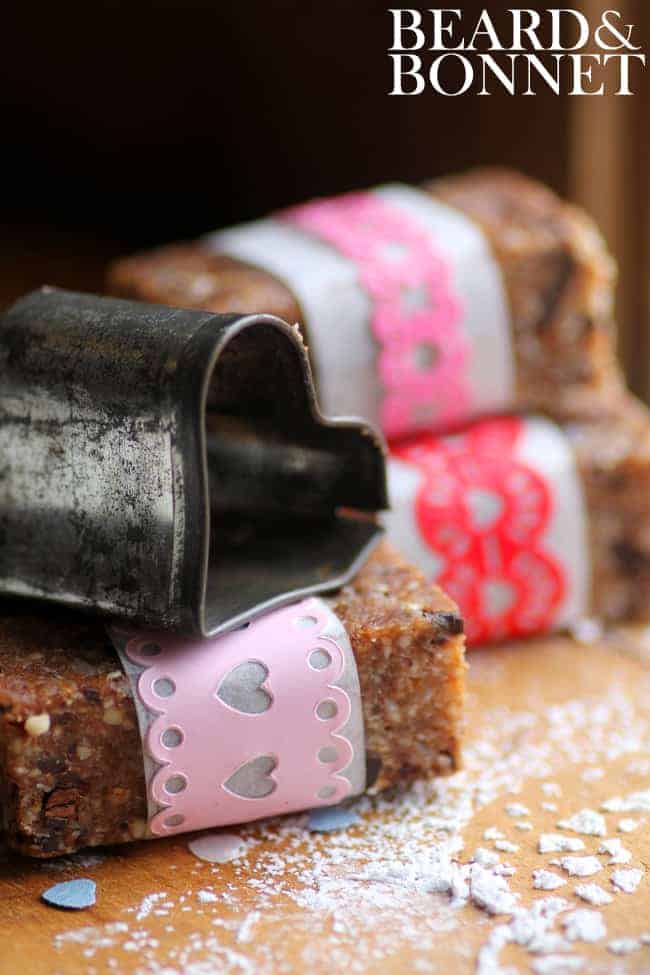 Here is the break down of the heart healthy ingredients that make up this decadent Almond Joy Raw Bars Recipe:
Cashews: The essential "heart-friendly" monounsaturated-fatty acids; like oleic, and palmitoleic acid, in cashews help lower harmful cholesterol while increasing good cholesterol.
Almonds: The mono-saturated fat, protein and potassium contained in almonds are really good for your heart. Almonds also contain vitamin E which acts as an antioxidant and reduces the risk of heart diseases. The presence of magnesium in almonds helps to avoid heart attacks and almonds help reduce C-reactive protein which causes artery-damaging inflammation.
Dates: Recent studies have shown that consumption of dates are good for those who have heart problems. They have the ability to lower LDL cholesterol and since dates are digested very easily they are great for supplying quick energy.
Coconut Oil: Natural, nonhydrogenated coconut oil tends to increase HDL cholesterol, the good cholesterol that helps protect against heart disease, and improve your cholesterol profile. People who traditionally consume large quantities of coconut oil as part of their ordinary diet have a very low incidence of heart disease and have normal blood cholesterol levels.
Dark Chocolate:  Flavanols in cocoa beans have antioxidant effects that reduce cell damage implicated in heart disease. Flavanols — which are more prevalent in dark chocolate than in milk chocolate or white chocolate — also help lower blood pressure and improve vascular function.
If you've tried this Almond Joy Raw Bars Recipe, I would be so grateful if you would rate it. Let me know what you think in the comments below. I just love hearing from you, and your reviews and comments really help others that visit This Mess is Ours!
Print
Almond Joy Raw Bars
Don't forget to rate the recipe, and let me know what you think about this Almond Joy Raw Bars Recipe in the comments below. I just love hearing from you. Your reviews/comments really help other people that visit This Mess is Ours!
Author:
Yield:

7

-

8

snack sized bars

1

x
¼ cup

raw cashews

¾ cup

almonds

1 cup

Medjool dates, seeds removed & quartered

2 Tbsp

. coconut oil

1 tsp

. g-free vanilla extract

½ cup

shredded coconut, I used sweetened

½ cup

dark chocolate, roughly chopped
Instructions
In the bowl of your food processor combine the nuts and dates. Process until a sticky dough is formed and the pieces of nuts and fruit are all similar sized pieces. Add the coconut oil and vanilla then process to combine well. Add the shredded coconut and dark chocolate chunks and pulse just until combined. Be careful not to over process at this point. Shape into equal sized bars, or roll into bite sized balls and wrap in parchment paper or plastic wrap. These raw bars should keep in the refrigerator for about a week or in an airtight container in the freezer for up to a month.
Recipe Card powered by
Want to be a part of our online community outside of the blog? It's easy!! All you have to do is follow @THISMESSISOURS on FACEBOOK, INSTAGRAM, TWITTER, YOUTUBE, or PINTEREST to see cooking demos and peeks into our day to day life.
What are the health benefits of almonds?
Almonds are full of Vitamin E and other antioxidants which help to slow the aging process and fight diseases. Low in carbohydrates and high in healthy unsaturated fats, these tree nuts help control blood sugar, cholesterol, and blood pressure levels.
Click here for more information on the health benefits of almonds.
SaveSave