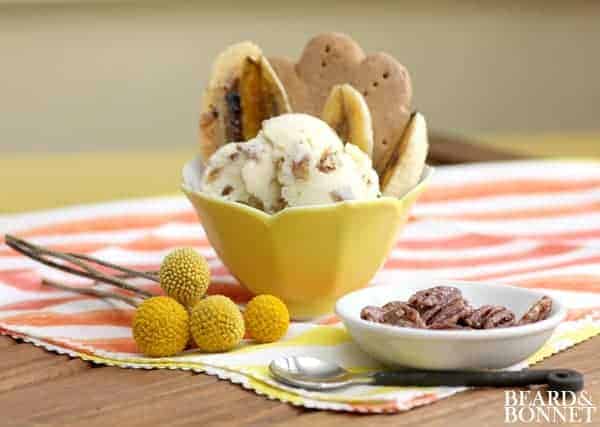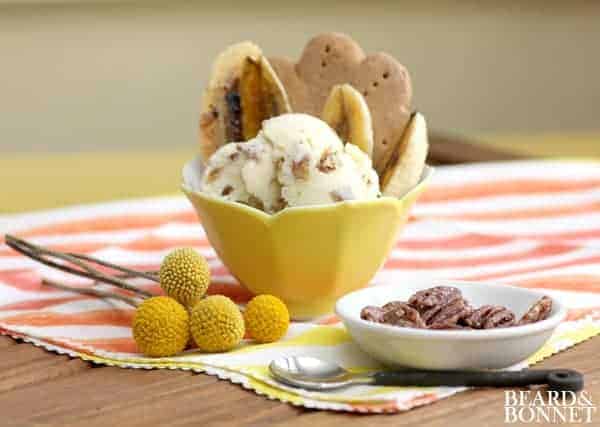 We are always on the go these days and with our dietary restrictions it is really hard to grab food while we are out. I am still having a really hard time trusting restaurants and labels. Just a few weeks ago that sneaky gluten weaseled its way past my watchful eyes and made the baby sick again. His little body reacted like he had a horrible respiratory infection and it took days to clear out of his system. He has been doing so well for so long that I had forgotten how bad his reaction gets. I am still unsure where the gluten came from so I am back to watching our diet like a hawk. It has felt a little bit like we have been on restriction around here so I decided that we needed something fun over the weekend that we could all enjoy.
Over the past few weeks I have been devouring the Maple Citrus Roasted Pecans that I found over on Family Fresh Cooking. They go everywhere with me and are now part of the arsenal of gluten and dairy free snacks that I take when we are out and about. They taste like little bites of pecan pie heaven! Marla Meridith sure knows what she is doing because I am seriously addicted to these little beauties. There is nothing that I like more than a slice of pecan pie with a big scoop of ice cream so I decided to combine the two, in a gluten and dairy free version of course. I made a batch of gluten-free graham crackers to go with our ice cream creation to serve as the "crust" of the pie and the brûléed bananas lend the flavor of caramelized sugar that I adore.
Pecan Pie Ice Cream (Gluten and Dairy Free)
6 egg yolks
2 cups vanilla coconut milk
1 cup full fat canned coconut milk
½ cup sugar
¼ cup sweetened shredded coconut
¼ cup Maple Citrus Roasted Pecans, chopped
Place the 2 cups of vanilla flavored coconut milk and ¼ cup of the sugar into a medium heavy bottomed sauce pan. Heat, stirring occasionally until steam rises from the cream.
Using a whisk or an electric mixer, beat the remaining ¼ cup sugar with the egg yolks until they are light yellow and thick. Take ½ cup of the warmed coconut milk and sugar and gradually whisk it into the beaten egg yolks to temper them. Once the warm milk has been incorporated gradually stir all of the mixture into the saucepan with the warm coconut milk.
Cook over medium-low heat, stirring constantly until the mixture is slightly thickened. Do not let the custard boil. If you are using a thermometer watch for the mixture to reach between 175°F - 180°F if you don't have a thermometer you want the custard to be thick enough to coat the back of a spoon and leave a trail when you run you finger across it.
Pour the custard through a fine mesh sieve to strain out any bits of egg and then stir in the ¼ cup of shredded coconut and the cup of canned coconut milk. Cover and refrigerate until the mixture is cool.
Churn the chilled custard in an ice cream maker according to the manufacturer's directions. When the ice cream is almost finished churning add in the chopped pecans.
Transfer to a container and freeze until firm. Eat within 2 days.
Maple Brûléed Bananas (Gluten and Dairy Free)
1 large banana
1-2 tsp. Maple Sugar, I use Trader Joe's Maple Sugar
Slice the banana in half lengthwise and place on a baking sheet with the cut sides facing up. Generously sprinkle the maple sugar on each half.
Now the fun starts — it's time to fire up your torch! They all work differently, so follow the instructions for lighting yours, and adjust the length of the flame to medium. Start out holding the torch a good distance away from the sugar coated bananas and slowly move it closer, move the flame up and down the length of the banana, keeping it constantly in motion. Once it gets close enough, you'll see the sugar start to liquefy. As you continue cooking the sugar will begin to turn caramel-colored. You'll also smell the delicious aroma of cooked sugar, kind of like cotton candy. Keep the flame moving so that it isn't focused on any one spot for too long. Pull the torch away if the sugar smokes excessively. It's a bit tricky knowing exactly when to stop, but it's better to stop sooner rather than later. If necessary, you can always fill in any underdone spots when the sugar has cooled down a bit. When you're finished you'll have a hard, glass-like glaze of caramelized sugar on top of the bananas.
*I love using Maple Brûléed Bananas on top of my oatmeal in the morning with a few of the Maple Citrus Roasted Pecans chopped on top! This combo makes my bowl of otherwise ordinary oatmeal seem really decadent. To make the bananas for oatmeal I slice them into rounds instead of lengthwise.
We are happy to have shared this post at the Gluten-Free Friday's link up party hosted by Vegetarian Mama, Eat.Live.Make, and Gluten Freed R.D.! Hop on over to find more great gf recipes.