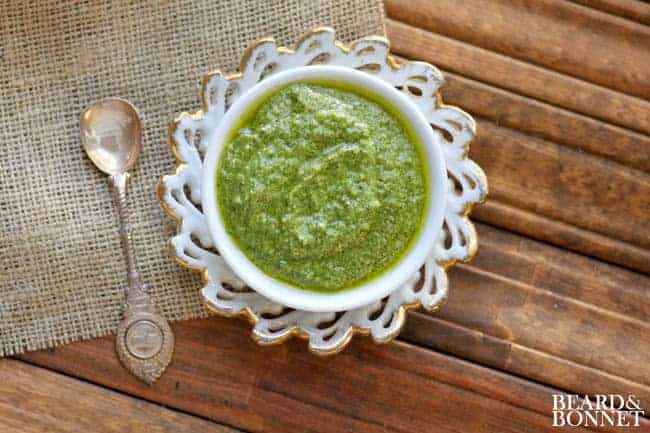 I planted three varieties of basil in a large pot at the beginning of the summer and we have been in basil heaven for a few months now. Fresh homemade pesto is one of my favorite sauces on the planet! I will use store-bought pesto in a pinch but once you have made your own it is really hard to go back. I like to make small batches throughout the summer, enough for one or two meals worth at a time but my Genovese basil is choking out the other two types of basil we have growing in the same pot so I was forced to make a large batch last night and will either be cooking every meal with pesto for the next week or I will have to store it. There is a great article that covers all of the ways that you can store fresh basil here. I suggest reading it thoroughly because the low pH of olive oil and basil provides a perfect environment for deadly botulism bacteria if it isn't stored correctly.
I was so worried about making pesto since I can no longer pile mounds of Parmesan cheese into it. I have tried a few different alternatives this season but my favorite so far is gluten-free nutritional yeast. If you haven't heard of it you should read this article by Susan over at the Fat Free Vegan Kitchen. I have to admit I was a little leery of this product in the beginning but, between the health benefits and its crazy ability to mock the flavor of my beloved Parmesan cheese I had to give it a try. After making our large batch of pesto last night I used it to make my family's favorite gluten-free pasta dish which I will be posting on Wednesday. We all agreed that it was our favorite pesto recipe of the summer and both of the kids had second and third helpings! There are so many different ways to use pesto besides tossing it in pasta. Some of my favorite uses are in an omelette, on pizza, tossed with popcorn, mixed into rice, or made into a vinaigrette for salads and veggies. What are your favorite uses for pesto?
Pignoli Pesto
Makes 2 cups
2 cups loosely packed fresh basil leaves, washed
3/4 cup toasted pignoli, AKA pine nuts
1 Tbsp. gluten-free nutritional yeast
1/2 tsp.salt,plus more for seasoning
4 cloves of garlic, smashed
juice of half a lemon
3/4 cup good-quality extra virgin olive oil
fresh ground black pepper, to taste
Combine the first 7 ingredients into the bowl of a food processor and purée until smooth, stopping at least 2-3 times to scrape down the sides of the bowl. Season to taste with salt and pepper.
(Visited 9 times, 9 visits today)