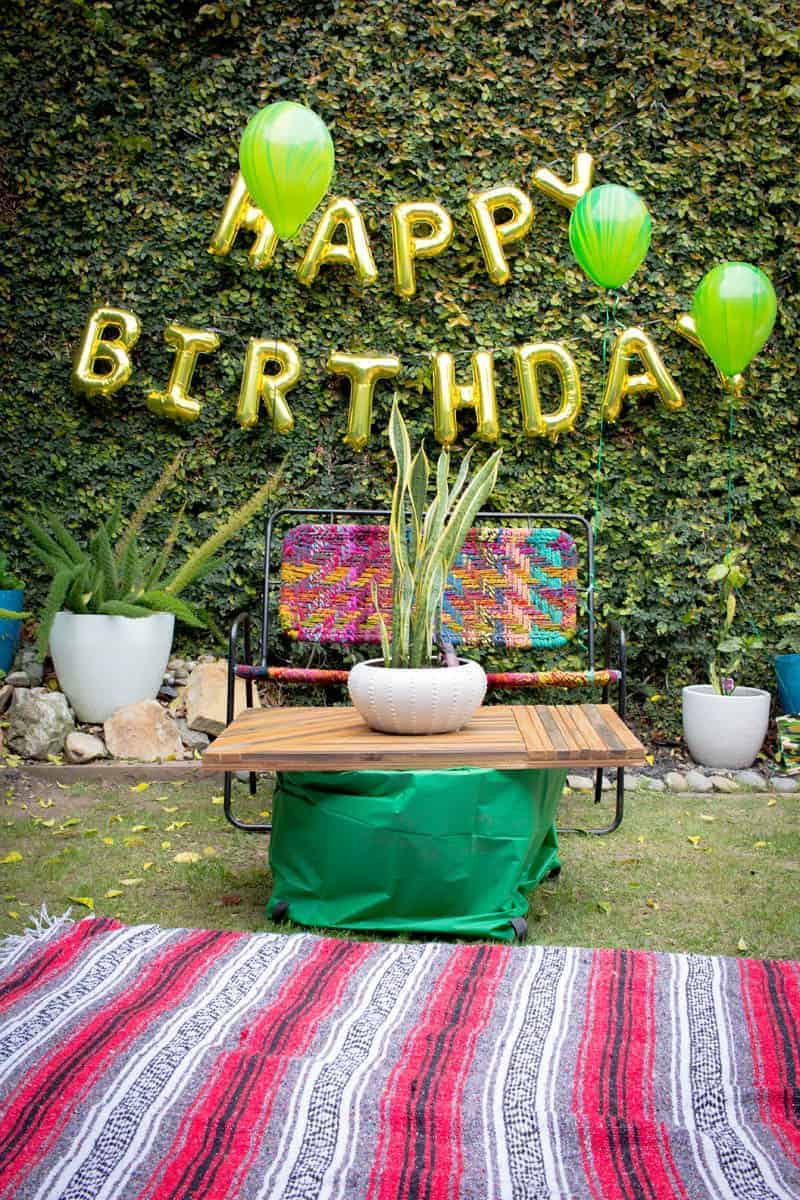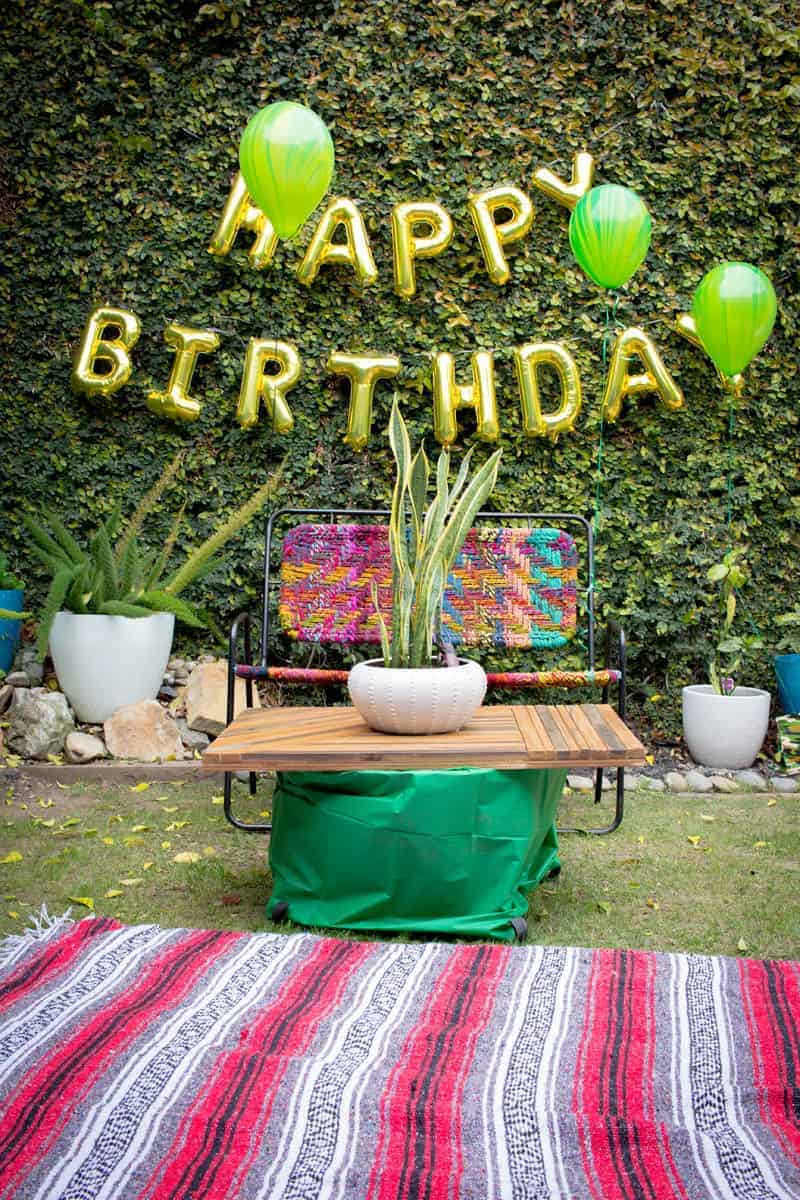 "Happy Birthday" balloon letters   //  Tie dye balloons  // Custom table top
In case you didn't know St. Patty's day is just around the corner on Thursday! So, avoid the pinch, grab your favorite green apparel and settle in for a party inspired completely by the fruit bandit and his best buddy Rex's love of the color green!
If you follow us on Instagram then you already know that my little dude turned 5 at the beginning of the month. Where the heck does the time go?! Turning 5 is pretty much a rite of passage, you're no longer a baby or a toddler - you're a big kid with big dreams and very big opinions about what you like and don't like. This year Kash and Rex decided that since their birthday's are only a few weeks apart they wanted to celebrate together with one epic party that was all about the color green, bounce houses and reptiles.
I'm so fortunate that Rex's mom Sabrina of  Vigor + Sage was in on this with me because pulling a big green birthday party of this scale off by myself would have been impossible! We literally spent weeks hunting for green party supplies and recipes, but it was so worth it because our boys and their friends had the time of their lives and won't be forgetting this celebration any time soon.
THE SET UP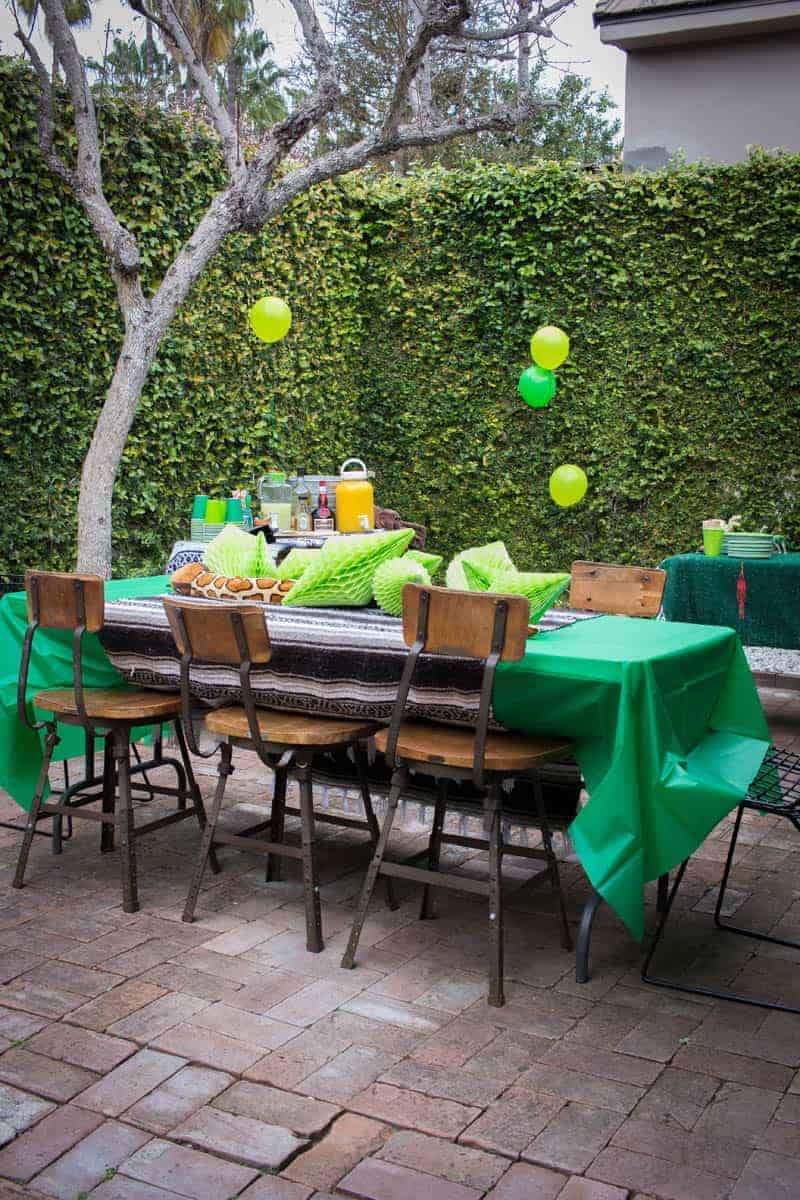 Green plastic table cloths // Mexican blankets // Green Honeycombs // Lime Green Balloons  // Emerald Green Balloons 
Plates // Disposable Wood Cutlery //  Giant Bugs // Dinosaurs  //
This party was so much fun to plan for! We incorporated the boys favorite creepy crawly toys into the decor to add a little personality to the tables that were dressed with really inexpensive disposable table cloths topped with Mexican blankets. The blankets are pretty cheap and great for impromptu picnics, cuddling and obviously party decor. I even used these blankets at Sabrina's Southwestern Baby Shower last year.
THE FEAST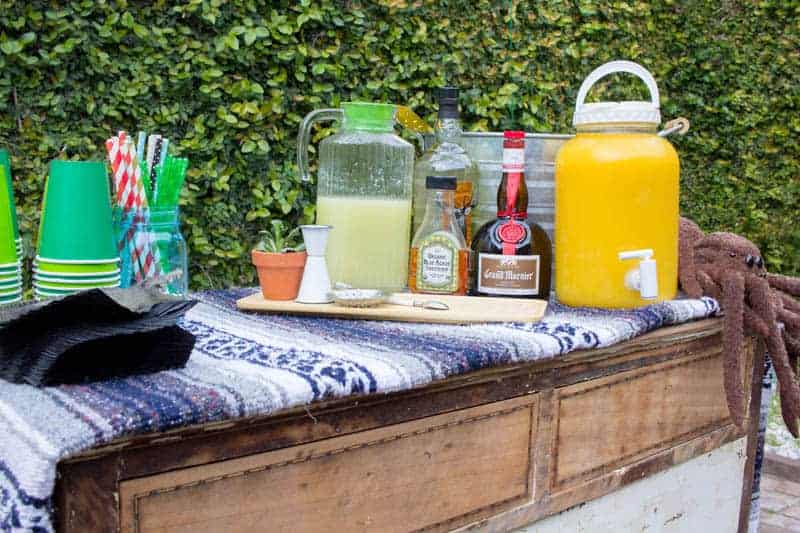 DIY Margarita Bar
Since our party was late in the afternoon we decided to set up a DIY margarita bar for the parents. Nothing fancy just tequila, Grand Marnier, agave and fresh pressed lime and orange juices while the kids sipped on ice cold water and organic juice boxes. The adults loved mixing their own cocktails and it kept Sabrina and I free to handle other party duties!
Festive Platters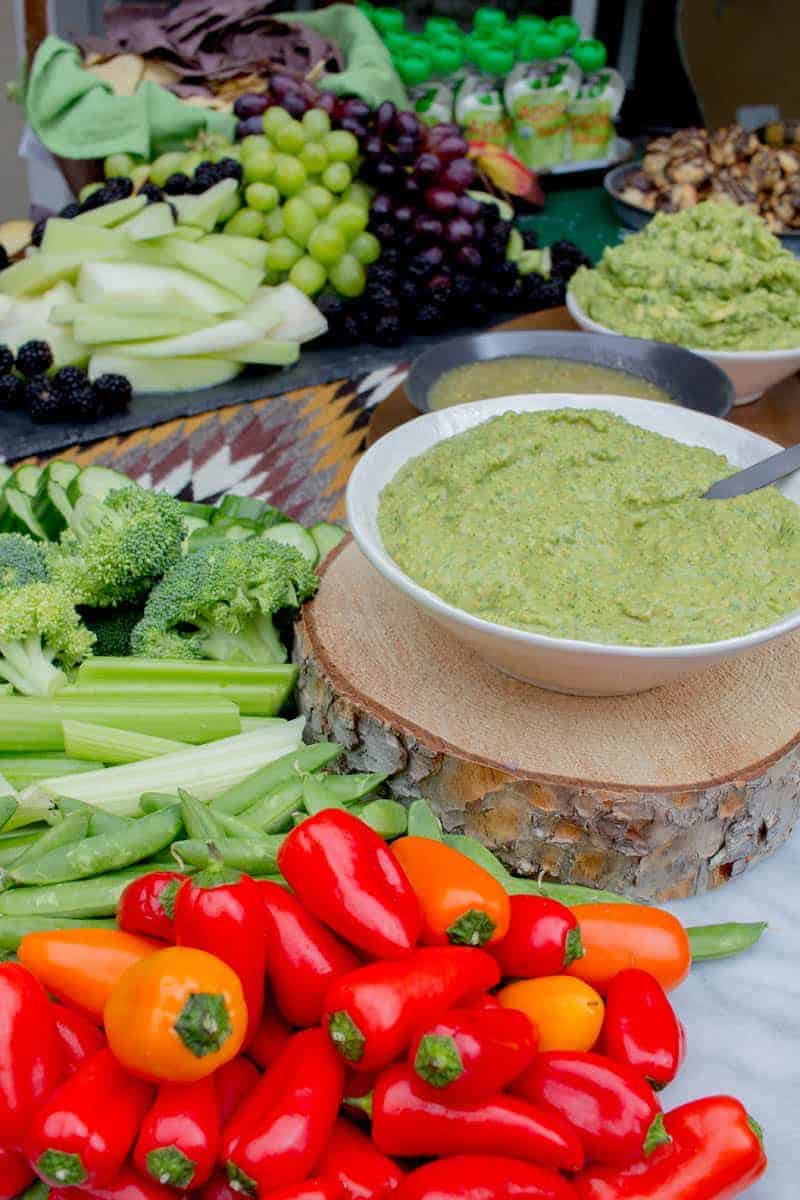 I'm a sucker for a great dip and Pinch of Yum's 5 Minute Magic Green Sauce is one of my all time favorites! It's easy, delicious and seriously only takes 5 minutes, even when you are making enough to feed 30 people. The small amount of leftovers we had from the party we put to use on some pretty amazing veggie sandwiches that will be making their way to the site soon!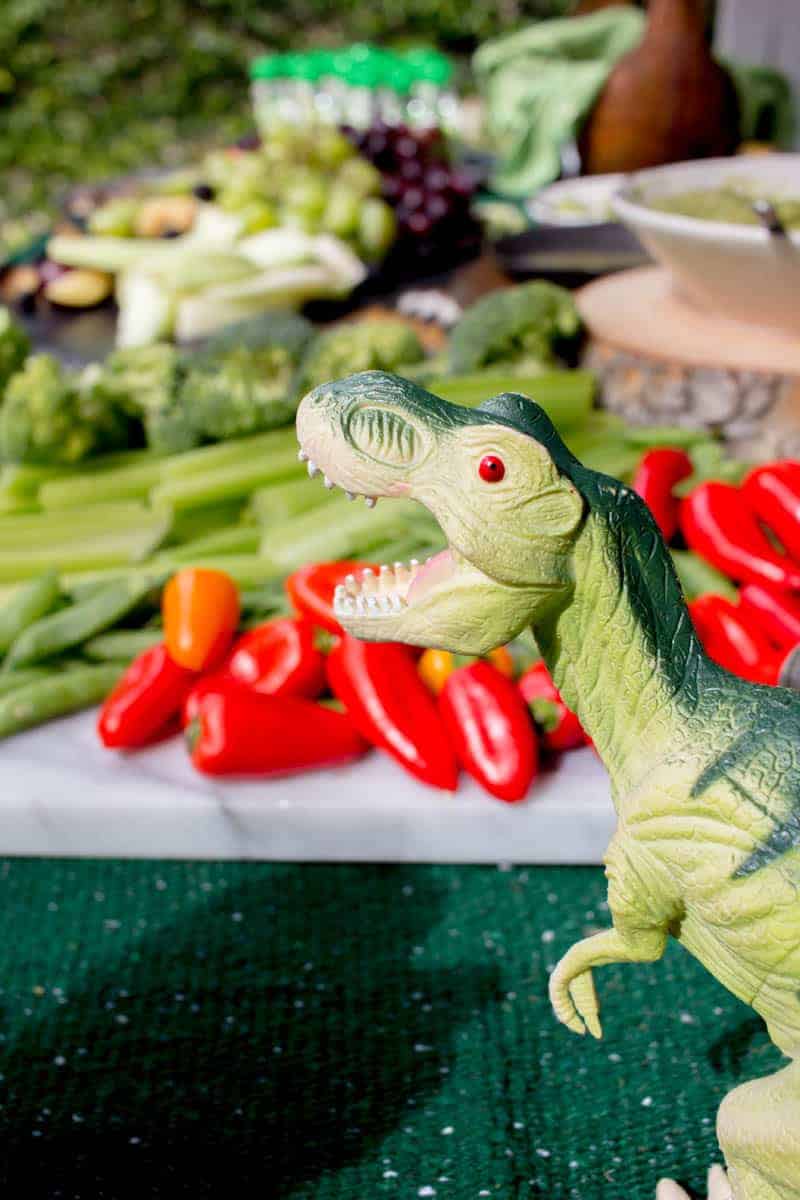 We tried to keep most of the veggies and fruit for our platters green, but those sweet peppers, blackberries and purple grapes for the fruit platter were too tempting to resist!
Chips and Dip
No party is complete without some type of chip and dip pairing am I right? We served store bought salsa verde, I really like Trader Joe's, along side my Mother-in-Law's homemade guacamole. I'm pretty sure that the guac was the first thing to go!
Main Course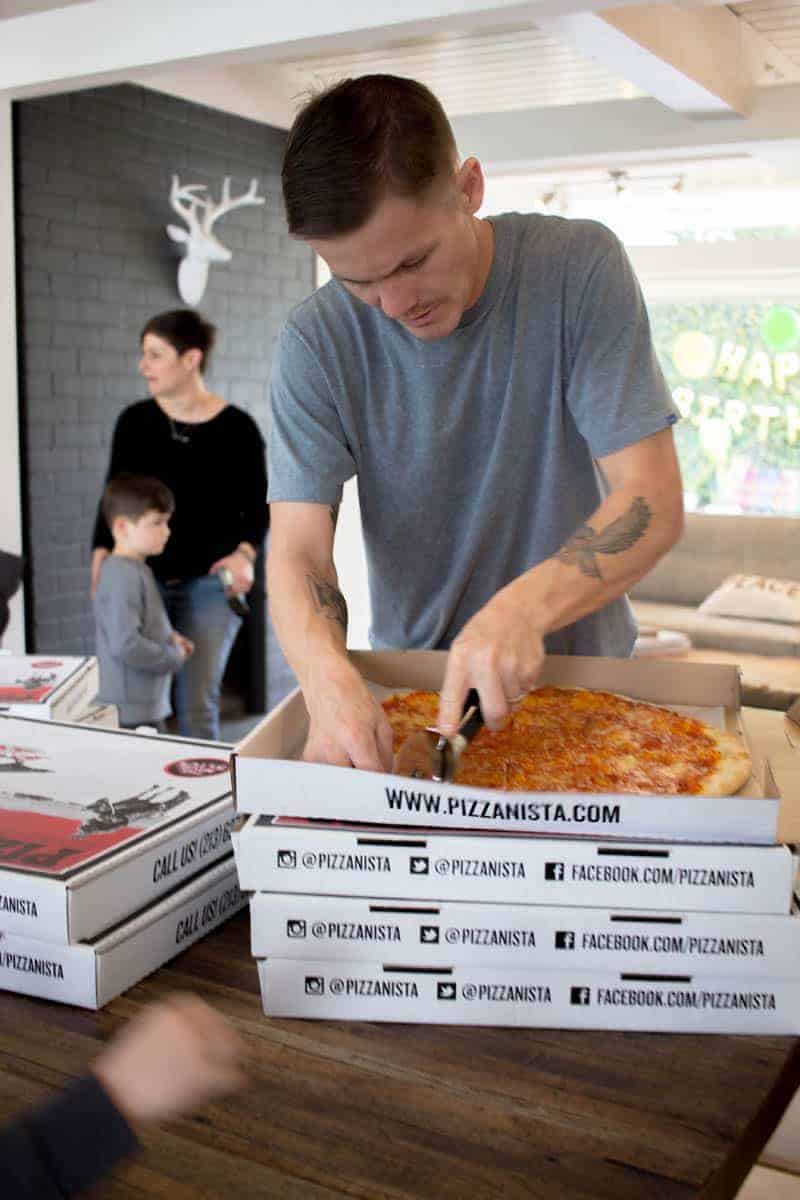 The boy's favorite food group is pizza, so we couldn't resist taking this opportunity to offer up Long Beach's newest and coolest pizza shop, Pizzanista, to our guests. They have a great selection of gluten free and vegan options for our boys and lots of really amazing flavor combinations for us adults too (Hello, mac and cheese pizza!!!) ! If you live in the LA or Long Beach area you should totally check them out. A gigantic thank you to the folks at Pizzanista and to Rex's dad, Geoff, for not only hooking us up with all of this awesome pizza, but for picking them up for us too!
To tie in the green theme with the main course we served Oh She Glow's Crowd-Pleasing Vegan Caesar Salad  along side the pizza. This salad is always a hit and feeds a ton of people when you double the recipe! (Note: This about the 100th time I have served it and have yet to snap a picture of it, it's so good we just dig right in every single time. Blogger fail! )
The Cake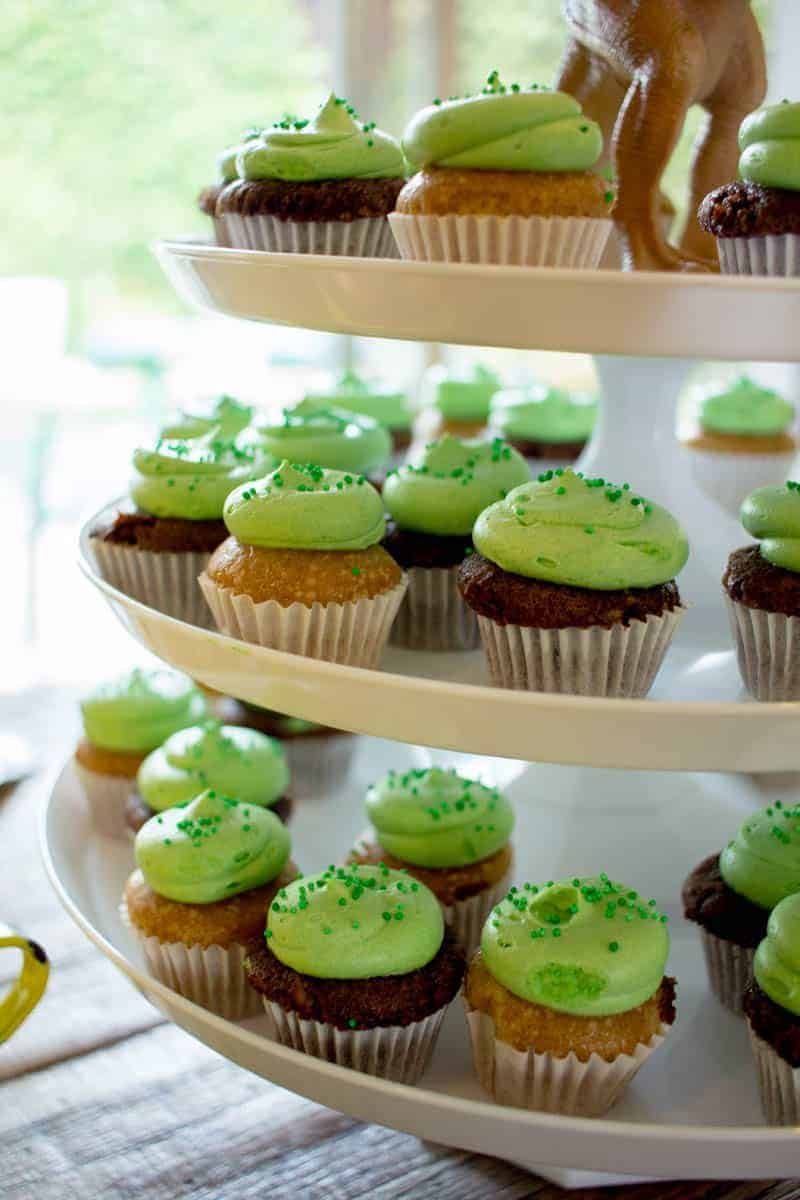 Baking for over 30 people seemed a bit intimidating to me, so we opted to go with these adorable mini cupcakes from Sensitive Sweets. This great allergen friendly bakery is a local treasure that Sabrina introduced me to and I was so impressed with how delicious the cupcakes were. Gluten free, vegan, soy free, nut free and actually really delicious! That is a tall order to fill for sure.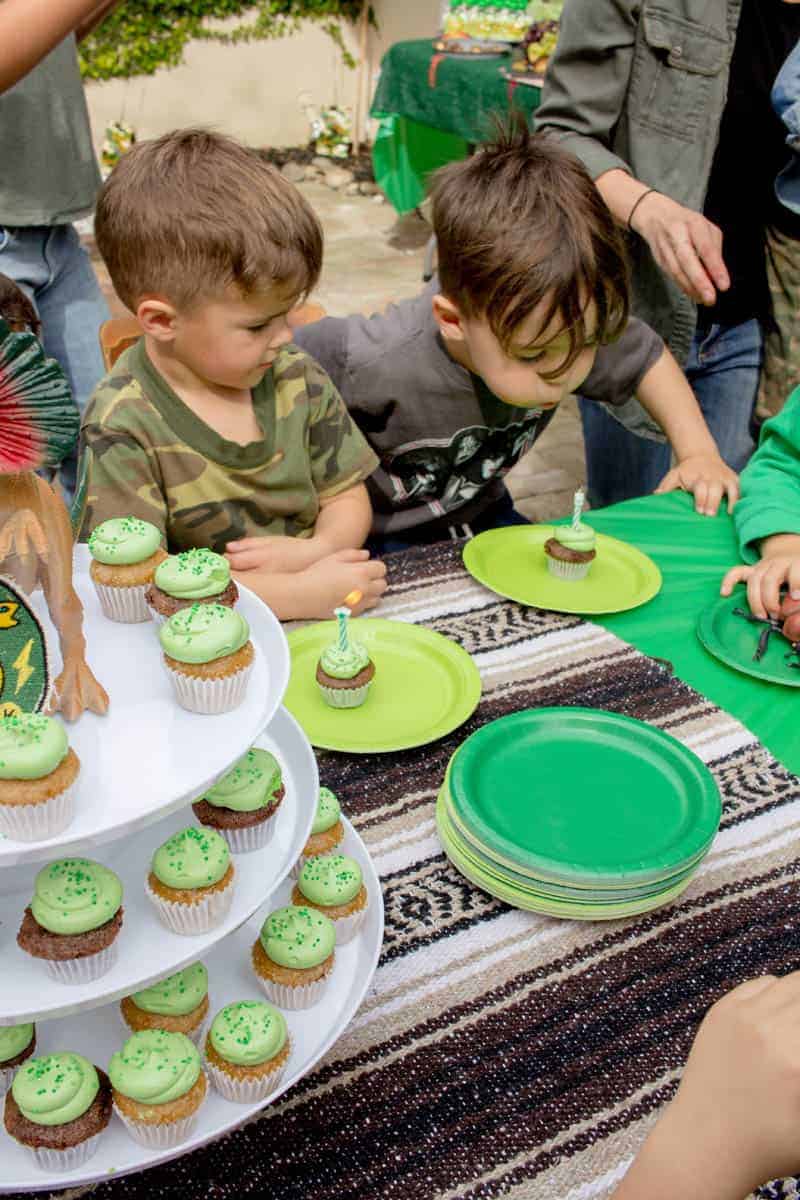 THE CREEPY CRAWLIES & THE INCREDIBLE DUO THEMSELVES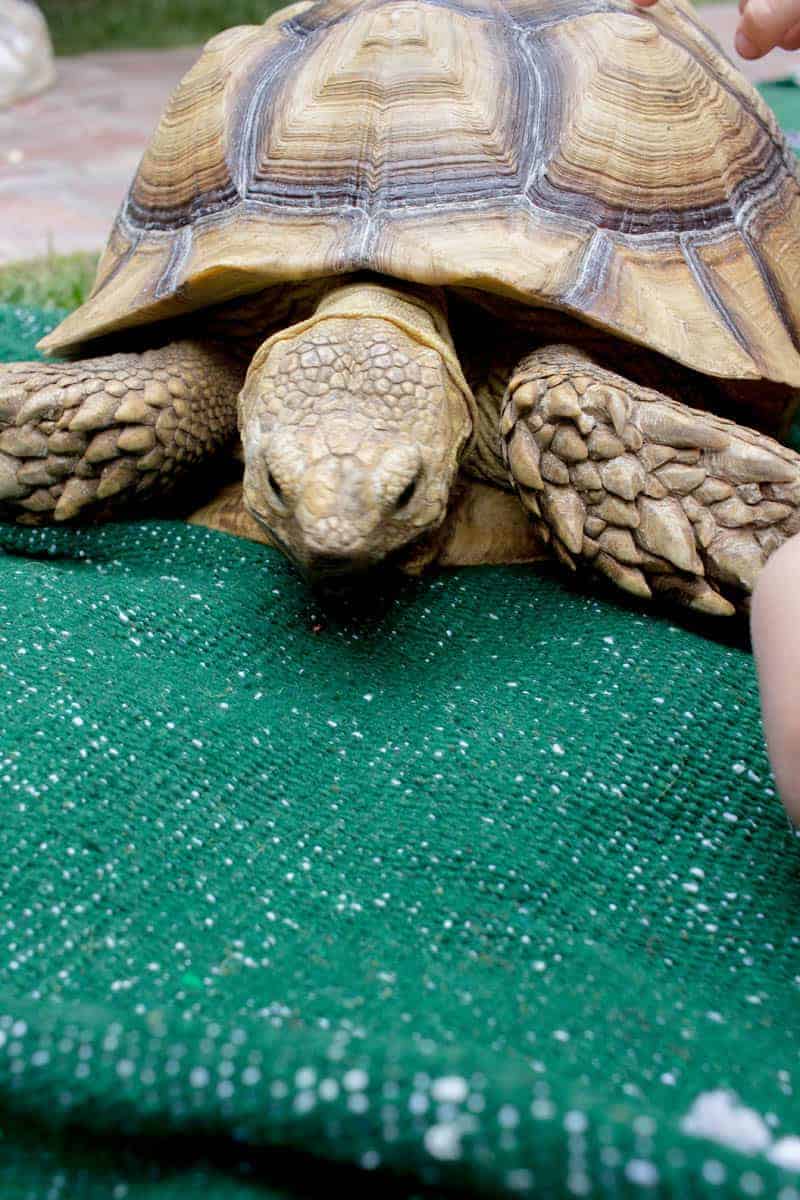 Let me tell you, these boys LOVE slithering snakes, turtles and gigantic bugs! The people from Pups & Reps for Parties are amazing, their reptile show is unlike anything we have ever seen. The animals, and bugs, loved the kids and the host Brianna was quite possibly the most patient person on the planet.
This tarantula was hands down the favorite critter of the entire show! I couldn't believe how docile it was, over 20 kids held that little dude and he was happy to sit in every single one of their hands. He actually made me rethink my fear of spiders, but only for a minute - they still totally creep me out!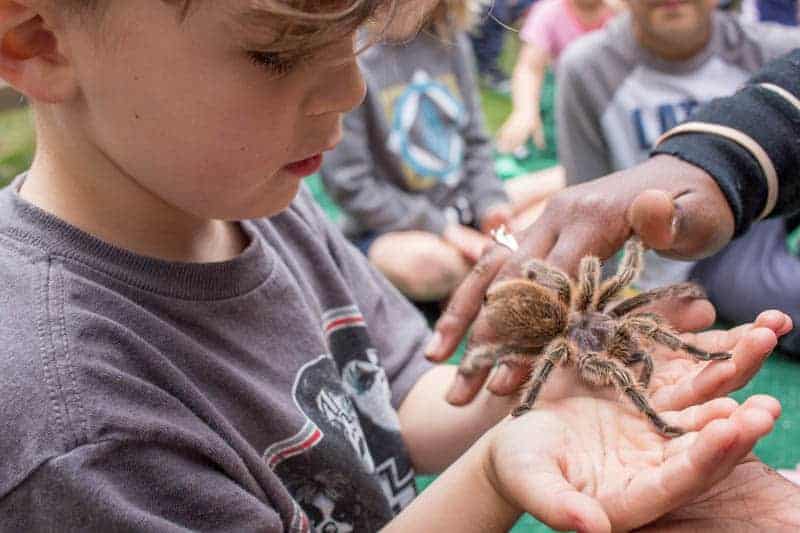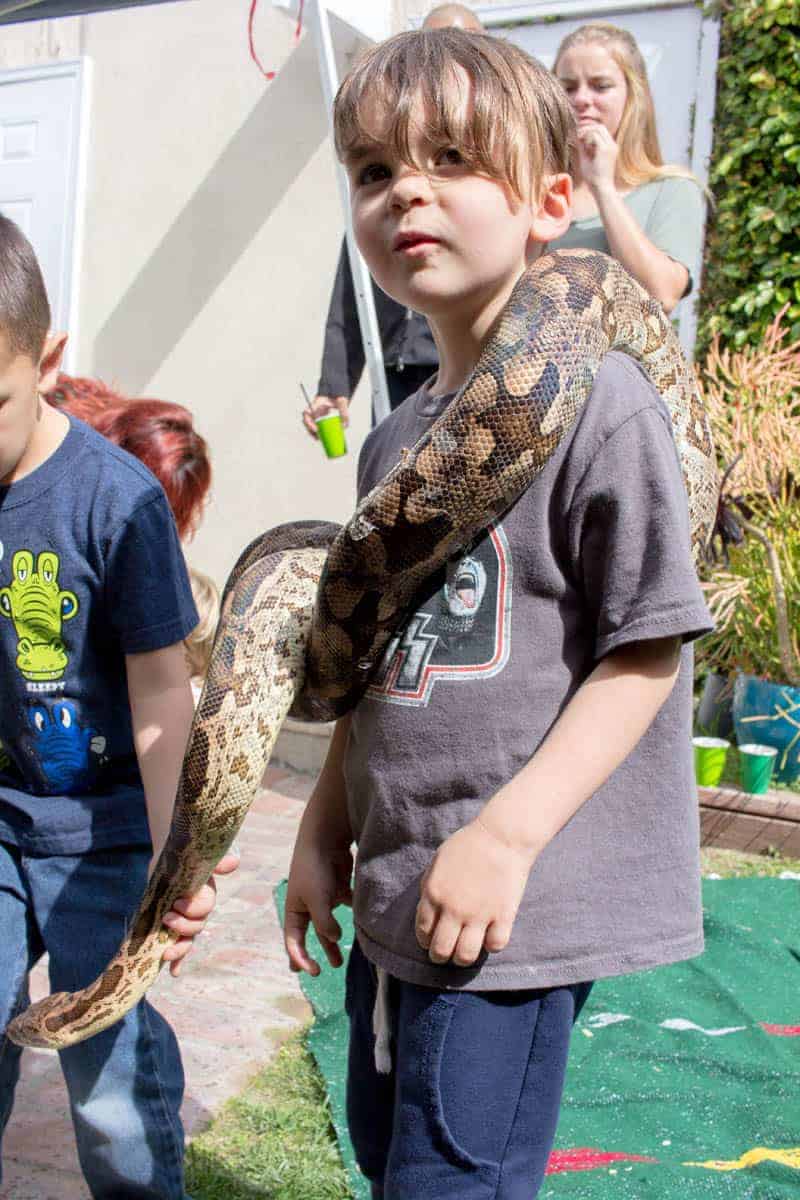 This snake was as gentle as a puppy and loved wrapping itself around the kids. The fruit bandit was trying to be super cool and give his serious face, but he could barely contain that grin!
This little bearded dragon perfectly perched itself on every single kid's head and was super happy to pose for a ton of pictures!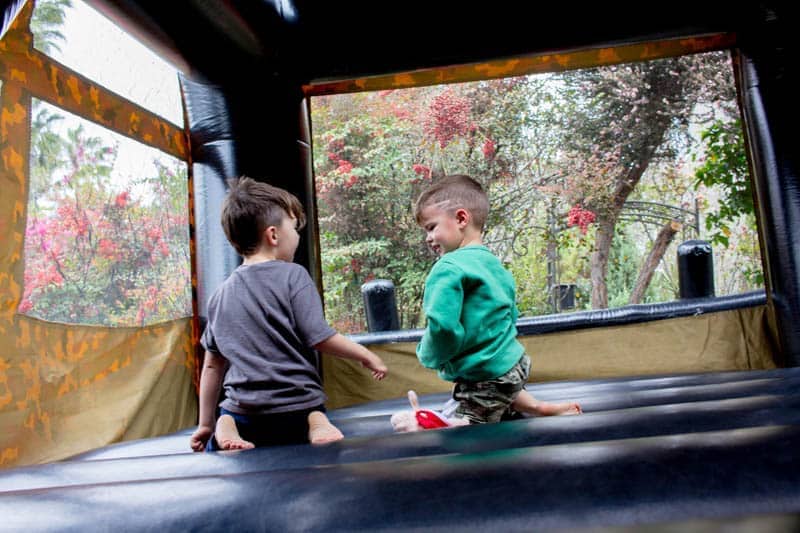 After weeks of planning and hours of partying these two were still going strong after their party. Their sweet friendship is pure magic, they love each other unconditionally and accept the fact that along with their many similarities they are also very different people. They don't let little stuff come between them they just roll with the punches. I wish adults were more like that don't you?!
[mc4wp_form id="7635"]
I am a participant in the Amazon Services LLC Associates Program, an affiliate advertising program designed to provide a way for sites to earn advertising fees by advertising and linking to amazon.com. This means if you make a purchase using these links above – your cost remains the same, but I earn a small percentage to help support this blog. Thank you so much for your support!