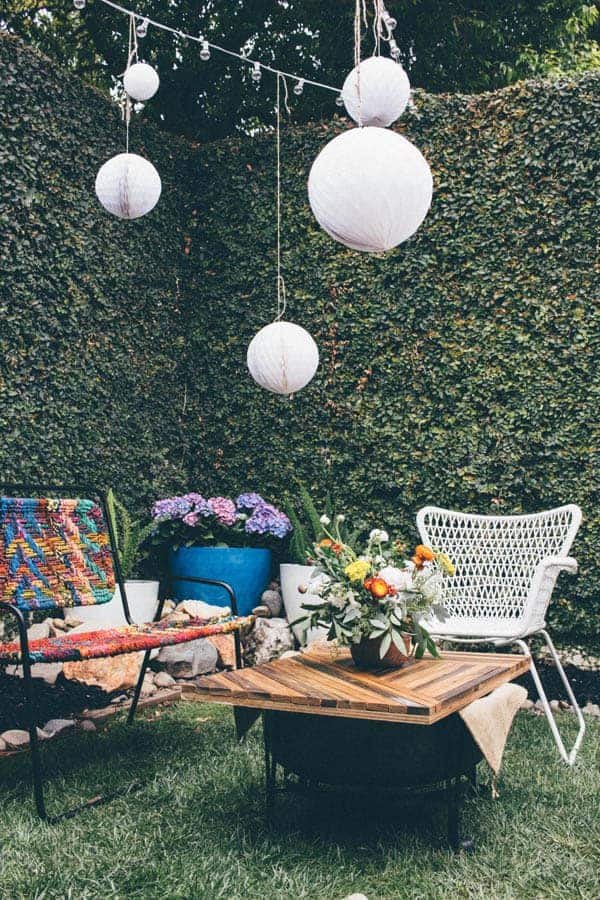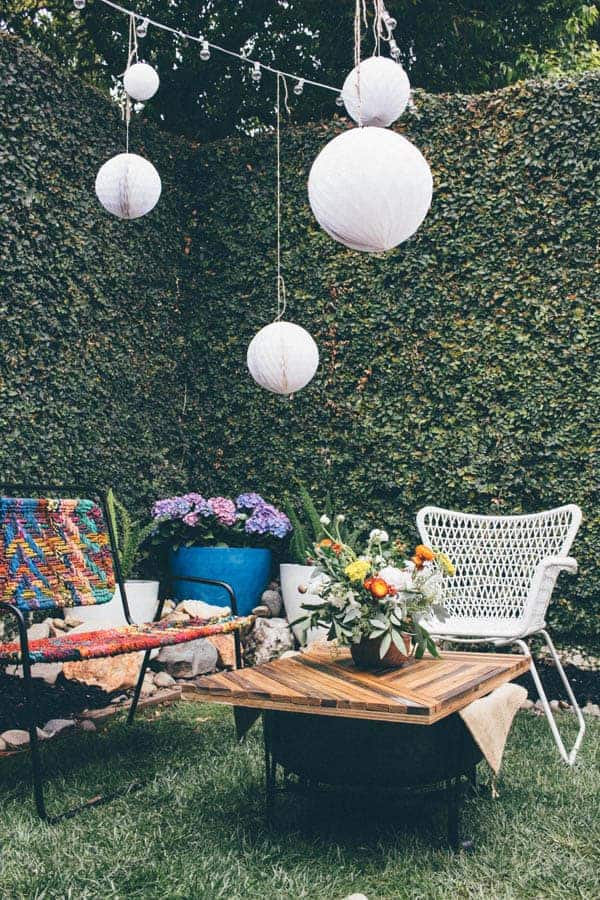 You know how I have been telling you that we were working on a bunch of projects for Beard and Bonnet behind the scenes? A few weeks ago I shared a small portion of our news and today I am excited to share a little bit more! We love entertaining - our front door is always open and we are always eager to share drinks, amazing food, and quality time with our friends and family. It's always a bummer when the party ends, so now we have decided to extended the festivities and bring our parties to you. We're talking party plans, decorations, gluten free menus for a crowd, and DIY ideas for favors, flowers, and more! It's going to be fun right?
Today, you are invited to celebrate Sabrina of Vigor|Sage's Southwestern themed baby shower! I literally jumped at the opportunity to co-host Sabrina's baby shower at our house - she is one of my favorite people on the planet and I am so fortunate that our little boy's friendship has brought us together.
I'll be sharing the entire party with you over this coming week, including our photos, the recipes we served, tips for getting a good chunk of the cooking done ahead of time and more. Today, I wanted to show you the party set up, our party favors and the cute craft project we all had fun with followed by the recipes for the great summer dishes we served on Wednesday, Thursday, and Friday!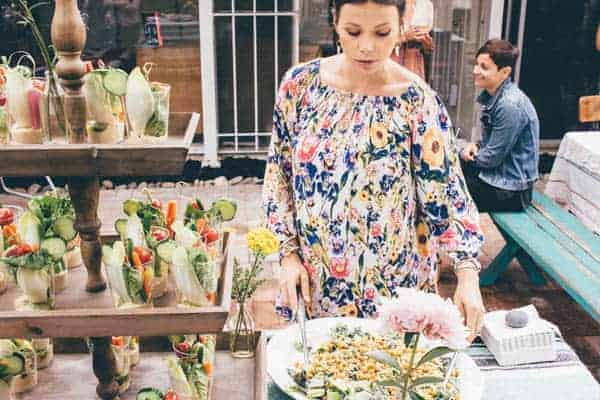 I love bringing the indoors outdoors for events like this! It makes the courtyards of our home feel much more inviting and people tend to linger longer. For the seating area above we combined a settee from our playroom with our outdoor IKEA patio chairs. Our fire pit often does double duty as a coffee table with a simple decorative board placed on top.
Edison string lights / Honeycomb decorations / table top by Erickson Wood Works
We have had a barren corner in our courtyard for years now and couldn't quite decide what to do with it. When we chose the color scheme of turquoise, rust, and metallics for Sabrina's shower I immediately thought about the beautiful garden wall featured on the May issue of Better Homes and Gardens .  Instead of building a wall in a green space we decided to simply paint two adjoining walls and created a vertical garden in front of it with some West Elm planters that we really love and a bit of twine.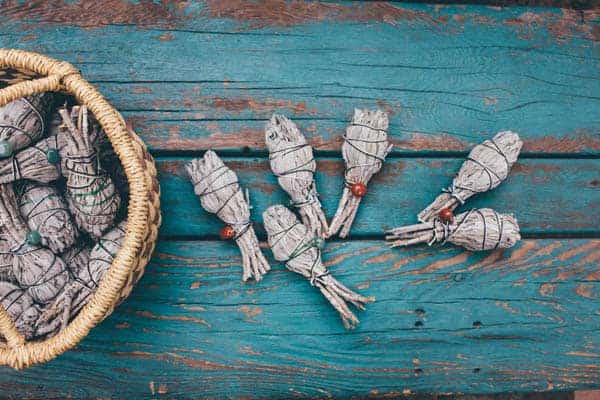 Every good party has a little token for the guests to take home right? One of the first things you would notice about Sabrina if you met her is that her life is led with intention and mindfulness. As a therapeutic yoga instructor  Sabrina spends her days helping others on their path to wellness - whether they are healing from an injury or recovering from cancer she is there for them and really creates a safe place at her studio for them to find a retreat. There are always bundles of sage in her studio and if you were to have a chance meeting with her you would immediately notice the stones and crystals that she so elegantly wears. For those reasons my co-hosts and I decided that hand tied sage bundles with stones that we hand selected for their meanings at a local crystal shop here in Long Beach would be a take away that would not only mean a lot to our guests, but to Sabrina as well.
Tourmaline (turquoise-green) aids in "seeing with the heart" and encourages feelings of gratitude.
Jasper (brownish-red) is known as the nurturing stone and promotes peace and relaxation.
The menu is always my favorite part of planning for a celebration! For this special occasion, I made a double batch of my blueberry lavender fizz and left the coconut rum on the side for guests to add if they would like. I will be sharing the recipes from our feast later this week, but just in case you were curious we indulged with...
Strawberry & Cucumber Spa Water
Watermelon, Berry, & Basil Salad
Lemon Hummus with Pesto and Crudités 
Crowd Pleasing Vegan Caeser Salad from Oh She Glows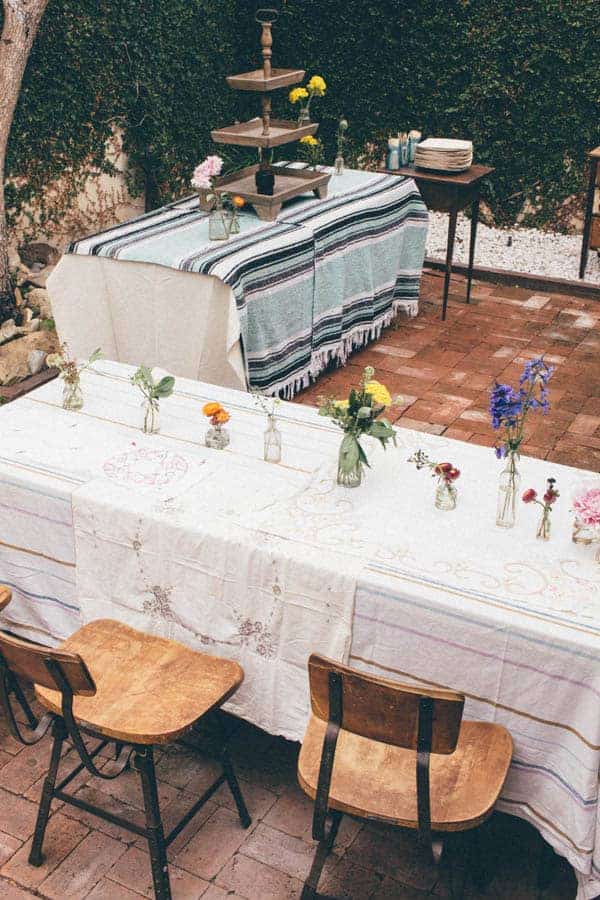 We used a lot of items that we already had on hand - vintage bottles for the flowers, a bunch of arrows created a fun and festive arrangement on our bar which just happens to be a dresser from a yard sale that I have never quite finished refinishing. (Oops!) Most of the linens were a mix up of vintage table cloths, Mexican Blankets, and embroidered napkins draped over inexpensive canvas drop cloth.
drink dispenser / leafware plates / bamboo knotted hors d'ouevres picks / forks / spoons / knives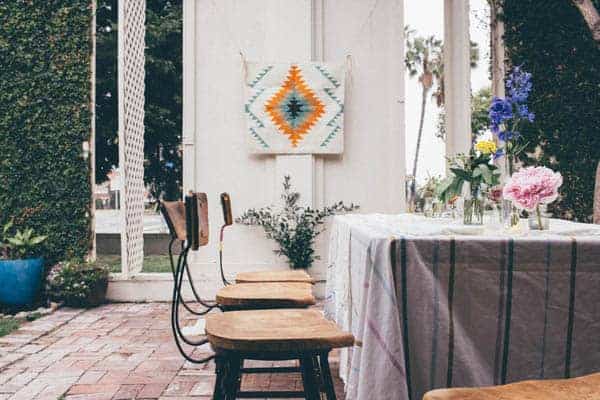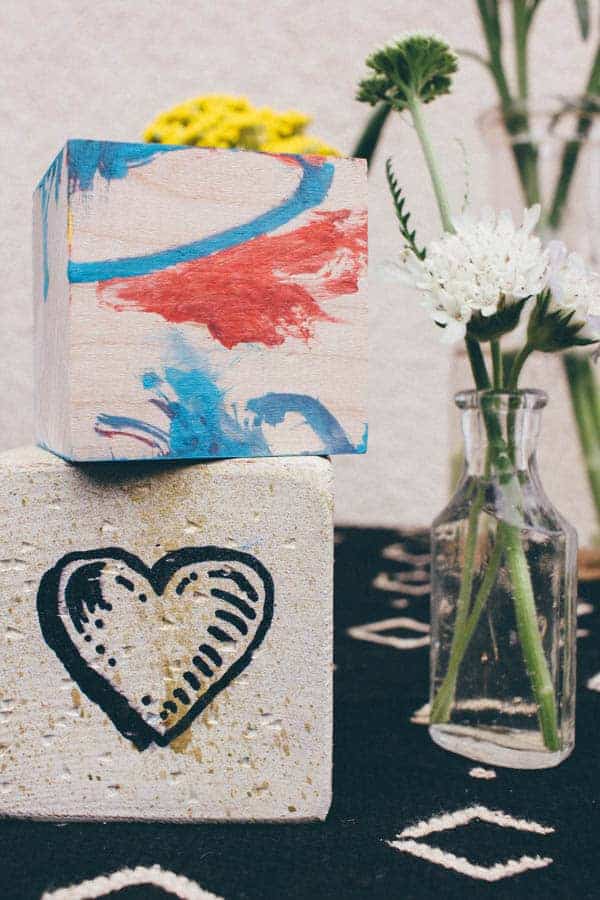 Every shower needs a craft or a fun activity and we knew from the beginning that "guess the baby food flavor" wasn't going to be on our agenda for the day! We opted to have every guest paint a wooden block for Sabrina to keep as a keepsake instead.
All of the guests really enjoyed the opportunity to get creative and make a gift for the baby! We even had Sabrina's husband and son paint a few blocks in advance as a surprise for her.
I hope you enjoyed the little snapshots of our party set up! I hope to see you here tomorrow for one of my favorite summer recipes Watermelon, Raspberry, & Basil Salad!
I am a participant in the Amazon Services LLC Associates Program, an affiliate advertising program designed to provide a way for sites to earn advertising fees by advertising and linking to amazon.com. This means if you make a purchase using these links above – your cost remains the same, but I earn a small percentage to help support this blog. Thank you so much for your support!