I love days when we don't have to go anywhere at all. This happens for us occasionally on Sundays and we cherish every moment together. We plan a special meal and spend parts of the day preparing the ingredients together. Last Sunday was one of those days an we decided that our favorite slow cooked black bean tacos would be a perfect way to end the day.
These black bean tacos take some time, but most of it is simmering the beans. It's well worth it!
This meal is a labor of love but, it is so worth it. You will definitely have leftovers and when you are spending the time in the kitchen with your loved ones it really doesn't feel like work at all.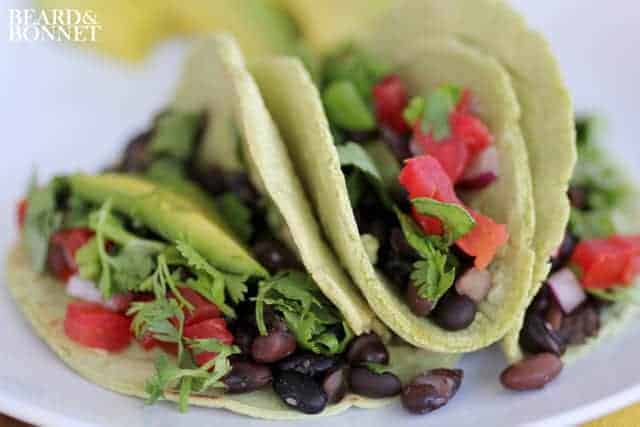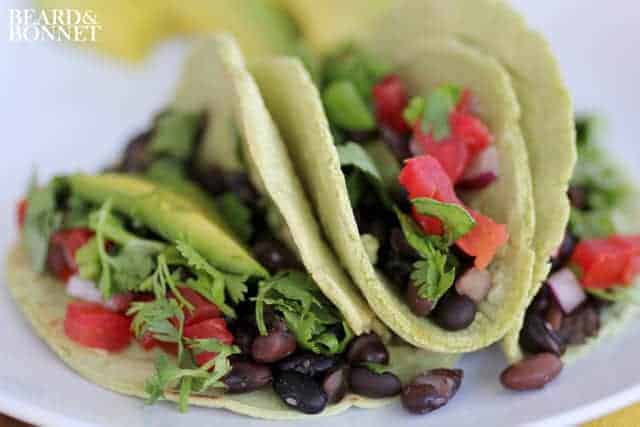 If you've tried this Black Bean Tacos Recipe, I would be so grateful if you would rate it. Let me know what you think in the comments below. I just love hearing from you, and your reviews and comments really help others that visit This Mess is Ours!
Print
Black Bean Tacos with Cilantro Infused Tortillas
Don't forget to rate the recipe, and let me know what you think about these Black Bean Tacos in the comments below. I just love hearing from you. Your reviews/comments really help other people that visit This Mess is Ours!
1

lb. dried black beans, soaked overnight

1 qt

vegetable stock
water

2

bay leaves

¼

of a red onion

3

cloves garlic, smashed

1

jalapeno

1 Tbsp

. salt

1 Tbsp

. cumin

½ Tbsp

. coriander
Cilantro-infused tortillas, get the recipe here. Or you can use regular corn tortillas.
Instructions
Place black beans and the quart of vegetable stock in a large heavy bottomed pot. Add water until the beans are covered by 1 ½ inches of liquid. Heat over high heat until boiling.
Put the lid on and reduce heat to a low simmer and cook for 1 hour.
At the end of the first hour add more water if needed to keep beans covered by at least 1 inch of liquid.
Add in the onion, bay leaves, smashed garlic cloves, and spices.
Pierce the jalapeno down both sides with a knife and add whole to the beans and other ingredients.
Cook for an additional 45 minutes-1 hour or until beans are tender. Try not to stir too often during the cooking process so that you do not burst the skin on the beans.
When the beans have completed cooking remove the bay leaves, onion, jalapeno and garlic cloves.
We top our tacos with our homemade tomatillo salsa, pico de gallo, fresh cilantro, avocado, pickled peppers and poblano cashew cream. 
Recipe Card powered by
Want to be a part of our online community outside of the blog? It's easy!! All you have to do is follow @THISMESSISOURS on FACEBOOK, INSTAGRAM, TWITTER, YOUTUBE, or PINTEREST to see cooking demos and peeks into our day to day life.
What are the health benefits of black beans?
Black beans are filled with nutrients such as calcium and magnesium which help keep bones strong and healthy, making them a great alternative to meat for vegetarians. Combined with the low sodium content, these nutrients also help to lower blood pressure. The high amount of fiber and low amount of cholesterol in black beans help to manage diabetes and improve heart health.
Click here for more information on the health benefits of black beans.
Frequently Asked Questions