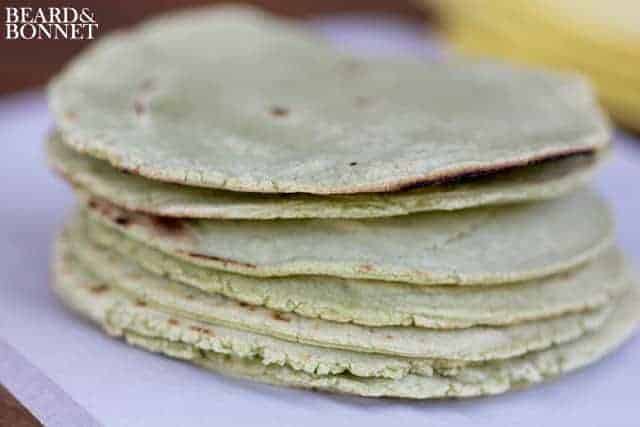 If there is one thing that I miss the most since our new gluten-free lifestyle it is flour tortillas. I have never been a fan of the texture of store bought corn tortillas and they can be so finicky to work with that I had always avoided them entirely. On my quest for gluten-free ingredients I came across a bag of Maseca instant corn masa flour in my local grocery store. The directions for making homemade tortillas seemed simple enough and having been without a proper soft taco shell for months I thought that I would give it a go.
That evening I made all of our usual taco trimmings and nervously followed the directions on the bag to make my own tortillas. The batter was easy, only 3 ingredients. I didn't have a tortilla press so I used a heavy bottomed skillet and a rolling pan to flatten my tortilla dough. They weren't exactly pretty little circles but they would work. I heated my cast iron skillet and I began cooking the tortillas. Turns out they were pretty darn good! Aside from the fact that they were more oval than circle my family raved about how much better they tasted than the corn tortillas we had been purchasing at the store. Todd liked them so much that he brought home a tortilla press and warmer a few nights later to ensure that we would have perfectly round, warm tortillas the next time I set out to make them.
I have been experimenting with my bag of Maseca ever since. Last night I decided that I would like to give making flavored tortillas a try and I am so glad that I did. It was really easy and I was able to put my new tortilla press into action. The beautiful little green tortillas that were the result of this experiment were a HUGE hit at the dinner table!
Cilantro Infused Corn Tortillas:
2 cups Maseca, instant corn masa flour
1 1/2 cups water
3 cups loosely packed chopped cilantro (1 large bunch)
1/4 tsp. salt.
Place the cilantro and water into a blender and blend for approximately 1 minute. Allow the mixture to steep in the refrigerator for 20-30 minutes then strain the liquid through a fine mesh sieve using a spatula to press all of the liquid out of the pulp. This cilantro "tea" will replace the water in the batter for the corn tortillas. You need 1 1/4 cups of the tea to make the tortillas you can add more water to the tea if you need to.
In a large mixing bowl combine the Maseca, salt and 1 1/4 cups of the cilantro tea and mix thoroughly until dough is formed. Use your hands and knead the mixture for about a minute. The dough should be soft, if it feels too dry and crumbly knead in a little more of the tea or water 1 tablespoon at a time.
Divide dough into 16 equal balls that are a little larger than a golf ball. Cover with a damp cloth to keep the dough from drying out. Line a tortilla press with two sheets of thick plastic wrap or parchment paper. Press each ball between the plastic until the tortilla is about 5-6 inches across. Carefully set aside, separating each tortilla with a small square of plastic or parchment to prevent sticking and repeat the process until all of the dough has been pressed.
Preheat an ungreased griddle or cast iron skillet over medium-high heat. Cook tortillas one at a time for 50 seconds. Flip and cook the other side for an additional 50 seconds. Place in a lined tortilla warmer or cover with a cloth napkin and repeat until all of the tortillas have been cooked.
(Visited 1 times, 1 visits today)