As we gear up for back to school I have been thinking about quick and easy wholesome breakfasts for Eliza. I want something that will give her lots of energy and will curb her appetite until lunch. Lucky for me, she will opt for homemade granola over a box of sugary cereal any day! I have a recipe for several types of granola in my arsenal so that she doesn't get bored with the breakfast selection in the pantry but this one is her favorite.
Here are a few basic granola recipe tips that will help you to make perfect crispy, golden granola every time!
Choose the right type of oats: Look for gluten-free rolled oats like these and avoid quick cooking oats. Using the right oats will ensure that your granola will be crisp and golden. If you use quick cooking oats your granola will taste of raw starch and the texture will be powdery, not crisp.
Use both liquid and dry sweeteners: In this particular recipe I combine maple syrup and brown sugar which is a winning combination in my book. In other recipes I use honey or molasses for the liquid just depending on the flavor profile that I am trying to achieve.  I always mix the brown sugar in with the dry ingredients so that it will coat the oats with a subtle sweetness and help them to reach a beautiful golden brown when baking. You can reduce the amount of sweetener slightly or omit the brown sugar all together if you wish but, you will need to increase the cooking time to reach the desired color.
Don't forget the salt:  You really don't need much but it will make a huge difference in your granola's flavor.
Bake at a low temperature: This helps the cereal to crisp up and brown evenly. Always add the dried fruit partway through baking so that it dries out just enough to keep your granola from becoming soggy during storage.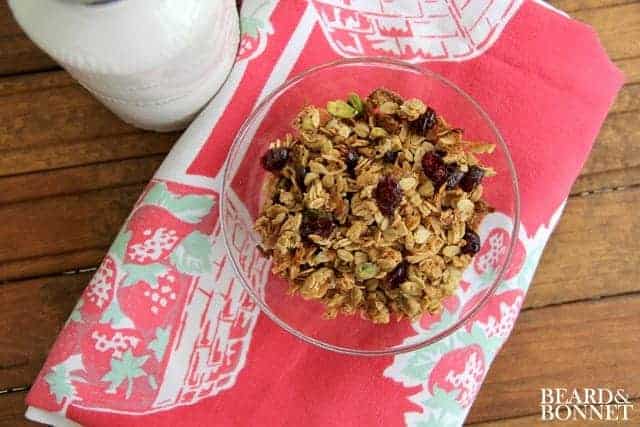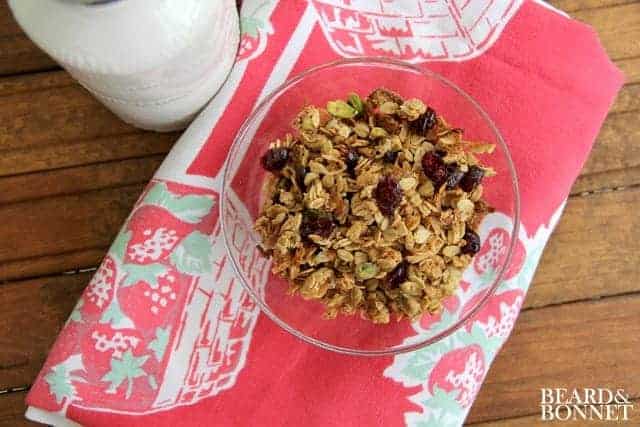 If you've tried this Gluten Free Cranberry and Pistachio Granola Recipe, I would be so grateful if you would rate it. Let me know what you think in the comments below. I just love hearing from you, and your reviews and comments really help others that visit This Mess is Ours!
Print
Gluten Free Cranberry and Pistachio Granola
Don't forget to rate the recipe, and let me know what you think about this Gluten Free Cranberry and Pistachio Granola in the comments below. I just love hearing from you. Your reviews/comments really help other people that visit This Mess is Ours!
2 cups

gluten-free rolled oats

½ cup

rice bran

2 Tbsp

.  dark brown sugar

¼ tsp

. salt

⅓ cup

pistachios, unsalted

⅓ cup

 sweetened shredded coconut

⅓ cup

dried cranberries

¼ cup

maple syrup

3 Tbsp

. sunflower oil, or other flavorless cooking oil like canola or vegetable

1 Tbsp

. water

½ tsp

. ground cinnamon
Instructions
Place rack in the middle of the oven and preheat to 275° F. Line a 9 x 13 inch baking pan with parchment paper and spray with cooking spray.
In a large bowl combine the oats, rice bran, dark brown sugar, salt, pistachios & coconut and mix well.  
Combine maple syrup, water, sunflower oil and cinnamon in a small saucepan and bring to a simmer over low heat.
Once the liquid comes to a simmer drizzle it over the oat mixture, and stir well to combine.
Pour the mixture onto the prepared pan and use your hands to squeeze small clumps together to create clusters.
Bake for 30 minutes. Keep an eye on the edges of your pan, if the clusters towards the edge are getting too brown stir them in towards the center and allow the granola to bake for the remainder of the time.
At the end of 30 minutes remove the pan and stir in the cranberries then continue to bake until the granola is golden brown, about 10-15 minutes.  Let cool.
Notes
This recipe makes 1 quart of granola and can be stored in an airtight container for up to 2 weeks. If you double the recipe be sure to use 2 baking pans and increase the baking time by a little bit so that the granola can reach a rich golden brown.
Nutrition
Serving Size:

1 bowl

Calories:

346

Sugar:

15.9 g

Sodium:

84.5 mg

Fat:

22.5 g

Carbohydrates:

32 g

Protein:

3.7 g

Cholesterol:

0 mg
Recipe Card powered by
Want to be a part of our online community outside of the blog? It's easy!! All you have to do is follow @THISMESSISOURS on FACEBOOK, INSTAGRAM, TWITTER, YOUTUBE, or PINTEREST to see cooking demos and peeks into our day to day life.
What are the health benefits of granola?
Granola, being made of toasted oats and nuts, is a protein packed cereal. High amounts of fiber, along with the protein, help to promote gut health and keep you feeling full longer. The ingredients in granola also regulate blood pressure, cholesterol, and blood sugar levels.
Click here for more information on the health benefits of granola.
Frequently Asked Questions