Today, we're setting out to uncover the secrets of creating the most heartwarming dish—Roasted Sweet Potato Soup. This wonderful recipe is the epitome of wholesome, inviting you to embrace the beauty of well-prepared simple ingredients.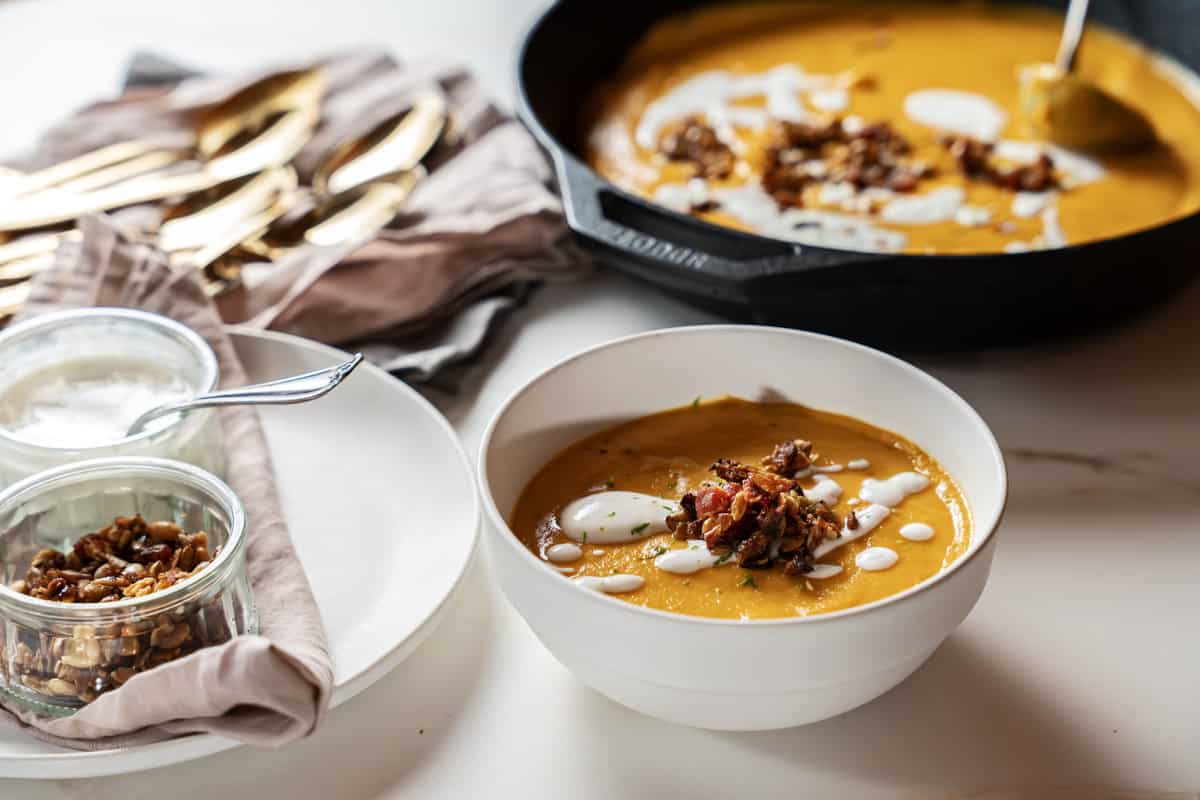 The Allure of Sweet Potatoes
In the world of comfort food, few dishes hold a candle to a bowl of roasted sweet potato soup. It's like a warm, inviting embrace, with a blend of flavors that transports you to a cozy fireside on a chilly evening. At the heart of the dish, the modest sweet potato radiates a comforting, irresistible natural sweetness.
The Art of Roasting Sweet Potatoes
The key to this heartwarming dish lies in the art of roasting sweet potatoes. Roasting is a transformative process, where high heat coaxes out the sweet potato's natural sugars. While boiling can sometimes strip vegetables of their innate sweetness, roasting brings out rich and complex notes that set the stage for this recipe.
In our popular post on How To Make a Perfect Roasted Sweet Potato Every Time, we explored this culinary magic, and employ it's technique for this soup. The results are unmistakable: the oven encourages caramelization, adding depth of flavor to this recipe.
Ingredients for Roasted Sweet Potato Soup
The sweet potato takes center stage, surrounded by a supporting cast of garlic confit, onions, rotisserie chicken broth, and a medley of spices. Check out these links for instructions on how to make garlic confit and rotisserie chicken broth. You can use store-bought broth, but we think homemade stock takes this recipe over the top.
How to Make The Soup
Our recipe for roasted sweet potato soup is more than just a list of ingredients and instructions. It's an informative guide that walks you through the process of developing flavors. Basic ingredients undergo a flavorful transformation in your oven and on the stovetop, filling your kitchen with an enticing aroma and your belly with a delightfully satisfying meal.
Step 1
Start by making garlic confit using this method by California Grown. Once the garlic has begun cooking, roast the sweet potatoes using these easy to follow instructions. 
Step 2
In a medium pot, sauté onions, garlic, and spices until the onions are translucent, about 4-5 minutes. Add in the flesh of the roasted sweet potatoes and rotisserie chicken stock, then let simmer for about 10 minutes.
Step 3
Discard the bay leaves and place ingredients from the pot into a blender and puree until smooth. With the blender running, slowly pour in heavy cream. The cream gives the roasted sweet potato soup a silky texture, but may be omitted or swapped out for a non-dairy replacement of your choice.
Step 4
Taste for salt level and adjust to your liking. You may also add more chicken stock at this point if you want your soup to be thinner.
Complementing the Soup: Pepita-Apple-Bacon Brittle and Lime Yogurt Sauce
We think you will enjoy this roasted sweet potato soup just the way it is, but we decided to take it up a notch with these two easy-to-make garnishes.
The brittle offers the perfect textural contrast of crunch with flavors that play very well with sweet potato. The yogurt sauce, zesty and refreshing, adds contrast to the deep rich flavors of the soup, elevating the entire dish to a new level.
If you've made this Roasted Sweet Potato Soup, I would be so grateful if you would rate the recipe and let me know what you think in the comments below!
Print
Roasted Sweet Potato Soup
Delight in the comforting flavors of our Roasted Sweet Potato Soup. This hearty and wholesome recipe brings warmth and depth to your kitchen, a perfect blend of flavors for a delightful meal.
Author:
Prep Time:

15 minutes

Cook Time:

1 hour and 30 minutes

Total Time:

0 hours

Yield:

3 quarts

1

x
Category:

Soup

Method:

Stovetop

Cuisine:

American
For Roasted Sweet Potato Soup:
4 medium sweet potatoes )about 2 pounds, scrubbed clean, holes poked all over with a fork or knife)
2 tablespoons butter, unsalted
1 bulb garlic, peeled
2 cups olive oil
1 medium onion, diced (about 1 ¼ cup)
2 bay leaves
2 teaspoons kosher salt
½ teaspoon black pepper
¼ teaspoon smoked paprika
2 ½ cups chicken stock
⅓ cup heavy cream
For pepita-apple-bacon brittle:
1 cup pepitas
½ cup dried apple chips, chopped the size of pepitas
½ cup cooked bacon, diced small (optional)
⅓ cup maple syrup
½ teaspoon kosher salt
¼ teaspoon black pepper
For lime-yogurt sauce:
½ cup plain yogurt
1 teaspoon lime zest
1 tablespoon + 1 teaspoon lime juice
¾ teaspoon kosher salt
Instructions
To make Roasted Sweet Potato Soup:
In a medium pot add the onion, 3 tablespoons cooked garlic, bay leaves, salt, black pepper, and smoked paprika and cook on medium heat until the onions are translucent, about 4 minutes. 
Stir in sweet potatoes and chicken stock and simmer for 10 minutes, stirring frequently and mashing the sweet potatoes.
Remove bay leaves. Place the ingredients into a blender and puree until smooth. With the blender running, slowly add the heavy cream. You can omit the heavy cream or substitute with your favorite non-dairy replacement. Add more chicken stock if you want to achieve a thinner consistency. Taste and adjust salt if necessary. 
Soup can be refrigerated in an airtight container for up to 5 days.
To make Pepita-Apple-Bacon Brittle:

Preheat the oven to 350°F.

Line a baking sheet with a silicone baking mat or parchment paper coated with cooking spray.

In a mixing bowl, combine all ingredients until fully incorporated and pour onto baking sheet and spread to make an even layer without gaps. It should be about ¼ inch thick.

Place in the oven and bake for 10-15 minutes. The edges will start to get a little dark and the maple syrup will begin to bubble. Remove from the oven and let it cool completely. Then break into small pieces to garnish soup. 

To make Lime-Yogurt Sauce:

Combine all ingredients in a small bowl and mix until fully incorporated.
Notes
Nutritional values are reflective of one serving of soup (6 ounces), one serving of lime-yogurt sauce (1 tablespoon), and one serving of pepita-apple-bacon brittle (one tablespoon).
Nutrition
Serving Size:

6 ounces

Calories:

160

Sugar:

7.3 g

Sodium:

408.6 mg

Fat:

8.4 g

Carbohydrates:

17.1 g

Protein:

5.1 g

Cholesterol:

10.2 mg
Keywords: sweet potato, roasted sweet potato, sweet potato soup, sweetpotato, pepita apple bacon brittle, lime yogurt sauce
Recipe Card powered by