A twice baked potato is a creamy, cheesy potato filling stuffed inside a crunchy, salted skin and topped with even more cheese! Depending on the size of the potatoes you use this recipe can be served as a side dish or a satisfying meal that is tasty, filling, and perfect in every way.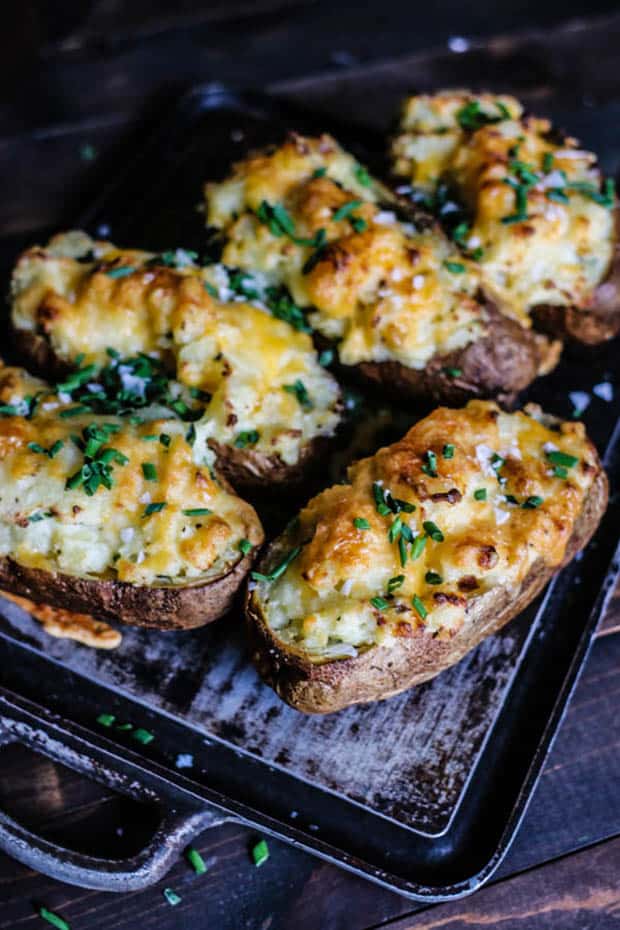 What is a Twice Baked Potato?
A traditional American side dish known as twice-baked potatoes is essentially loaded potatoes that are double baked. It combines two dishes nearly everyone loves, velvety baked potatoes and creamy mashed potatoes, into one delectable recipe that is hard to resist.
These potatoes are referred to as "twice baked" because after the whole potatoes are first baked to tenderize, the "flesh" is then scooped out and seasoned. Then the seasoned mashed potatoes are stuffed back into their shells, topped with cheese, and baked for a final time until golden brown.
What ingredients are needed to make Twice Baked Potatoes?
Simple pantry and fridge items are used to make these twice-baked potatoes. This recipe is also quite adaptable; you can modify the filling ingredients according to what you have on hand.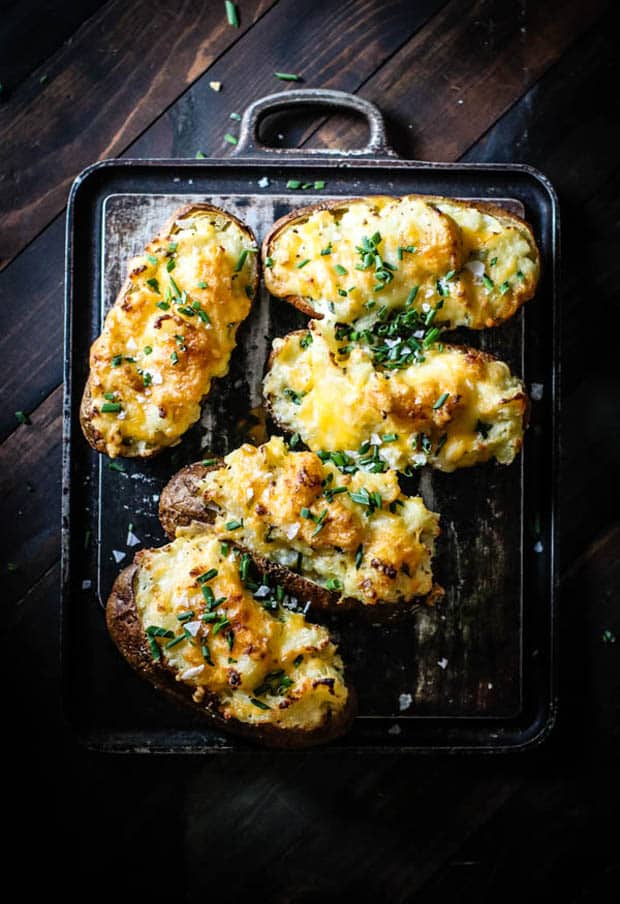 Which type of potatoes are best for Twice Baked Potatoes?
Russet potatoes are the perfect potatoes to make this recipe for twice baked potatoes. Because of their ideal shape and sturdy skins they keep their shape, cook up crispier, and their insides mash-up creamy rather than gummy. Trust me, n op one wants a gummy Twice Baked Potato, nobody.
How to customize Twice Baked Potatoes to suit your tastes.
One of my favorite things about twice baked potatoes is that you can top them however you'd like & create completely different flavor profiles! Here are a few of my favorites: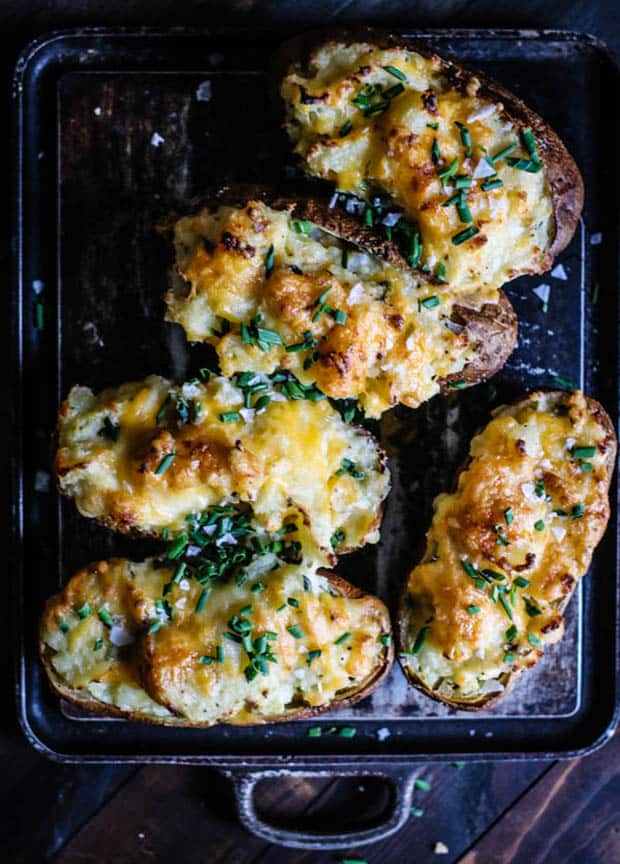 Twice Baked Potato troubleshooting tips: Why are my Twice Baked Potatoes gummy?
As I mentioned before, you should use Russet Potatoes. Red and Yukon Gold potatoes are much waxier and do not have the same light and fluffy texture that makes Russets perfect for preparing in the twice-baked method.
Also, do not use aluminum foil to wrap your potatoes while baking. The potatoes get soggy and sticky when wrapped because the moisture is trapped. Not ideal at all.
Instead, try my method. Lay a piece of aluminum foil on an oven rack below the oven rack you plan to place the potatoes on while baking. This will allow air to circulate around the potatoes while they bake creating a crispy skin and the aluminum foil will catch any drips for easy cleanup.
IMPORTANT NOTE: Never place aluminum foil on the bottom of your oven. It can become too hot and cause the floor of your oven to deteriorate.
Looking For More Delicious Potato Recipes? I Have You Covered!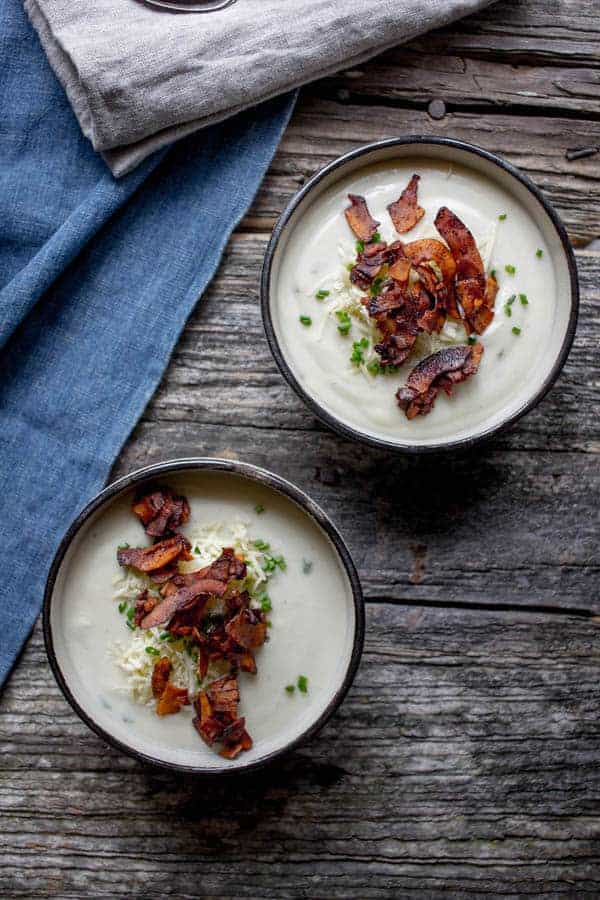 This soup has it all - potatoes, chives, vegan butter, and sour cream all blended together with soaked raw cashews and steamed cauliflower to give the soup a velvety smoothness that can't be beat! Perfect for the cold winter nights ahead.
Look, I know we are about to break some rules here, but I vote that you ditch the mashed potatoes this holiday season and opt for a pan full of perfectly roasted Christmas potatoes.
I would have thought this idea blasphemous before I met my mashed potato-hating husband too, but let me tell you these babies have actually become quite the holiday tradition at our table and no one is missing the mash.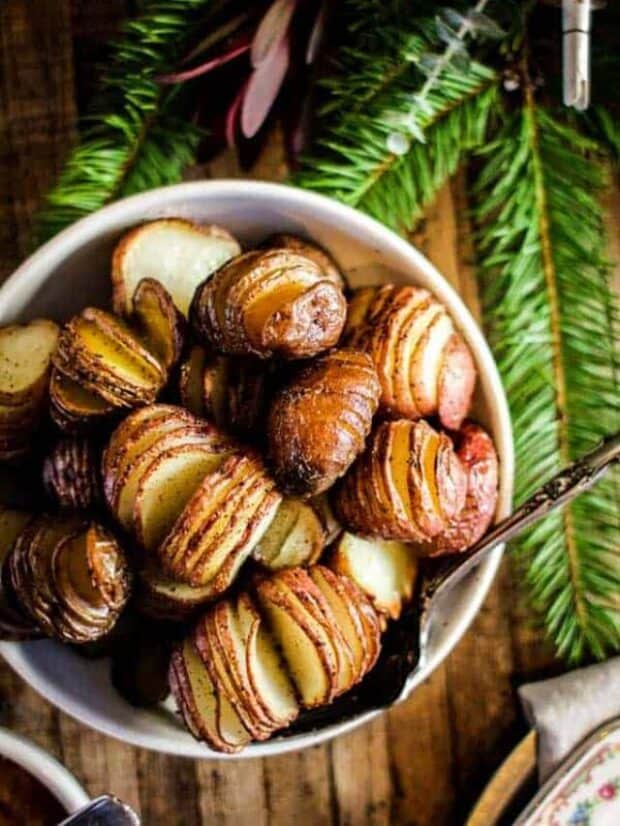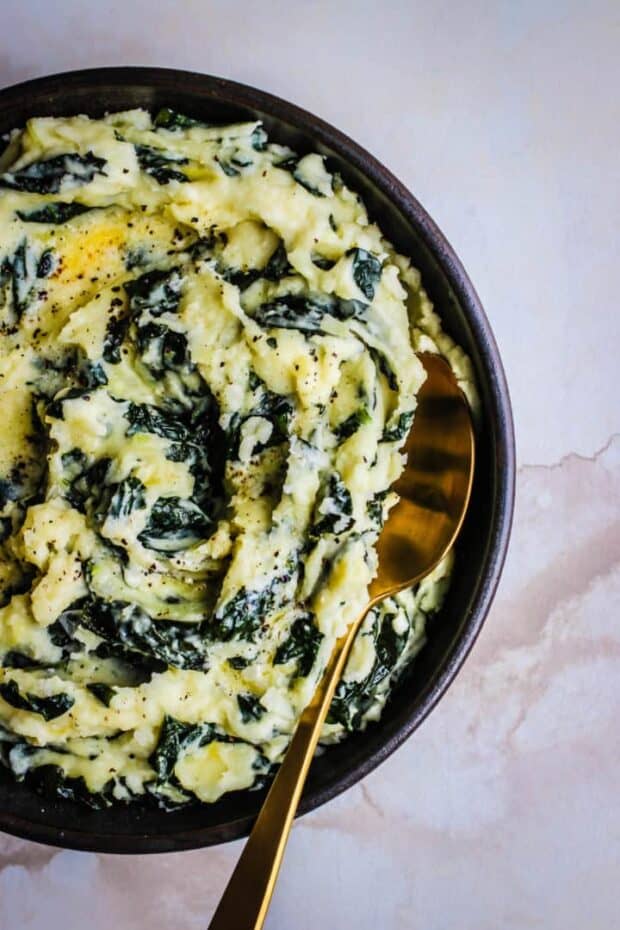 These veggie-loaded mashed potatoes from G Free Foodie are packed with flavor! Potatoes and kale are both staples in Irish cuisine, so it only makes sense that they would perfect this creamy dreamy dish.
If you tried my method for making Twice Baked Potatoes I would be so grateful if you would rate the recipe and let me know what you think in the comments below!
Print
An Easy Twice Baked Potato
A twice-baked potato is a creamy, cheesy potato filling stuffed inside a crunchy, salted skin and topped with even more cheese! 
Depending on the size of the potatoes you are cooking, this can be a satisfying meal or side dish that is tasty, filling, and perfect in every way.
Author:
Prep Time:

25

Cook Time:

1 hr 20 min

Total Time:

1 hr 45 min

Yield:

10

potato halves

1

x
Category:

Side Dish

Method:

Baked

Cuisine:

American
5 small to medium-sized russet potatoes, washed well & patted dry, then poke holes all over with a fork
2 tablespoons peanut oil, or olive oil
coarse kosher salt
4 tablespoons salted butter, cubed and softened
½ cup whole milk
½ cup sour cream
½ cup shredded medium cheddar
½ cup shredded sharp white cheddar
Black pepper to taste
2-3 tablespoons chopped chives
Instructions
Preheat the oven to 400°F & place the oven racks in the top & middle positions.
Place the prepared potatoes in a large bowl & drizzle them with the peanut oil & a hefty sprinkle of coarse kosher salt. Rub the potatoes all over with the oil & the salt then place them on the top rack of the oven with a piece of tin foil underneath them on the middle rack to catch any drips.
Bake for 1 hour, or until the skin is crisp & the potatoes are cooked through and tender when squeezed. If you started with large Russet potatoes cook time will take longer than if starting with small ones. 
Remove the potatoes from the oven & let them sit until cool enough to handle.
Slice the potatoes in half lengthwise. Scoop the flesh out with a spoon into a mixing bowl leaving a ¼-inch border of potato on the skin. Scrape the potato halves of all flesh & add to the bowl. Place the potato "shells" on a parchment-lined baking sheet. Season with salt and pepper then set aside.
Lightly mash the potato with a potato masher; you can also pass the potatoes through a ricer if desired.
Add the butter, and stir until smooth. Add the milk, sour cream, and cheese. Stir to combine. Season generously with salt and pepper then stir in the chives.
Fill each potato "shell" with the filling, slightly mounding it up on top. Bake the potatoes until warmed through, about 20-30 minutes depending on size.
Top with chives and serve immediately while piping hot.
Twice Baked Potatoes can be prepped through stuffing and then held in the fridge for up to 2 days before completing the second bake time.  
Nutrition
Serving Size:

1 or 2 potato halves depending on size

Calories:

210

Sugar:

1.3 g

Sodium:

512.2 mg

Fat:

13.4 g

Carbohydrates:

17.2 g

Protein:

6.1 g

Cholesterol:

29.6 mg
Keywords: Twice Baked Potato, Baked Potato, easy potato side dish, cheddar cheese, sour cream, Russet potato, holiday, Thanksgiving
Recipe Card powered by
Click here to view the Google Web Story for this post!
Frequently Asked Questions about Twice-Baked Potatoes.
Why is it called a twice-baked potato?
They are known as twice-baked potatoes because they are cooked twice: once to bake the potato and again after the insides of the potatoes have been mashed with cheese and then restuffed.
Are you supposed to eat the skin of a twice baked potato?
Yes. We season the potato skin in this recipe with peanut oil, salt, and pepper. Besides being delicious, you also get the benefit of all the nutrition from eating the skin of the russet potatoes.