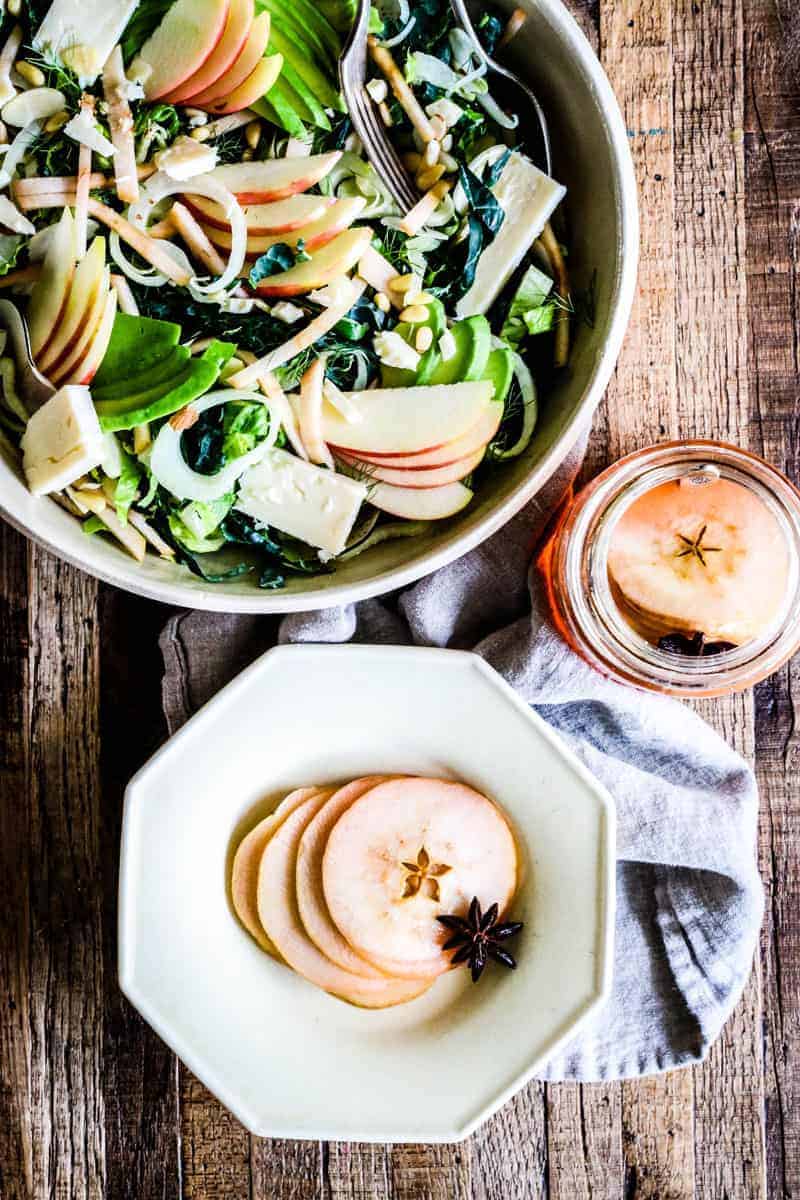 In this world there are 2 types of people, pickled lovers and pickle haters. Until the past few years I fell into the hater category. Yes, it's true, I loathed pickles of all kinds! So, what changed my mind and my palette? I was served pickled cranberries on a salad during the holidays. Luckily, I didn't realize they were pickled, or I probably would have avoided them all together. That burst of tart and tangy flavor was a total game changer for me.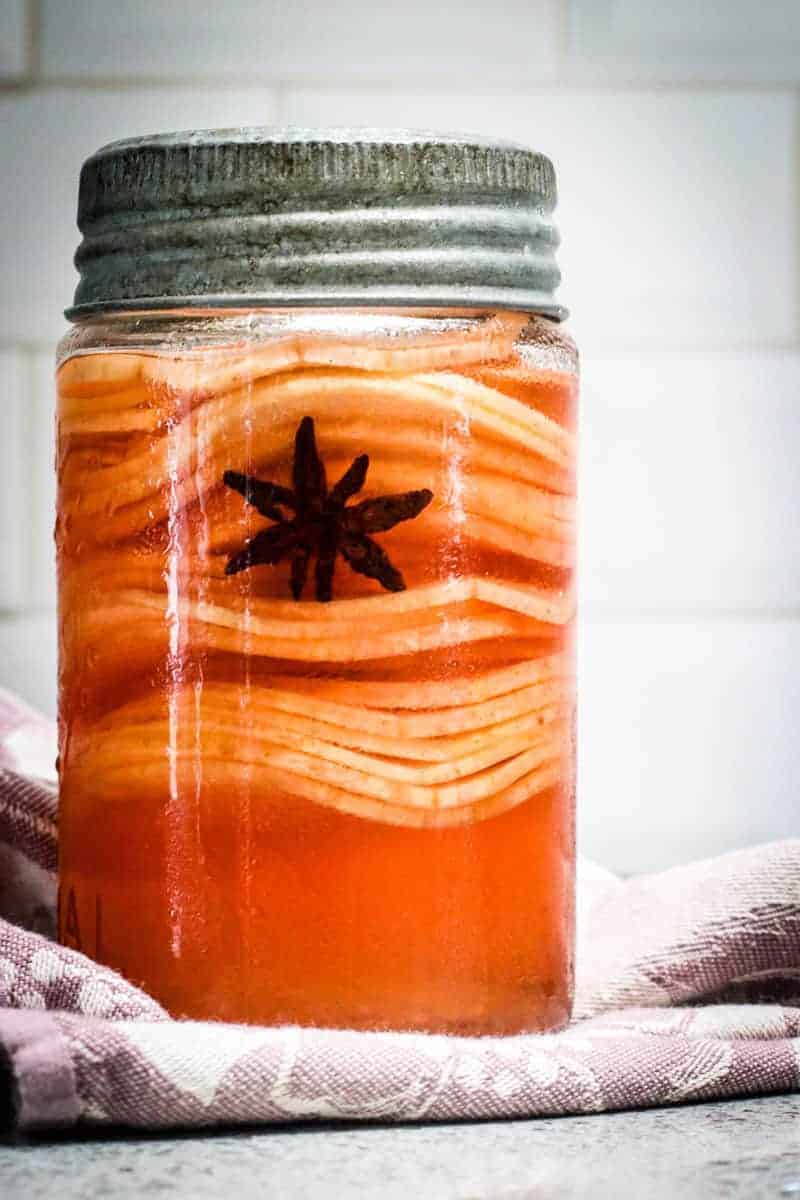 Over the past few years I've been branching out and making all sorts of fruity pickles in my own kitchen and these Quick Pickled Apples are my newest creation. Stemilt's Pink Lady apples are the perfect apple for pickling because they are very firm and dense in texture and have a wonderful tart flavor that I just love! Plus, Pink Lady apples resist browning when you slice into them, which means you can take your time making the perfect pickle slices and not fret about browning apples.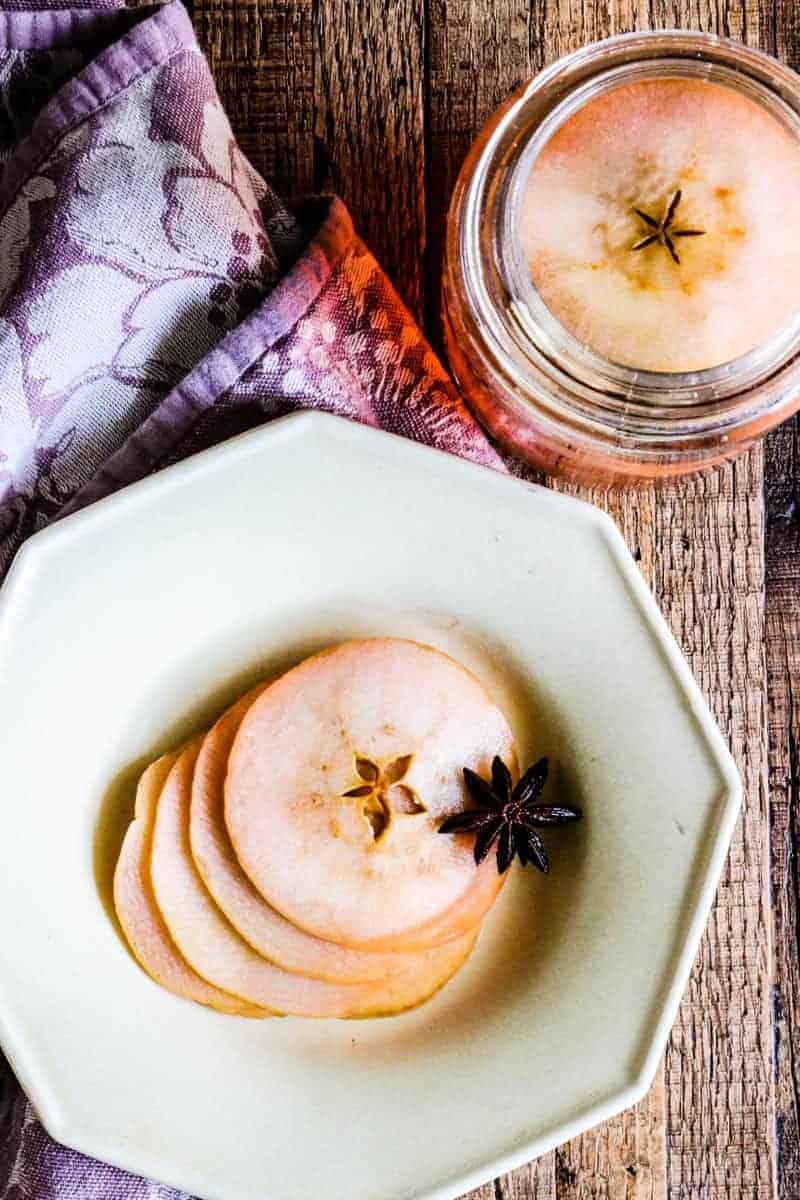 The process to make these quick Quick Pickled Apples is simple!
1. First, you make the brine which consists of equal parts water and vinegar with some sugar, pickling spices, and a bit of salt. Not sure what pickling spices are? Not a problem at all, most well-stocked grocery stores sell pre-made pickling spices which contain a blend of yellow and brown mustard seeds, allspice, cinnamon, bay leaves, dill seed, cloves, ginger, black peppercorns, star anise, coriander, juniper, mace, cardamom and crushed red pepper. Once you have all of these ingredients combined in a saucepan you want to bring them to a boil, then reduce to a simmer for 8-10 minutes so the the sugar dissolves and the brine is infused with the flavors of the pickling spice.
2. While you brine is simmering, slice the apples. I prefer to slice mine on a mandolin so that I have thin, uniform slices, but you can simply slice them with a knife too. I also opted to leave the core in my quick pickled apples, but you can remove the core if you wish. If you do decide to leave it in though, be sure to remove any seeds or seed fragments before adding the apple slices to the brine.
3. Now, transfer the apple slices to a large bowl and pour the brine through a strainer over the apple slices. This will strain out all of the pickling spices and leave you with a nice clear pickling brine. Add a few cinnamon sticks and star anise pods to the bowl and allow the pickles and brine to come to room temperature. Since apple slices float, you will need to create a weight of some kind to make sure they stay submerged. I did this by placing a smaller bowl inside of the large bowl and then covering the whole thing with plastic wrap.
4. Once everything is cooled transfer the apple slices to a pickling jar along with the star anise pods and cinnamon sticks and pour the brine over the top. Your brine will now be a gorgeous shade of pink from the peel of the Pink Lady apples! At this point you will have a bit of leftover brine, feel free to discard it or get really creative and make cocktails or drinking vinegars with it.
These quick pickled apples are tart, tangy, sweet, and a bit sour all at the same time making them the perfect pop of flavor to brighten up salads, layer on to sandwiches, or you can just use them as an unexpected addition to charcuterie and cheese boards. While they're delicious enough to stand alone, they can also provide a much needed burst of acidity when paired with rich meaty mains like pork roast.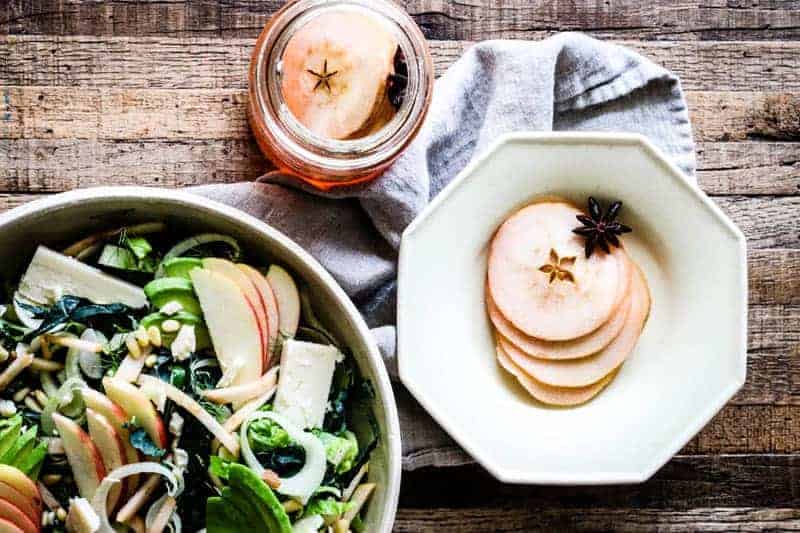 Want to try pickling your own apples? Click here to see the full post and recipe on the Stemilt blog!
This post is the second in a year long partnership with Stemilt! We received compensation and product in exchange for it. Opinions are always our own. If we don't love it, you don't hear about it. Thanks for your continued support!
If you've tried this Quick Pickled Apples Recipe, I would be so grateful if you would rate the recipe. Let me know what you think in the comments below. I just love hearing from you and your reviews and comments really help others that visit This Mess is Ours!
Want to be a part of our online community outside of the blog? It's easy!! All you have to do is follow @THISMESSISOURS on FACEBOOK, INSTAGRAM, TWITTER, YOUTUBE, or PINTEREST to see cooking demos and peeks into our day to day life.
What are the health benefits of apples?
The apple, especially with the skin left on, is packed with necessary nutrients that reduce risks of heart disease and diabetes and improve gut heath. The high fiber and water content in apples can also help with weight loss because they are so filling.
Click here more information about the health benefits of apples.
Frequently Asked Questions
SaveSave
SaveSave