Confession: I have owned a juicer for over 7 years and until recently I was afraid of it. Please tell me this happens to other people? Legitimate fears of appliances you just don't understand... maybe it's just me. For years this juicer has been lugged around in its original box... 4 cross country moves and an in state move later I finally decided to open it up and test it out. I know, it's ridiculous, but it only takes one glance at the $7 price tag on a jug of freshly squeezed orange juice at the grocery store to give a girl some guts.
Man, am I ever glad I finally figured out that juicer! It's simple really, plug it in, peel it if you need to, feed it down the shoot, and wala, fresh juice! So now that I have braved the unknown and conquered my fear of the juicer I have been making freshly squeezed orange juice for my family every couple of days. This past week I made a blend of blood orange and Cara Cara pink navel orange juice that was a huge hit in our house and the inspiration behind this Pink Lady Cocktail!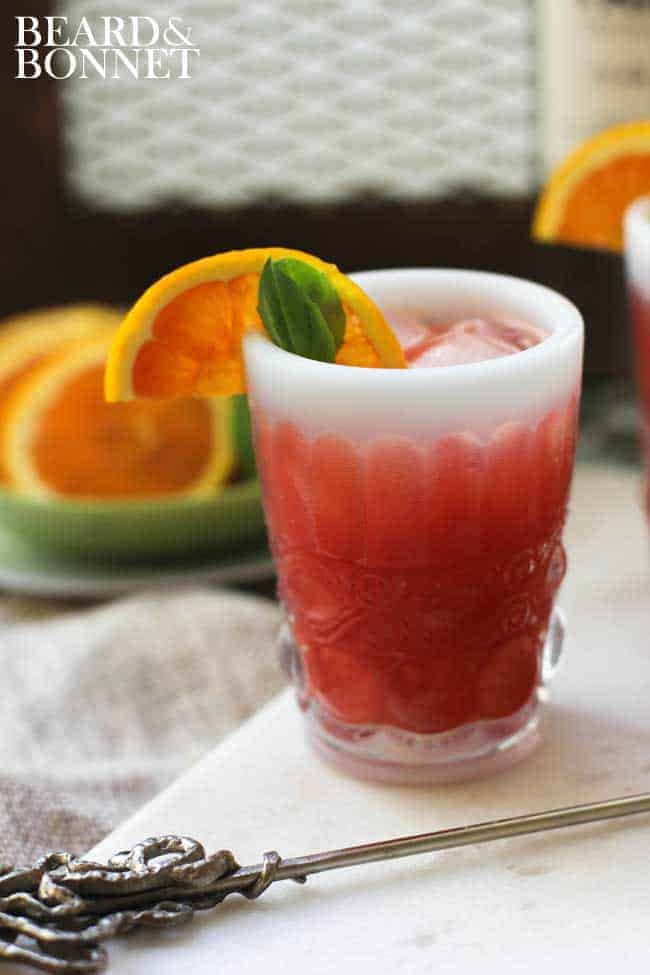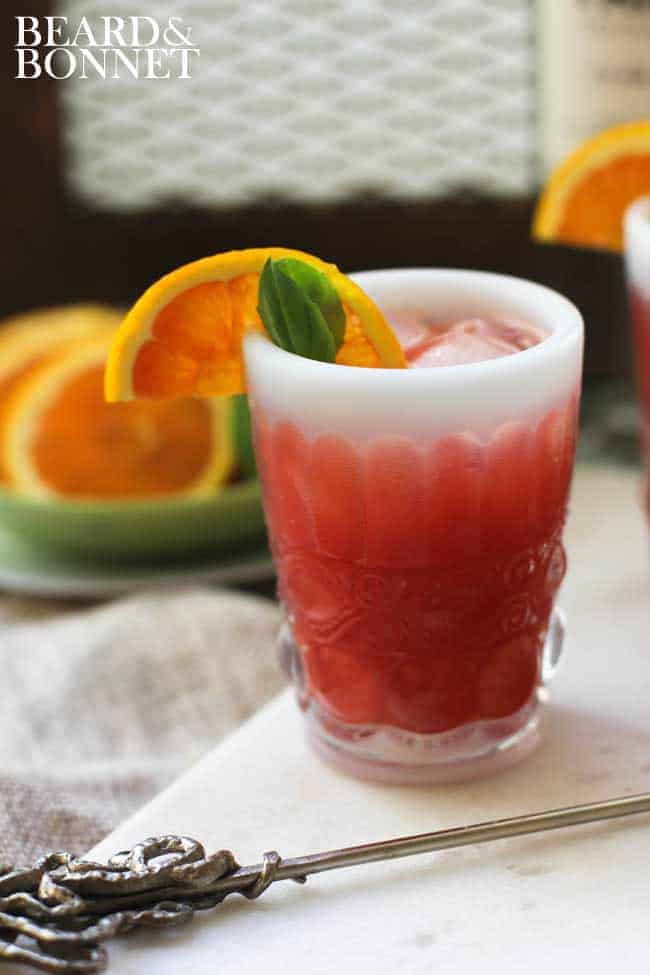 With citrus hitting its peak in the winter I have been in orange heaven over here and since I really LOVE the combination of orange and basil I figured it was the perfect time to test out a cocktail pairing the two together. After a few not so bad, but not perfect cocktail attempts I had the idea to infuse my vodka with fresh basil leaves instead of muddling them into the drink. I have to say that it is much more appealing this way without the bits of basil floating in it. The basil flavor really comes through and mingles nicely with the orange without overpowering it and the color of the drink itself makes me incredibly happy.
Print
Basil Infused Vodka (Gluten Free and Vegan)
Instructions
Place the basil leaves in large mason jar and pour the FAIR quinoa vodka over the top. Cover tightly and gently shake a few times. Store in a cool, dark place and shake the jar daily.
Check each day to see if the vodka has reached the level of basil flavor that you would like. I chose to infuse my vodka for 2 ½ days, but I wouldn't go any longer than 4 days.
Strain through a fine-mesh strainer or paper coffee filter into another clean, airtight glass jar or bottle, and store in the refrigerator until ready to use.
Recipe Card powered by
Print
Pink Lady Cocktail (Gluten Free and Vegan)
Juice of

3

blood oranges
Juice of

2

Cara Cara Pink Navel Oranges

1 ½ ounces

basil infused FAIR Quinoa vodka
Ice
Orange slices and fresh basil leaves for garnish
Instructions
Juice the oranges and combine the juice in a cocktail shaker with a few ice cubes and 1 ½ ounces of basil infused FAIR Quinoa vodka.
Shake vigorously to combine all of the ingredients them pour over ice and garnish with citrus wedges and basil leaves.
Notes
You can also use plain orange juice in this recipe, it's still amazing with the basil vodka.
If your citrus juice blend is too tart you can add a small drop of liquid stevia to sweeten it up.
Recipe Card powered by