With fresh figs currently being in season you may be looking for a few unique ways to use them. This gloriously pink, Fresh Fig Infused Vodka is a great way to use figs that are starting to ripen quicker than you can eat them. Once the vodka is infused you can use it any vodka cocktail recipe your heart desires.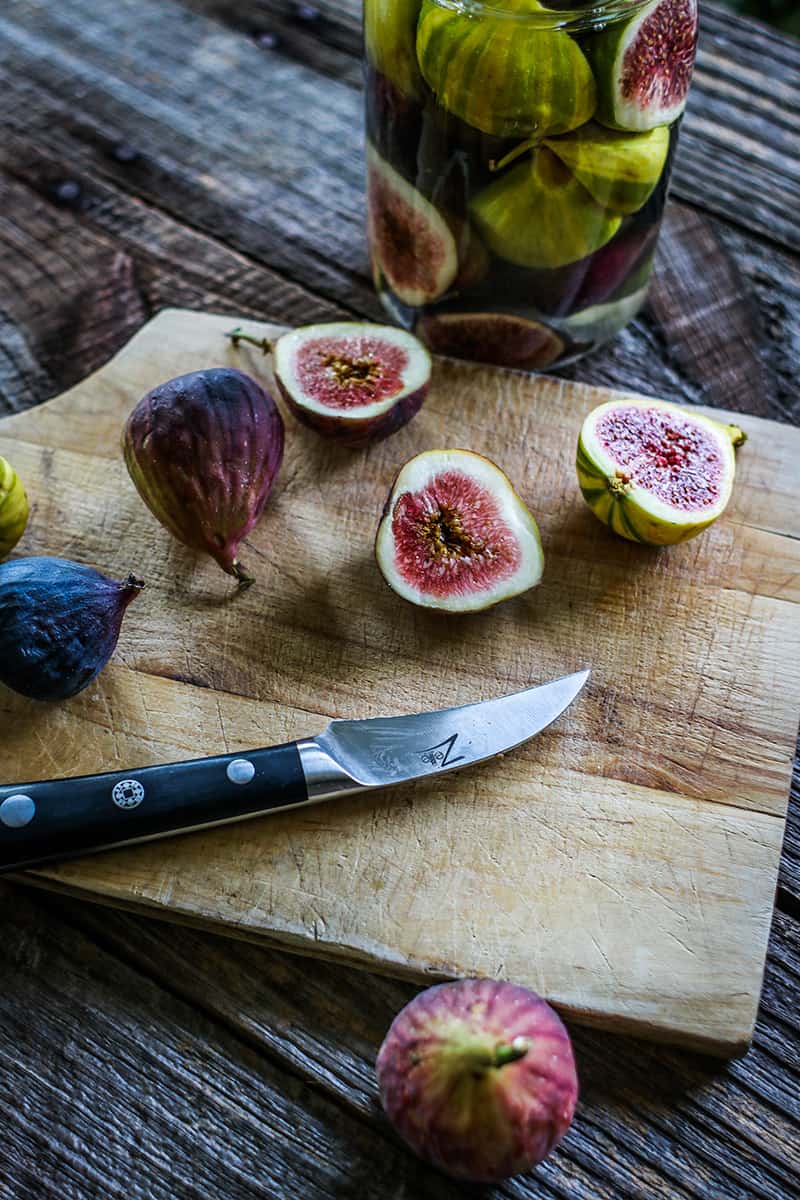 Did you know that figs are considered one of the first domesticated crops and are mentioned in texts from every major religion as symbols of prosperity, fertility, and peace. While fresh figs are grown all around the world, today, California is responsible for 98% of the country's fresh fig crop, and 100% of the nation's dried figs.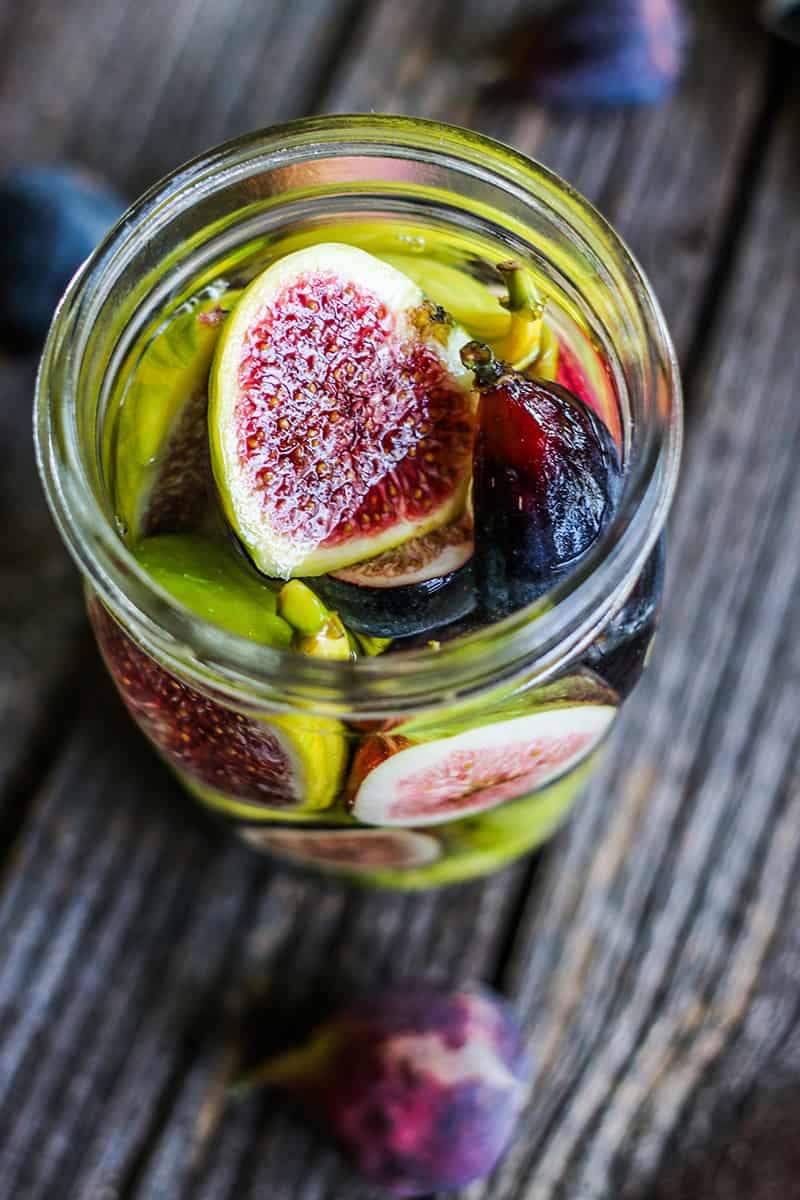 Fresh Fig FAQ - The answers to your most pressing fig questions.
Figs are a fascinating fruit that tends to come with LOTS of questions, like how do I eat a fresh fig? Is a fig even a fruit? Is there a wasp inside my fresh fig? (Spoiler alert on the last one: there are zero wasps inside fresh figs from California!)
Are figs a fruit?
In simple terms, figs are technically not a fruit ― they are inverted flowers. Fig trees don't flower like an apple or plum tree. Their flowers bloom inside the pear-shaped pod, which eventually matures into the fruit we eat. Each flower then produces a single, one-seeded, hard-shelled fruit.
Are there wasps inside figs?
Since figs are technically an inverted flower and not a fruit, pollination is needed for figs to survive and flourish. However, no need to fear 99% of California Grown Figs are self-pollinating.
When can I find California Fresh Figs?
California Fresh Figs are available mid-May through November. The season can vary slightly from year to year due to the weather. The availability is also different for each variety. For example, Black Mission are available mid-May through November while Tiger Figs are available mid-July through November.
You can find the Ca Grown seasonality guide here!
How long will fresh figs last?
Fresh figs are perishable and should be kept refrigerated. The ideal temperature is 32 to 36 degrees F. Refrigerated at these temperatures, fresh figs typically last 5 to 7 days but can store for up to 2 weeks.
How do I know fresh figs are ripe?
Select plump, fragrant figs that have a little give when touched. The fruit should be soft and yielding to the touch, but not mushy. You can also smell the fruit. If it smells slightly sour, it has already begun to ferment. When figs get beyond their prime, they begin to collapse inward and lose their round shape.
Is the fig stem edible?
Fig stems are digestible; however, we recommend removing the stem on both dried and fresh figs because of the hard, chewy texture.
Can I freeze figs?
Individually quick-frozen fresh figs will keep up to 3-6 months in the freezer. Just wash thoroughly, sort any very soft ones to eat immediately, arrange whole ripe figs on a wax paper-lined baking sheet so that they are not touching each other and freeze. When frozen solid, transfer to resealable plastic bags. Thaw and eat as desired.
Freezing will change the texture and they will be much softer when thawed. They are very good, but you might prefer to simmer them in a sweet or savory liquid to serve. Or they may be sweetened, cooked, and puréed before freezing to serve as toppings for ice cream, puddings, and other desserts.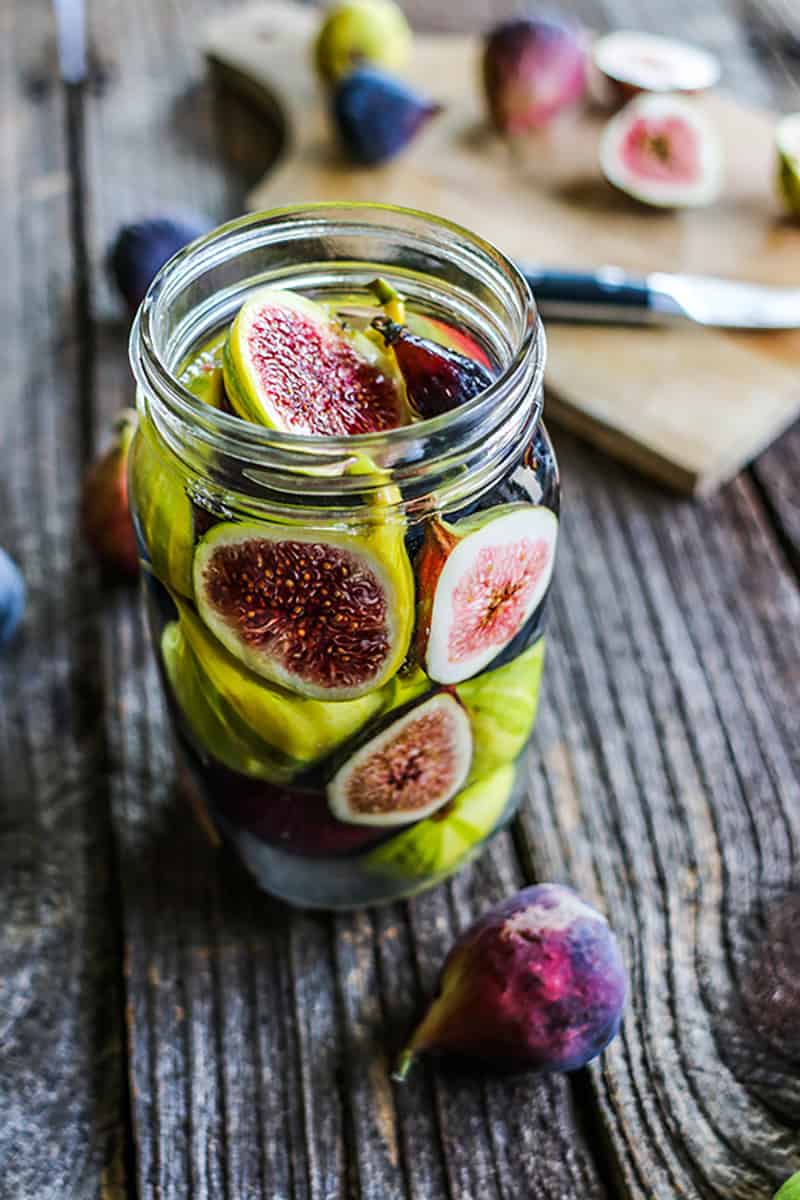 What varieties of figs to look for in the grocery store.
There are literally thousands of varieties grown throughout the world, but California specializes in just six different varieties; Mission, Brown Turkey, Kadota, Sierra, Tiger and Golden.
A delicious way to use fig infused vodka.
Now that you have made the fig infused vodka you are probably wondering how to use it. You can simply add it wherever you would use plain vodka as long as the overall flavors of the cocktail are fig-friendly.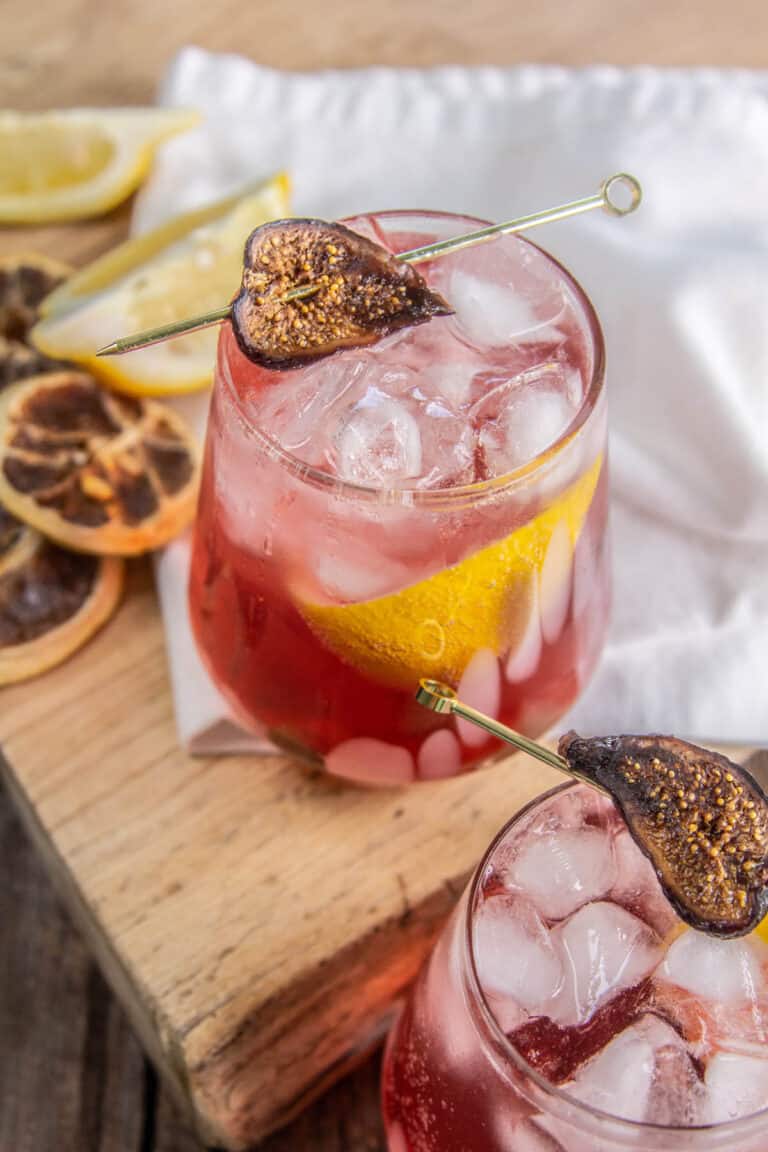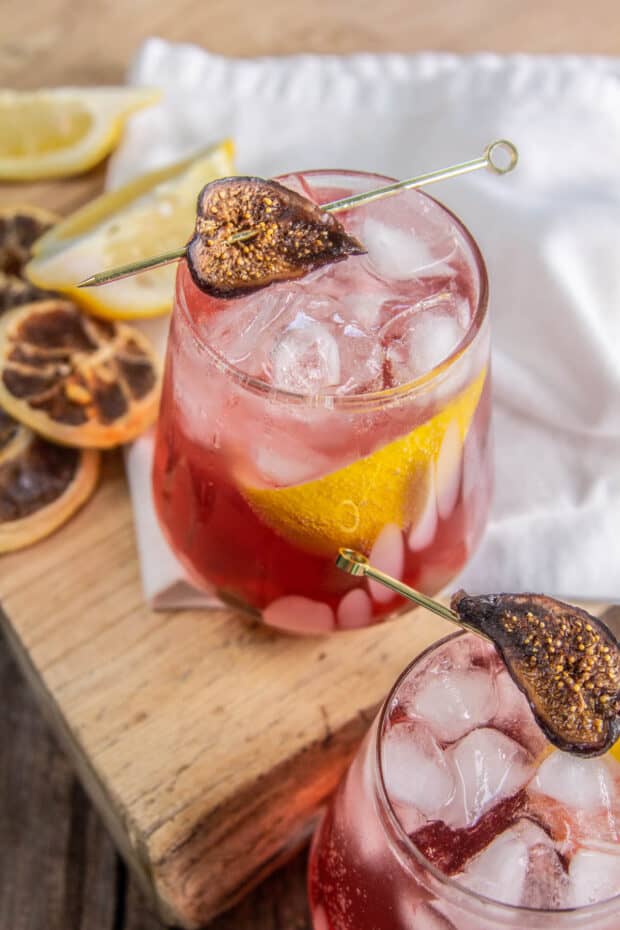 This fig forward vodka cocktail isn't cloyingly sweet at all, its the perfect equation for a refreshing cocktail when you want to beat the heat.
What flavors pair well with fig?
Once you taste the fig vodka you made I have no doubt in my mind that a bazillion ideas of ways to use it will flourish in your mind. Here are a few suggestions for ingredients that pair well with figs so that you can start brainstorming all of your fig vodka cocktail creations!
Fig + Lemon + Honey
Fig + Mandarin + Vanilla
Fig + Orange + Cardamom
More fig cocktail recipes to make during fresh fig season!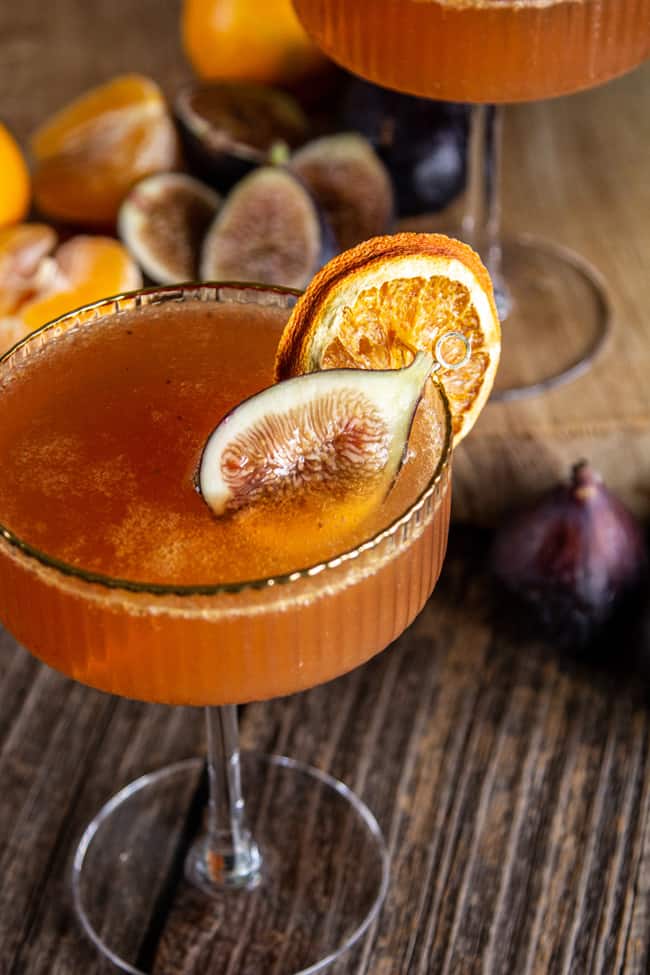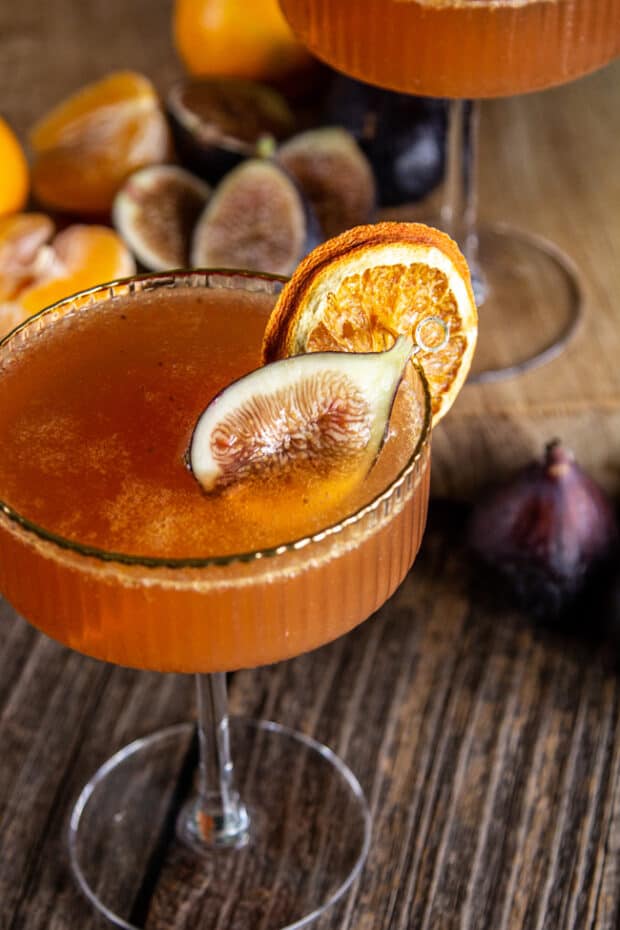 This beautiful sipper is featured on California Grown and is the newest effervescent cocktail recipe to come out of my kitchen. Honestly, it just might be the G.O.A.T.!
This delightful drink is the perfect recipe for fig season. It's not overly sweet and is delightfully delicate on the palette.
If you've made this infused vodka recipe I would be so grateful if you would rate the recipe and let me know what you think in the comments below!
Print
Fig Infused Vodka
This recipe really isn't a recipe at all. It's an equation. Simply follow the directions below with any fruit you would like to infuse vodka with. 
Author:
Prep Time:

5 minutes

Infusing time:

5 days

Total Time:

120 hours 5 minutes

Yield:

varies

Category:

Drinks/Sips

Method:

Infused

Cuisine:

American
Desired amount of fresh figs, cleaned and dried. Then stemmed and cut in half.
80-proof vodka 
Instructions
Pack a glass jar with a tight sealing lid as tightly as possible with the prepared figs. Pressing down on the solids if needed to pack as many figs in the jar as possible.
Pour the vodka over the fruit completely covering. Place the lid securely on the jar and place it out of direct sunlight.
Shake the jar of fruit and vodka daily. You'll see the vodka gradually take on the color of the fruit. After 3 days taste the vodka and continue infusing to your liking. Most fruit vodkas are finished in 3 to 5 days, but you can continue infusing the vodka for longer. The vodka will become thicker and more syrupy as it infuses.
When the vodka has been infused, separate the fruit and the vodka by straining it into a measuring cup. Line the strainer with cheesecloth before straining if the fruit had a lot of seeds or sediment. Discard the fruit after straining.
Funnel into a glass bottle that seals tightly and store the vodka out of direct sunlight; it will keep indefinitely.
Notes
To make the fig vodka sweeter like a liqueur, similar to limoncello, mix the strained vodka to taste with simple syrup. 
Simple syrup recipe:
Combine equal parts sugar and water in a saucepan and melt over low heat until the sugar dissolves. Cool before using. Can be stored in the refrigerator for up to 5 days. 
Keywords: vodka, infused vodka, cocktail, cocktails, fresh figs, figs, how to use figs, fig vodka
Recipe Card powered by
Want to be a part of our online community outside of the blog? It's easy!! All you have to do is follow @THISMESSISOURS on FACEBOOK, INSTAGRAM, TWITTER, YOUTUBE, TIKTOK or PINTEREST to see cooking demos, and peeks into our day to day life.