This Cheesy Baked Pasta recipe is a weeknight warrior! It is easy to prepare, can be made ahead of time, feeds a crowd, and is downright delicious. Plus, any leftovers taste even better the next day for lunch.
This post contains affiliate links. If you make a purchase through one of these links we may receive a small commission for it. Thank you for supporting our small business!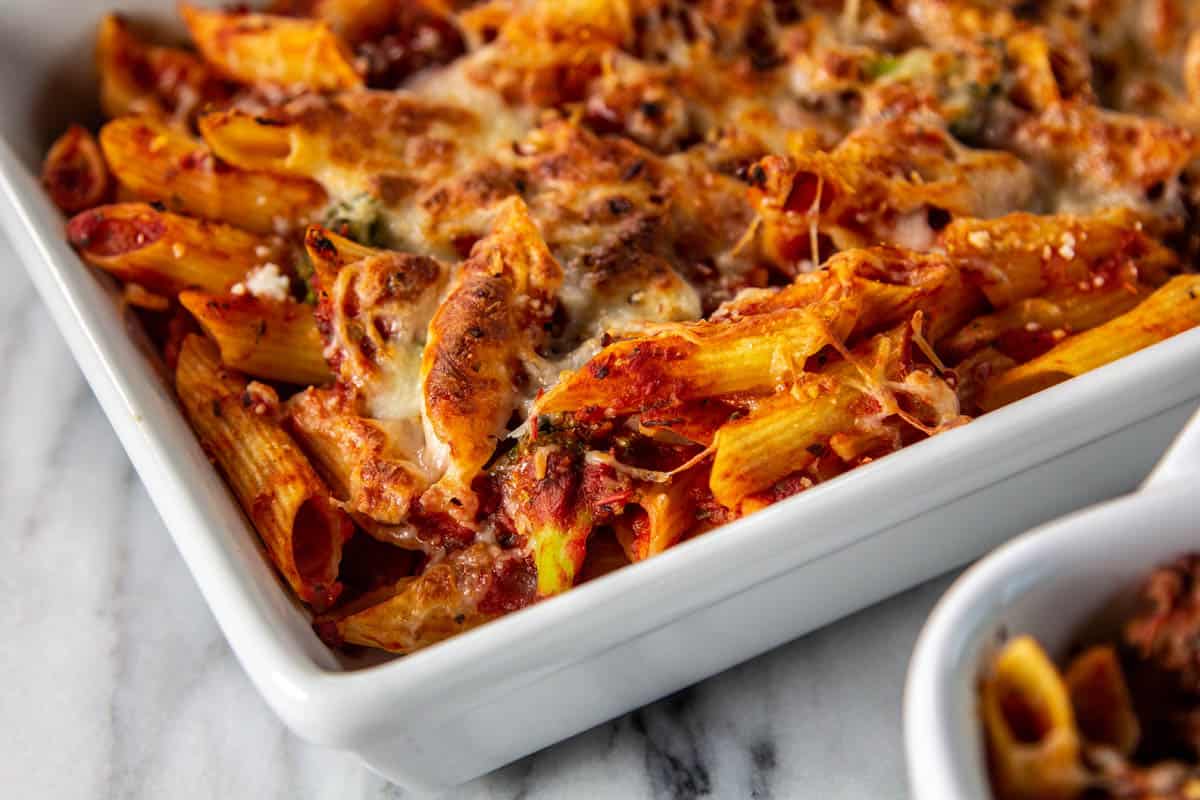 You can make this baked pasta recipe with or without meat, can add a boatload of veggies with no one even noticing, and can customize the cheese to pasta ratio to your liking. What's not to love?
This recipe comes to us from my friend, Peggy Curry, of Curry Girl's Kitchen.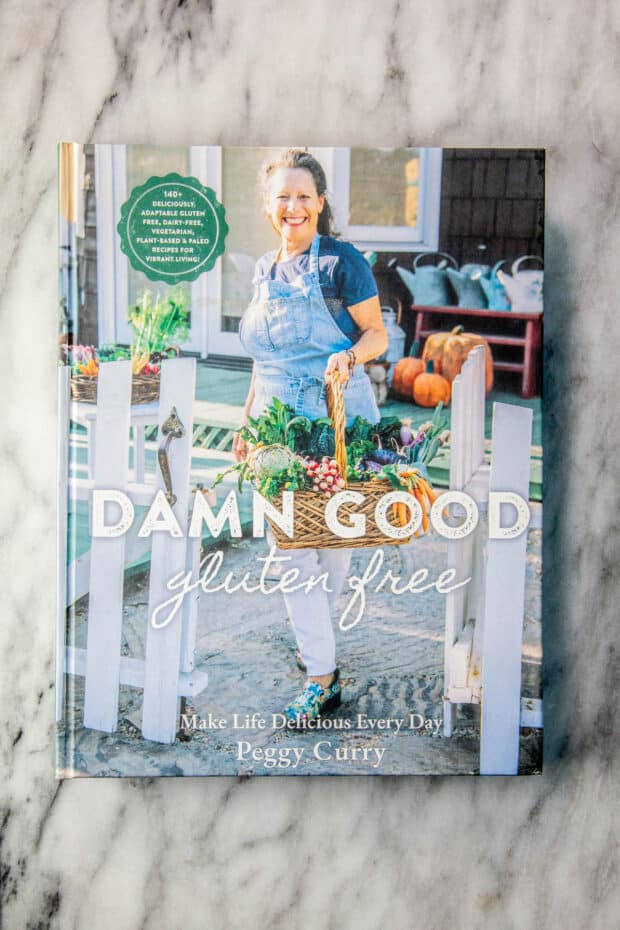 Damn Good Gluten Free is an approachable, g-free cookbook aimed at making healthy living as easy and delicious as possible! Each recipe is designed to adapt to a wide range of readers and eaters. With dairy-free, vegetarian, plant-based/vegan, and paleo options for nearly every recipe!
Peggy's tried and true recipes will help you serve a delicious dinner every night of the week, for any (and every) type of eater at your table, without compromising flavor or taking hours out of your day. Feels like a total win to me!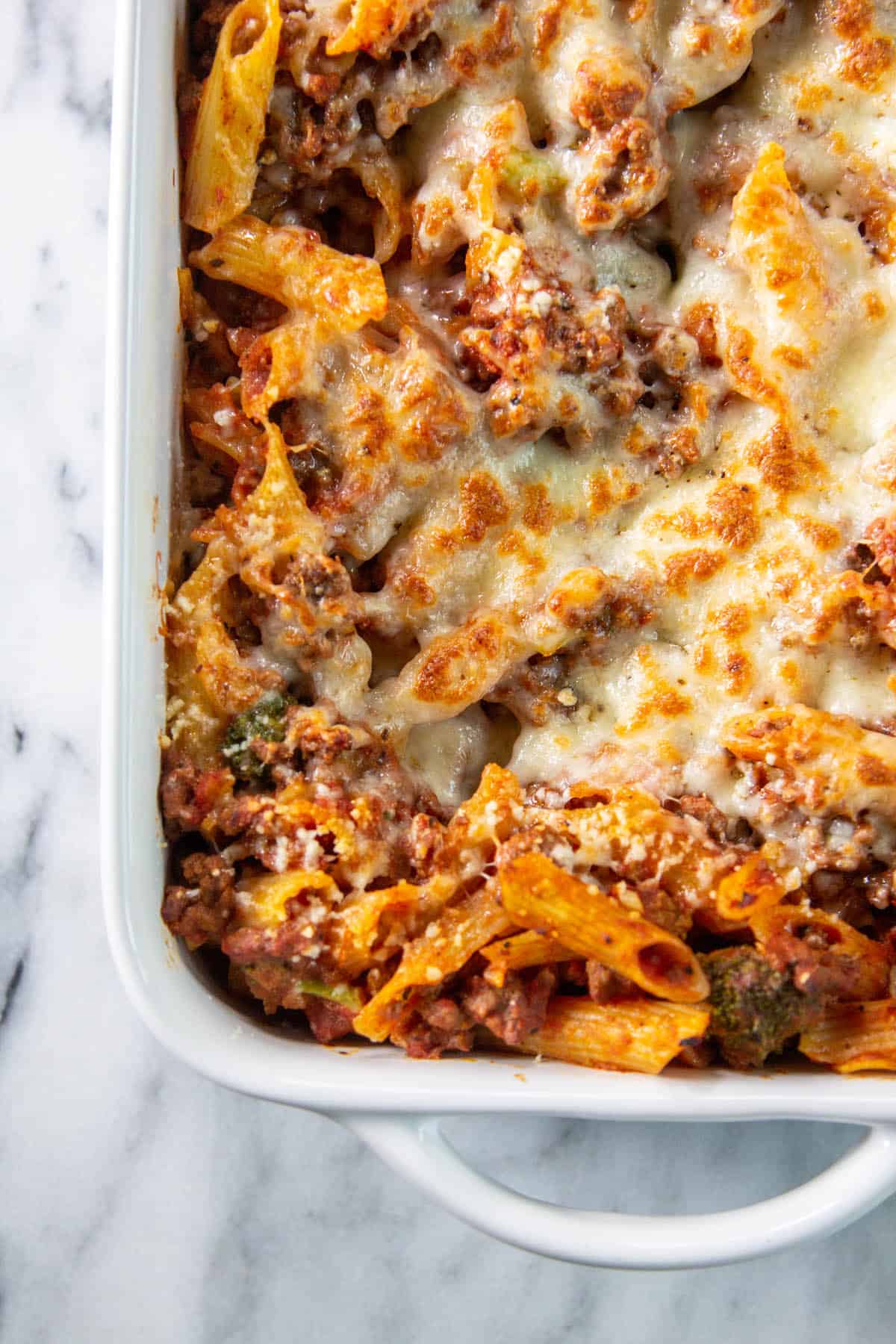 Ingredients needed to make this Cheesy Baked Pasta recipe.
The ingredients for this simple baked pasta recipe are super straightforward and can be easily substituted if desired. The secret here is to just go with the flow and use the ingredients your family likes the most to create a delicious baked pasta recipe that everyone is excited about gathering around the dinner table for.
Choice of protein:
You can use ground beef, ground turkey, or ground chicken for this recipe. You can even opt for a plant-based meat alternative. Of course, you can omit the protein altogether and just go hard on the veggies in this baked pasta recipe too.
Pasta:
We will go in-depth in a moment about pasta choices and how to precook the pasta for this easy-baked pasta recipe, but for now, let's just talk about the shape of pasta you should choose.
What type of pasta is best for this baked pasta recipe?
While we opted for gluten-free ziti in our version of this baked pasta recipe, you can use almost any type or shape of pasta your heart desires. Ideally, a tubular pasta that has deep ridges, like rigatoni is preferred, but it is hard for us to find those shapes in gluten-free varieties.
What type of pasta should not be used to make this baked pasta recipe?
You will want to avoid long, thin, or floppy shapes of pasta, as well as thin noodles that can quickly overcook. You also would not want to opt for fresh pasta here. Fresh pasta is already soft and delicate, unlike hard pasta, so when cooking you zoom right past al dente which means additionally baking the pasta in the oven would result in a overcooked and potentially very soggy baked pasta recipe.
When picking the right pasta for this baked pasta recipe keep in mind that ridges hold sauce and cheese - the more texture and shape your noodle choice has the better.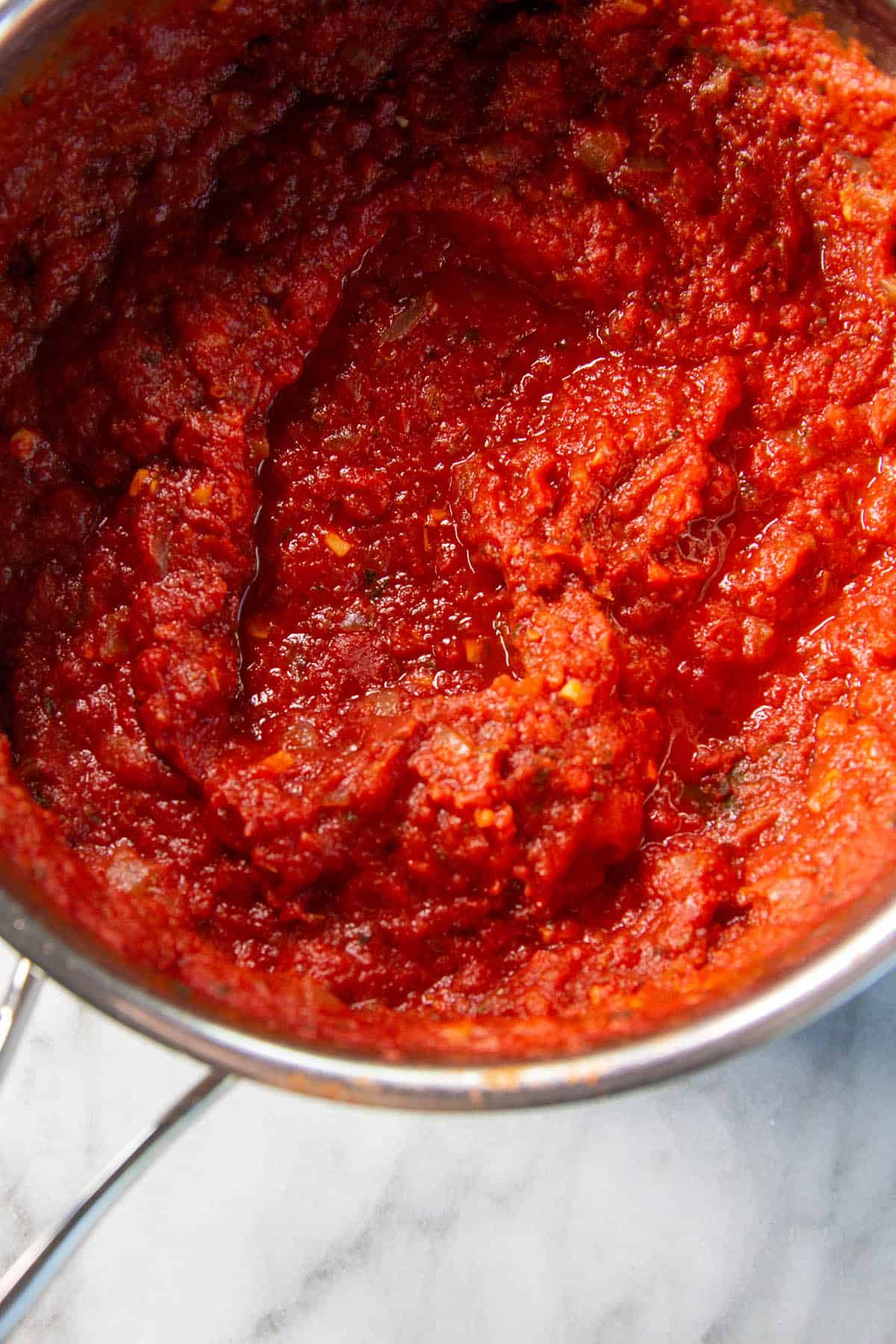 Sauce:
We made the recipe for Evy's Garden Marinara Sauce from Peggy's book, Damn Good Gluten Free, to make this baked pasta. It is rich and thick and luscious! However, you can use an equal amount of your favorite type of marinara sauce also.
Broccoli:
Sneaky veg alert!! This baked pasta recipe has 2 whole cups of my family's favorite veg tucked inside each bite and our kids (and us) went WILD for it! Whatever changes you make to this recipe when you cook it, please don't skimp on the broccoli.
Cheese:
We followed the instructions in Peg's cookbook and went with an Italian cheese blend on our baked pasta. Mozzarella, Provolone, Asiago, Parmesan, and Romano cheeses are all included in a cheese blend like this one, so it is a great choice. However, you can top this baked pasta with only Mozzarella and it would be delicious also.
Spice:
Around here, we like to spice things up. If you are a fan of Arrabiata Sauce adding ½ teaspoon -1 teaspoon of these chile flakes from Boonville Barn Collective will get you there.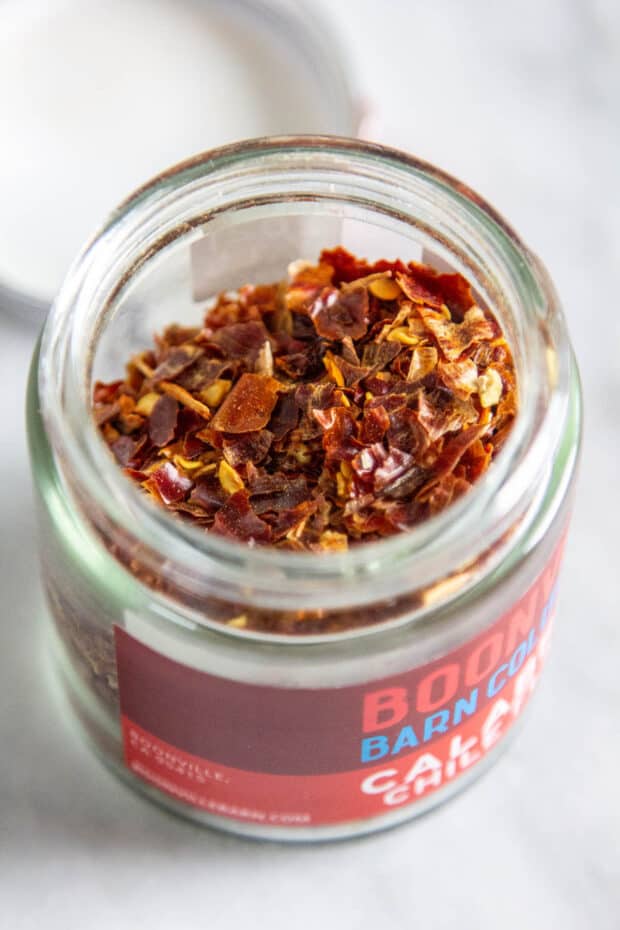 Tasting Notes: deep roasted tomato ~ sweet bitter ~ heat that lingers on the tip of your tongue
Use like: crushed red chile flakes
Use on: pasta, pizza, carbs galore, or anywhere crushed red chile flakes are called for.
SHU: 30,000 - 50,000
Use the code TMIO at checkout for 10% off your purchase!
Now that we have covered the ingredients that you will need to make this baked pasta recipe, let's go back and talk about exactly how to cook the pasta.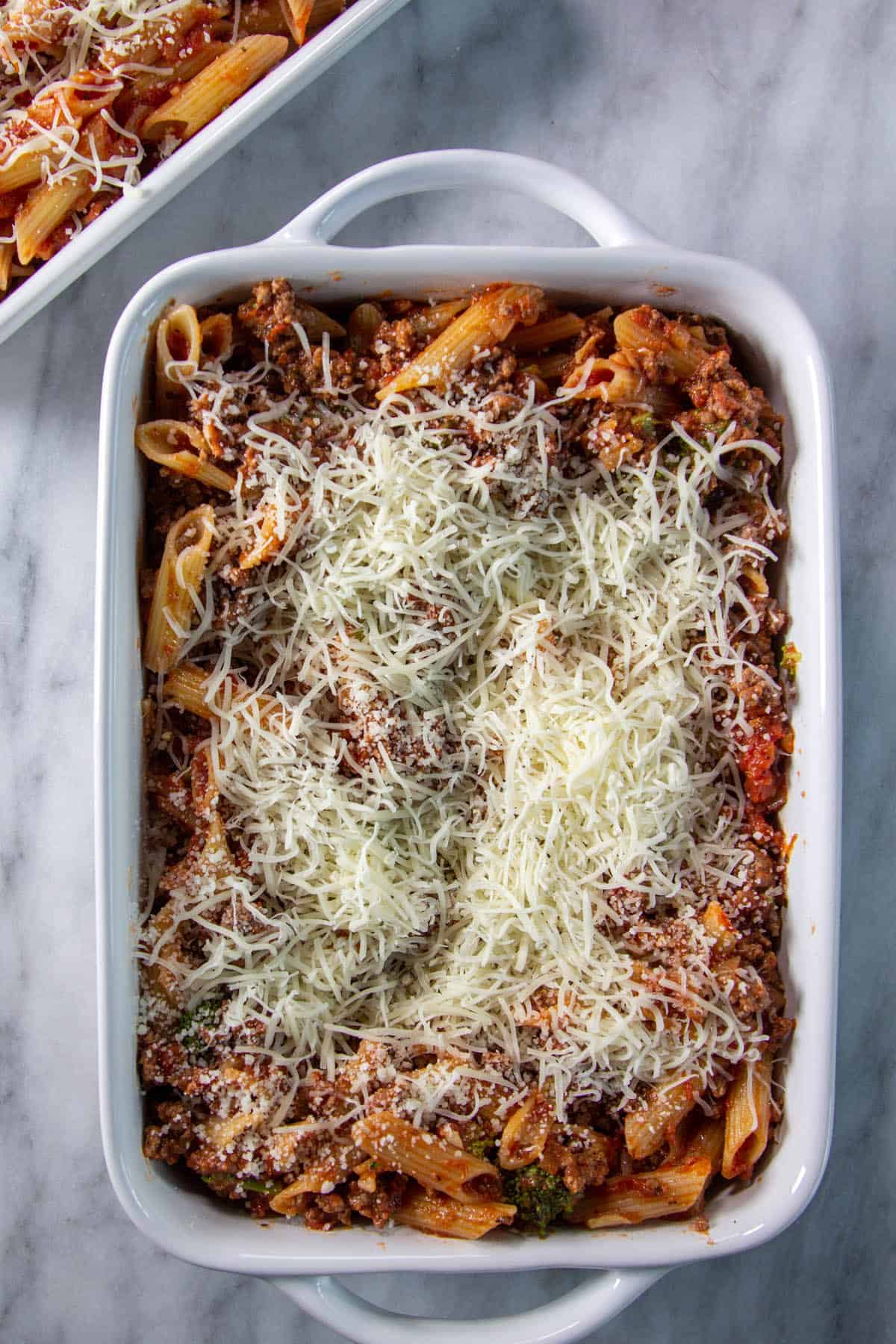 Do you have to boil the pasta before baking this baked pasta recipe?
Yes, for this recipe the pasta will need to be cooked until just shy of al dente. The directions on the box of pasta you are working with should have instructions to cook until al dente - then simply remove a minute or two from the total cooking time for al dente pasta. You're looking for a semi-raw texture—even firmer than al dente pasta.
Here is my process for making this meal quickly and efficiently:
Start water to boil.
Preheat oven.
Brown meat.
Chop broccoli.
Cook pasta.
Mix and bake.
When I do things in this order, cleaning as I go, I can be in and out of the kitchen in a flash!
What does al dente mean?
The phrase al dente literally translates from Italian to mean "to the tooth." It describes the texture of cooked pasta when it's tender but firm and chewy when you bite into it.
How to know if pasta is al dente.
The best way to test if pasta is al dente is to taste test a bite. About two minutes before the cooking time on the package directions has elapsed, give the pasta a taste. If it's tender enough to chew but still contains a bit of a bite, you've reached al dente.
Why is important to cook the pasta al dente for this baked pasta recipe?
Because the pasta's going into a hot sauce in a hot oven, it'll continue to cook long after it's been drained. You want the pasta to be mostly cooked through before you transfer it to the baking pan, but not so cooked that the additional bake time in the oven overcooks the pasta and transforms it into an undesirable, broken mass of overdone noodles.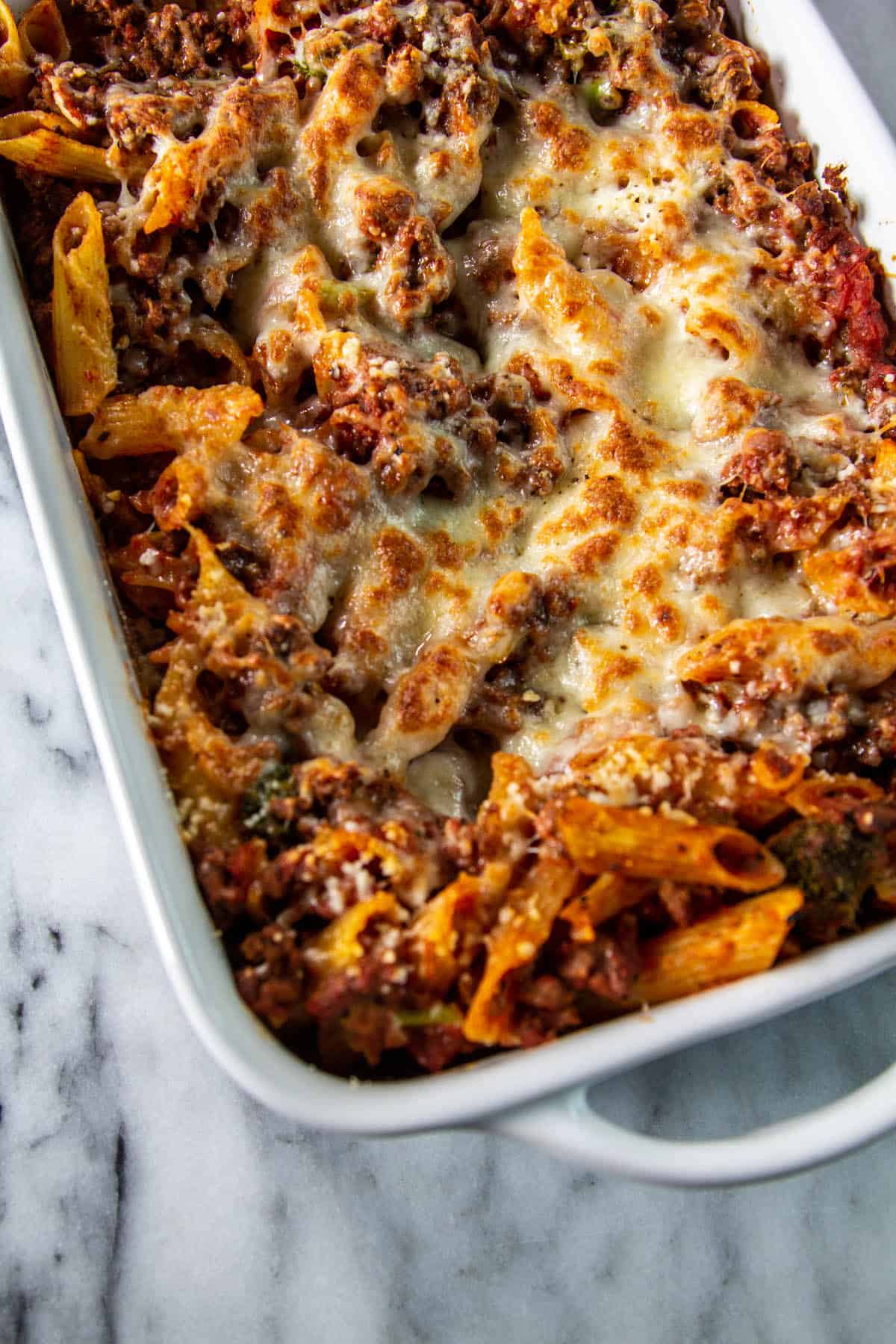 How long to bake this Cheesy Baked Pasta recipe.
Most of the components required to make this Cheesy Baked Pasta recipe are already cooked when you assemble the dish so the baking is simply to blend the flavors, heat everything through, and of course, melt the cheese.
There is no need to cover the casserole dish; simply bake uncovered at 350F until the cheese is melted and the ingredients are warmed through.
How to ensure the cheese on top of baked pasta is golden brown and bubbly.
This baked pasta recipe will never reach that golden, bubbling crust you see in the images in the oven all on its own. Baking it steadily at 350 degrees will ensure that the cheese melts beautifully into the noodles, but the temperature isn't actually hot enough to get any color on the top layer of cheese.
To ensure a golden brown cheesy top, simply turn the broiler on in the oven at the end of the cook time. It may take 2-3 minutes to achieve the golden brown bubbly cheese layer you are looking for, but be patient. And whatever you do, don't walk away! A scorched dinner at this point would be a total travesty!
Easy variations and substitutions for this Cheesy Baked Pasta recipe:
Some of these we briefly touched on before, but some we haven't. Here are a few super easy ways to swap up this baked pasta and make it your own.
Substitution for pasta: You can use 1 medium spaghetti squash, baked and shredded or 3 spiralized zucchini in place of the pasta in this baked pasta recipe.
Substitution for ground meat: You can omit the meat altogether in this recipe or if plant-based opt for a vegan alternative to ground meat. Or you can forget meaty things altogether and simply sub in your favorite vegetables. If the veggies are raw, add them along with the broccoli to the pasta cooking water to blanch. If the veggies are already cooked, simply stir them into the sauce before adding to the pasta.
Substitution for the marinara sauce: I highly suggest trying the recipe for Evy's Garden Marinara in Peggy's book, but you can also substitute store-bought marinara or even pesto for the 2 cups of sauce called for in this recipe.
Substitution for Italian Cheese blend: You can substitute with all Mozzarella cheese, Pecorino Romano, or even plant-based cheese shreds if desired.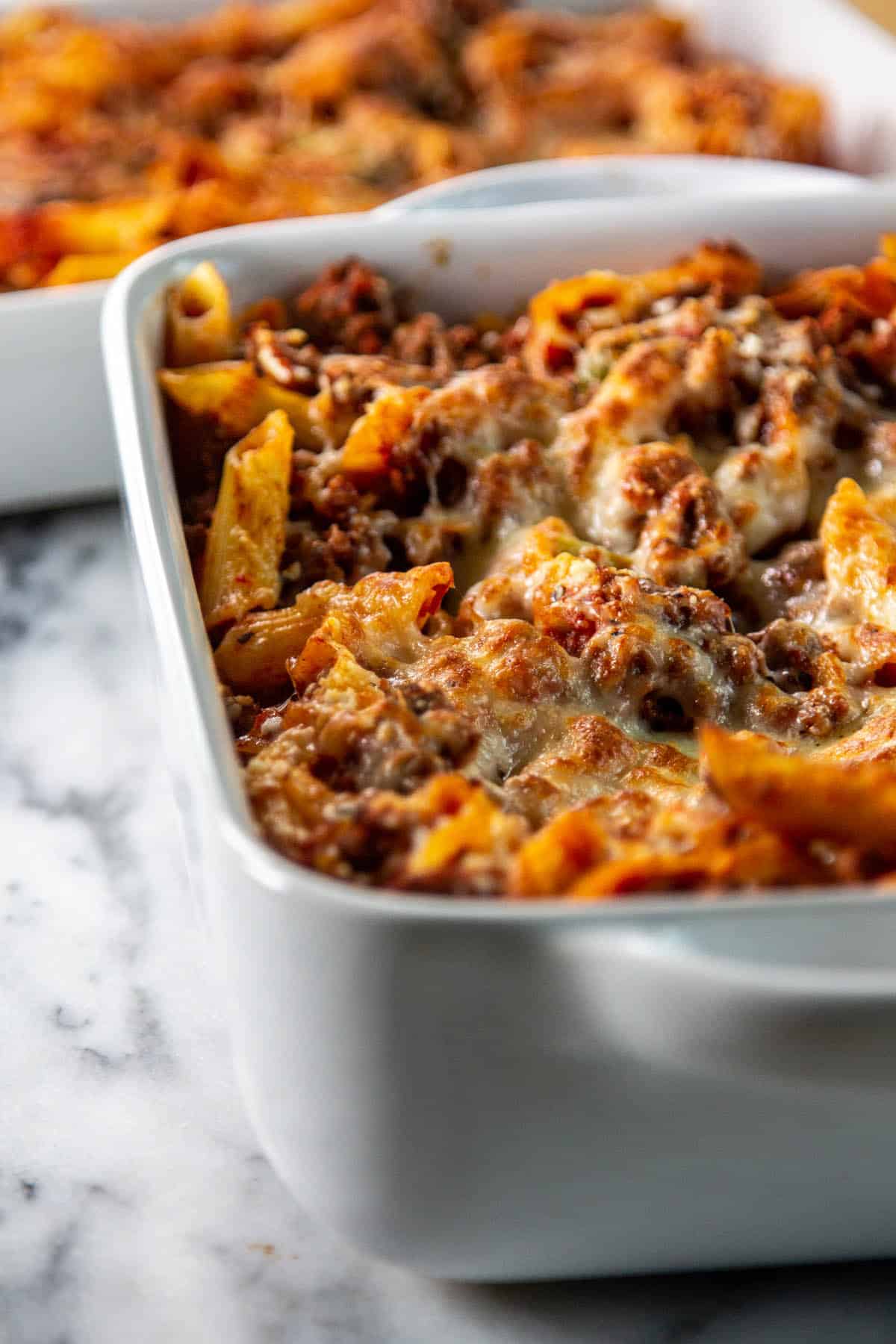 Wondering what side dishes to serve with this Cheesy Baked Pasta Recipe?
While this Baked Pasta recipe has its own side dish included in the mix, I'm lookin' at you sneaky broccoli! You may be looking for a simple side dish to complete your meal with this pasta bake. Here are a few suggestions we think would be delicious!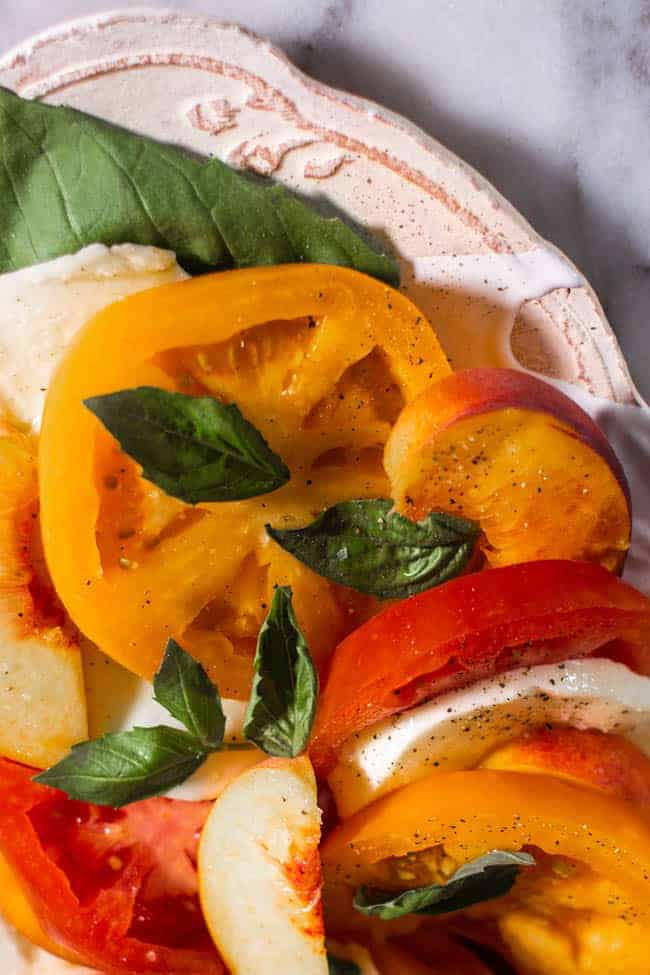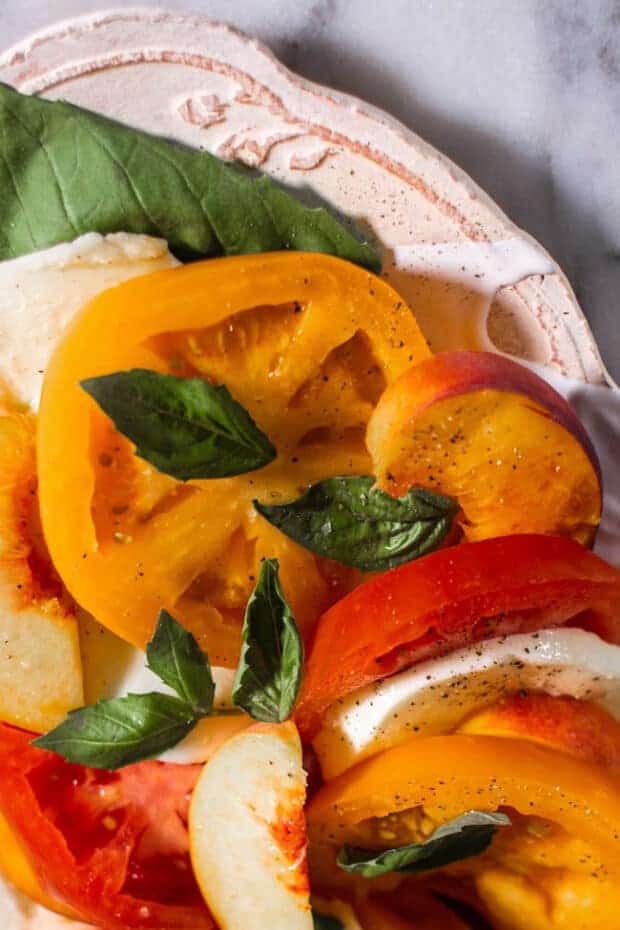 This simple recipe for Caprese Salad really honors the classic Caprese with gorgeous heirloom tomatoes, fresh mozzarella, and lots of basil. But, we also added a sweet little kick with the addition of fresh juicy peaches.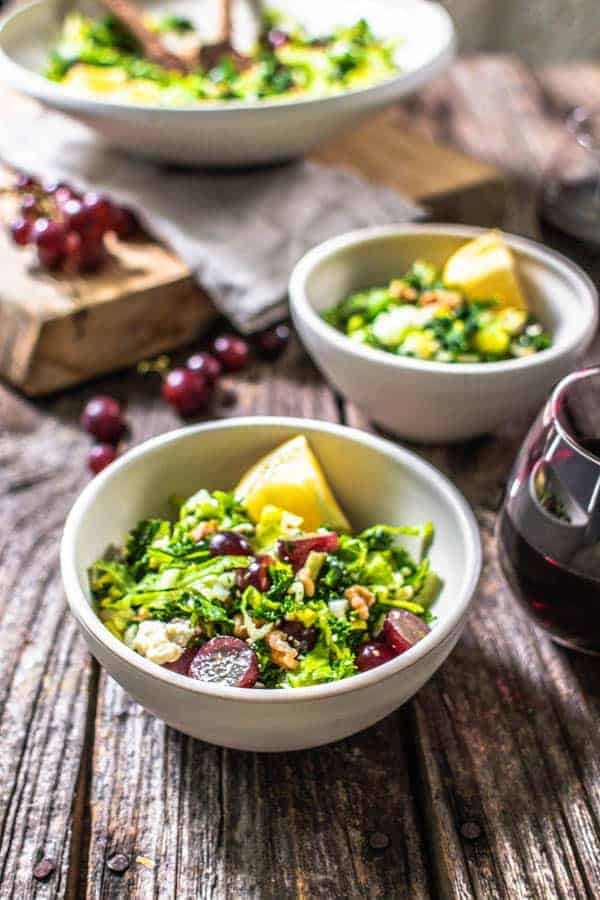 This Kale Salad with Red Grapes, Walnuts, and Feta is a restaurant-worthy kale salad that is easy to make at home as long as you don't skip the prep step that makes the kale in this salad super tender and taste like a million bucks!
Ready to make this Cheesy Baked Pasta recipe for yourself? Print the directions below to get started.
This dish is so easy to make that you'll be wondering why you didn't try it sooner. Simply follow the directions below and enjoy a hearty, cheesy meal that the whole family will love.
Print
Easy Cheesy Baked Pasta Recipe
Did you love Peggy's Easy Cheesy Baked Pasta recipe? Let us know in the comments below and don't forget to rate the recipe with a star! Your feedback helps others like yourself find our recipes. Thank you for being a valuable part of our community!
Quick, easy, and endlessly customizable, this weeknight warrior of a recipe is sure to be a fan favorite at your dinner table. This meal takes around 30 minutes from pantry to plate and is leftover-friendly!
Author:
Prep Time:

10

Cook Time:

30

Total Time:

40 minutes

Yield:

6

1

x
Category:

Dinner

Method:

Baked

Cuisine:

Italian
2 tablespoons olive oil
1 pound ground meat or meat based alternative
1 (12-ounce) package pasta, gluten free if desired
2 cups broccoli florets
2 cups Evy's Garden Marinara Sauce (pg. 88 of Damn Good Gluten Free) or your favorite homemade or store bought marinara sauce.
½ cup shredded Italian cheese blend
½ - 1 teaspoon Calabrian chile flakes, if you like it spicy.
Instructions
Preheat the oven to 350F
In a large preheated skillet add the olive oil and ground meat. Cook for 3-5 minutes until the meat is no longer pink. Set aside.
Cook the pasta according to the package directions, aiming for al dente.
In the final 3 minutes of the pasta's cook time add the broccoli directly in to the pasta pot.
Once the 3 minutes are up, drain the pasta and broccoli, reserving 1 tablespoon of the cooking water.
Pour the pasta, broccoli, and cooking water into a 9"x 13" glass baking dish. Then mix in the marinara sauce and cooked meat if using. If you are opting to make the Cheesy Baked Pasta dish spicy mix in the Calabrian chile flakes now.
Top with shredded cheese.
Bake for 20-30 minutes until light brown and bubbly.
Broil under the broiler for 1-2 minutes if needed.
Notes
See details in our blog post for the many recipe variations for this recipe.
How I personally bake and serve Peggy's Cheesy Baked Pasta recipe:
When I make this for our house, which includes gluten free, meat lovers, and vegetarians, I combine all of the ingredients through the marinara sauce. Mix well. Then I divide the mixture as needed between two smaller glass baking dishes. Then I can mix the meat into one of them and leave the other veggie based.
We received permission from Peggy Curry of Curry Girl's Kitchen to share this recipe.
Nutrition
Serving Size:

1 generous scoop

Calories:

423

Sugar:

6.4 g

Sodium:

520.1 mg

Fat:

11.1 g

Carbohydrates:

51.4 g

Protein:

28.4 g

Cholesterol:

52.7 mg
Keywords: easy dinner, baked pasta recipe, cheesy baked pasta, baked pasta, pasta, 30 minutes or less
Recipe Card powered by
Did you make this Cheesy Baked Pasta recipe from Damn Good Gluten Free?
Let us know what you think in the comments below by rating and reviewing the recipe!