Want perfect baked potatoes without using your oven? You're in the right place. Learn how to use your Instant Pot for quick, evenly cooked, fluffy baked potatoes. This guide offers a simple, foolproof method that'll save you time and energy.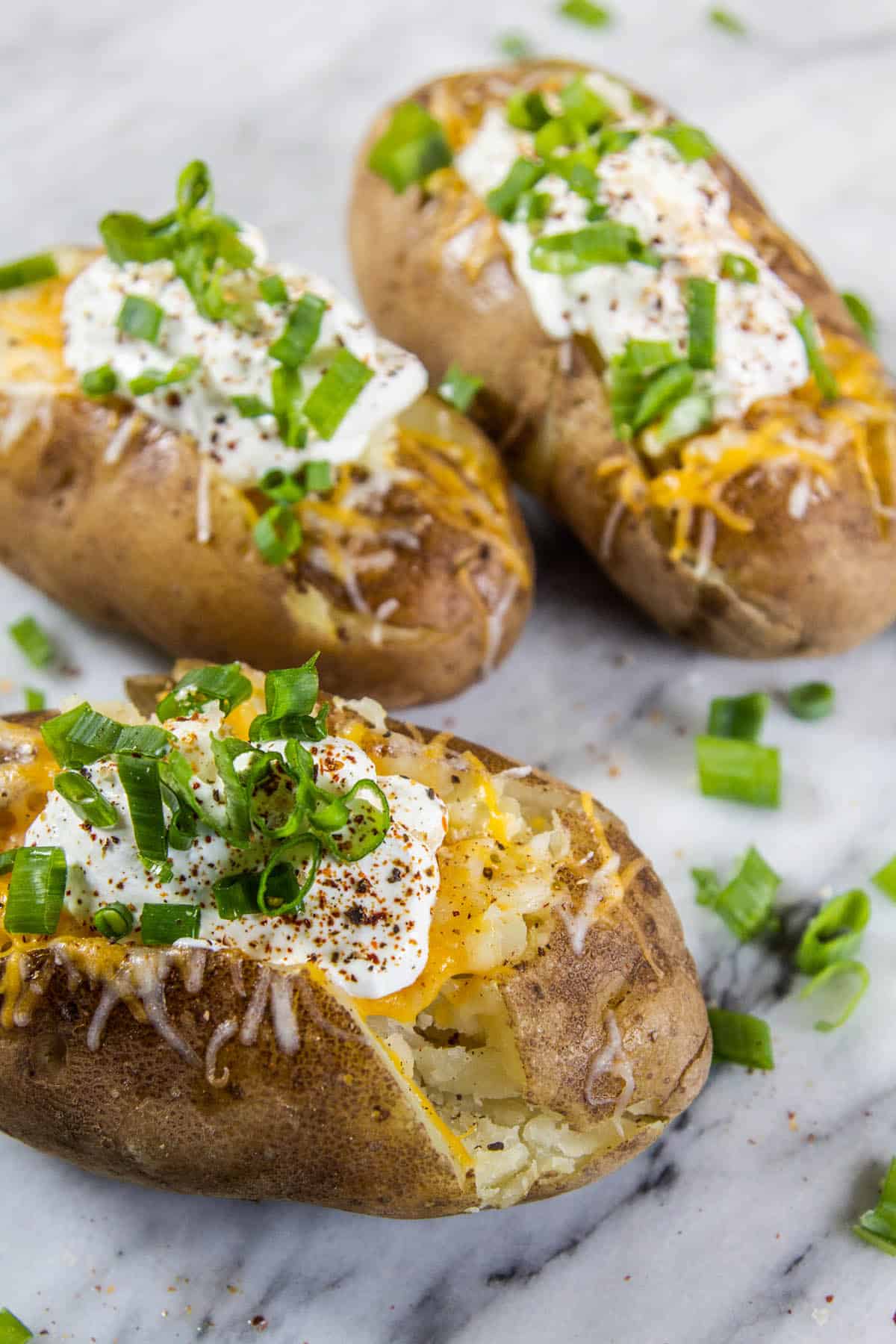 Unveiling the Potato Stars: Russet and Yukon Gold
If you want a fluffier baked potato, you must start with the right kind of potato. We're talking Russets or Yukon golds. Their texture and flavor are what make an epic baked potato.
Prepping for Potato: Wash, Poke, Repeat
Now, before we jump into how to make baked potatoes in the Instant Pot, we want to make sure that the potatoes are clean—wash 'em, scrub 'em, get rid of all of the dirt. And here's the fun part: grab a fork and give those potatoes a few little pokes—those holes let steam escape while they're cooking, giving you that sought-after pillowy goodness inside.
From Potatoes to Perfection
It's time to get that Instant Pot working its magic. Start by adding a cup of water to the pot; think of it as the secret ingredient that keeps things moist and tender. Pop in a steaming rack, arrange your potatoes on top, and lock that lid in place. Hit the pressure cooking setting, and before you know it, you've got perfectly cooked baked potatoes! The Instant Pot cuts down on cooking time, won't heat up your whole house, and ensures every bite is perfect!
Flavorful Toppings and Serving Ideas
Now, this is my favorite part: the toppings! Classic sour cream, bacon, and chives are a match made in heaven. But let's not stop there. Get wild with shredded cheese, zesty salsa, or even a dollop of creamy guacamole. Feeling hearty? Load that bad boy up with chili, black beans, or sautéed veggies for a protein-packed meal that'll keep you fueled for days!
Make Sure To Check Out The Delicious Potato Recipes Below:
A twice-baked potato is a creamy, cheesy potato filling stuffed inside a crunchy, salted skin and topped with even more cheese! Depending on the size of the potatoes you use this recipe can be served as a side dish or a satisfying meal that is tasty, filling, and perfect in every way!
Nothing hits the spot like a perfectly roasted sweet potato! Tender and sweet, oven-roasted sweet potatoes are the perfect canvas for all sorts of toppings. But did you know there's a secret to making the perfect sweet potato? I'm about to show you the easiest, fastest, and most delicious way I know to roast a sweet potato, step by step!
This microwave-baked potato is for you if you desire the delicious flavor of a baked potato but lack the patience. You'll have a delicious, mouthwatering meal after 13 minutes!
If you've made these Instant Pot Baked Potatoes, I would be so grateful if you would rate the recipe and let me know what you think in the comments below!
Print
Instant Pot Baked Potato
Author:
Prep Time:

5 min

Natural Pressure Release Time:

12 min

Cook Time:

14 min

Total Time:

31 minutes

Yield:

4

medium-sized potatoes

1

x
Category:

Side dish

Method:

Instant Pot

Cuisine:

American

Diet:

Vegetarian
1 cup cold water 
4 medium-sized Russet or Yukon Gold potatoes, washed and scrubbed
1 cup very hot water
1 tablespoon coarse kosher salt 
Desired toppings such as butter, spices, cheddar cheese, sour cream, chives, or parsley.
Instructions
Place the stainless steel liner into the Instant Pot and add one cup of cold water into the liner.
Thoroughly wash and scrub the potatoes. Use a fork to puncture each potato multiple times across its surface. In a shallow bowl or dish combine the salt and the remaining cup of hot water, stirring to dissolve the salt to create a brine. 
Place each fork-pricked potato into the brine for a minute or so rolling the potato so that the holes can soak up the salt water and flavor the skin. 
Insert a wire rack into the Instant Pot liner and place the brined potatoes on top of the rack. Secure the Instant Pot lid and switch the valve to the "sealing" setting. Set your Instant Pot to cook under HIGH pressure "manual" option and adjust the timer for 14 minutes. Refer to notes for any variations in cooking time.
The Instant Pot will signal with a beep and begin pressurizing. When the valve rises, the device has reached pressure, and the countdown will begin shortly.  When finished, the Instant Pot will emit several beeps. Allow the pressure to release naturally.
Exercise caution when opening the lid, directing it away from your face. The potatoes are ready to serve and garnish with your toppings of choice like butter, spices, cheddar cheese, sour cream, or chives.
Notes
For smaller potatoes, a 12-minute cooking time should be enough.
For larger potatoes,  extending the cooking time by an additional 2 minutes should ensure a fully cooked potato.
Keywords: baked potato, instant pot, instant pot baked potato, side dish
Recipe Card powered by