Say hello to a recipe that will undoubtedly become your new go-to condiment - chimichurri sauce! This recipe for chimichurri sauce is perfect for steak, potatoes, sandwiches, and any other dish you want to elevate to all new heights.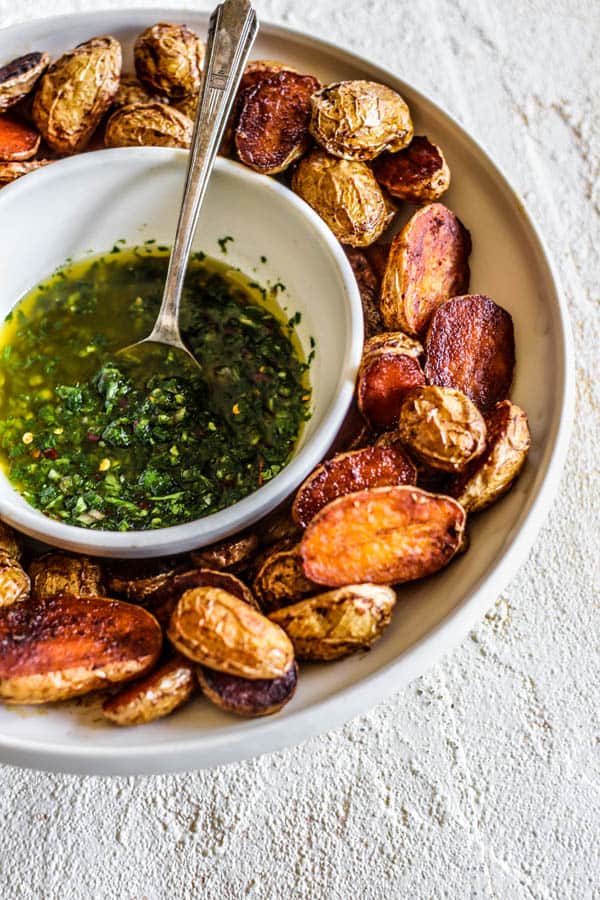 A Zesty South American Classic That You Should Make in Your Kitchen
Chimichurri sauce is a traditional South American sauce renowned for its vibrant green hue and explosive herby flavor profile. Originating in Argentina and Uruguay, this condiment has found its way into the hearts of food lovers worldwide!
The sauce's primary base consists of parsley and cilantro, providing an earthy and herbaceous foundation. But don't be fooled by its simplicity - chimichurri sauce packs a punch with additional ingredients like garlic, red wine vinegar, lemon juice, and red chili flakes.
Harvest the Magic: Preparing Fresh Herbs for this recipe for Chimichurri Sauce
What's the secret ingredient behind an outstanding chimichurri? Freshly harvested herbs right from your own garden! Growing your own parsley and cilantro not only elevates the taste of your chimichurri but also adds a touch of joy and accomplishment to every bite. Of course, if you don't have a garden readily available, you can pick up some fresh herbs from your favorite farmers market or grocery store.
Parsley has a fresh, herbaceous, and slightly peppery flavor. It is often described as having a mild, grassy taste with hints of citrus and earthiness. The flavor profile of parsley can vary depending on the variety and freshness. Flat-leaf parsley (Italian parsley) tends to have a more robust flavor than curly parsley.
Cilantro has a unique and polarizing flavor profile. Some people love it, while others find it tastes soapy or pungent. Its taste is often described as citrusy and bright, with notes of fresh, green, and slightly peppery undertones. The flavor can be quite intense, especially in the leaves and stems.
Whisk, Blend, Savor: Creating Your Very Own Chimichurri
Now that we have our parsley and cilantro, it's time to whip up a batch of this delicious chimichurri sauce! This quick and easy recipe combines a handful of fresh ingredients to create a mouthwatering sauce that elevates any dish it touches.
Beyond Grilled Meats: Chimichurri's Adventurous Pairings
It's time to eliminate the misconception that chimichurri sauce is reserved solely for grilled meats. While it undoubtedly shines alongside juicy steaks, this versatile sauce is a match made in heaven for many vegetarian and gluten-free dishes too. Try it on some of my favorites here: 
Nothing hits the spot like a perfectly roasted sweet potato! Tender and sweet, oven-roasted sweet potatoes are the perfect canvas for all sorts of toppings. But did you know there's a secret to making the perfect sweet potato? We'll give you the inside scoop! 
This recipe for black bean burger patties That I created for California Grown makes the most perfect veggie patty on the planet in my opinion – they're full of flavor, easily customizable, and pretty darn easy to make too! A slathering of this chimichurri takes this veggie burger to the next level.
If you've made this Chimichurri, I would be so grateful if you would rate the recipe and let me know your thoughts in the comments below!
Print
An Easy Recipe For Chimichurri
This recipe for chimichurri is perfect on steak, potatoes, sandwiches, & anything else you want to slather it on!
Author:
Prep Time:

8 min

Total Time:

8 minutes

Yield:

8

servings

1

x
Category:

Sauces

Method:

Assembled

Cuisine:

South American
½ cup cilantro leaves, chopped small
½ cup flat leaf parsley leaves, chopped small
1 small shallot, minced 
1 garlic clove, minced
2 tablespoons red wine vinegar 
1 teaspoon coarse kosher salt 
¼ teaspoon freshly cracked black pepper 
½ teaspoon Italian seasoning
½ teaspoon crushed red pepper flakes
⅓ cup olive oil
Instructions
Combine all of the chimichurri ingredients in a bowl except for the oil. Stir to combine. Drizzle the oil into the mixture and stir to combine. 
Serve immediately, or store covered at room temperature up to 24 hours before serving.
Notes
This sauce will keep at room temperature, tightly covered, right after you make it for up to 24 hours.  Or for a couple of weeks in the fridge. Bring to room temp before serving.
Nutrition
Serving Size:

1-2 tablespoons

Calories:

87

Sugar:

0.3 g

Sodium:

158.4 mg

Fat:

9.4 g

Carbohydrates:

1.3 g

Protein:

0.3 g

Cholesterol:

0 mg
Keywords: chimichurri, recipe for chimichurri, sauce, side dish, condiment, cilantro, parsley, red wine vinegar
Recipe Card powered by