Looking for a juicy burger recipe? Don't settle for dry, lackluster burgers this fourth of July! Instead, opt for one of these mustard-seared burger patties that are juicy, loaded with toppings like caramelized onions and heirloom tomatoes, and smothered in a special not-so-secret sauce that was made popular by the California based hamburger chain, In N Out.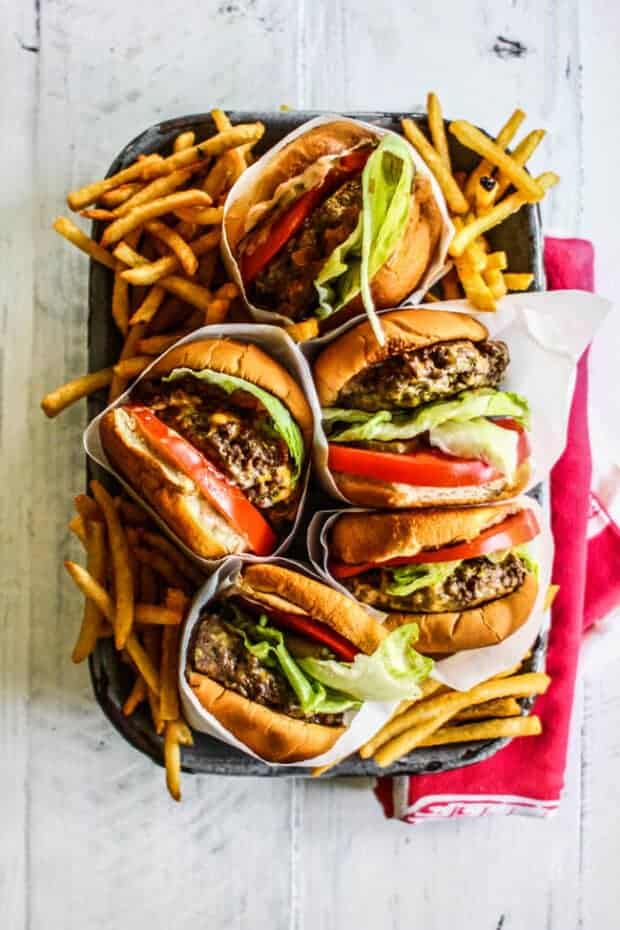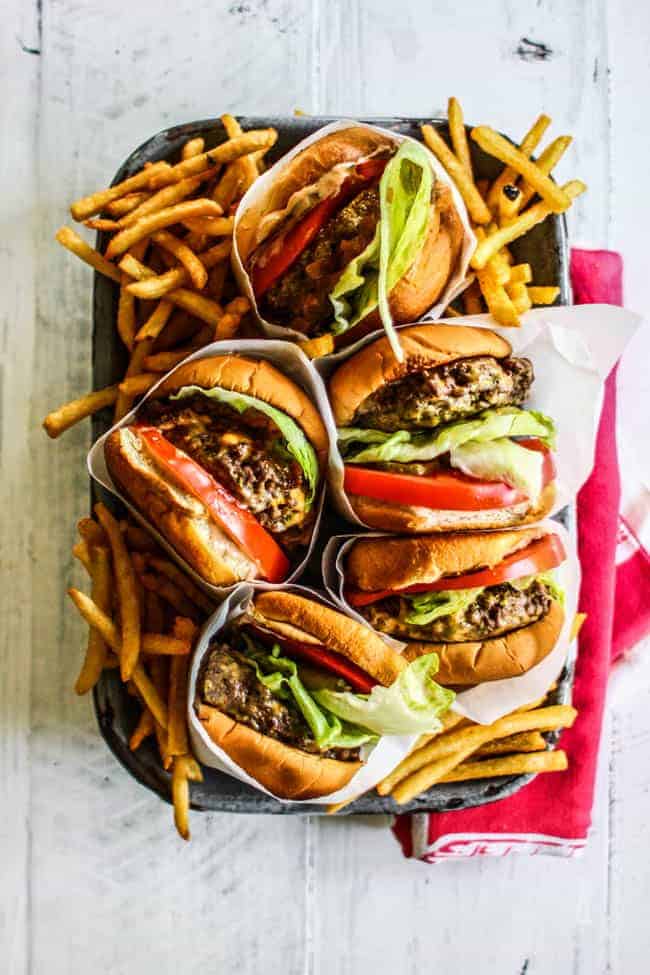 Most top-notch burger places key to a juicy burger recipe is that they use a flat-top griddle to cook their burgers.
These griddles are set at a consistent temperature that allows the burgers to get a sear while cooking evenly inside, locking in the juices. But, you don't need a fancy flat top grill to make juicy burgers at home!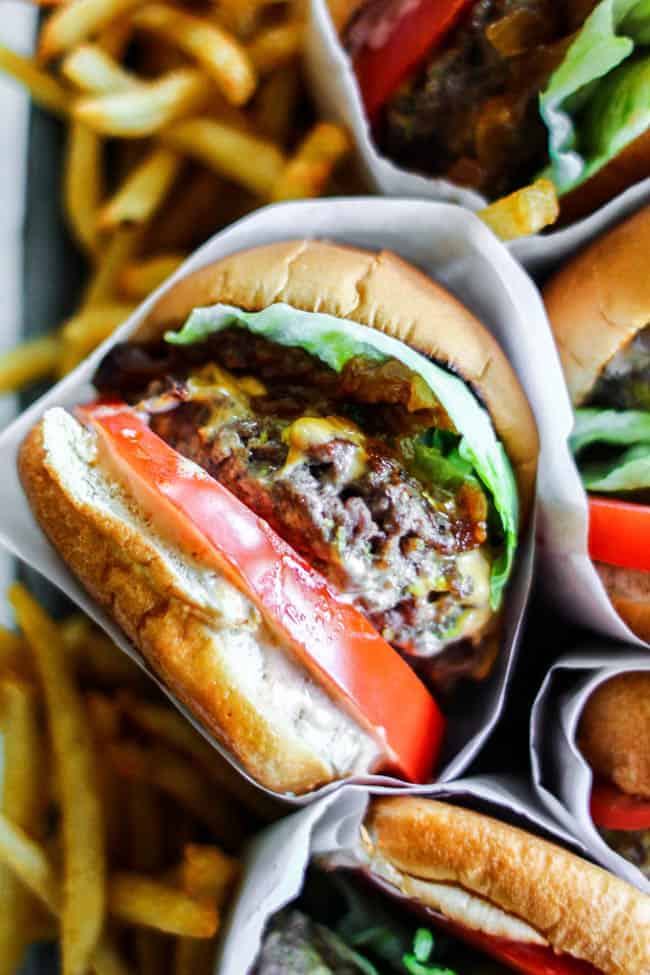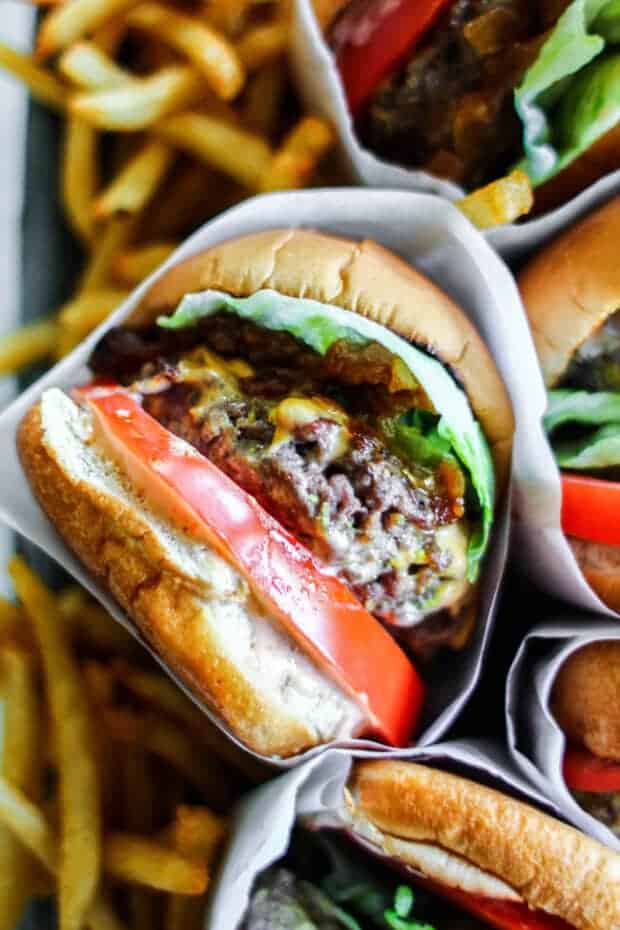 In my opinion, there are 3 components to a really juicy burger recipe!
The patty itself is the most important, followed by the sauce and fresh toppings. Let's break down each category so you know how to recreate this juicy burger recipe at home for your family.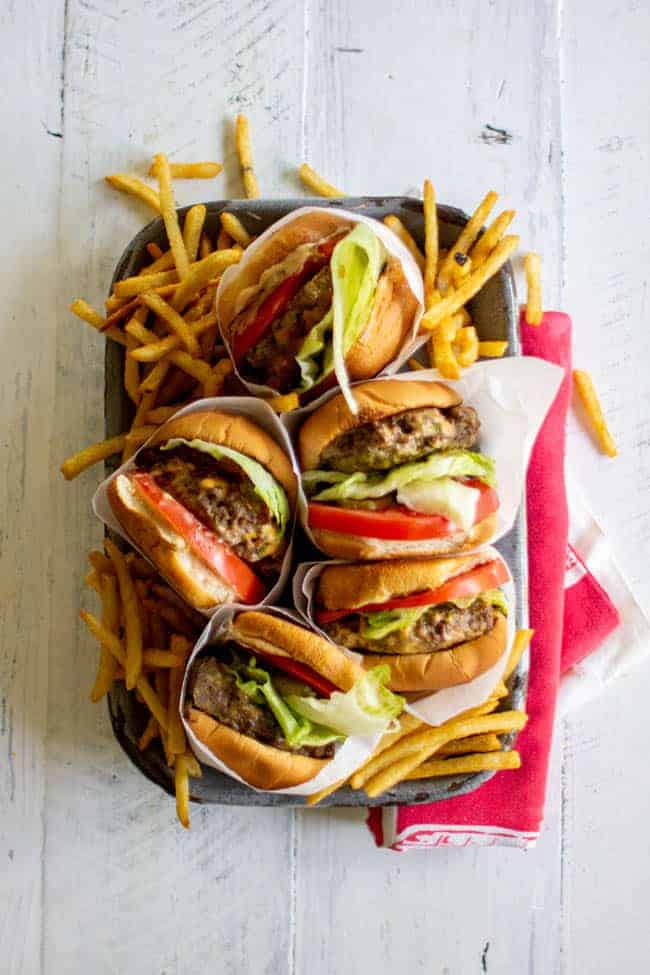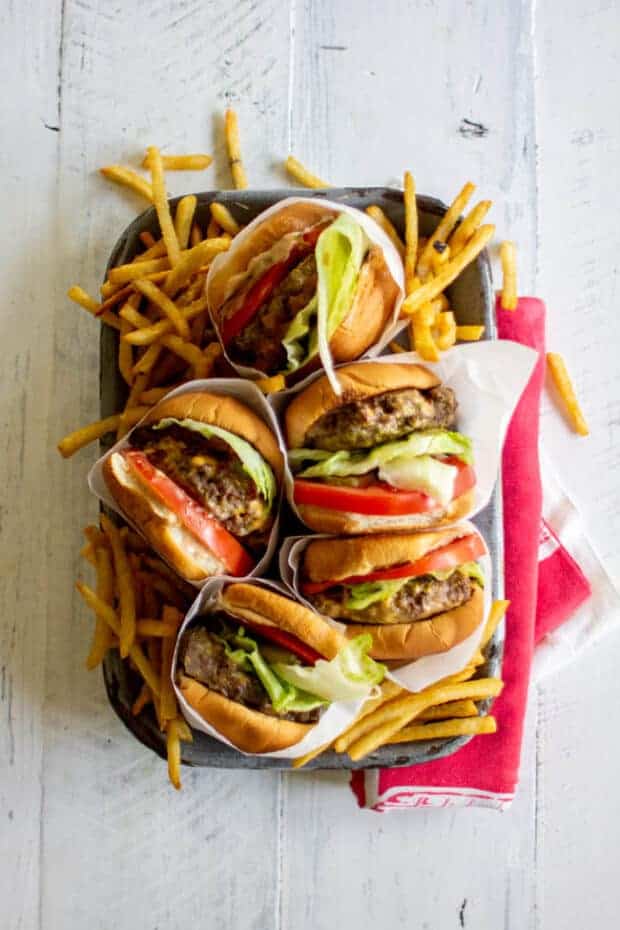 5 keys to making a juicy burger patty at home:
Which type of ground beef is best for making juicy hamburgers?
First when shopping for ground beef to make this juicy burger recipe look for 80/20 ground chuck. Period, end of story. At the store, look for 80/20 on the label on the package or ask the butcher if you're not sure. What you're looking for is the percentage of fat in the meat. The monikers of a good burger are one that is nice and juicy when you bite into it, and you honestly just can't get that juiciness if you buy lean ground beef.
Why is it important to make a thumbprint indentation in hamburger patties before cooking?
Second, when forming the burger patties it is important to make a thumbprint in the middle of the patty. The thumbprint ensures that the meat cooks evenly. It's easy to make a thumbprint indentation into each patty right before it goes on the grill or in the pan. The indentation helps the patty hold its shape—rather than swelling—as it shrinks during cooking.
What are the best seasonings for hamburger patties?
Third, season the patty well and with salt and pepper before cooking and nothing else. Let that juicy burger flavor shine! Use a light coating of canola oil, cast iron, or a heavy-bottomed skillet, and high heat to lock in the flavor.
Mustard-seared hamburger patties have an extra layer of flavor!
Fourth, I recommend a mustard-seared burger patty. It is a guaranteed trip to flavor town! After adding the patties to the pan, brush a teaspoon of yellow mustard on the top of each patty. Mustard-seared patties were made popular by a California burger chain called In-N-Out, which we happen to love. This seasoning technique gives the patties an irresistible jolt of flavor that actually isn't really that mustard-y in flavor at all.
The toppings matter! You can't experience the best burger of your life with lackluster toppings.
Fifth, toppings and saucy components that have a smothering effect like the caramelized onions and sauce we use here really help to impart an extra layer of juiciness to your burgers.
If you've made this Ultimate Juicy Burger recipe I would be so grateful if you would rate the recipe and let me know what you think in the comments below!
I just love hearing from you and your reviews and comments really help others that visit This Mess is Ours.
Print
The Ultimate Juicy Burger Recipe
Don't skimp on the napkins at dinner because this is a juicy burger recipe! The caramelized onions and not so secret sauce are optional, but the mustard-seared patty is key to locking in those juices. 
For the caramelized onions
2 tablespoons vegetable oil
2 large yellow onions, finely chopped
coarse kosher salt
For the not-so-secret sauce
¼ cup mayo
2 tablespoon ketchup
1 tablespoon dill pickle relish
½ teaspoon distilled white vinegar
For the patties
1 pound 80/20 ground beef, formed into 4 patties and seasoned on both sides with kosher salt and black pepper
¼ cup yellow mustard
4 slices American Cheese slices
To assemble the burgers
4 hamburger buns, split
1 tomato, sliced thin
8 slices of dill pickle
4 large leaves of iceberg lettuce
1-2 heaping tablespoons not so secret sauce
1-2 tablespoons caramelized onions
Instructions
To make the onions:
In a large skillet with a lid, heat the vegetable oil over medium-low heat. Add the onions and ¾ teaspoon salt. Stir to combine, cover and cook, stirring occasionally for 30 min. If browning too quickly reduce heat.
Uncover, increase heat to med-high & cook, stirring often until caramelized, 7 min. Add ½ cup water to the pan, scraping up any browned bits on the bottom. Cook until the water has evaporated, about 2 more minutes. Set aside.
Can be made up to 3 days in advance and stored in the fridge.
To make the not so secret sauce

Combine the mayo, ketchup, relish, & vinegar. Stir to combine. Set aside.

To grill the burgers

Heat a grill pan or heavy bottomed skillet over a medium-high heat or heat a grill to medium high.  Lightly brush the grill or pan with vegetable oil. Toast the buns, split side down.

Add the seasoned patties to the griddle and cook for 4 minutes. Spread 1 –2 teaspoons mustard over the uncooked side of each patty then flip and cook for 2 minutes more. Top each burger with a slice of cheese and close the grill for a few minutes to allow the cheese time to melt. Renove from the heat and rest for a few minutes.

Now you can build your burgers with all of the components. 

Spread the not so secret sauce on the toasted bun. Lay down the lettuce and place a patty on top. Add a scoop of caramelized onions, a slice of tomato, 2 slices of pickle, and another tablespoon or so of sauce. Serve immediately.
Recipe Card powered by
Want to be a part of our online community outside of the blog? It's easy!! All you have to do is follow @THISMESSISOURS on FACEBOOK, INSTAGRAM, TWITTER, YOUTUBE, or PINTEREST to see cooking demos, and peeks into our day to day life.
Frequently asked questions about cooking hamburgers
Why are my grilled burgers dry?
Using meat that's too lean results in burgers that are lacking in both flavor and texture, and easily end up dry and crumbly. The fat is important for adding flavor and holding the patty together.