This simple recipe for Caprese Salad really honors the classic Caprese with gorgeous heirloom tomatoes, fresh mozzarella, and lots of basil. But, we also added a sweet little Southern-inspired kick with the addition of fresh juicy peaches.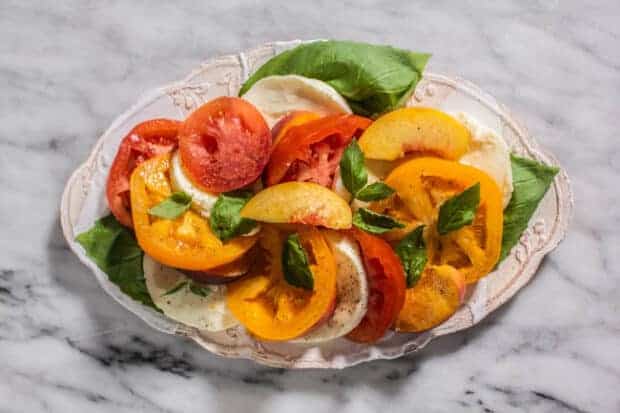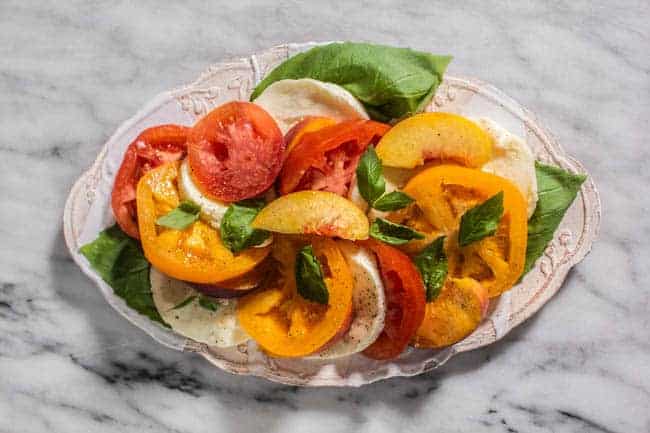 What tomatoes work best in this recipe for Caprese Salad?
You can actually use any type of tomatoes you have on hand for this Caprese salad. There aren't many ingredients in this salad, so it is more important all of the ingredients from the olive oil to the tomatoes be the best quality you can find.
Since the tomatoes are the true star of any Caprese you want to pick fruit that is perfectly ripened, unblemished, and bursting with flavor. No bland, watery tomatoes for your next Caprese ok?!
[mv_video doNotAutoplayNorOptimizePlacement="false" doNotOptimizePlacement="false" jsonLd="true" key="ypfbx77z6hs3hw2n1ydi" ratio="16:9" thumbnail="https://mediavine-res.cloudinary.com/v1626823624/k4htv5pqneymcad7z7d1.jpg" title="Simple Peach Caprese Salad" volume="70"]
Different tomatoes require different knives! Watch my video to see which knife is best for slicing tomatoes for Caprese salad.
While there aren't too many rules for what tomatoes to use in your next Caprese salad, it is important to have the right knife on hand when you go to slice the tomatoes you do use.
What knife is best for slicing large heirloom, Beefsteak or homegrown tomatoes for Caprese salad?
As surprising as this is going to sound, you actually want to use a serrated tomato knife or a large serrated bread knife when slicing larger tomatoes into perfect rounds for Caprese salad. The flesh of a tomato is thin while the fruit inside is soft, if you are using a large, dull knife you are likely to squish your tomato before you actually slice through it. So, at the very least, if you don't take my advice and use a serrated knife at least opt for one that is SUPER sharp.
What knife is best for quartering or slicing through smaller tomatoes for Caprese salad?
A smaller pairing knife is your friend when working with smaller tomatoes.
What are some ways to swap up a recipe for Caprese Salad and make it unique?
There are lots of different ways to swap up your Caprese salad so that it never gets boring!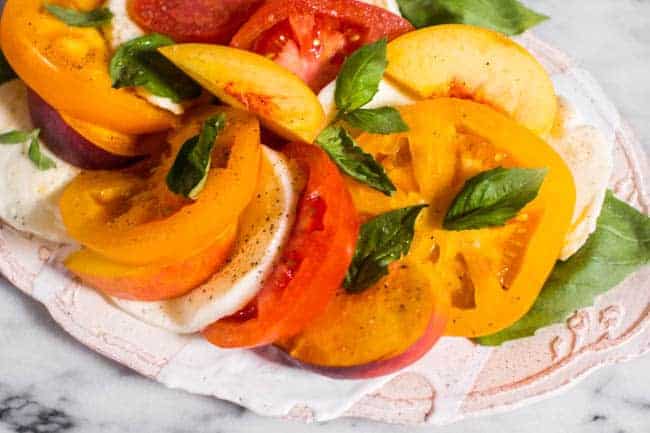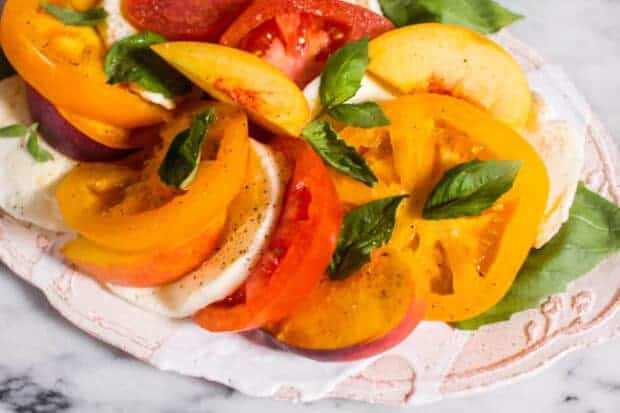 What's the difference between balsamic vinegar and white balsamic vinegar?
Traditional balsamic vinegar is cooked and concentrated which produces a rich flavor and a deep dark color. White balsamic vinegar is cooked at high pressure to prevent caramelization. This gives it a golden color and an overall gentler flavor.
Although it lacks the depth of flavor of traditional balsamic vinegar, white balsamic still has that trademark sweet-and-sour balance.
No white balsamic on hand? Like other vinegar types, white balsamic is made from grapes and can be substituted with wines, other types of vinegar, or other acids.
You don't need much to make this recipe for Caprese salad. There are a few things to gather that will make prepping it a breeze though.
The classic recipe for Caprese Salad has inspired a million and one recipes, here are a few of our favorites.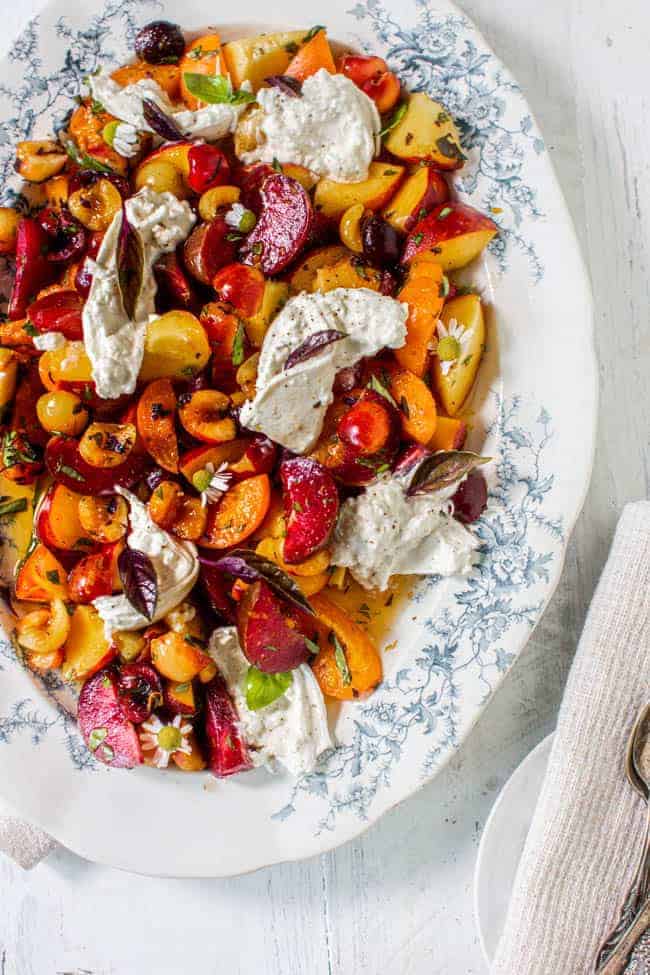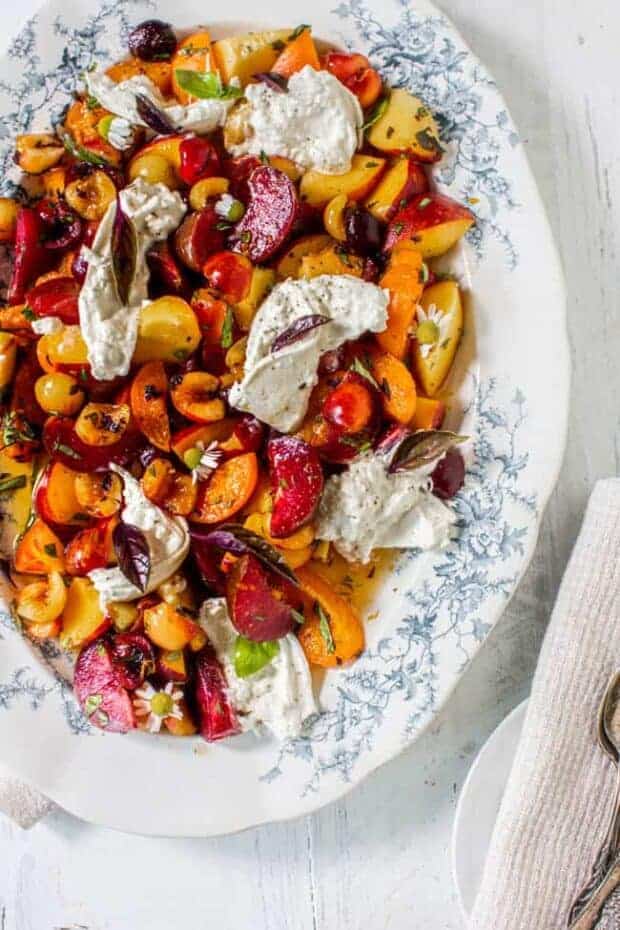 California's abundant sunshine, fertile soil, and unique microclimates have made the state famous for growing the world's finest fruit – including all types of stone fruit! The cherries, peaches, apricots, and plums in this salad inspired by the flavors of Caprese are succulent, tender, and literally bursting with flavor. You can find the recipe on California Grown!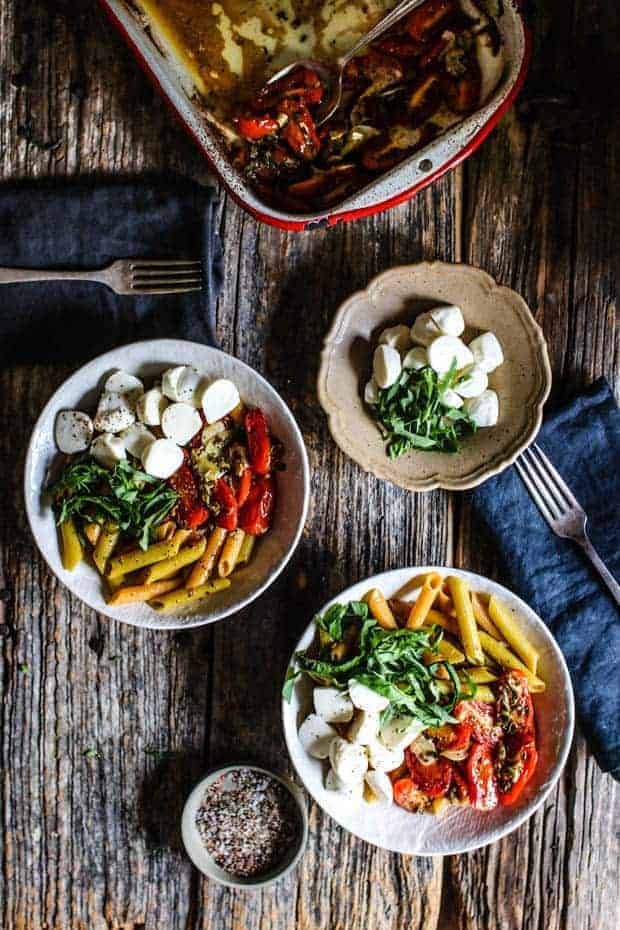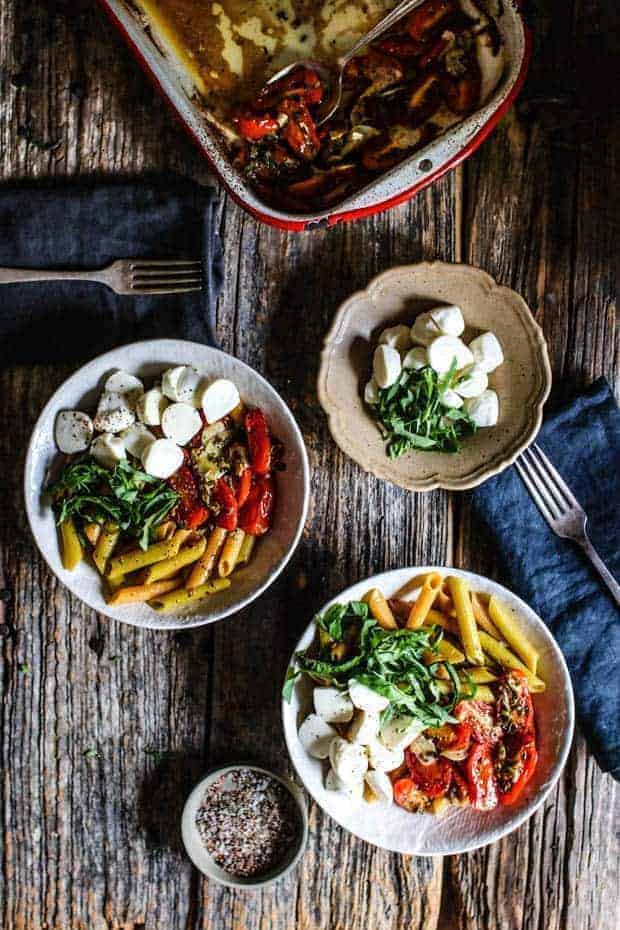 This warm Caprese-inspired pasta salad comes together in about the time it takes for the pasta to boil. It is packed full of incredible flavor and perfect for a hectic weeknight.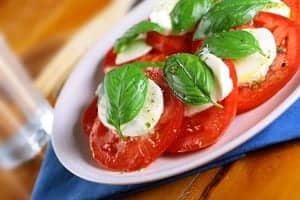 This easy Caprese Salad from The GFree Foodie goes with virtually any meal. In summer when basil and tomatoes are plentiful, it's my go-to salad. Add balsamic vinegar or a drizzle of pesto to switch it up!
Did you make our Southern inspired Caprese salad? Let me know what you think in the comments below by rating and reviewing the recipe!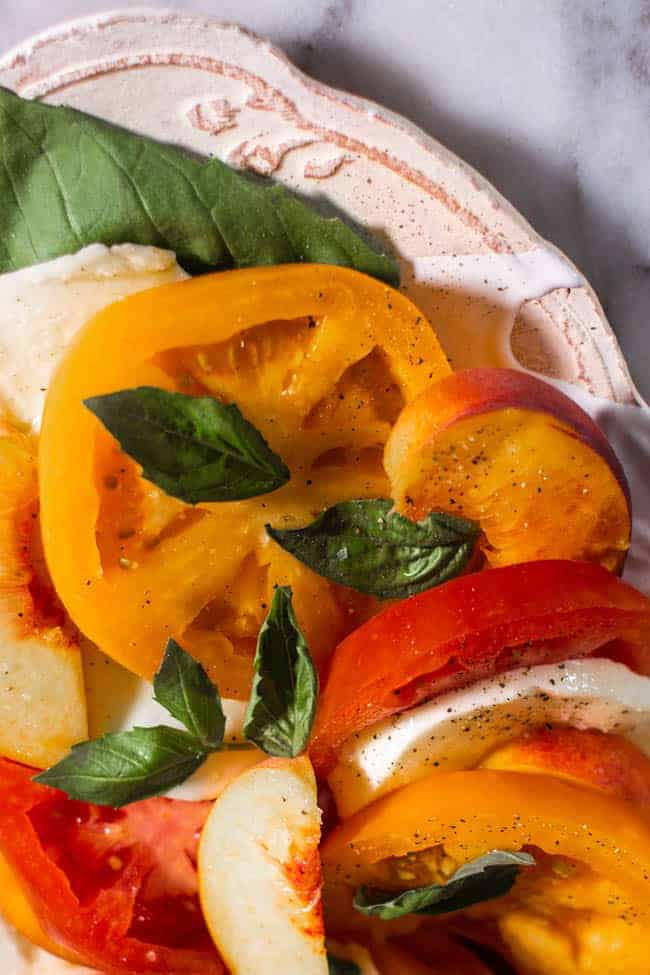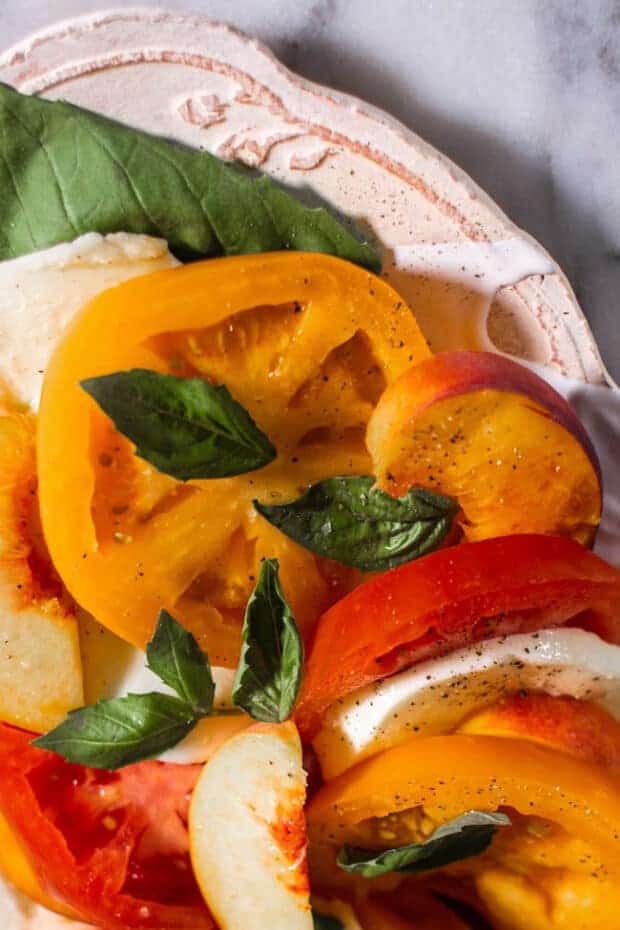 Print
Caprese Salad with Summer Peaches and Tomatoes
This is the perfect summer salad - succulent tomatoes, juicy peaches, and fresh mozzarella pair with basil and white balsamic for a truly sensational Southern inspired twist on Caprese.
Author:
Prep Time:

8 minutes

Total Time:

8 minutes

Yield:

4 servings

Category:

Appetizer

Method:

Raw

Cuisine:

Italian

Diet:

Gluten Free
2 large heirloom tomatoes, sliced with a serrated knife 
2 large peaches, pit removed cut into wedges 
8 ounces fresh mozzarella cheese, sliced or torn into pieces 
1 tablespoon white balsamic vinegar  
To serve: basil leaves, flaky sea salt, freshly cracked black pepper 
Instructions
Layer the tomatoes, peaches, and sliced mozzarella onto a serving tray. Drizzle over the olive oil and white balsamic vinegar. Sprinkle with basil and flaky sea salt. 
Notes
You can omit the peaches all together if you don't have them just increase the amount of tomatoes. you can swap out the tomatoes for other varieties. 
Nutrition
Serving Size:
Calories:

180

Sugar:

9.1 g

Sodium:

422.9 mg

Fat:

7.2 g

Carbohydrates:

11.5 g

Protein:

18.9 g

Cholesterol:

10.2 mg
Keywords: peach, heirloom tomato, white balsamic, basil, mozzarella
Recipe Card powered by
Frequently asked questions about Caprese Salad.
Why is it called Caprese salad?
The salad is named after the island of Capri, where it is believed to have originated.