Our garden is booming which means we are feasting on lots of yard-to-table type meals like this Garden-inspired recipe for Cobb Salad. Our version of this famous salad is bursting with fresh from the garden tomatoes, cucumbers, peppers, and leafy greens with a few store-bought elements like salty mixed nuts for good measure and lots of flavor.
This post contains affiliate links. If you make a purchase through one of these links we may receive a small commission for it. Thank you for supporting our small business!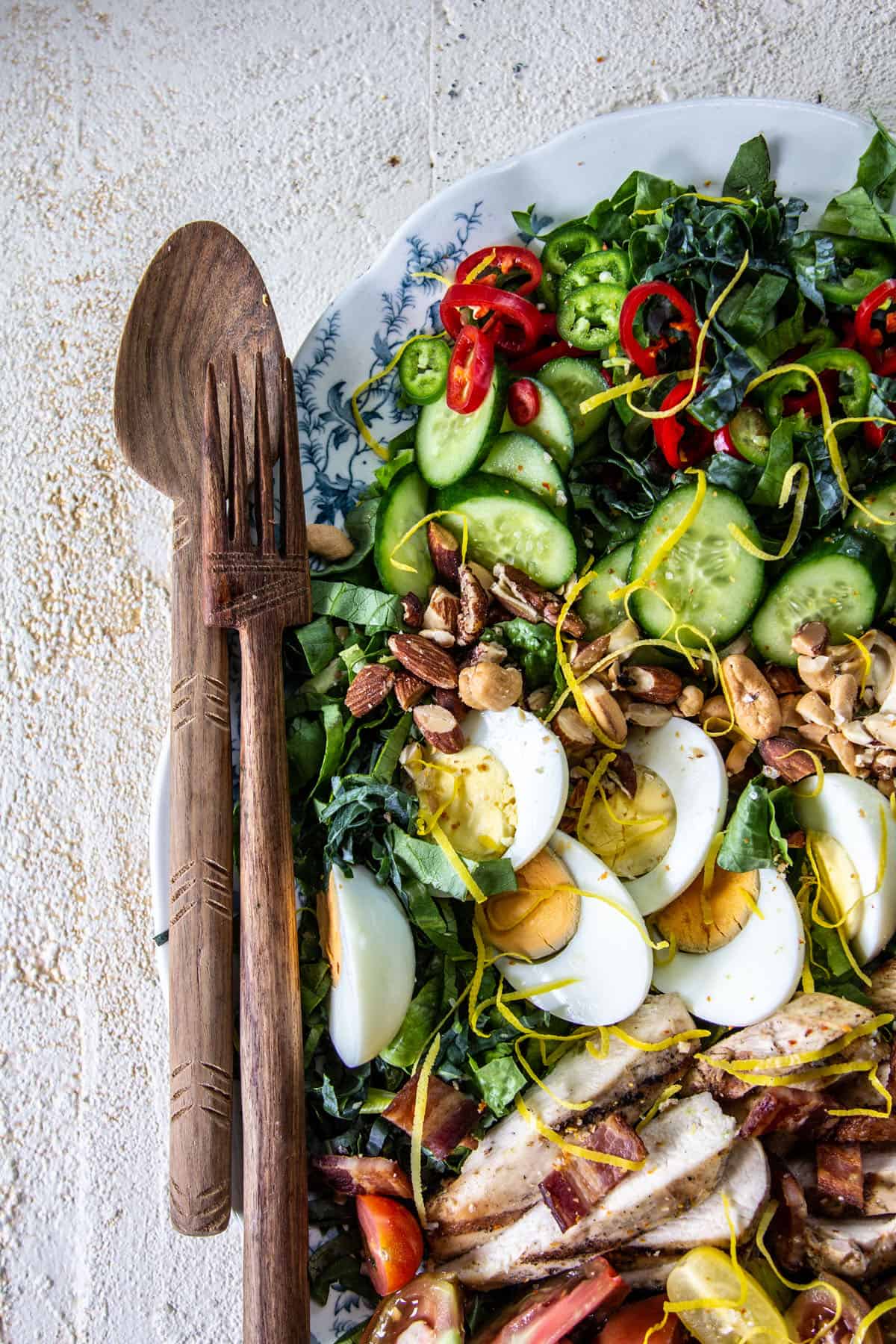 We have spent a lot of time lately thinking about different recipes for the iconic Cobb salad. Our job is funny like that sometimes. We can sometimes spend weeks pouring over an ingredient or a recipe concept. Then will document our favorite variations in written recipes and photographs then we move on to another food fascination.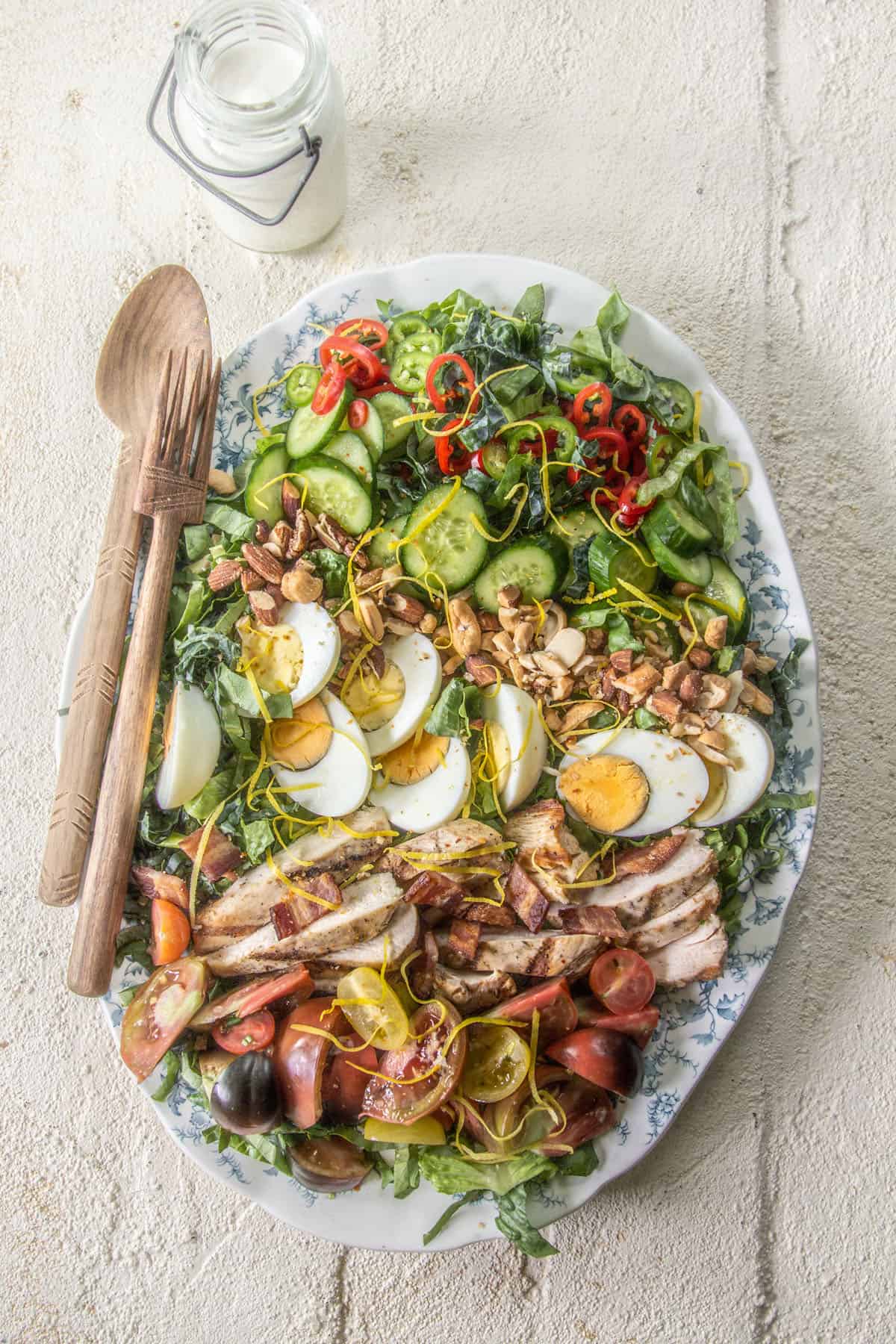 Where was the first Cobb salad ever made?
The first Cobb salad ever served was invented in 1937 at the Brown Derby restaurant in Hollywood, California!
Legend has it that Bob Cobb, the owner of the Brown Derby, made a salad with ingredients he had on hand for his regular customer, Sid Grauman of Grauman's Chinese Theatre.
The salad was so incredibly delicious that the next night when Sid came in for dinner he ordered the "Cobb Salad" again. And just like that, a culinary icon was born.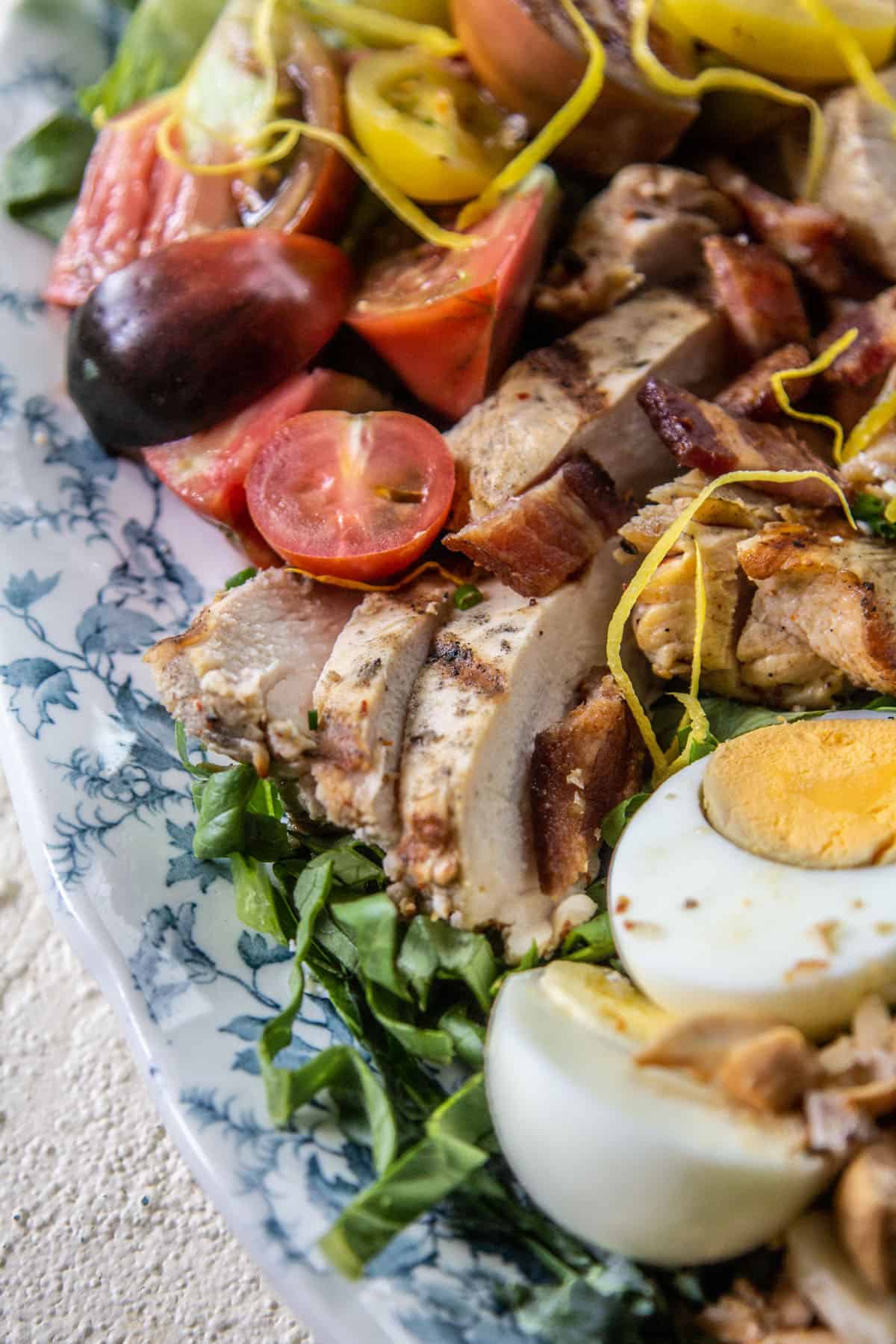 What are the ingredients for cobb salad?
Cobb salads are one of those types of recipes where the ingredients can change and morph depending on the season and what the cook has on hand.
A traditional Cobb salad tops leafy greens with ingredients like hard-boiled eggs, cheese, tomatoes, chives, avocado, onion, and bacon. All simple ingredients on their own, but when tossed together they become extraordinary!
This particular Cobb salad recipe was inspired by the abundance of things growing in our garden this season.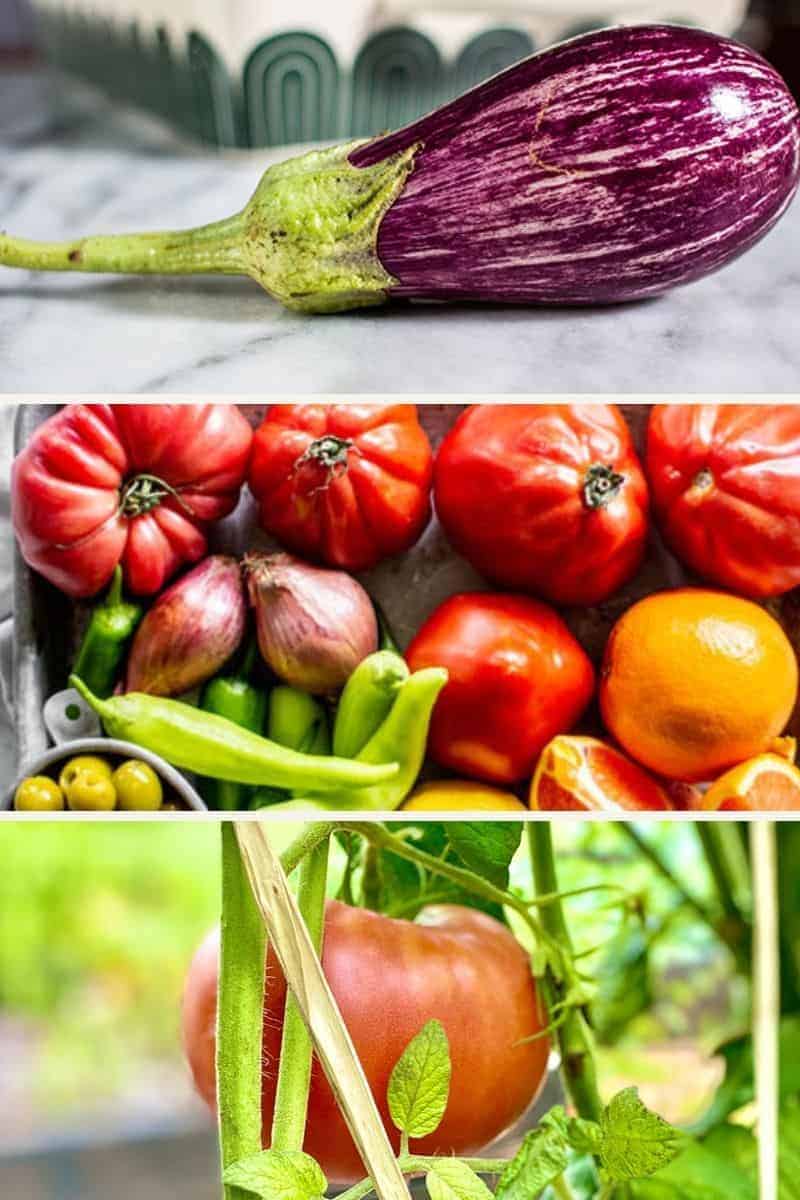 Ingredients for Cobb salad from the garden:
Leafy greens
We used a mix of Romaine, Breen, and Red Leaf lettuces with a few handfuls of basil and shredded Lacinato kale for the base of leafy greens that this recipe for Cobb salad sits upon. Between the garden in our yard and our indoor hydroponic garden we keep these types of greens growing all year long.
If you aren't growing leafy greens you can still make this recipe for Cobb salad , simply find a mix of leafy greens or all one variety that you like at your local grocery store or farmers market and go from there.
Heirloom Tomato
We seem to be overwhelmed with garden fresh tomatoes lately, but we aren't complaining! This salad contains a mix of Purple Cherokee heirloom tomatoes, Black Beauty tomatoes, and colorful cherry tomatoes.
Cucumber
Our favorite type of cucumbers for any salad would have to be Persian Cucumbers. They are easy to grow in the garden which is great, but also readily available at most grocery stores.
Hot and Sweet Peppers
We live for a pop of heat so this salad has thinly sliced rings of jalapeno tossed into the mix. I also have sliced mild banana peppers tossed in too because they are growing so fast they are ripening from yellow to red on the vine before I can get to them!
You can use any combination of peppers hot, mild, or sweet that you prefer. Or omit the peppers altogether. Peppers aren't a standard ingredient in Cobb salad, they are just one we had on hand and thought would be delicious. Spoiler alert - they are SUPER delicious in this salad.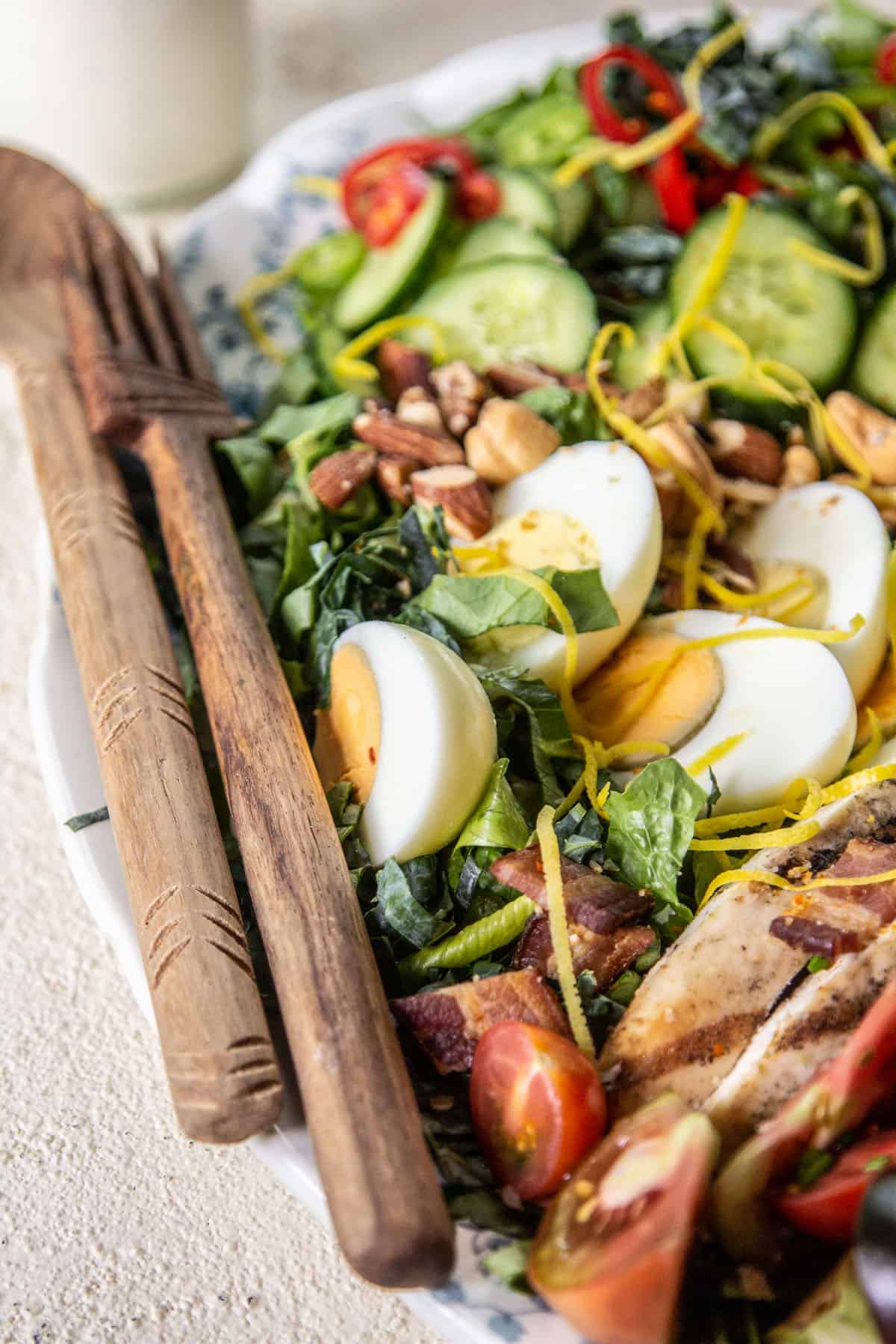 Ingredients for Cobb salad we grabbed from the store:
Mixed Nuts
One of our go-to salad toppers is chopped mixed nuts. Yep, the ones from the grocery store. Cocktail nuts and roasted salted peanuts both work great. Simply chop them up into bite-sized pieces and sprinkle them over your salads.
Protein
You can serve all sorts of protein options and combinations in a Cobb salad. Here I chose bacon and grilled chicken because they are our favorites. But, you can substitute any meat or plant based protein your heart desires.
Below are the recipes I used for the bacon and chicken shown in this salad. You can click on the links to see those recipes.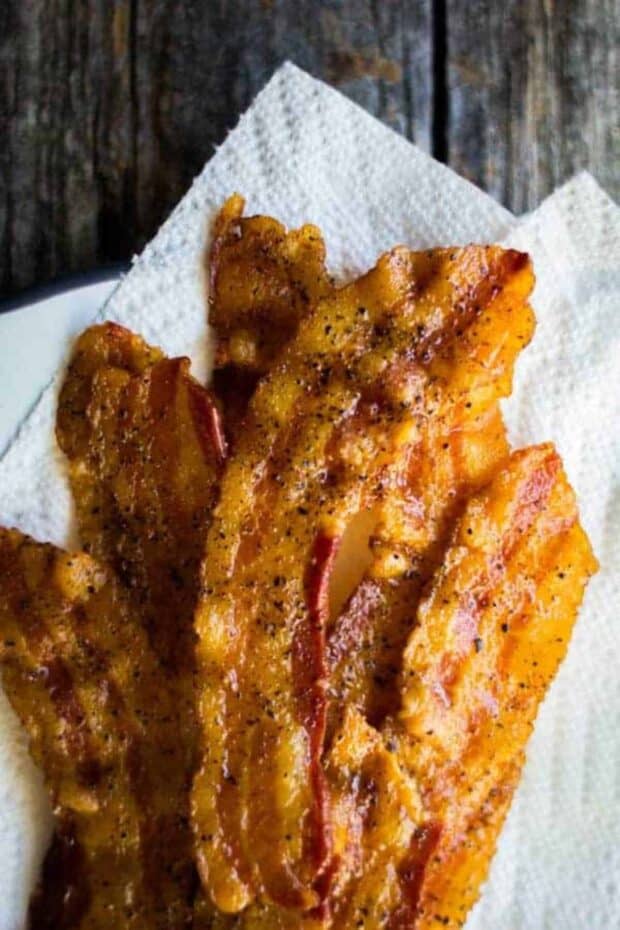 Perhaps you've heard tales of delicious, crispy oven-baked bacon that doesn't cover your stove in grease splatter?
This oven-baked bacon recipe is the perfect way to prepare bacon. You can make a big batch at once for topping all sorts of salads with no fuss and hardly any mess.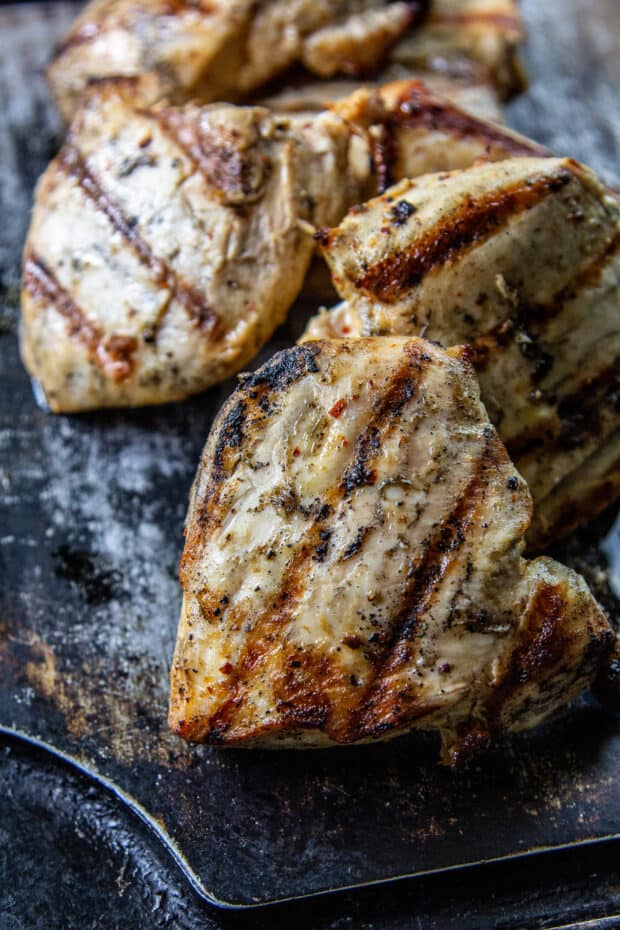 Grilled chicken recipes are a dime a dozen, but we think ours is pretty special.
This recipe starts with a simple, lemon-forward grilled chicken marinade, easy prep steps, and even easier cooking instructions.
You can enjoy this grilled chicken for salad, sandwiches, or just on its own.
Eggs
Hard-boiled eggs are a standard ingredient choice in many Cobb salad recipes. Eggs are packed with protein and flavor! However, if you aren't a fan of the texture of hard-boiled eggs I have a trick for your to try.
Simply grate peeled, hard-boiled eggs on a grater over salad greens instead of serving them sliced in half. The grated egg sort of dissolves into the mix adding a bit of flavor and a boost of nutrients to every bite!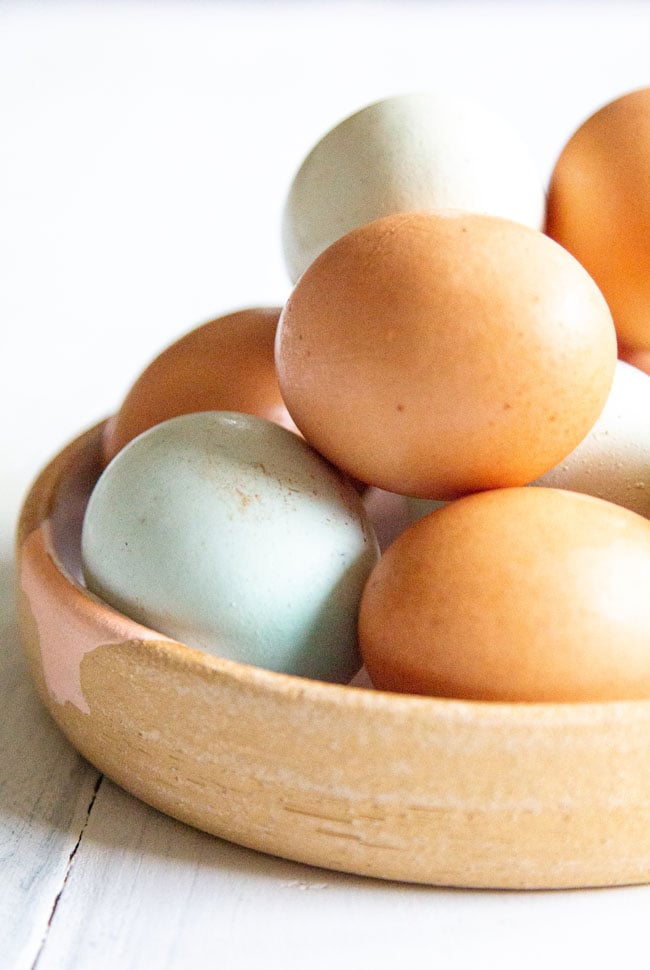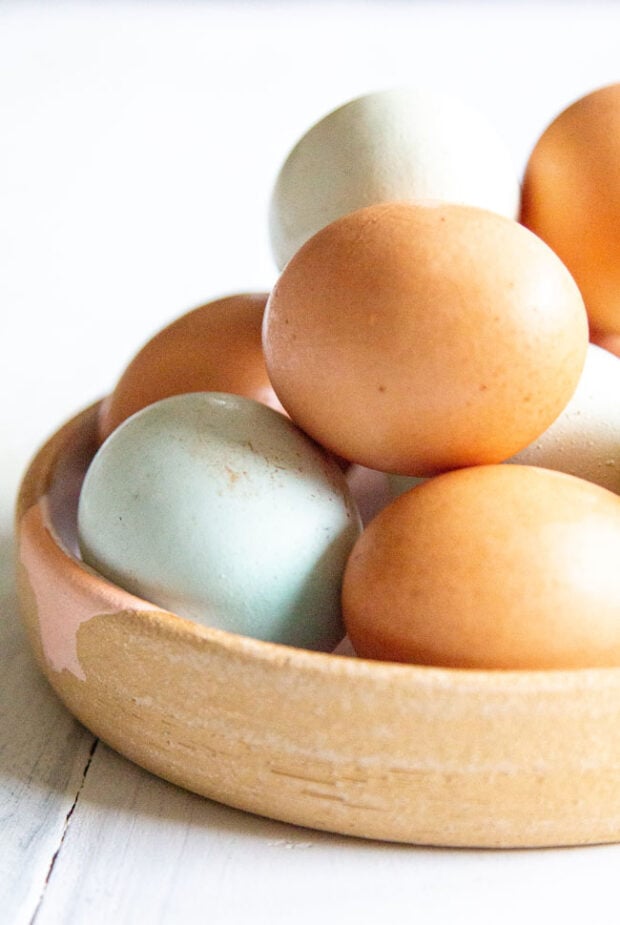 Instant Pot Hard-Boiled Eggs
This technique for making hard-boiled eggs makes 5 or more eggs - up to 2 dozen.
Place 1 cup of water in the bottom of an Instant Pot and set the wire trivet on top. Gently place the desired amount of eggs on top of the trivet, stacking the eggs if necessary for space.
Place the lid on the Instant Pot and set the knob to "sealing". Cook on high pressure for 5 minutes. Allow the pressure to release for 5 more minutes naturally.
3. While the pressure is naturally releasing prepare an ice bath by filling a large bowl with ice and water, and set it aside. Then carefully manually release any remaining pressure by flipping the knob to "venting". Once the pressure has escaped, remove the lid and transfer the eggs carefully into the ice bath to stop the cooking process.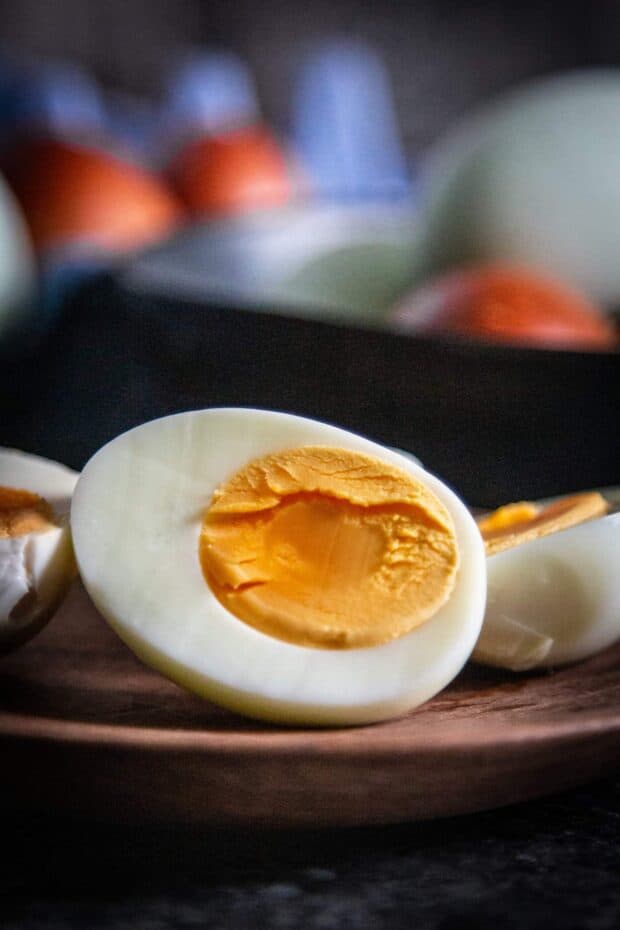 You might be asking if it's possible to make hard-boiled eggs without water. The answer is a strong YES! This recipe from Dinner Cult doesn't call for any water at all and yields perfect hard-boiled eggs every single time.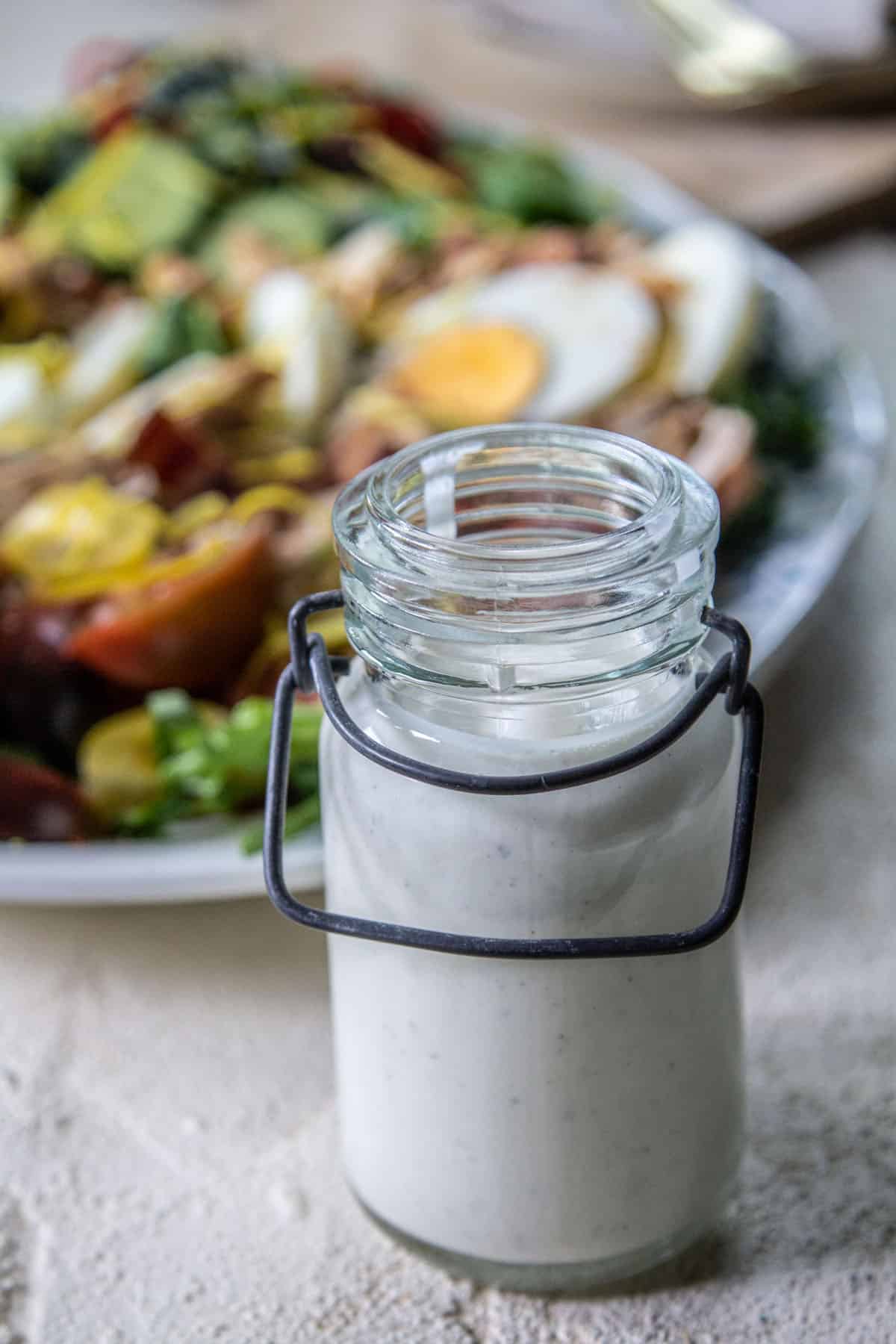 Flavorful extras for taking your Cobb salad to the next level.
I am into sprinkles; just ask anyone! I love to sprinkle on savory sprinkles the most though because they are super unexpected. Additions like flaky salt, seeds, hemp hearts, citrus zest, and last-minute spice additions are what make a salad like this one go from ordinary to "The best salad I ever ate" status!
Lemon Zest
You can simply zest a lemon over the entire salad with a Microplane before serving or use a zesting tool to create long thin strips like in the images of our salad above.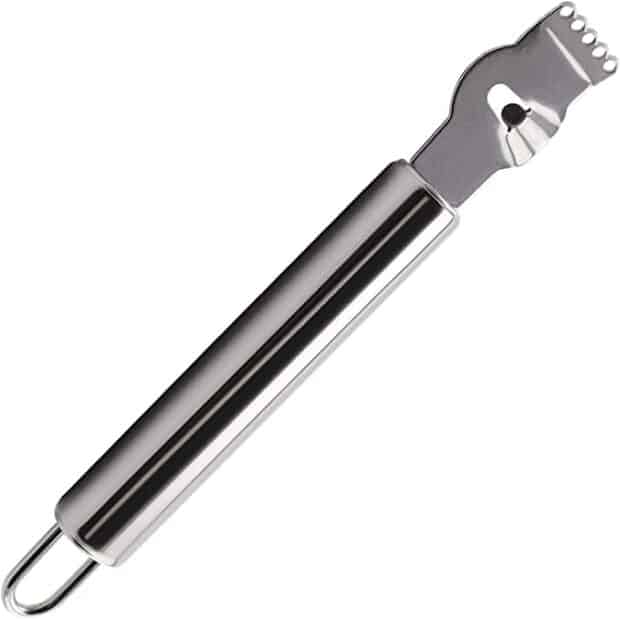 Believe it or not, this is one of the most used tools in our kitchen!
I love the long thin strips of citrus zest it creates as opposed to a Microplane that shreds the zest down into teeny tiny pieces.
Flaky Finishing Salt
Flaky finishing salt is an ingredient that I can't live without! A sprinkling of flaky salt on salads like this one not only takes the flavor from ordinary to extraordinary, but the flakes of salt add a subtle crunch to every bite.
I like to finish all of our salads with a bit of a kick, so I sprinkle on red pepper flakes for a little burst of heat in each bite right before serving. One of my all-time favorite, must-have ingredients from Boonville Barn Collective combines spicy Comapeño pepper flakes and flaky sea salt in one product which makes finishing salads like these easier than ever before.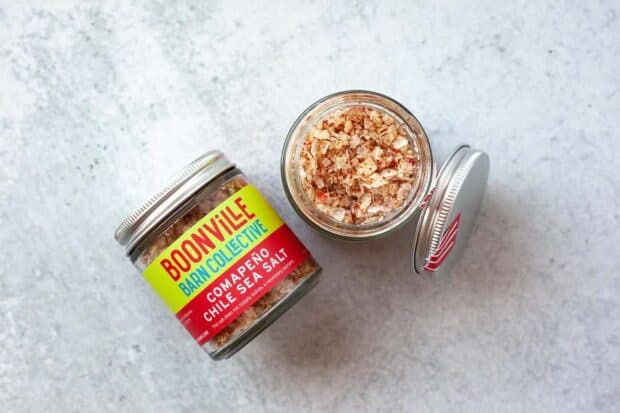 Comapeño chiles are rare, wild chiles from Mexico that are grown in the Veracruz Mountains.
The team at Boonville Barn Collective, in California, was able to get their hands on some of the seeds of this extraordinary pepper and have now cultivated it so that you and I can enjoy it!
This chile is hot! It's citrusy and a little acidic too with a beautiful color. The citrusy and acidic notes are especially noticeable in this flaky salt.
Use the code TMIO at checkout for 10% off your purchase!
The dressing
This is another component of Cobb salad where you can play around a bit. Use your favorite homemade or storebought dressing recipe or try ours, my Creamy Peppercorn dressing.
This dressing is super easy to mix up and is a family favorite ingredient to serve alongside everything from salads to French Fries.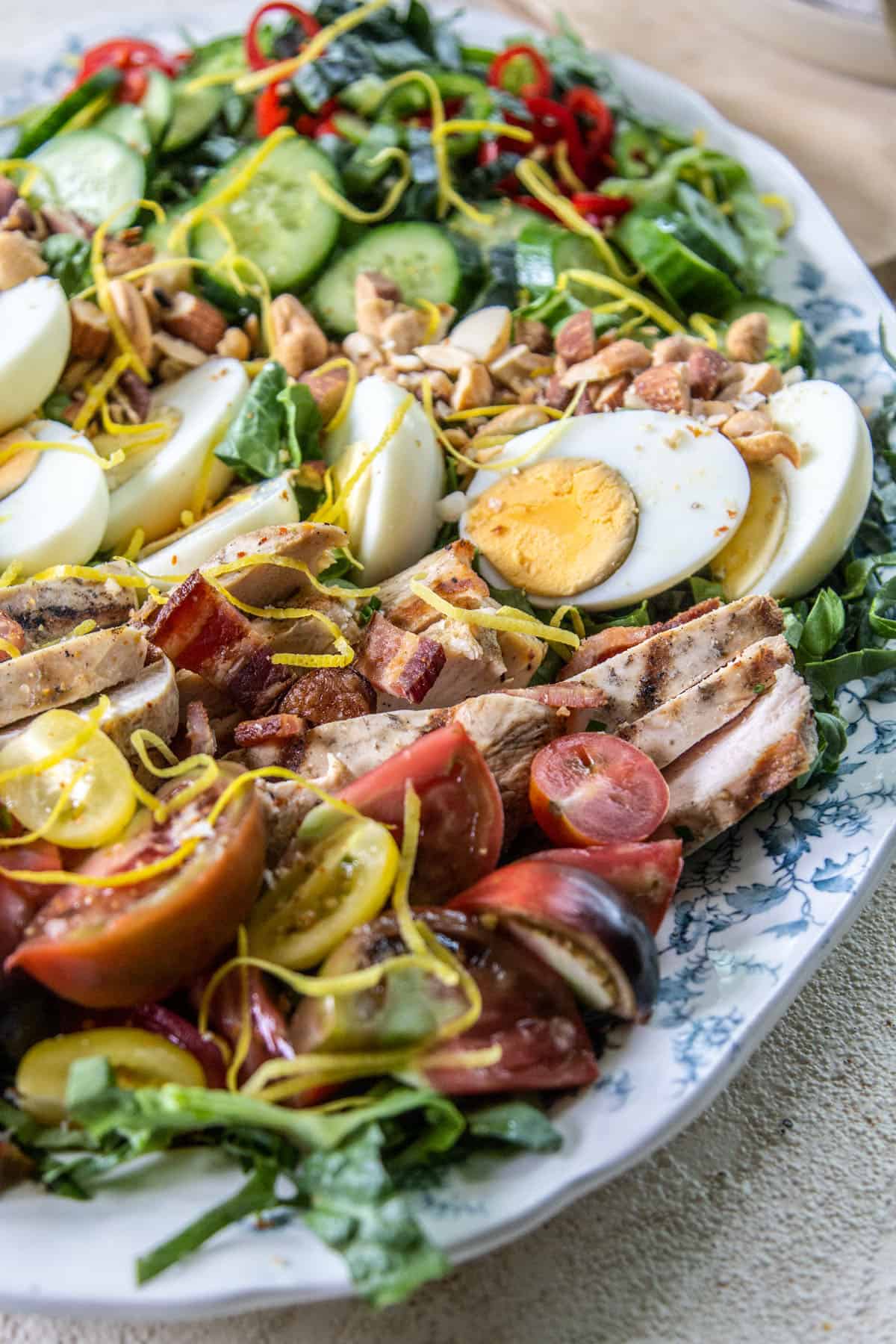 More of the best recipes for Cobb salad you should try now!
Now that we've thoroughly discussed the ingredients needed to make this garden-inspired variation of Cobb salad it's time for even more Cobb salad inspo.
Remember how I was telling you about all of those delicious Cobb salad recipes I worked on recently? You can check them out at the links below. They are all delicious and unique in their own way.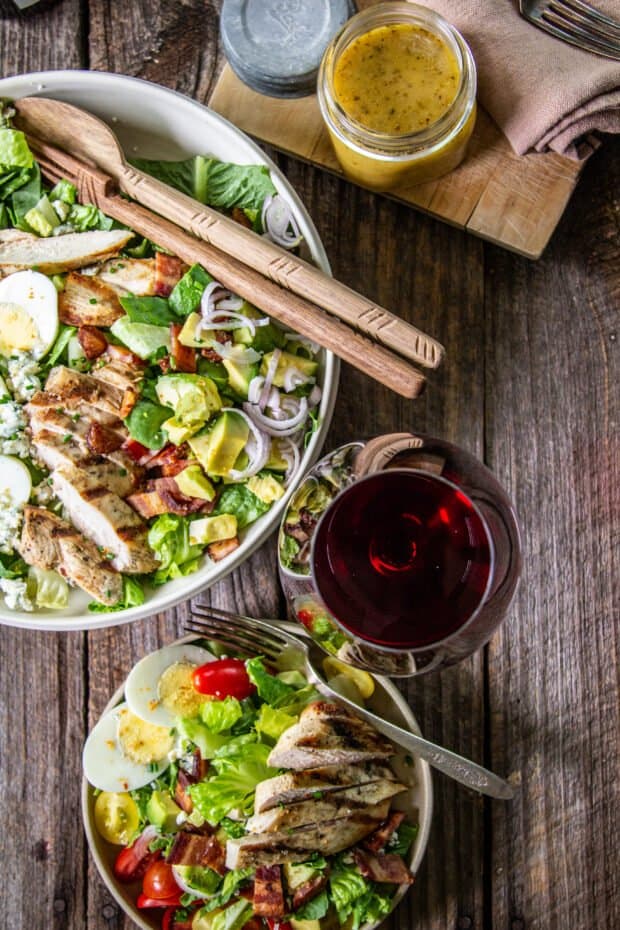 This variation of the classic Cobb salad recipe is made with juicy grilled chicken, tangy blue cheese from California, crisp bacon, and ripe tomatoes.
Our friends at Discover California Wines suggest pairing this salad with California Pinot Noir or Sauvignon Blanc for the ultimate flavor experience.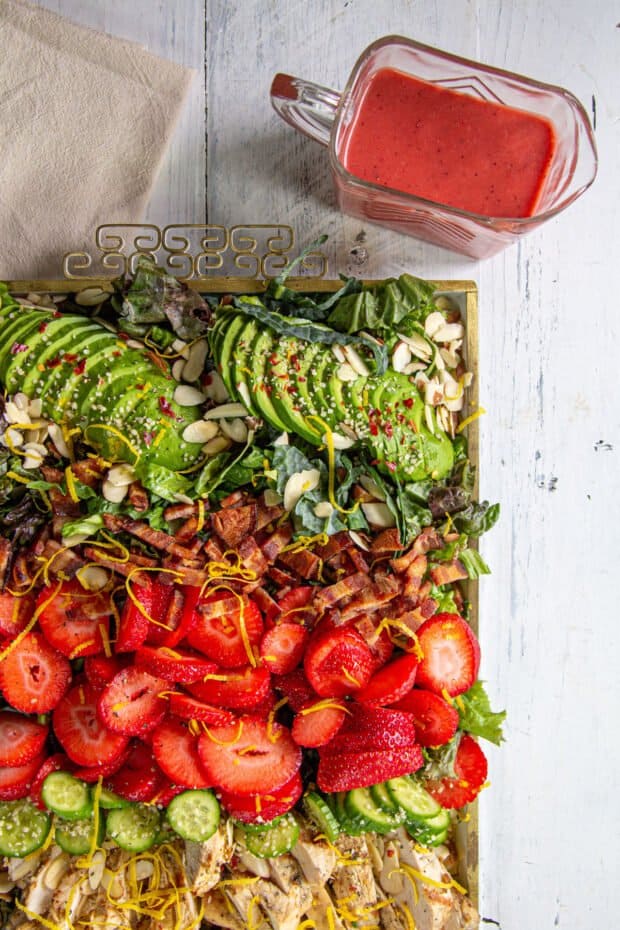 Cobb-Inspired Strawberry Salad with Chicken
This fruit-filled nod to the classic Cobb salad recipe from California Grown is bursting with fresh, flavorful ingredients like leafy greens, juicy strawberries, ripe avocado, and grilled chicken.
Click here for this fruit-filled recipe for Cobb salad.
If you've made our Garden Inspired recipe for Cobb Salad I would be so grateful if you would rate the recipe and let me know what you think in the comments below!
Print
Garden Inspired Cobb Salad with Creamy Peppercorn Dressing
Our version of this famous salad is bursting with fresh from the garden tomatoes, cucumbers, peppers, and leafy greens with a few store-bought elements like salty mixed nuts for good measure and lots of flavor.
Author:
Prep Time:

20 minutes

Total Time:

20 minutes

Yield:

6

servings

1

x
Category:

Dinner

Method:

Fresh

Cuisine:

American

Diet:

Gluten Free
For the Cobb salad:
3 cups mixed leafy greens like romaine, green leaf, red leaf, etc.
1 cup finely shredded lacinato kale
1 cup packed basil leaves, torn
2 grilled chicken breasts, sliced
8 slices of bacon, chopped
4 hard-boiled eggs, sliced lengthwise in half
1 pound heirloom tomatoes, sliced into wedges or bite-sized pieces
2 Persian cucumbers, sliced into thin rounds
1 shallot, thinly sliced
2 tablespoons thinly sliced chives
⅓ cup chopped salted mixed nuts
zest of 1 lemon
For the Creamy Peppercorn Dressing:
½ cup mayonnaise; we like Duke's brand. 
2 tablespoons fresh lemon juice
2 tablespoons water
¼ cup finely grated Romano cheese
1 teaspoon fresh coarsely ground black pepper
½ teaspoon coarse kosher salt
Instructions
For the Cobb salad:
Combine the lettuce, kale, and basil on a large platter then toss them together to combine.

Season with salt and pepper.

Arrange the chicken, bacon, eggs, tomato, cucumbers, shallot, chives, and chopped mixed nuts on top of the mixed greens.

Season with flaky finishing salt and pepper.

Top with thin strips of lemon zest, red pepper flakes, and any other savory sprinkles that you like such as seeds or seasoning blends.
For the Creamy Peppercorn Dressing:
Place all the ingredients in a small jar and place an air-tight lid on top. Shake until the ingredients are combined together. Serve immediately or store in a jar in the refrigerator for up to 1 week.
Notes
You can substitute plain yogurt for the mayo in the dressing if desired.
Nutrition
Serving Size:

1 large bowl

Calories:

921

Sugar:

4.8 g

Sodium:

2092.8 mg

Fat:

67 g

Carbohydrates:

12.5 g

Protein:

66.3 g

Cholesterol:

333.3 mg
Keywords: Cobb salad, recipe for Cobb salad, heirloom tomato, salad, cucumber, grilled chicken, bacon, hard-boiled eggs, Instant Pot hard-boiled eggs, easy dinner recipe, gluten free
Recipe Card powered by