As someone who LOVES to garden outside during the warmer months of the year, I wasn't sure about growing indoors hydroponically. But, the truth is, when my family gave me a Gardyn hydroponic gardening system for my birthday last September I quickly fell head over heels in love with it. From set up to sprouting, all the way to daily harvests this no-fail hydroponic system is set up for success with little to no need for me to fuss with it at all. Now my only problem is deciding what to eat next!
Looking for a Gardyn discount code?
To receive $100 off the purchase of your MyGardyn system use the code "thismessisours" at checkout for the discount. This is an affiliate code, we will earn a small commission if you decide to use it. Thank you for supporting our small business!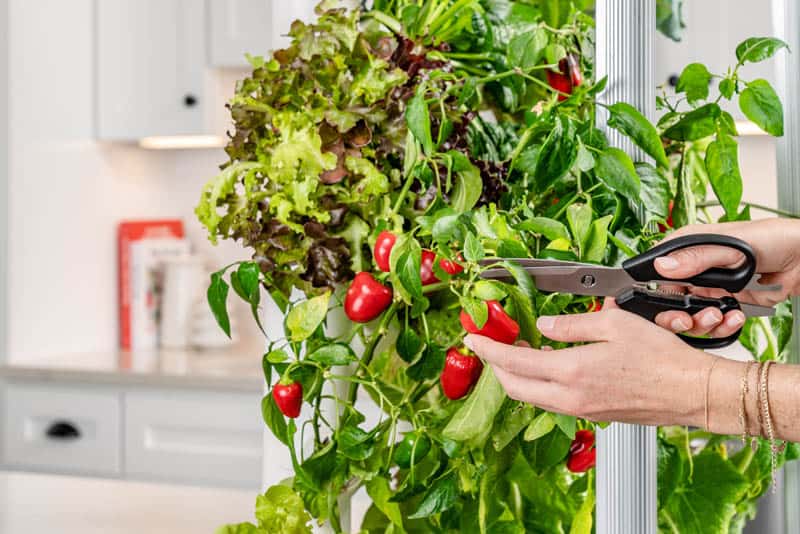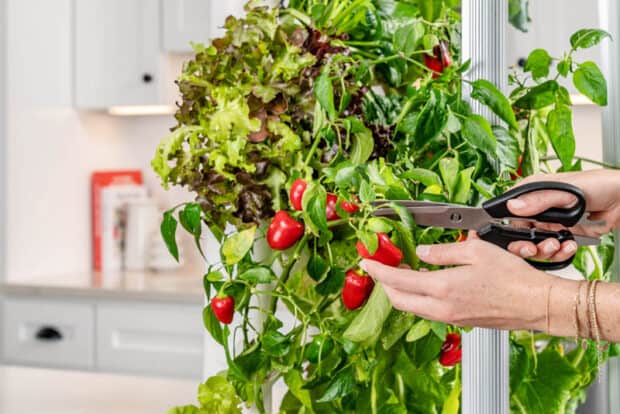 Gardyn is a hydroponic gardening system that was created specifically for indoor use! The term "hydroponic gardening" refers to growing plants without using soil. The Gardyn system also makes growing produce without sunshine or a connecting waterline possible and fruitful.
Gardyn yields the same amount of produce as a 1300 square foot outdoor garden without the bugs, dirt, changing weather, and black thumbs to contend with. All of that vertical grow space means you will be able to feed a family of 4-6 up to 8-10 pounds of fresh produce each month. Hello, green thumb!!!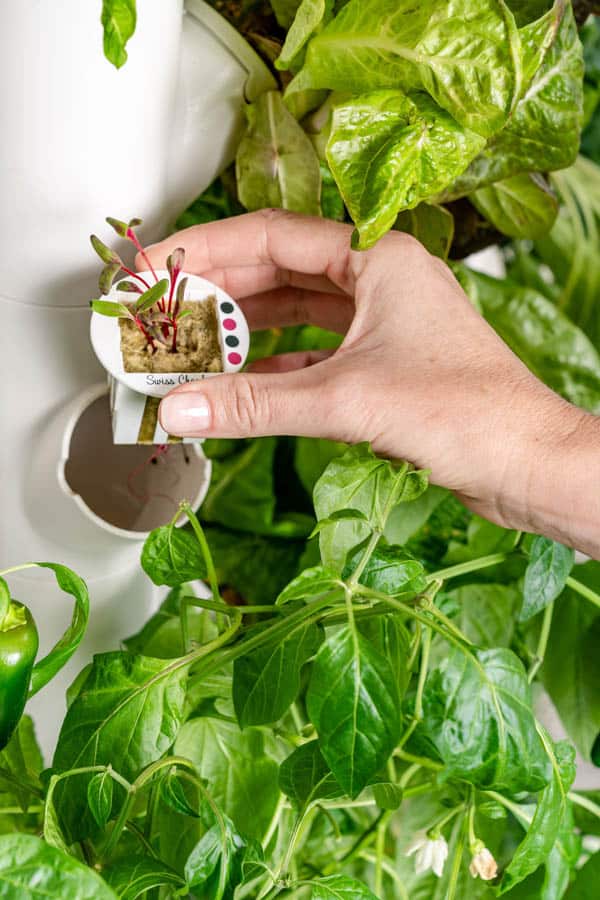 What plants can you grow in my Gardyn?
Gardyn allows you to grow up to 30 plants at one time, all year round, no matter the season!
Gardyn has a monthly membership that includes 10 yCubes of your choice every month however, you can opt to purchase yCubes yourself through the app without the membership.
You can even plant your previously used yCubes with your own favorite seeds! More on that below.
Gardyn has over 50 varieties of non-GMO plants ranging from greens to fruit and everything in between. Here are some of the delicious fruits and veggies we are growing right now:
Arugula
Tatsoi (my new favorite leafy green EVER!)
Leafy greens: Breen, Rouge d'hiver, Romaine, Red Sorrel, Red Sails, Mustard, Monte Carlo, Buttercrunch, Kale, & Butterhead
Strawberries
Cherry tomatoes
Jalapeno peppers
Sweet peppers
Herbs: thyme, purple basil, sweet basil, dill, cilantro
There are so many more plants available through Gardyn that I want to grow indoors like chamomile, lavender, marigolds, and lemongrass!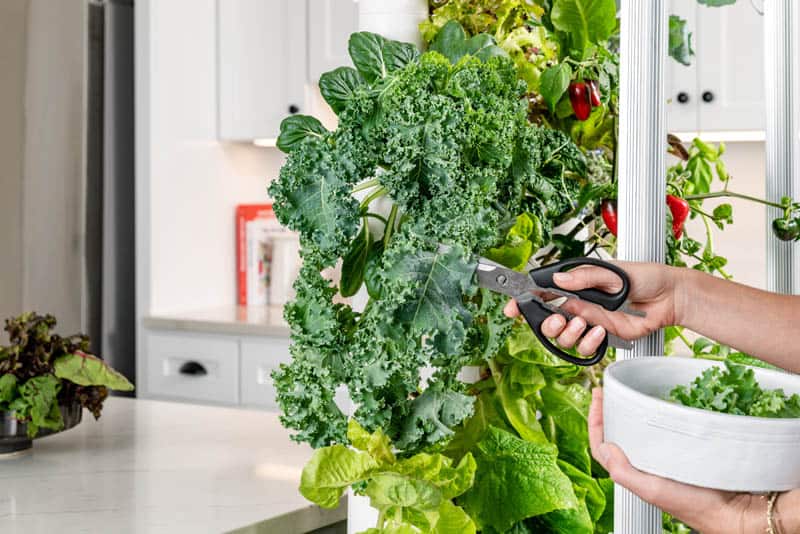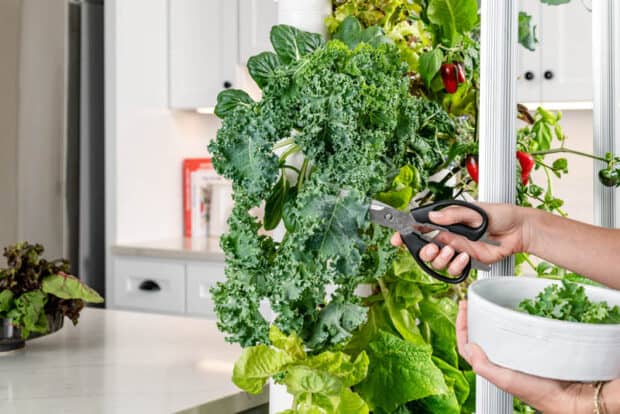 How to plant seeds in the Gardyn system.
Planting seeds is easier than ever with Gardyn!
Each plant starts as a small grouping of seeds tucked in a little pod that is filled with a growing medium called "rockwool or stonewool". As the seeds start to sprout you will pluck out smaller sprouts and leave only one sprout per cube.
While it feels gut-wrenching to pluck out and discard some of the seedlings this is necessary.
Each yCube provides adequate space for one (1) plant to grow to maturity. If you leave more than one seedling the plant's root systems will fight for space and your harvest size will be impacted. While it seems counterintuitive to remove anything growing from the Gardyn just trust it is a necessary part of the process.
"Planting" new yCube seeds takes less than 30 seconds. You simply pop a yCube into an empty receptacle in one of the three towers on the Gardyn unit and walk away. The Gardyn app will take care of everything else from lights, to water, and even fertilizing with plant food.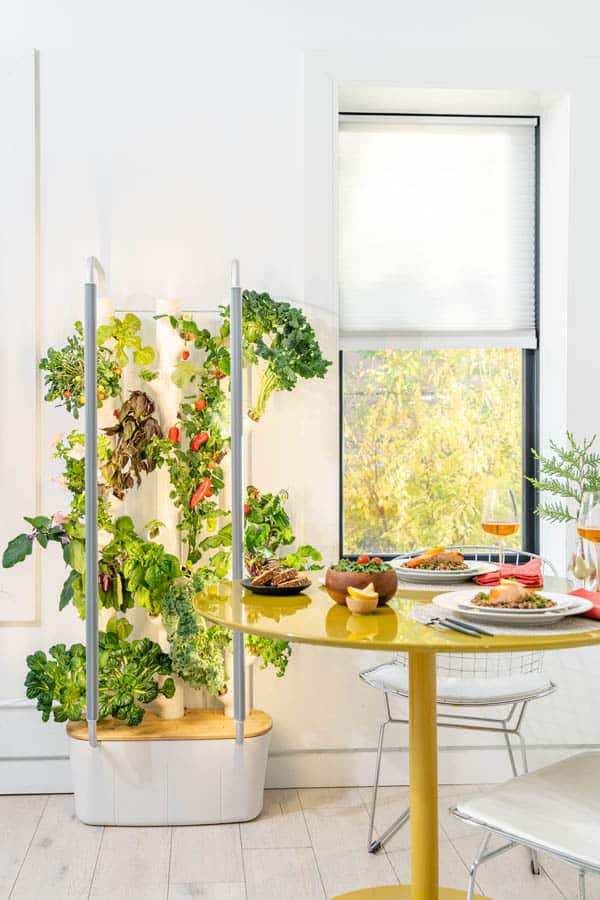 What is the green growing medium used in the Gardyn system?
The green, wool-like material inside the yCubes is called "rockwool" or "stonewool". It is made by melting basaltic rock and spinning it into fine fibers. Rockwool for plants is then formed into easy-to-use cubes and blocks.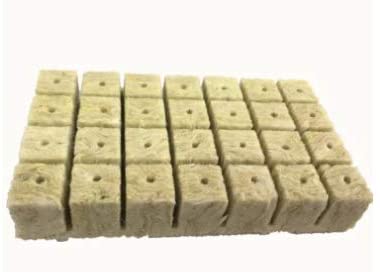 After using the yCubes that came with our Gardyn system I ordered hydroponic rockwool cubes to see if I could refill and reuse the plastic yCube housing that I had already grown in once.
I'm happy to say it totally worked which makes me feel better that we can offset the plastic yCubes environmental impact a bit by reusing them multiple times.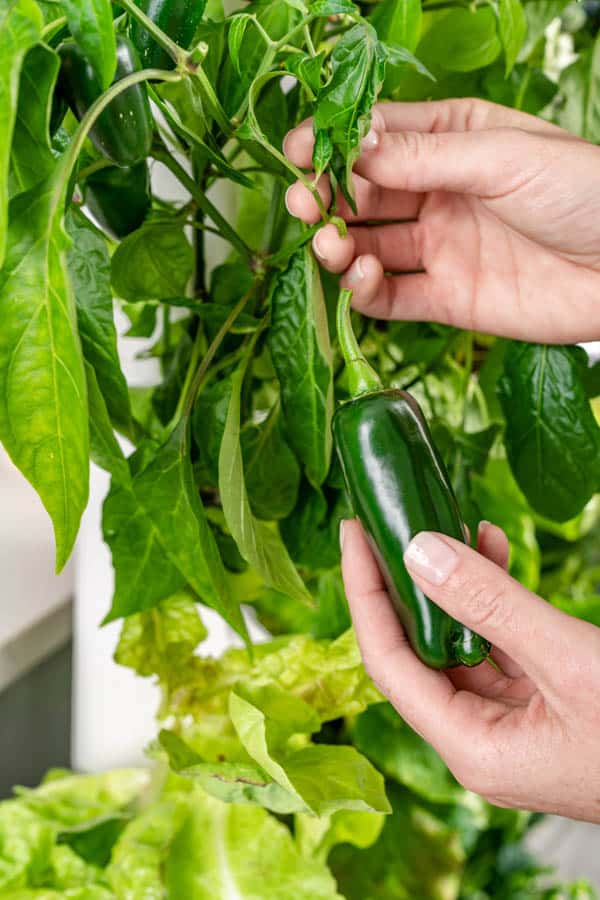 How much produce can I expect to harvest from the My Gardyn system each month?
Each month our Gardyn can produce up to 8–10 pounds of fresh fruits, vegetables, and greens for us to harvest and devour!
Speaking of devouring your harvest...
Did you know that the taste of freshly harvested fruits, greens, and vegetables is much more robust and intense than their lackluster grocery store counterparts? It's true! They have more nutrients and vitamins too as they are freshly harvested right before they are consumed. As soon as produce is harvested it begins to lose those vital nutrients which can greatly impact flavor.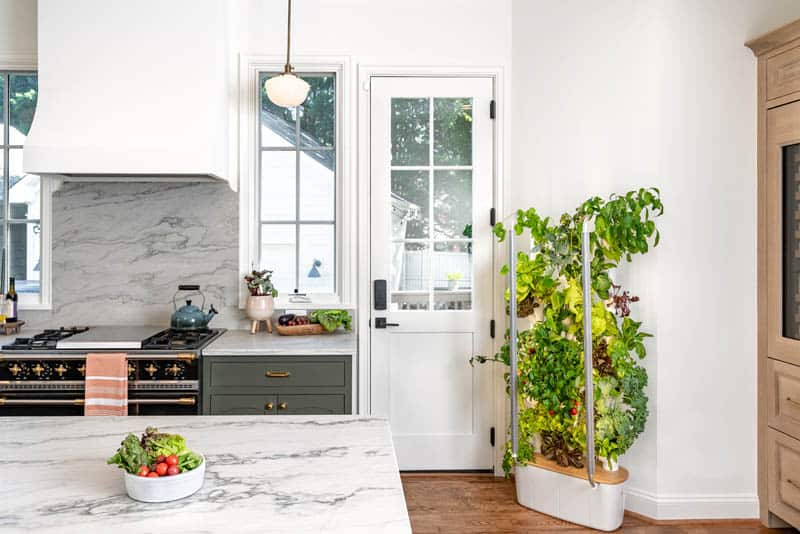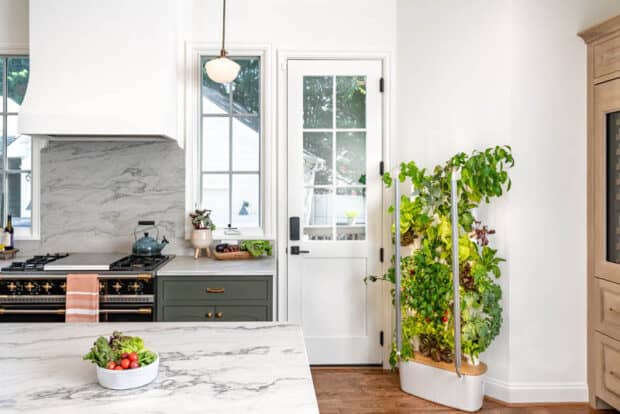 How to set up a new Gardyn system so you can begin growing!
The VERY detailed instructions for setting up your system below are directly from the lovely folks at Gardyn. While it may look a little daunting and like there are lots of steps - it is really not too hard to set up your new Gardyn system.
I highly recommend two people for assembling. While not heavy, the pieces can be a bit awkward in size and shape to maneuver by yourself while also simultaneously connecting water lines within the machine and lights.
Ensure the Gardyn is clean, assembled properly and in good working order.
Confirm the water flow is operating properly before adding yCubes. You can test your water system by tapping the Water button on your Gardyn app. When it says "ON" that means your Gardyn is running a watering cycle. If it's working properly, you should see water flowing through the columns and into every yPod. With your water working, now it's time to get your Gardyn ready for germination.
Inspect the yCubes for fallen seeds as these may not germinate properly.
Place the yCubes on the Gardyn system. Make sure no plant food has been added to the system. 
Adjust the light schedule to fit you daily routines. 50% light intensity with the same amount of hours as the standard schedule is recommended.
Maintain high humidity ratio. As a general rule of thumb, germination happens most quickly when the humidity ratio matches the air temperature. For example, 75F and 75% humidity ratio will give great germination results. High humidity ratio can make living environments feel 'stuffy', but try to maximize humidity as much as possible. 
Do not touch or press the yCube surface. Compressing the rockwool can damage seeds and ruin germination.
After about 10 days, screen your plants and remove any yCubes that don't have true leaves from your Gardyn. You can move them to the Nursery or a tray.
Add plant food as per recommendations and raise light intensity back to standard settings.
Use pod caps to close any empty slots. No light should go in the system to prevent algae development. You can purchase pod caps here.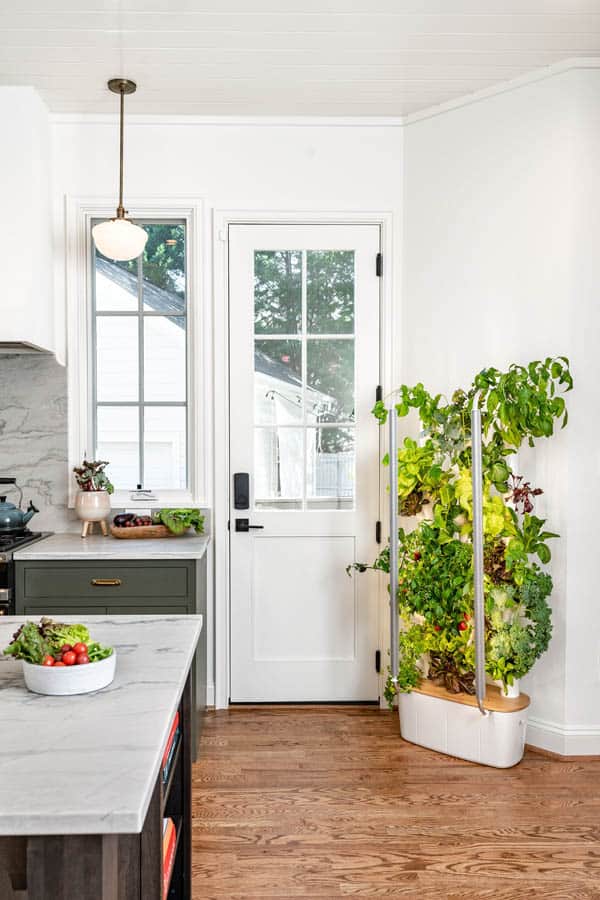 You can expect great customer service with Gardyn too!
I am not going to lie, for us, the setup was a bit difficult.
The connecting parts for the waterlines within the system didn't seem to fit properly during assembly and resulted in small squirts of water escaping which inevitably could deprive the towers of water flow.
We honestly thought it was an "us" error and made adjustments to make the parts fit. However, within a few days, the Gardyn team had emailed us that they were shipping a new connecting piece at no cost as they realized there was an issue.
I'm happy to report the new connectors are perfect in every way and we have zero issues with water escaping the internal lines.
How easy is it to refresh the water in the Gardyn system every month?
First and foremost can I just say this was the part of the entire process I was dreading the most? The monthly refreshing of the tank. I envisioned some laborious, messy task, and the truth is I was dead wrong. Refreshing the Gardyn unit is super easy, here's how.
First, eliminate the intimidation factor by watching the video below.
1. Prep:
Place a towel on the floor.
Lift the water pump and unlock the lid.
Switch off your Gardyn and unplug the power supply.
Take the Gardyn from the bottom of the white columns and place it vertically on the towel on the floor.
2. Clean the tank and refresh the water
Empty the tank and gently clean it with a sponge. You can add baking soda OR hydrogene peroxyde.
Fill the tank with fresh tap water and add 3 teaspoons of plant food. You can learn more about Plant Food Usage here.
3. Reassemble your Gardyn
Place the top of the Gardyn back on the tank, reinstall the pump and plug back into a power source.
The Gardyn can take a few minutes to wake up after it has been turned off and on again. The Gardyn will remember its stored WiFi credentials and automatically reconnect once it has time to fully reboot after about 15-20 minutes.
The lights will come on at the next scheduled time or you can tap the Light tile to get your Gardyn glowing again! Resist the temptation to touch the silver button, as long pressing it will disconnect your Gardyn and erase your stored WiFi credentials. Grab a snack, relax, and check on your Gardyn via the app home screen.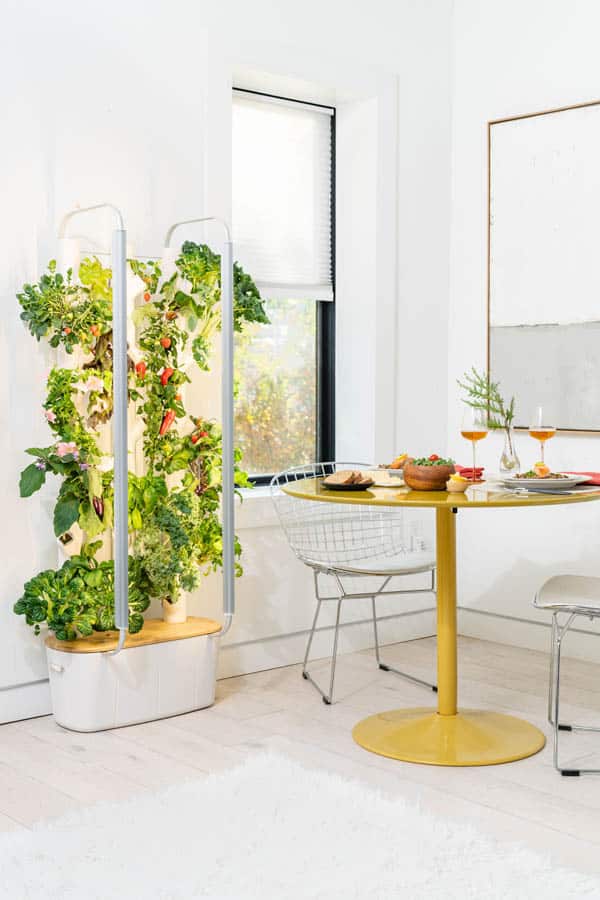 How often does water need to be changed?
It should be done at least every 4 weeks to ensure consistent water chemistry.
Kelby, your Personal Gardyner in the Gardyn smart phone app, will remind you to refresh your tank and will also tell you when the water is running low.
How easy is it to deep clean the Gardyn system?
Now, I am not going to lie...a full deep clean of the system is a task. But, for the amount of enjoyment, I get from my Gardyn each and every day, I think it's a fair trade-off that I might have to really scrub the unit down and reset every so often.
The video below details a deep cleaning of the Gardyn unit.
Phew, I think we covered everything there is to know about the Gardyn system, but if you have more questions drop them in the comments and I will get you an answer!
Ready to order a Gardyn system and need a coupon code?
To receive $100 off the purchase of your MyGardyn system use the code "thismessisours" at checkout for the discount.