This Grilled Chicken Marinade recipe is a simple lesson in intuitive cooking. It isn't a fussy recipe, just basic pantry ingredients like olive oil, lemon juice, zest, coarse kosher salt, black pepper, and chile powder. But, this recipe produces the best Grilled Chicken for salads, sandwiches, and wraps.
This post contains affiliate links. If you make a purchase through one of these links we may receive a small commission for it. Thank you for supporting our small business!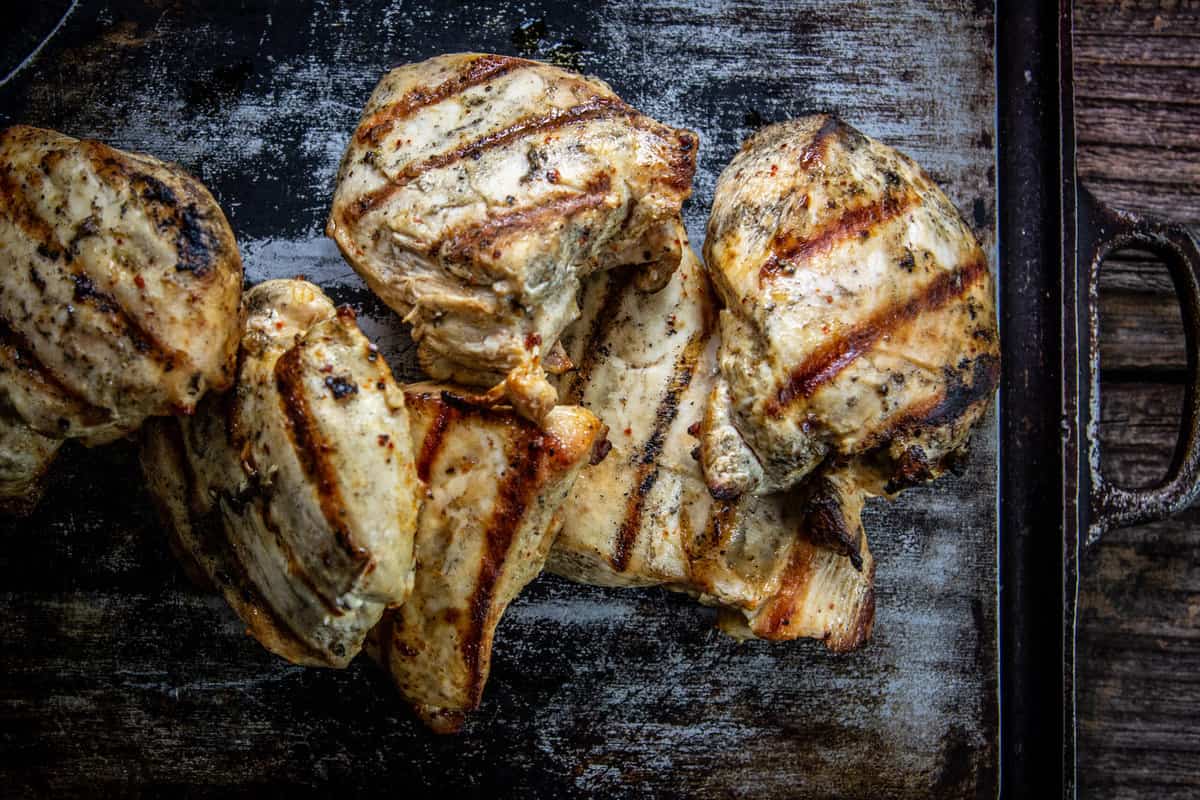 Do you wash chicken before marinating?
First things first, someone will ask this so let's just discuss it now. It is never a good idea to wash meats and poultry. For years, both the CDC and USDA have been advising home cooks not to wash or rinse their raw poultry.
Regardless of whether it takes place before cooking, freezing, or marinating, washing can lead to cross-contamination. Cross-contamination is when bacteria spread from the meat to other areas, such as the hands and kitchen surfaces.
What are the main ingredients needed for this grilled chicken marinade?
Sure you could skip marinating your chicken, but why would you? This marinade is easy to make and doesn't take long to infuse serious flavor.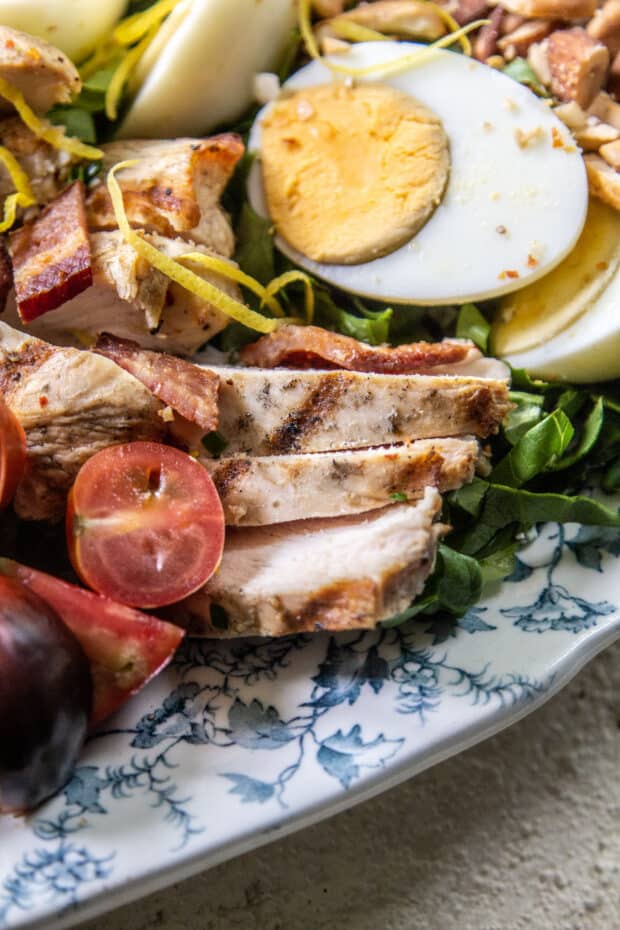 The 4 main ingredients of this grilled chicken marinade are...
Oil
Lemon Juice
Salt
Herbs/Spices
Can you use olive oil to marinate chicken?
Extra virgin olive oil keeps this chicken extra moist and juicy. While the fresh lemon juice breaks down the fibers in the chicken making it tender.
Once you have made this version and you've gotten the hang of making marinade from scratch, you can change up the acid (lemon juice), herbs, and spices in this recipe to create your own version.
What types of herbs or spices are best for marinades?
As I mentioned at the start of this post, this recipe for marinade is intuitive. You can use any herbs or spices that you like and have on hand. Feel free to explore your herb garden and spice cabinet - if you love the smell, chances are the taste will be something to your liking also.
I am a huge fan of Boonville Barn Collective's Piment d'Ville chile powder. I use it in all sorts of ways in my kitchen including in this grilled chicken marinade.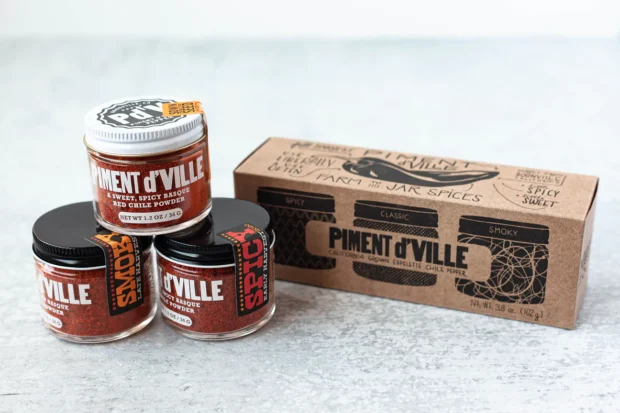 This California Grown Espelette chile powder, Piment d'Ville, is similar to the French version Piment d'Espelette.
Notes: Mild heat ~ a little sweet and a little spicy ~ tomato-y
Use like: black pepper, Piment d'Espelette, paprika, Aleppo pepper.
Use the code TMIO at checkout for 10% off your purchase!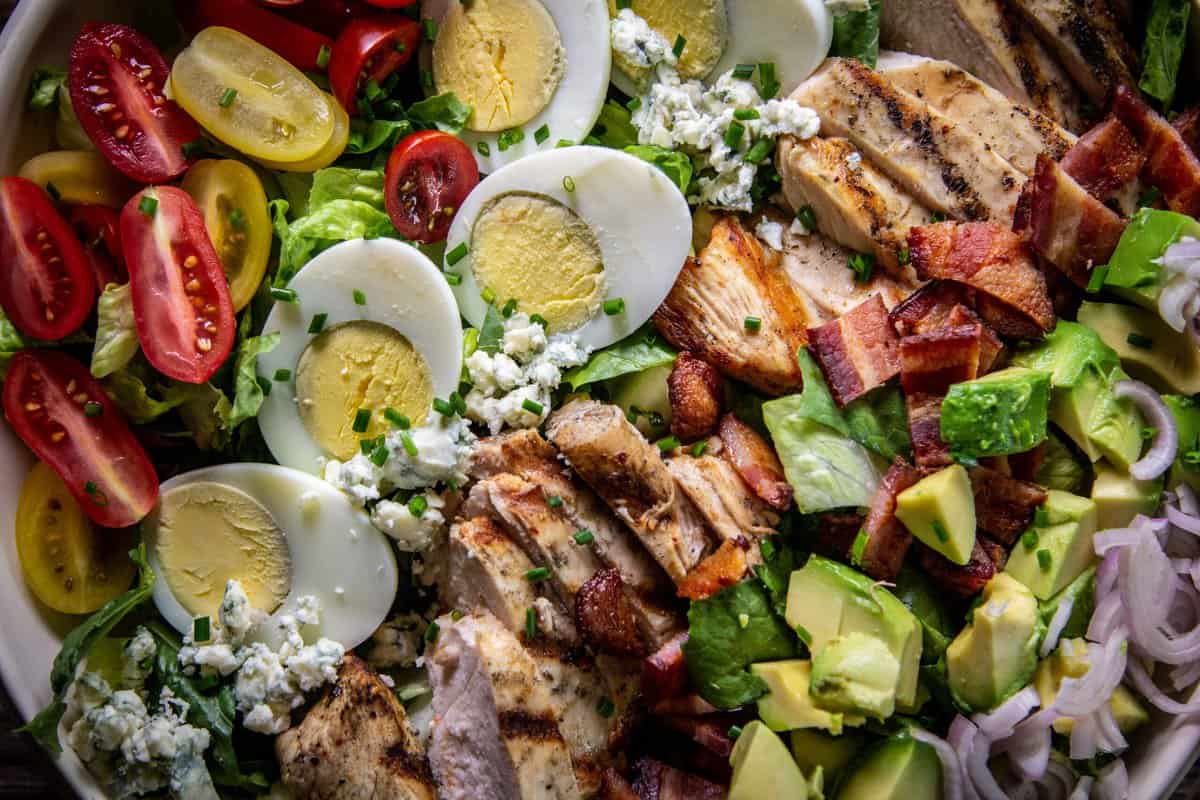 How long should I marinate the chicken?
You can marinate chicken in this Grilled Chicken Marinade for as little as 15 minutes and it will pick up some flavor. But, for maximum flavor and texture give the chicken 5-6 hours to marinate.
Marinades without acid can be left to marinate longer but this one has lemon juice, so stick to 6 hours or less.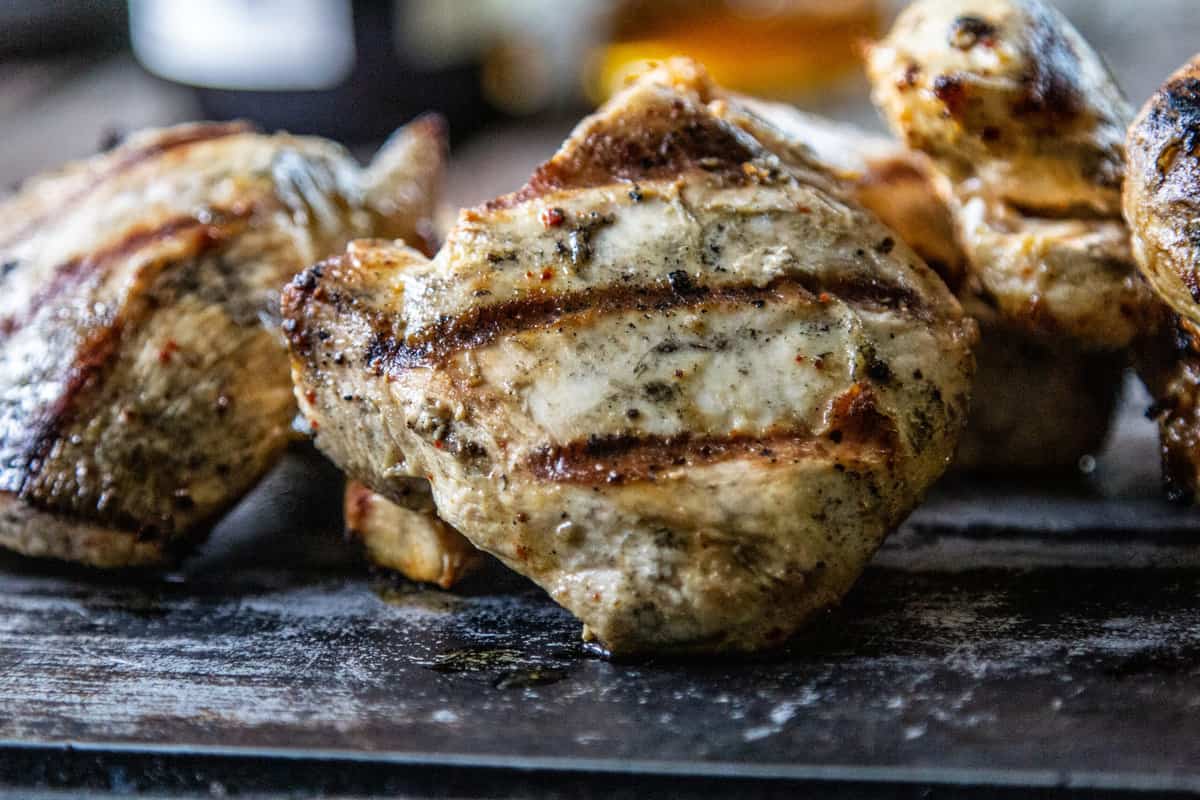 Delicious recipes to make now; Grilled Chicken for salads, sandwiches, & wraps.
This Grilled Chicken Marinade recipe is just the beginning! Once you know how to marinade and grill succulent chicken you are going to need some recipes to try out your skills.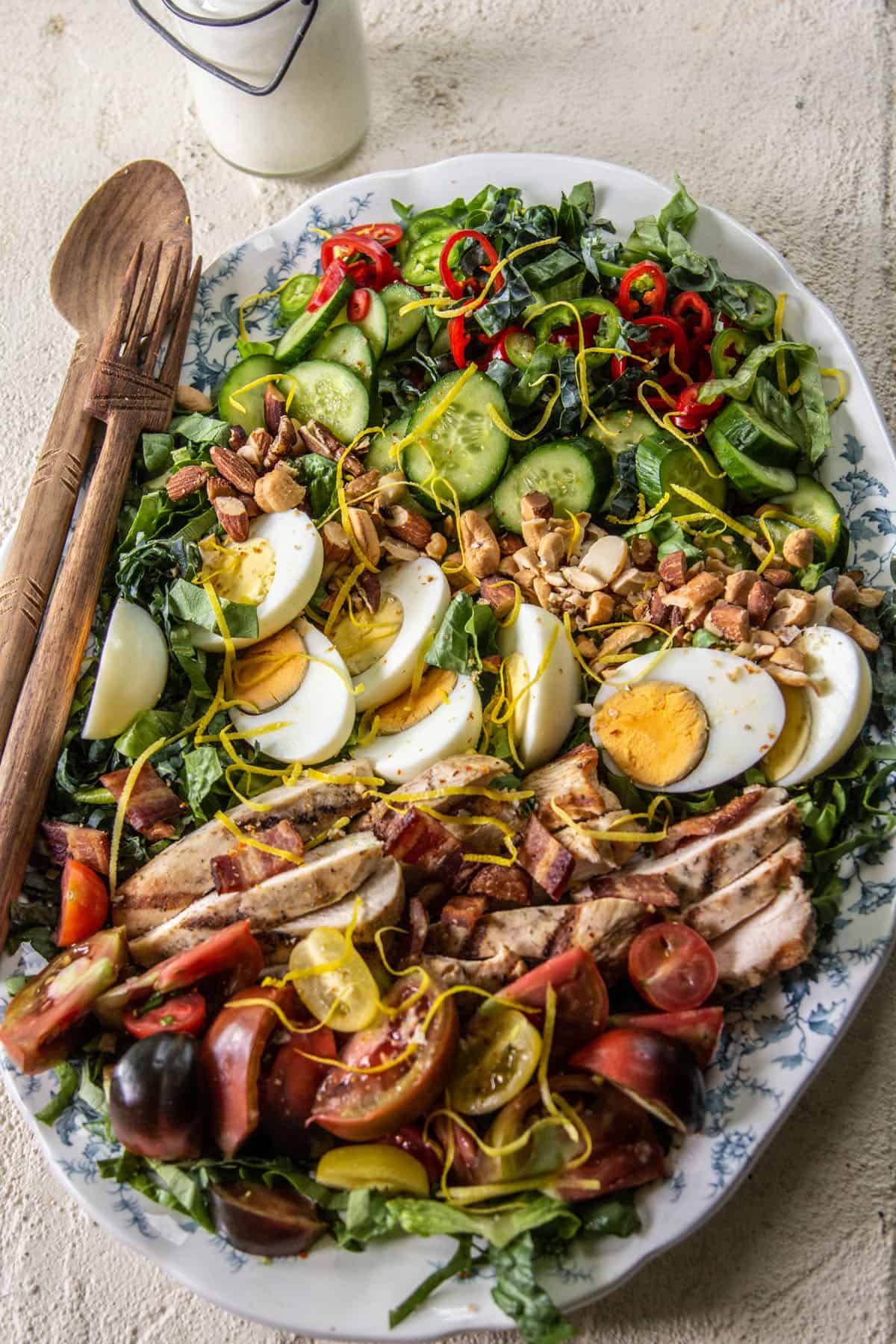 Our version of a Cobb salad is bursting with fresh from the garden ingredients and topped with my Grilled Chicken for Salad.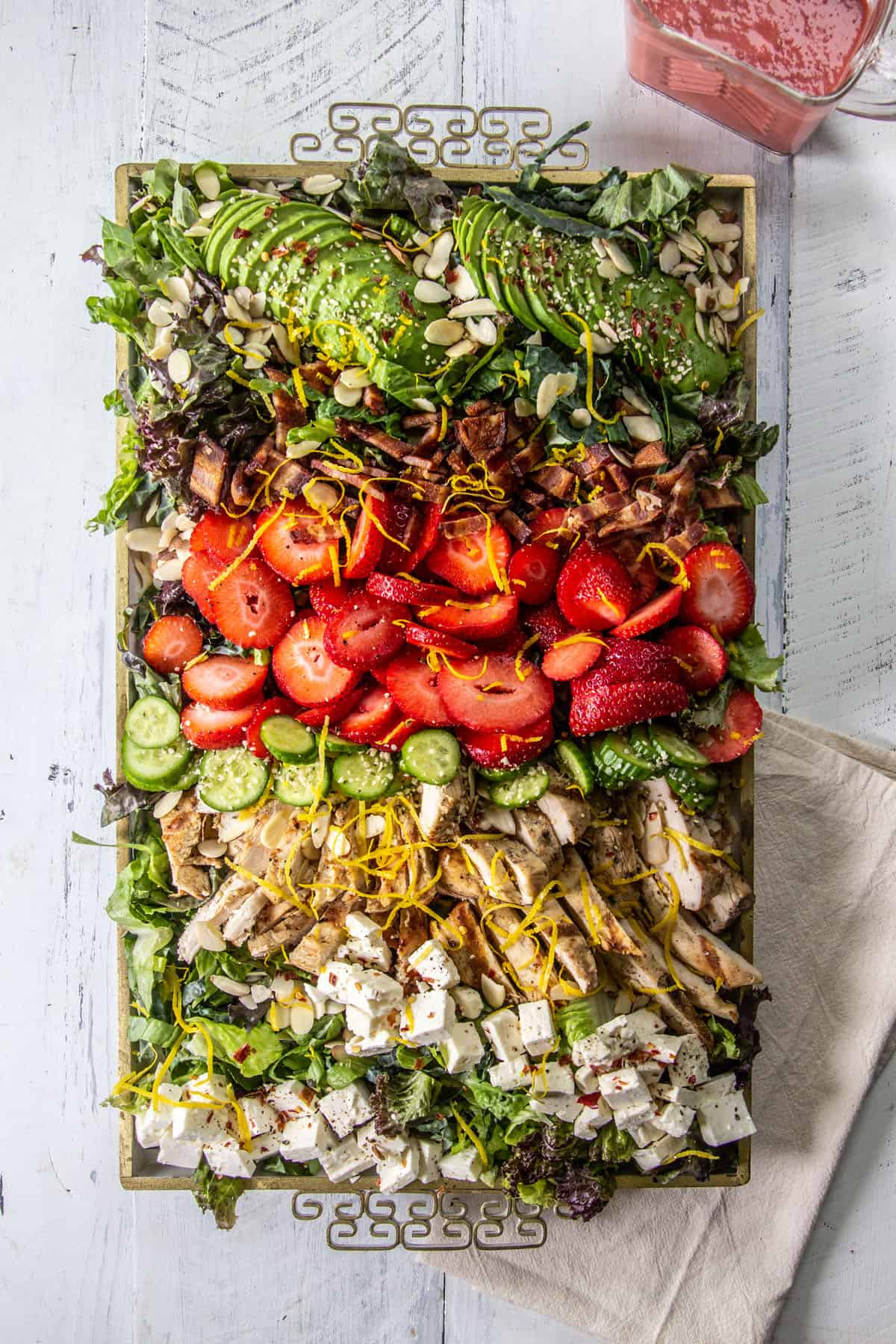 Strawberry Salad with Chicken from California Grown is fruit-forward & flavorful! This Cobb salad is perfect with grilled chicken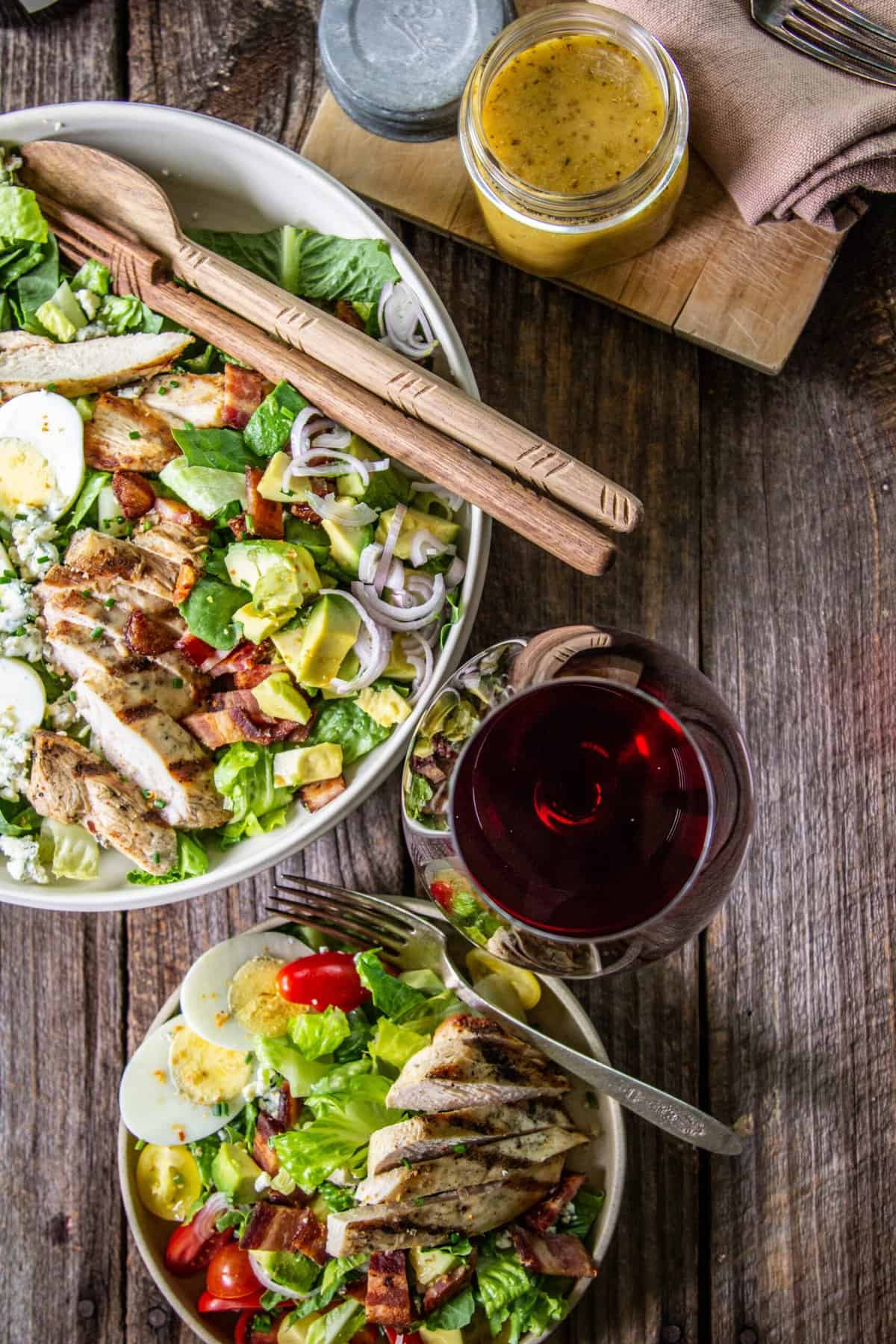 This Cobb salad recipe with grilled chicken from Discover California Wines is a classic. This salad is exquisite paired with red wine.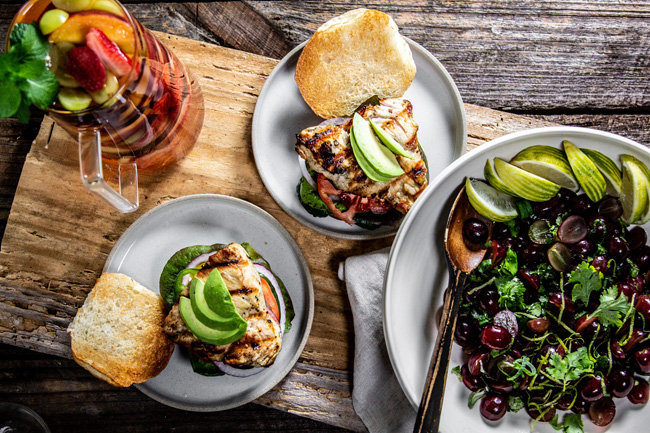 If you've made this Grilled Chicken Marinade I would be so grateful if you would rate the recipe and let me know what you think in the comments below!
Print
Grilled Chicken Marinade and Easy Grilled Chicken
This Grilled Chicken Marinade recipe produces the best Grilled Chicken for salads, sandwiches, and wraps. Fast, easy, & delicious!
4 skinless, boneless chicken breasts, sliced in half and pounded thin, see note.
½ cup Extra Virgin Olive Oil
zest of 1 lemon
Juice of 1 large, juicy lemon, about 3 tablespoons
½ teaspoon Piment d'Ville chile powder or other chile powder
¼ teaspoon garlic powder
¼ teaspoon coarsely ground black pepper
Instructions
To marinate the chicken:
Combine the prepared chicken and all of the ingredients in a large bowl or a plastic bag. Toss to combine and coat. Marinate for as little as 10 minutes and up to 5 hours.
To grill the chicken once it has marinated:
Preheat the grill to 375 or 400F and scrape off any leftover bits from the last time you grilled to ensure the grill is clean and ready to cook.
Place the marinated chicken breasts onto the preheated grill, and close the lid. Keep the lid of your grill closed while your chicken is cooking so that no heat escapes. Cook your chicken breast on the grill for 6 minutes on one side. The chicken will let you know when it is ready to flip as it will begin to pull away from the grates of the grill easily. If the chicken sticks when you try to flip it with tongs, let it cook a minute longer and check again.
Flip the chicken. Cook for 6 minutes more. Cook time will vary a bit depending on the size and thickness of each chicken breast, so be sure to check the internal temperature in the thickest part of the chicken breast using a meat thermometer.
When the internal temperature of the chicken reaches 165 F, it is done and can be transferred to a clean plate or platter
Immediately cover the chicken with foil to seal in the juices and allow it to rest for 5-10 minutes before cutting into it. This will help you achieve juicy, chicken breasts that are ready to slice for salads or serve whole for sandwiches.
Notes
To create lovely uniform-sized chicken pieces for marinating and grilling:
Slice boneless, skinless chicken breasts in half across the width. Place one to two pieces of chicken into a bag that seals at a time, close tightly, and use the bottom of a heavy skillet, a rolling pin, or the flat side of a meat mallet to flatten the chicken. You may have to hit the chicken with some force here, don't be afraid.
Keywords: grilled chicken, marinade for grilled chicken, grilled chicken marinade, grilling, chicken, chicken for salads, grilled chicken for salads, lemon, olive oil,
Recipe Card powered by