Falafel is a cornerstone of the Mediterranean diet and if you've ever a had truly authentic falafel recipe, you'll know why. That crisp, delicious shell encapsulating a warm, tender and green fluffy center is something from the heavens. My problem has always been that it's hard to find it made to perfection in a restaurant. So often it's served to the table dried out - maybe even brown on the inside. What a disappointment!
***Updated with new images 5/12/2017 , new video added 2/25/2022 as well as information chickpeas and chickpea nutrition.****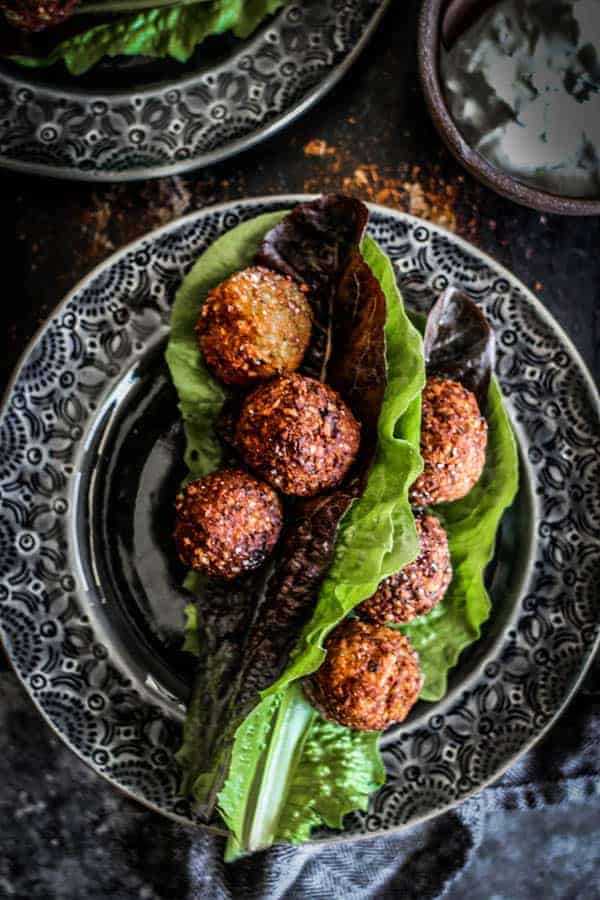 Well, I'd had enough falafel disappointment in my life - so I began my journey to finding perfection. Along the way I discovered an unexpected tool to add to my kitchen arsenal that put my falafel recipe over the top. Today, I'll share that secret with you!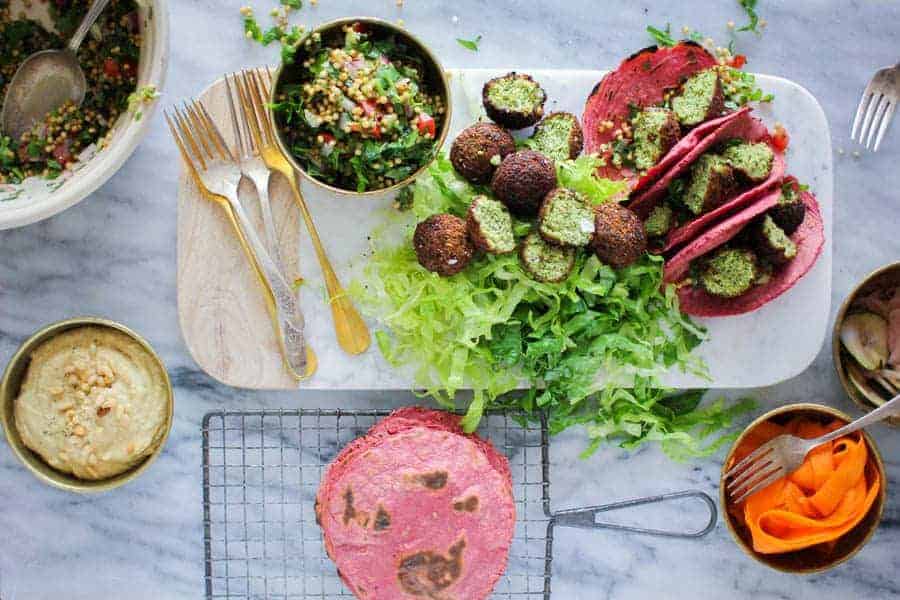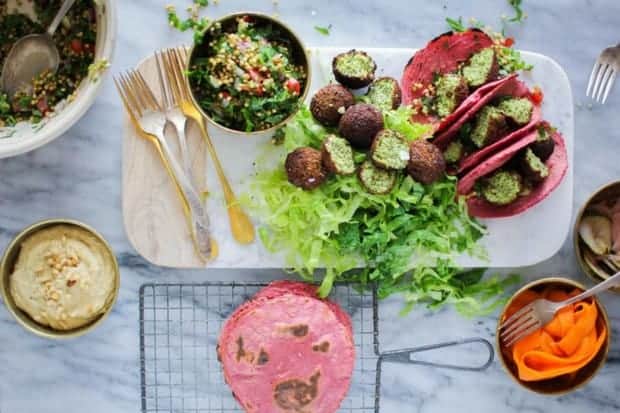 What is falafel?
Falafel is a traditional middle eastern food, traditionally made from chickpeas (garbanzo beans), fava beans, or both. Served with pita, it's often topped with salad and drizzled in tahini-based sauces. Around the globe, you'll find it in both high-end restaurants and at street food stands. It's a favorite no matter where you are.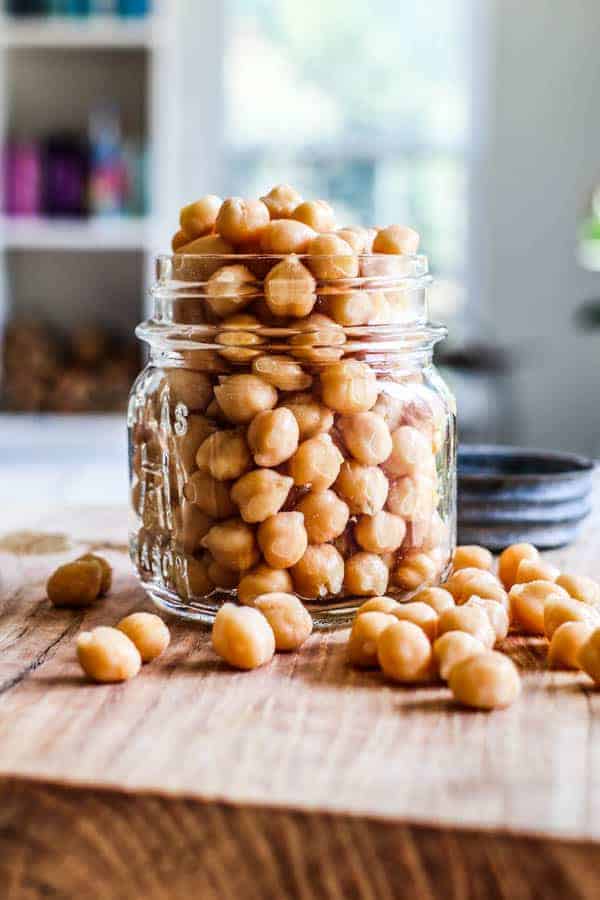 Chickpea nutrition
First, you might wonder if chickpeas are garbanzo beans? The answer is yes, and they are loaded with nutrients. The variation in name comes from the beans' origin through latin (cicer) and the popular spanish naming (garbanzo). They are a terrific source of plant-based protein and fiber along with containing several vitamins and minerals. In addition chickpeas possess properties that can help to curb your appetite and keep your blood sugar under control. Wow!
You can find more detailed information on the nutritional benefits of garbanzo beans here on Healthline.
Looking to learn more about chickpeas or garbanzo beans?
Whole Foods named chickpeas 'the new cauliflower' in their 2021 food trends guide and for good reason! Chickpeas ( AKA Garbanzo beans) are delicious and good for you too!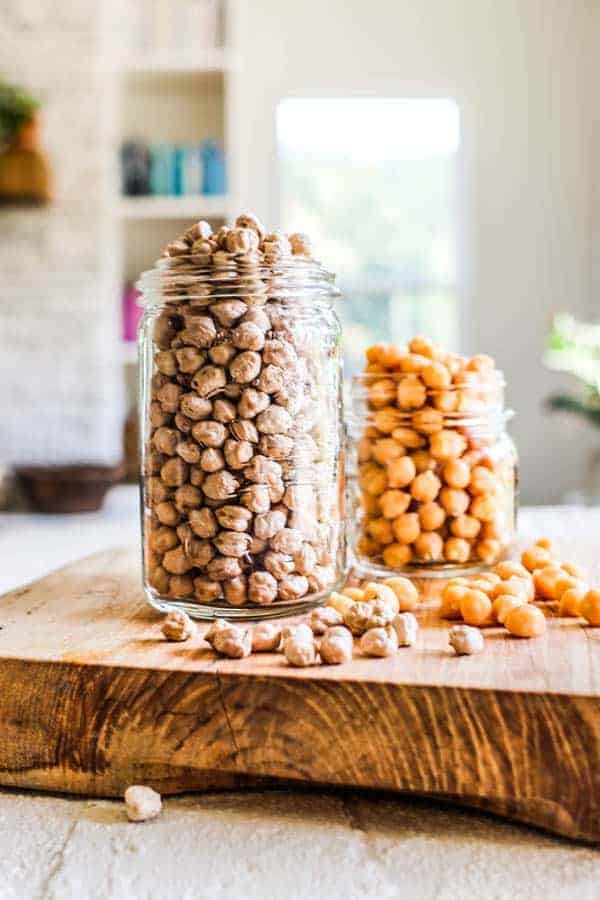 Ever wondered if chickpeas and garbanzo beans are the same things?
Or how to cook chickpeas so they taste amazing, but don't make you gassy?
Everything you need to know for cooking with both dried and canned chickpeas is here in one spot!
Watch how easy it is to make falafel at home in the video below!
[mv_video doNotAutoplayNorOptimizePlacement="false" doNotOptimizePlacement="false" jsonLd="true" key="gekr6dsdowwsu1wqu5zz" ratio="16:9" thumbnail="https://mediavine-res.cloudinary.com/v1598304022/xqg9rzw2z5jvr5k51zao.jpg" title="How to Make Authentic Falafel" volume="70"]
Making falafel at home
If you were to come to my house for dinner, chances are I would offer to make you an amazing falafel dinner. It's one of my favorite meals to make! I would make homemade hummus with my own tahini, I would throw down a basket of gluten-free naan, and we would slather it with tzatziki before loading it up with grilled veggies, and crispy falafel. We would eat our weight in falafel and probably want to take a nap afterward...seriously, it happens.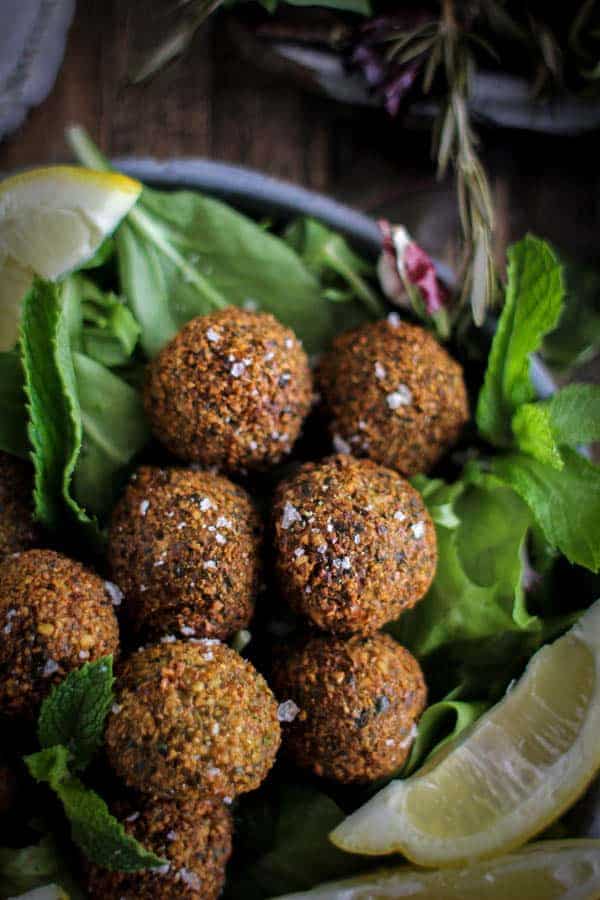 The Incredible Secret to an Authentic Falafel Recipe
The secret to a great falafel recipe is not what you'd think. It's not a secret spice, or even the way you cook it - although they are both super important! Ok, this is going to sound like a strange question, but do you have a meat grinder?
Up until a few months ago I really thought I had falafel nailed down! That was of course until I read that real deal authentic falafel is made in a meat grinder. WHAT?! Honestly, I couldn't wrap my head around it. We cook vegetarian most of the time, so I tend to shy away from things like meat grinders, because seriously why would I ever buy one? Turns out after a lot of research that this $30 gadget is actually great for a lot of things other than making ground meat. Who knew?
You can grind soaked chickpeas, herbs, and spices for falafel, you can also makes salsa, grind hominy for tamales, and even make fruit purees. Since Christmas was around the corner I asked for one. I am pretty sure that Todd thought I had LOST my mind, but being the super supportive husband that he is he went along with my whim. I made falafel the first opportunity I had and all I can say is WHOA! It's a whole new ballgame around here and my falafal making game is officially on point.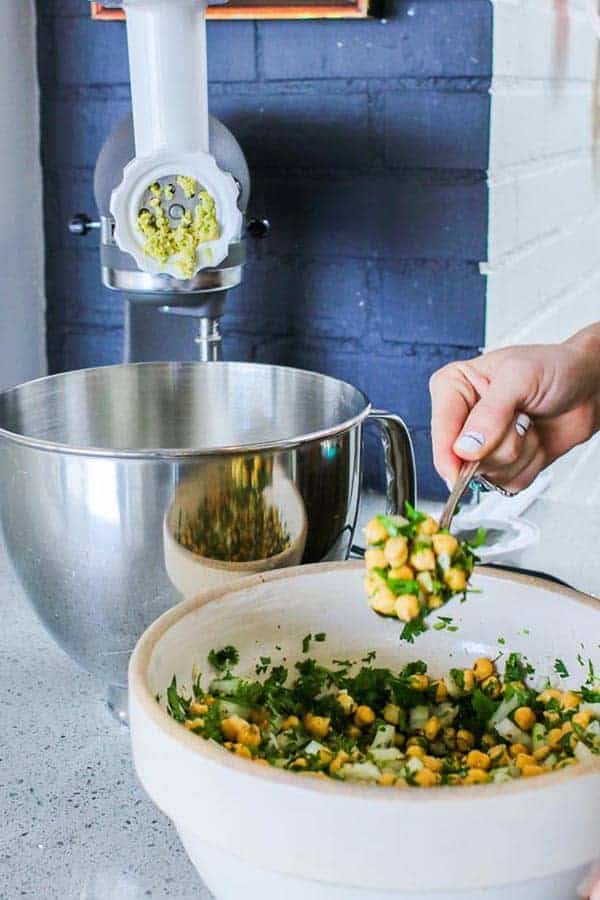 Do you need a meat grinder?
Now, I am not telling you that you have to have a meat grinder to make this falafel, but using one will make the texture unbelievably light and airy as opposed to being more dense and compact when you make falafel with a food processor.
It is a world of difference in texture, both are amazing in flavor, and either way your family and friends will rave about your amazing falafel to everyone they know. However, if you are a true falafal snob like my family tends to be, a meat grinder is the way to go. It's a super small investment for a lifetime of amazing falafel.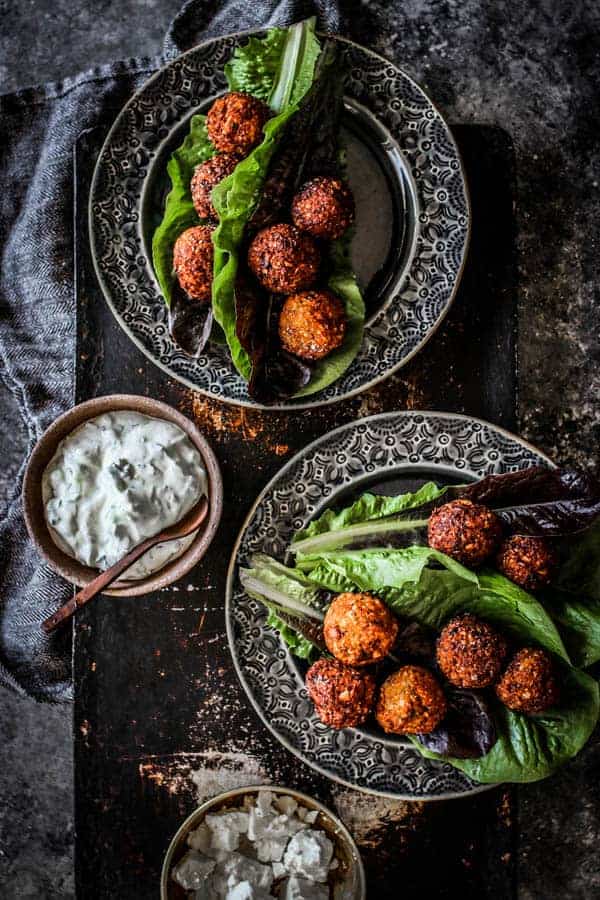 Save some for later
Also - an added bonus that works no matter how you choose to make your falafel: This recipe makes a lot of falafel, but it freezes great! Form the falafal into balls or patties, freeze it on a sheet pan before transferring to a plastic zip bag for long term storage.
The falafel can go straight into the hot oil from the freezer without a problem. Just add another minute or so to the cook time. Perfect golden falafel!
What to serve with falafel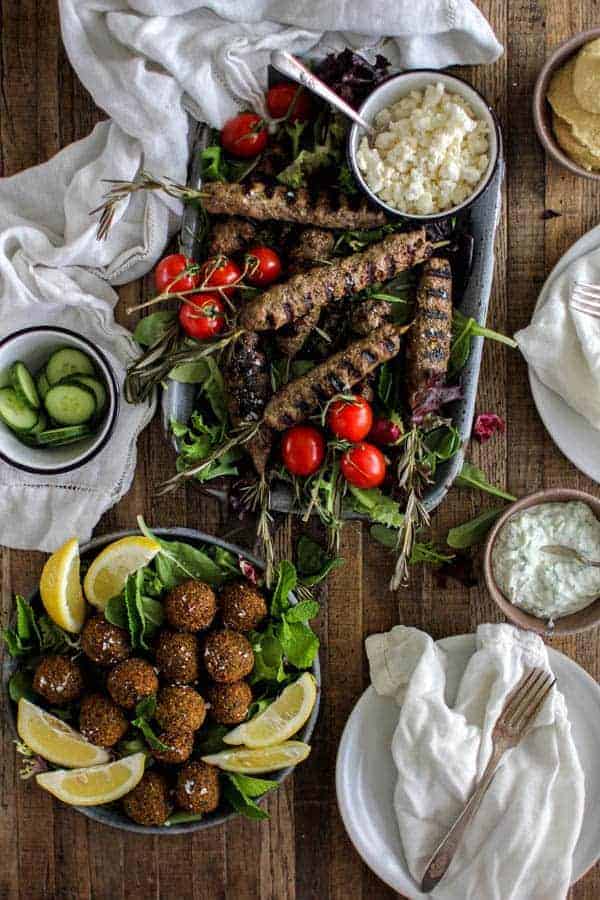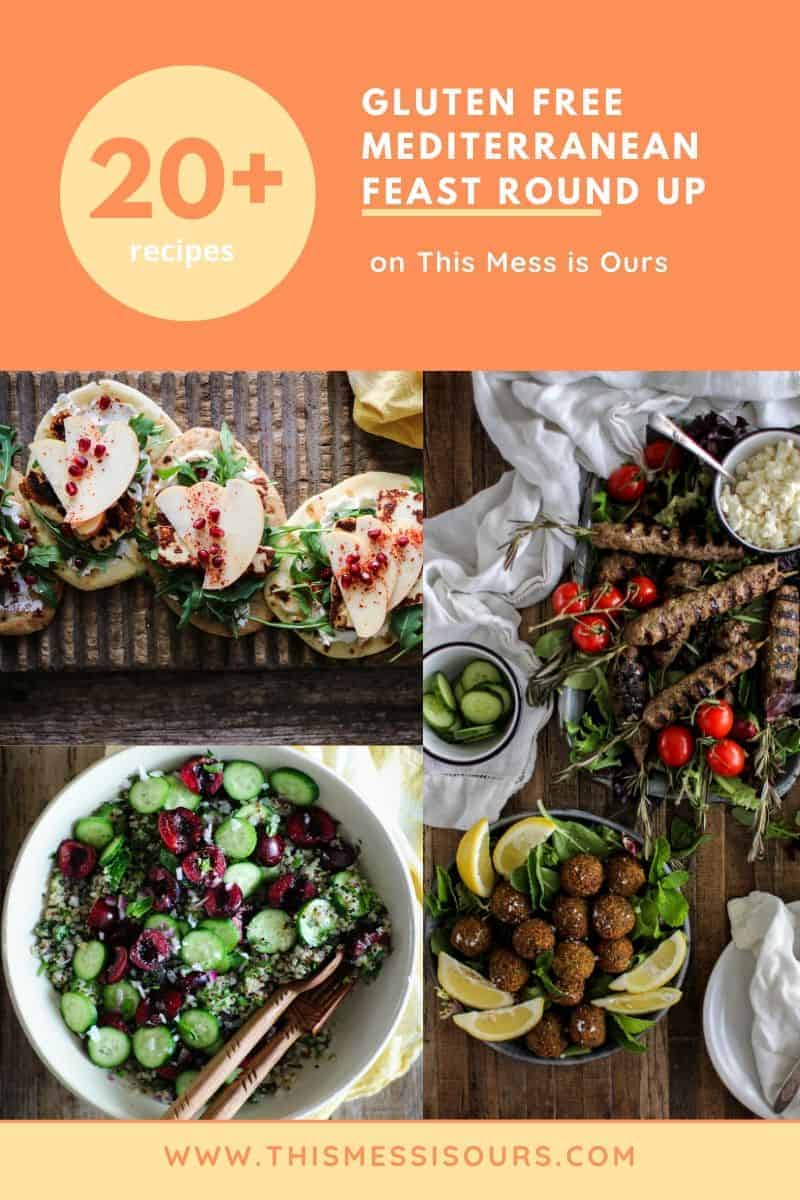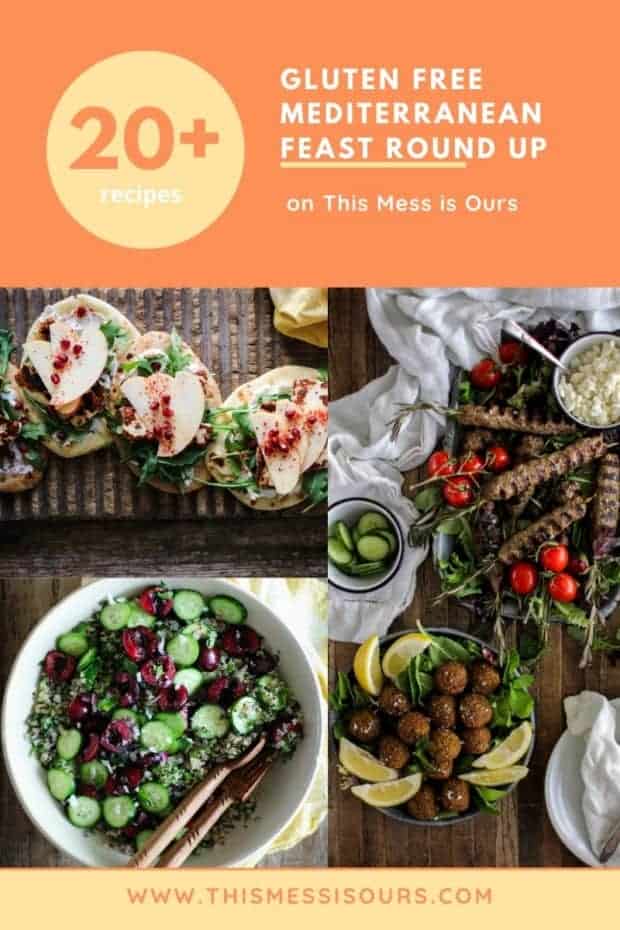 When I think of a giant, gluten free Mediterranean feast all laid out before me I get a bit weak in the knees over here! I could literally live on herby gluten free falafel, gluten free tabbouleh, garlicky hummus, and lemon-laced tazatziki every day for the rest of my life and never complain. I mean, what's not to love?! The flavors are fresh and bold, while the ingredients required to make these dishes are easy to find, even in a pandemic!
If you've tried our Authentic Falafel recipe I would be so grateful if you would rate the recipe and let me know what you think in the comments below, I just love hearing from you and your reviews and comments really help others that visit This Mess is Ours!
Print
Authentic Falafel
Don't forget to rate the recipe and let me know what you think about this Authentic Falafel in the comments below, I just love hearing from you and your reviews/comments really help other people that visit This Mess is Ours! 
Author:
Prep Time:

24 hours

Cook Time:

30 minutes

Total Time:

24 hours 30 minutes

Yield:

6

-8

1

x
Category:

Dinner

Method:

Fried

Cuisine:

Mediterranean
2 cups

dried chickpeas, NOT canned chickpeas, see note

1 teaspoon

whole cumin seed

1 teaspoon

whole coriander seed

3

cloves garlic, minced

1

small yellow onion, peeled and coarsely chopped

1 cup

packed fresh cilantro leaves

1 cup

packed fresh parsley leaves
Zest of

1

lemon

¼ teaspoon

cayenne

1 ½ teaspoons

Kosher salt, plus more for seasoning after cooking

½ teaspoon

ground black pepper
grape seed oil for frying
Instructions
Place chickpeas in a large bowl and fill with water to cover them to a depth of 3 inches. Cover the bowl with plastic wrap and leave on counter for 24 hours. The chickpeas will triple in size and absorb quite a bit of the water so check a few times during soaking to see if you need to add more water.Once the beans have soaked for 24 hours, drain and rinse well.
Place the cumin and coriander seeds in an 8-inch cast-iron skillet and set over medium high heat. Cook, shaking the pan frequently, until the seeds give off an aroma and just begin to brown, 3 to 4 minutes. Transfer the toasted spices to a spice grinder and process until finely ground. Set aside.
Place the drained chickpeas, ground spices, garlic, onion, cilantro, and parsley into a large mixing bowl. Stir to combine then feed through the meat grinder in small batches until everything has been ground.
Mix the lemon zest, cayenne, salt, and black pepper into the ground chickpeas then roll a small amount of the mixture into a walnut sized ball or a small patty with your hands. The mixture should hold together nicely and not fall apart.
Continue rolling the rest of the batter into uniform size balls or patties so that they will cook in the same amount of time. I used a small ice cream scoop and had falafels that were about the size of golf balls. Place the uncooked falafel on a large plate or baking sheet until ready to cook.
Pour oil in a Dutch oven or a large, high-sided skillet to a depth of 2-3 inches, enough to cover the falafel. Place a thermometer into the oil and heat over med-high heat until the temperature reaches 360° - 375° F.
While the oil is heating place a flattened paper grocery bag onto a baking sheet and cover with a few clean paper towels. This will help to collect the oil as it drains off of your falafel.
When the oil is to temp fry a test falafel. The oil should bubble up and sizzle all around it. The falafel itself should stay together in one piece and not break apart at all. It should take 2 - 3 minutes to fry to a beautiful golden brown. If your falafel is not completely submerged flip and cook the other side until it's nice and browned all over. Remove the cooked falafel from the oil and drain on the prepared baking sheet. Sprinkle with coarse salt while the falafel is still hot. Fry the remaining falafel in batches, being careful to not over crowd the pan and drop the temp of the oil.
Notes
Do not use canned chickpeas when making this falafel recipe - using canned chickpeas will result in a completely different texture than the dried chickpeas and the falafel patty will fall apart in the oil.
Nutrition
Serving Size:

4 falafels

Calories:

557

Sugar:

1.6 g

Sodium:

610.1 mg

Fat:

55.9 g

Carbohydrates:

13.7 g

Protein:

3.9 g

Cholesterol:

0 mg
Recipe Card powered by
SaveSave
SaveSave
SaveSave
SaveSave
SaveSave
SaveSave