If I had to list Todd's favorite foods falafel would be number one. Unfortunately, not all falafel is created equal. Over the years I have tried numerous recipes for falafel at home. Todd, being the awesome husband that he is, was always encouraging by telling me that my home attempt was really good it was just "different" than the authentic falafel that he gets when we go out to eat. I don't know about you but to me "different" but good is not good enough. Usually, it is the texture that is off. I have tried countless recipes and methods all with the same mediocre results that I can only imagine left my poor husband craving the "real" thing. Recently, I stumbled upon a recipe for falafel in a new cookbook that made my husbands eyes light up and satisfied his craving!

I tend to read cookbooks like other people read novels. No, I haven't read the "Hunger Games" or "Shades of Gray" and I really could care less if I ever do, but I have read 3 cookbooks cover to cover in the last month. Does that count? Instead of faraway lands my imagination takes me to the kitchen where I whip up the perfect meal without a single slip up. I almost always have a cookbook by the side of the bed for reading at night and yes, I even read cookbooks to my toddler. Don't judge me, I bet he knows more about what vegetables look like than a lot of adults. Who knows, maybe I am bringing up the world's first gluten-free Iron Chef!
Over the last week or so I have been pouring through a cookbook by Crescent Dragonwagon titled Bean by Bean. I was first introduced to her writing by my dad when he gave me her book titled the Passionate Vegetarian, I am still reading through the more than 1000 recipes it holds and have yet to be disappointed.
This authentic falafel recipe calls for using raw beans that have been soaked for 24 hours to tenderize them and trust me, it makes all the difference. Her flavorings are spot on even though I did add lemon zest and a little more salt to suit our tastes. I served my falafel with lettuce cups, lemon wedges, hummus, grilled onions and bell peppers. Since we are gluten-free, pita bread isn't an option for us anymore but the lettuce cups were a really great alternative! Best of all, there was no "it's different" comment followed by a longing look which I know means "It's not real falafel!" There was only chewing and smiling and requests for seconds.
Looking to learn more about chickpeas or garbanzo beans?
Whole Foods named chickpeas 'the new cauliflower' in their 2021 food trends guide and for good reason! Chickpeas ( AKA Garbanzo beans) are delicious and good for you too!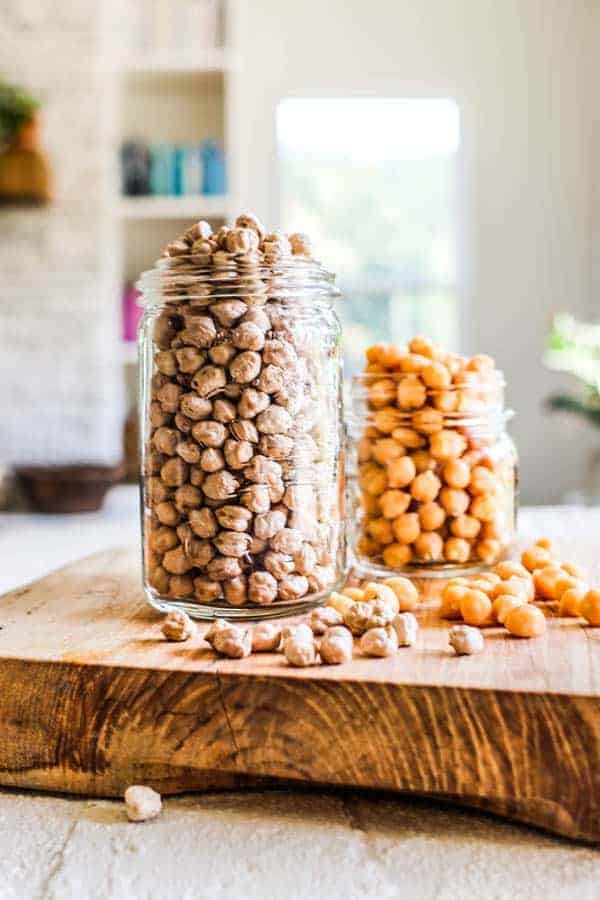 Ever wondered if chickpeas and garbanzo beans are the same things?
Or how to cook chickpeas so they taste amazing, but don't make you gassy?
Everything you need to know for cooking with both dried and canned chickpeas is here in one spot!
Print
Authentic Golden Falafel (Gluten-Free and Vegan)
2 cups

dried chickpeas

1

small yellow onion, peeled and quartered

3

cloves of garlic, smashed

1 cup

packed fresh cilantro leaves

1 cup

packed fresh parsley leaves
Zest of

one

large lemon

¼ teaspoon

cayenne

1 tablespoon

ground cumin

1 tablespoon

ground coriander

1 ½ teaspoons

salt

½ teaspoon

ground black pepper
oil for frying, I like grape seed oil
coarse kosher salt
*NOTE: Only if necessary, 2-4 tablespoons chickpea flour and ½ teaspoon baking soda
Instructions
Place chickpeas in a large bowl and fill with water to cover them to a depth of 3 inches. Cover the bowl with plastic wrap and leave on counter for 24 hours. The chickpeas will triple in size and absorb quite a bit of the water so check a few times during soaking to see if you need to add more water.Once the beans have soaked for 24 hours, drain and rinse well.
Place the chickpeas, onion, garlic, cilantro, parsley, lemon zest, cayenne, cumin, coriander, salt, and black pepper into the bowl of a food processor and alternate between pulsing and blending, stopping to scrape down the sides of the bowl occasionally until the chickpea mixture is uniform in size and still slightly grainy in texture not smooth. Taste and adjust seasonings if necessary. **If your food processor seems like it is straining you can add water or lemon juice to loosen up the mixture, no more than a tablespoon at a time though. Try to avoid adding any liquid if at all possible.
Roll a small amount of the mixture into a walnut sized ball or a small patty with your hands. The mixture should hold together nicely and not fall apart. *If it seems too wet sprinkle with a small amount of the chickpea flour, no more than a tablespoon at a time. Once texture is correct sprinkle the baking soda over the falafel and stir the mixture until combined.
Continue rolling the rest of the batter into uniform size balls or patties so that they will cook in the same amount of time. I used a small ice cream scoop and had falafels that were about the size of golf balls. Place the uncooked falafel on a large plate or baking sheet until ready to cook.
Pour oil in a Dutch oven or a large, high-sided skillet to a depth of 3 inches, enough to cover falafel. Place a thermometer into the oil and heat over med-high heat until the temperature reaches 360° - 375° F.
While the oil is heating place a flattened paper grocery bag onto a baking sheet and cover with a few clean paper towels. This will help to collect the oil as it drains off of your falafel.
When the oil is to temp fry a test falafel. The oil should bubble up and sizzle all around it. The falafel itself should stay together in one piece and not break apart at all. It should take 1 ½ - 2 minutes to fry to a beautiful golden brown. If your falafel is not completely submerged flip and cook the other side until it's nice and browned all over. Remove the cooked falafel from the oil and drain on the prepared baking sheet. Sprinkle with coarse salt while the falafel is still hot. Fry the remaining falafel in batches, being careful to not over crowd the pan and drop the temp of the oil.
Recipe Card powered by