Want to know how to cook chickpeas? Here you go! I recently found myself staring into my pantry wondering if garbanzo beans just might be the most versatile ingredient on the planet! I mean, you can use them in just about a bazillion ways which means they have serious #pantrypower.
Even the liquid produced when chickpeas are cooked, AKA aquafaba, is considered a vegan delicacy and makes decadent treats like plant-based meringues possible! Heck, even CBS News says they are one of the best superfoods for weight loss. So, I decided to do a bit of research on this little gem of the Mediterranean diet and share my findings with you in my Ultimate Guide. 
**UPDATE** Shortly after writing this article, Whole Foods named Chickpeas 'the new cauliflower' in their 2021 food trends guide. There you go! Time to get to work mastering this magical bean.
Chickpeas vs. Garbanzo beans: Are garbanzo beans chickpeas? 
Ever wondered if there is a difference between chickpeas or garbanzo beans? It's actually a pretty common question and the answer is they are the exact same thing! They are a type of legume in the same family as kidney beans and peanuts with a buttery, nutty flavor, and creamy texture. Chickpeas are excellent on their own or in your family's favorite recipes like falafel and hummus! 
Chickpeas are actually one of the most widely consumed legumes in the world and have been eaten in the Middle East for almost 10,000 years! During that time they've shared different names across many cultures. For instance, garbanzo happens to be the Spanish term while chickpea is the most commonly used English term. Because they're so popular, both of the terms chickpeas and garbanzo beans are used interchangeably to mean the same thing.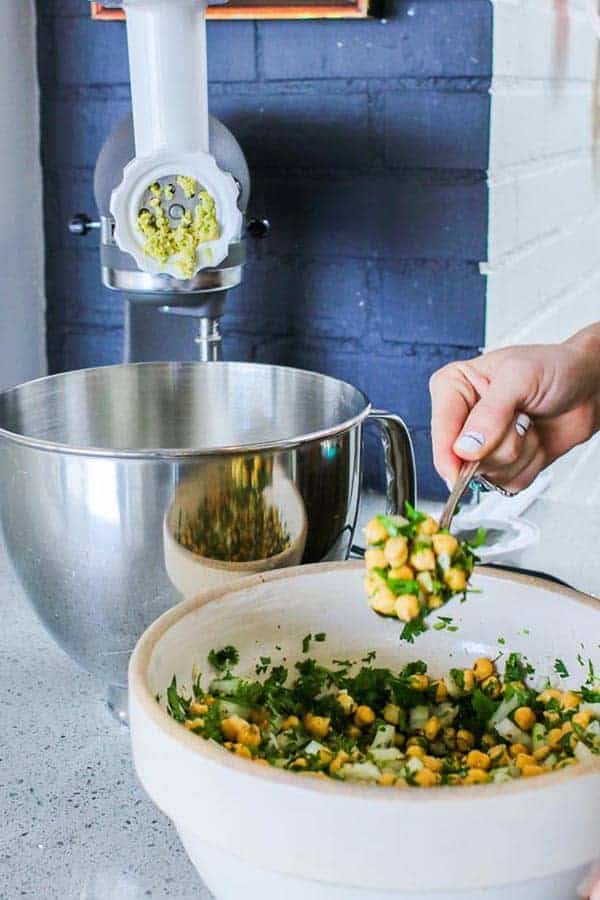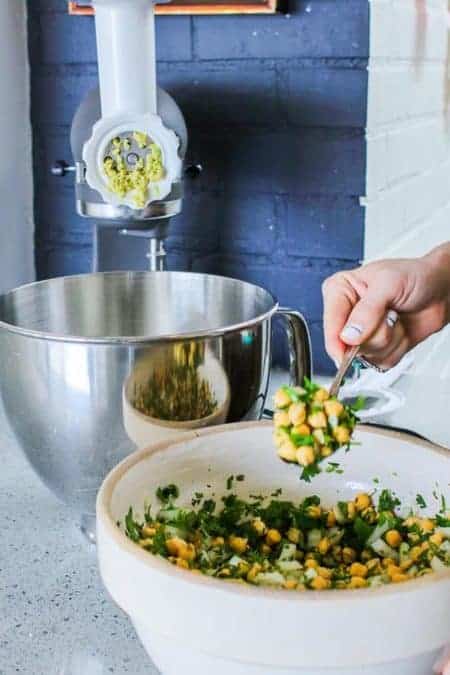 Let's talk chickpea nutrition; are garbanzo beans good for you? What about chickpea protein?
If you're going to learn how to cook chickpeas, let's start with all the reasons why you should cook chickpeas! As a rich source of vitamins, minerals and fiber, chickpeas may offer a variety of health benefits, such as improving digestion, aiding weight management and reducing the risk of several diseases. Additionally, chickpeas are high in protein and make an excellent replacement for meat in vegetarian and vegan diets!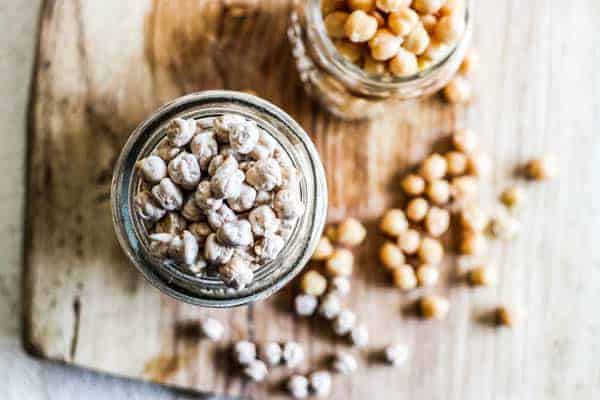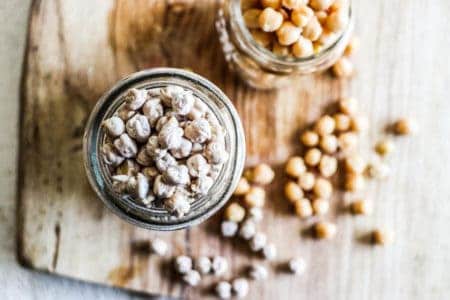 Try the following easy prep tips for creating recipes with dried or canned garbanzo beans...
Brace yourself, there are about a bazillion different ways to cook and prep garbanzo beans! In fact, there are so many options that it can seem a bit daunting to even know where to start when it comes to how to cook chickpeas. That's why I'm covering them all, simply scroll down, choose your cooking method of choice and follow the directions! 
How to cook dried chickpeas 4 ways: 
Long soak and simmer on the stovetop:  8-12 hours soak time plus 2 hours cook time.
Quick soak and simmer on the stove: Rapid 5 minute boil followed by 1 hour soak time plus 2 hours cook time.
In the Slow Cooker: No soaking required. 4 hours on high heat or 8 hours on low heat
In a pressure cooker or Instant Pot: No soaking required. Approximate 1 hour cook time.
If you chose to cook dried chickpeas on the stovetop, you will need to soak them. To do this, start by sorting through the dried beans and picking out any rocks or twigs that may have somehow found their way into the bags of beans. Trust me, it happens a lot more than you would think!
How To Long Soak Chickpeas
Add the picked over beans to a large bowl and cover with several inches of water. As the beans rehydrate, they triple in size so you may need to add more water over the soaking time to keep the beans submerged.  Soak the beans 8 hours or overnight. Then, after soaking the beans, drain and rinse them. You can then cook them with any of the methods I've detailed below.
How To Quick Soak Chickpeas

 
Add dried chickpeas to a large pot, cover with several inches of water and bring to a boil. Boil for 5 minutes then take the pot off of the heat and let the beans sit in the water for 1 hour. After soaking the beans, drain the soaking water then return the beans to the pot to cook by following any of the methods below.
To cook the soaked chickpeas, add them to a large pot, cover the beans with several inches of water, and bring everything to a boil. Reduce the heat and simmer until they reach your desired tenderness. This could be anywhere between 1 and ½ to 2 hours. When simmering, you can opt to keep the lid off or on the pot, but do make sure to keep it slightly ajar if you leave it on. This will allow some steam to escape while the chickpeas are cooking.
Garbanzo beans simmered without a lid will be cooked, but firm making them the perfect addition for salads, and meaty  or veggie based chilis.
Garbanzo beans cooked with the lid on, but ajar, will be creamier, softer and break apart more easily. These are perfect for hummus or dishes where you want the beans to break apart.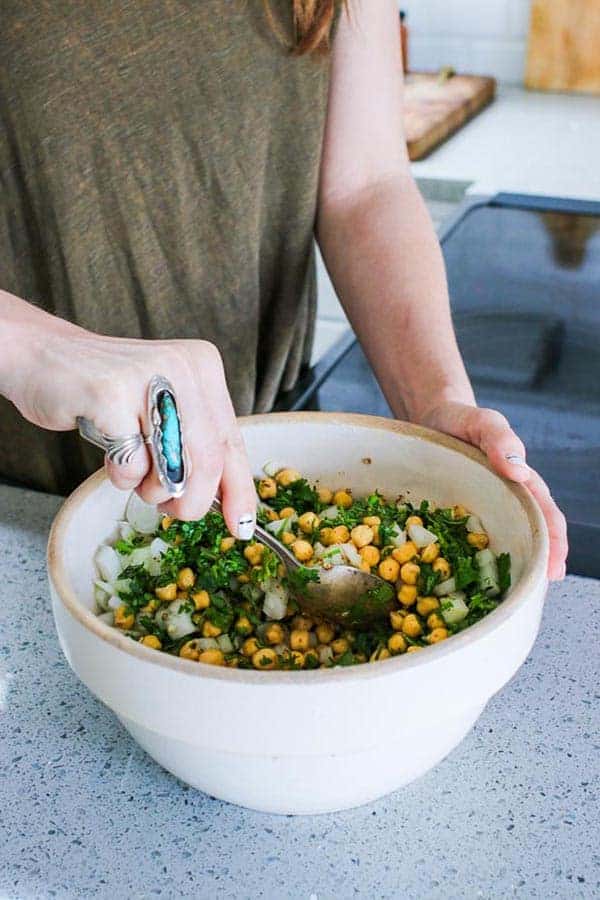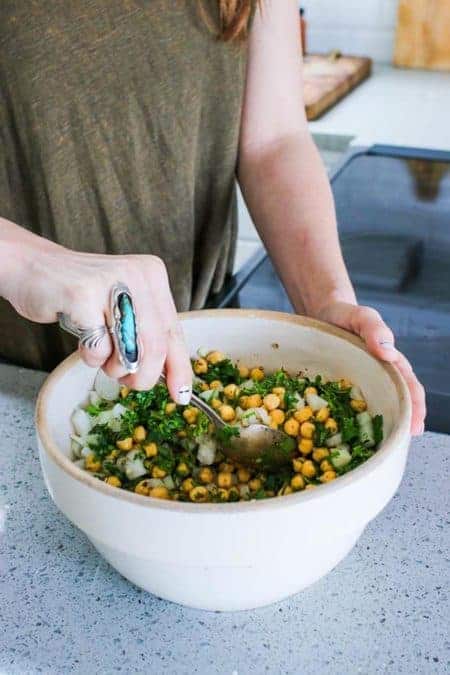 How To Cook Chickpeas in the
Slow Cooker
Another option is to cook the chickpeas in a slow cooker. The benefit of this is there is no soaking step — everything is added to the slow cooker. You turn on the power, set the time, and walk away. Easy peasy! Simply, add 1 pound of cleaned, dried chickpeas and 7 cups of water to a slow cooker then cook on high for 3 to 4 hours or on low for 6 to 8 hours.
Looking for an easy dinner, quick? Let me tell you how to prepare Instant Pot Chickpeas in a flash!
Both soaked and unsoaked chickpeas can be cooked in a pressure cooker, but there are a few important things to note....
Cooking chickpeas can create a lot of foam and if you opt to perform a quick release on your pressure cooker without covering the steam nozzle with a kitchen towel first your kitchen is in for a real big mess! I personally feel like it is best to just let the steam release naturally on its own so that I can avoid any potential bean foam disasters.
How to tell when the pressure has completely released from the pressure cooker? It is super easy; when the silver pin on the lid drops back down allowing you to easily open the lid the pressure has naturally released all of the way and the Instant Pot is safe to open. Follow with a quick drain and rinse before putting the chickpeas to use. 
Soaked chickpeas
Add 1 pound of soaked chickpeas (soaked for 8-12 hours) and 6 cups of water to a pressure cooker. Seal the lid and cook on High Pressure for 12 minutes, allow the pressure to naturally release. Drain and enjoy. 
Unsoaked chickpeas
Add 1 pound of dried chickpeas (cleaned and sorted) and 6 cups of water to a pressure cooker. Seal the lid and cook on High Pressure for 50 minutes, allow the pressure to naturally release. Drain and enjoy.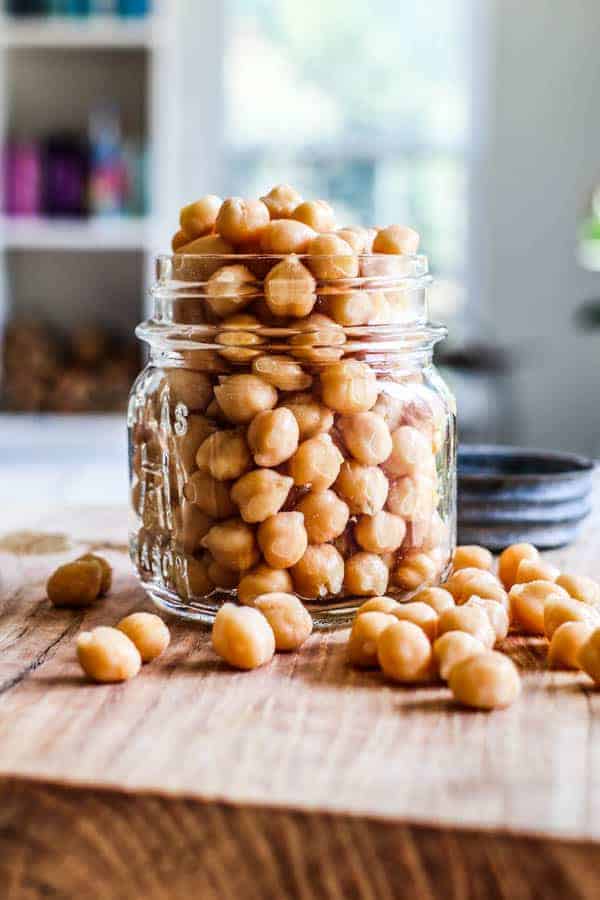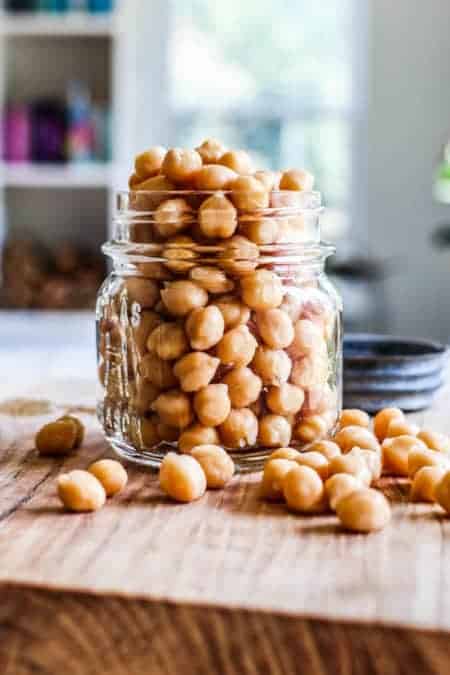 How to cook canned chickpeas 
Honestly, it is perfectly safe to eat chickpeas straight out of the can if you want too! The canning process cooks the chickpeas sufficiently so that they are both soft enough to chew and safe to eat. Toss them straight from the can on top of a salad or mix them into a pot of soup! You can quickly cook canned chickpeas on the stovetop or in the microwave with your favorite seasonings and spices or just add them directly into the recipes you are making.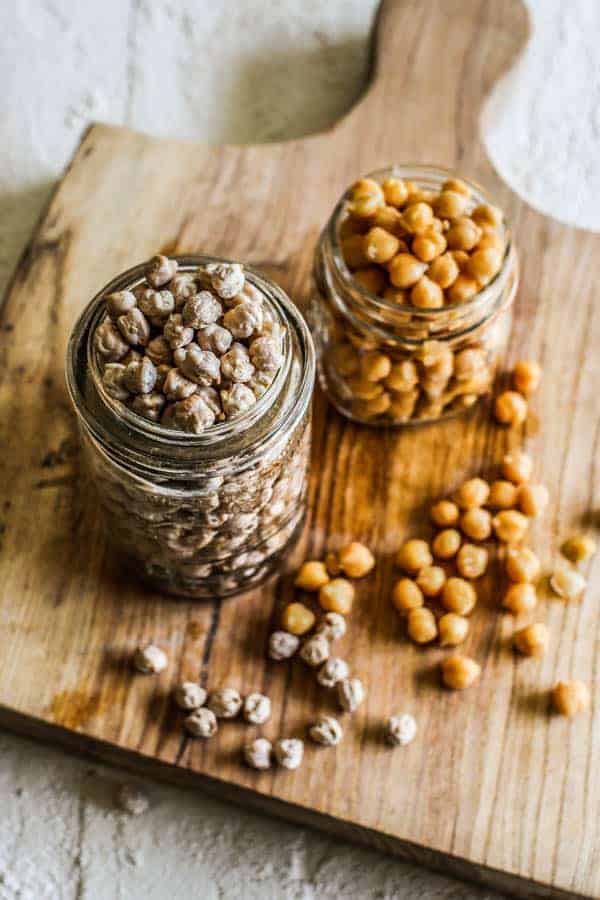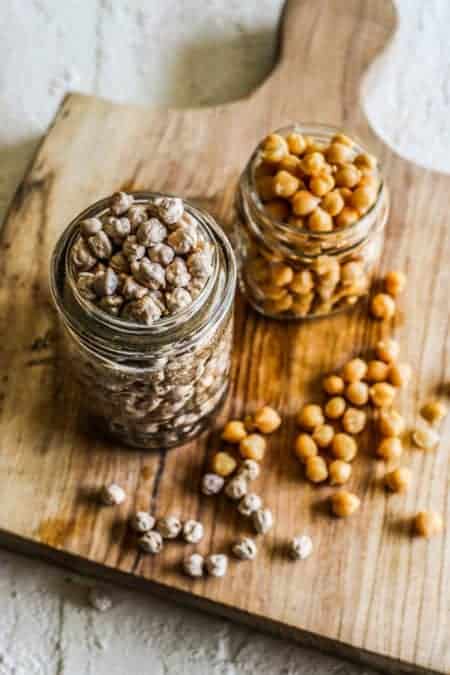 Worried about whether chickpeas make you gassy? 
Beans make us gassy because they contain sugars and fiber that our bodies have a hard time digesting. When these sugars meet up with the bacteria in our large intestines, it produces gas and so, for lack of a better term, we fart. Luckily, there are a few trusted methods for degassing beans! 
The long soak chickpea degassing method:
This is by far the easiest method and the one the USDA stands behind. Simply place dried chickpeas (or any bean for that matter) in a container, cover them with water and let them soak. They'll need to soak 8 to 12 hours, but the key to eliminating the gas is draining and rinsing the chickpeas every three hours. Discarding the water frequently gets rid of the excess sugar starch—and that's what you're really aiming for, so don't forget to switch out that water!
Baking soda chickpea degassing method:
Baking soda is often added when cooking dried chickpeas or beans. It is believed to reduce the gassy effects because it binds to the sugars and helps break them down. This ultimately makes the beans easier for our bodies to digest. If you plan to add baking soda, add about 1 tablespoon to the soaking water for the stovetop methods. If using a slow cooker, add ¼ teaspoon along with the beans and water before turning the slow cooker on.
Pressure cooker chickpea degassing method:
In this case, the pressure of the Instant Pot breaks down sugars quickly to eliminate unpleasant, gassy garbanzo bean side effects. To degas your chickpeas using an Instant Pot, start by soaking the beans for 4 to 8 hours. Drain them well and give them a rinse. Place them in the pot of the pressure cooker and add water to about 2-inches above the beans. Set the pressure to high and cook 10 to 12 minutes, followed by a natural pressure release. Drain, rinse and use!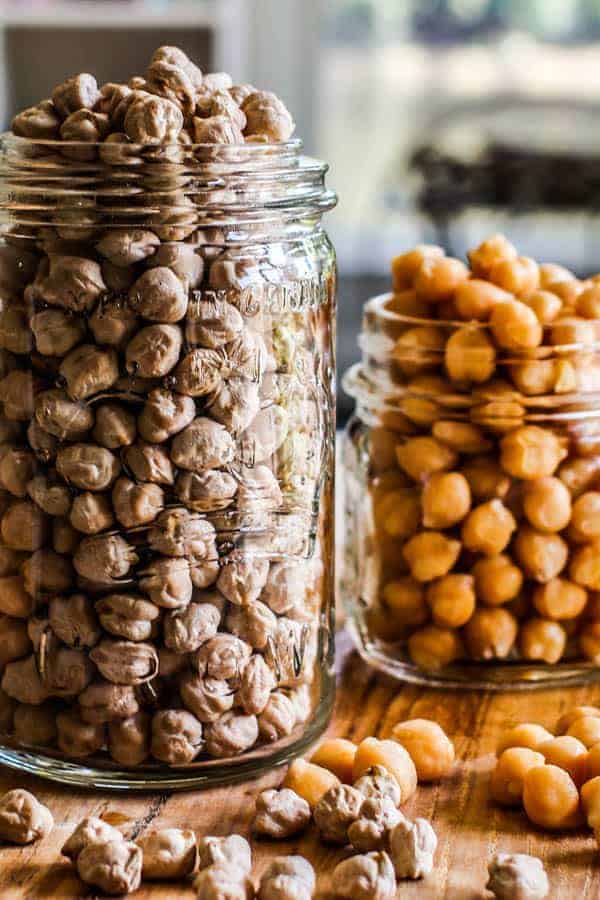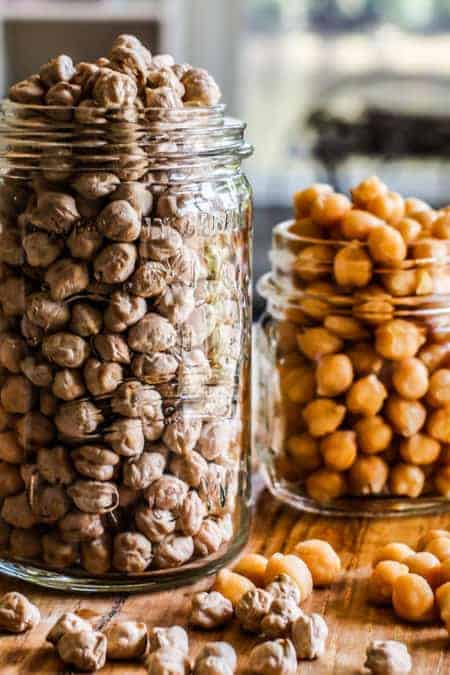 Ready to get cooking with chickpeas? Here are a few of my favorite chickpea recipes.
There are SO many different ways to serve and eat garbanzo beans that it's almost too broad of a subject matter to cover in one blog post, but heck, I am going to try! Hold on to your britches....
Can you roast chickpeas? YES! 
The answer to that question is a resounding YES!!! You can absolutely roast chickpeas in the oven and you totally should! Crispy chickpeas are great as a snack on their own, on salads, in grain bowls, and even in delicious popcorn mixes! 

These crispy little chickpeas are reminiscent of an Everything Bagel which basically means they are hella delicious and good for you too!! Winning! 
Can you use chickpeas in salad?
YES! Here are some delicious ideas for chickpea salad.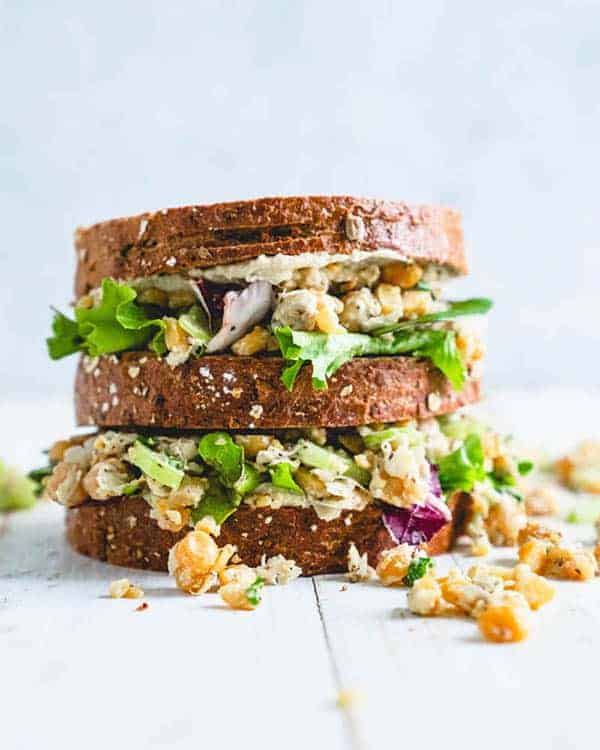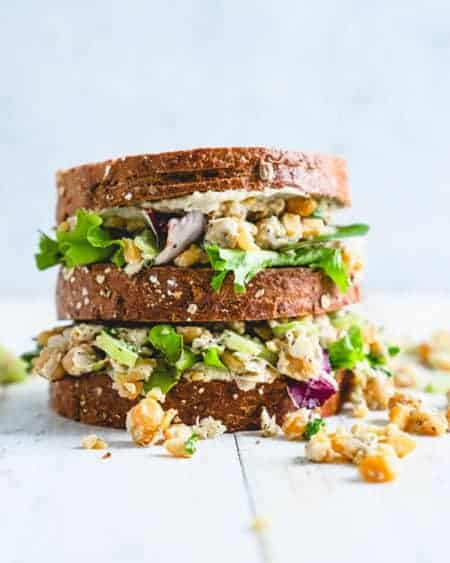 Easy Chickpea Salad Sandwich by A Couple Cooks  ( Above image by A Couple Cooks)
Sunshine Salad from California Grown 
The best way I know to put chickpeas to use is in my favorite falafel recipe!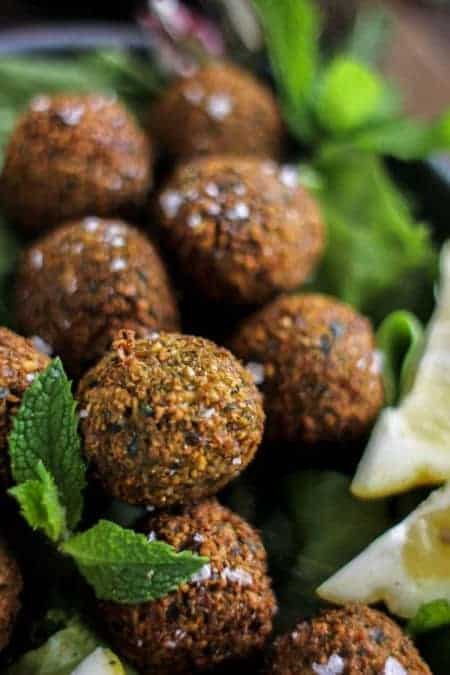 This falafel recipe is the BEST falafel recipe ever, PERIOD! Falafel is one of my husband's favorite meals of all time. When we lived in Southern California we had literally unlimited access to different falafel joints and we took full advantage. However, now that we moved back East and settled into our property on the outskirts of Atlanta we have been enjoying falafel nights at home much more often than before! 
This falafel recipe is my go-to chickpea recipe when I am cooking for a crowd or wanting to batch cook falafel to store in the freezer for quick and delicious weeknight dinners later on. I even have a video you can watch below that shows you EXACTLY how to make Authentic Falafel at home! 
[mv_video doNotAutoplayNorOptimizePlacement="false" doNotOptimizePlacement="true" jsonLd="true" key="gekr6dsdowwsu1wqu5zz" ratio="16:9" thumbnail="https://mediavine-res.cloudinary.com/v1598304022/xqg9rzw2z5jvr5k51zao.jpg" title="How to Make Authentic Falafel" volume="70"] 
Can you make falafal with canned chickpeas?
You totally can, although I don't personally recommend it. Truly Authentic Falafel actually uses chickpeas that have been soaked for 24 hours then ground into a pulp before frying. There is no prevail or cooking process other than frying. The texture of authentic falafal when made from dried chickpeas is crisp, light, and airy. In contrast, falafel made with canned chickpeas will be dense and stay wet in the center with a mushy consistency. Personally, I leave canned garbanzo beans for dishes like chili and hummus where they can really shine! 
Looking for some other falafel recipes to try? We have some unique falafel recipes for you....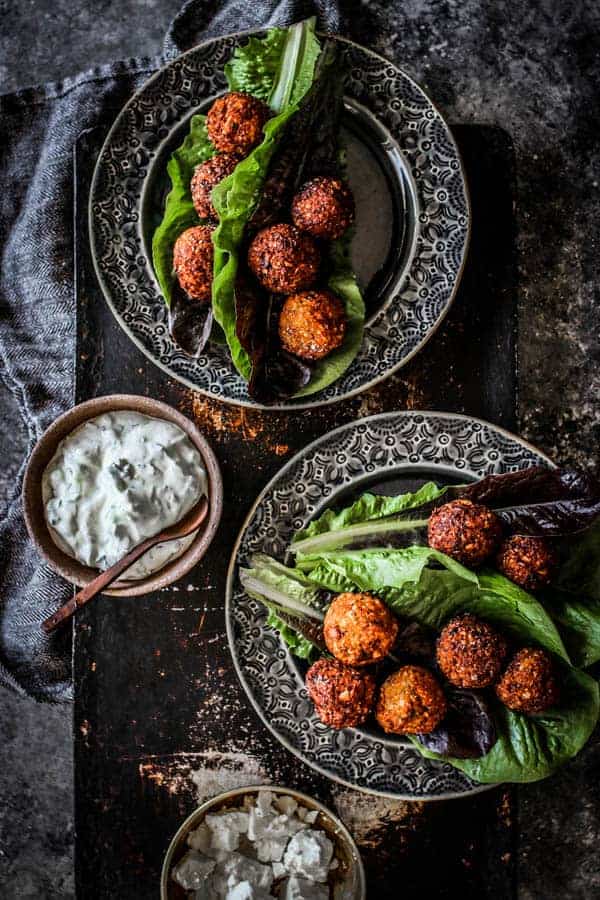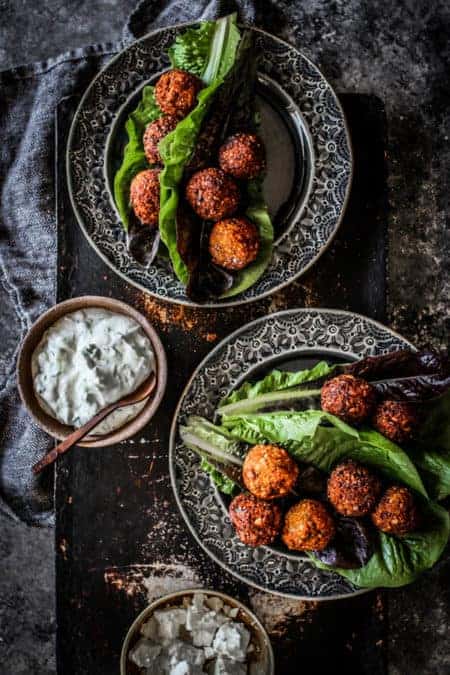 This falafel recipe comes together easily with the help of your food processor and combines the flavors of sweet potato and cumin with nutty grains of millet.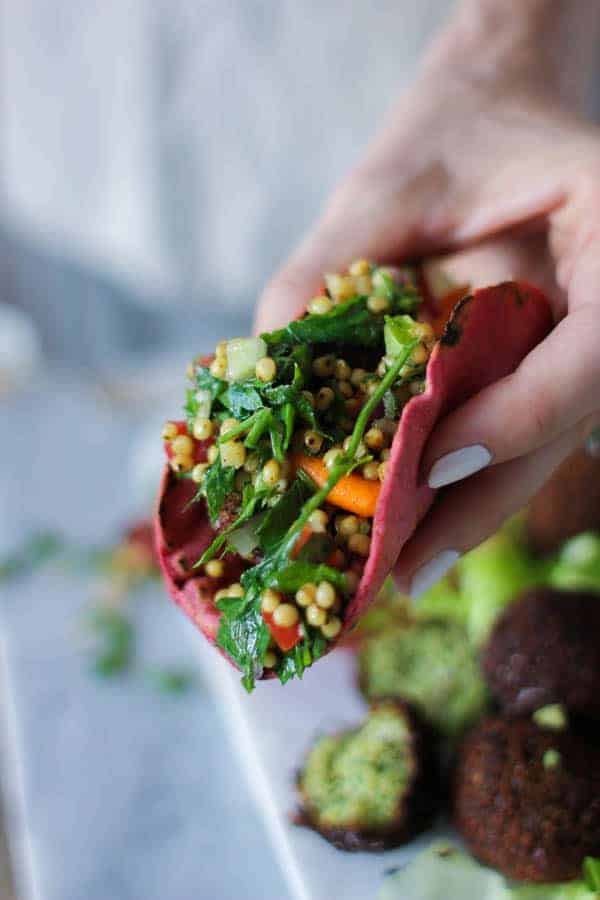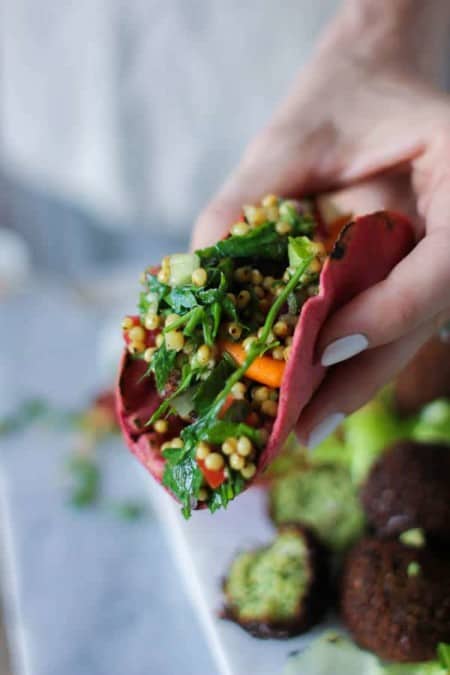 Move over Tex Mex tacos because this Mediterranean spin on taco night is quite possibly the most crave worthy taco we've had in a long time! 
Try it with tzatziki: My favorite tzatziki sauce recipe of all time
You can't have falafel without a sauce, so while tzatziki isn't made with chickpeas it is hands down my favorite sauce for smothering falafel, shawarma, and kofta!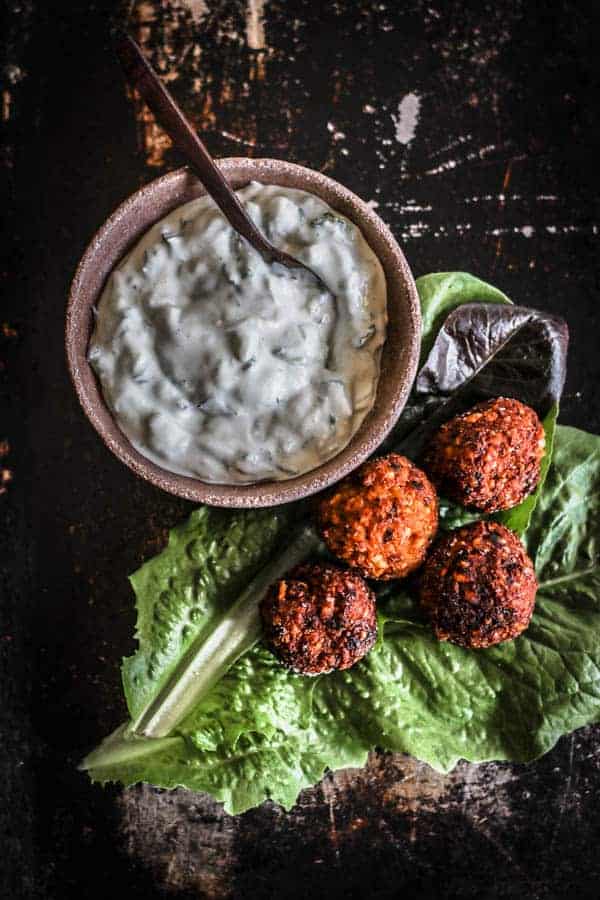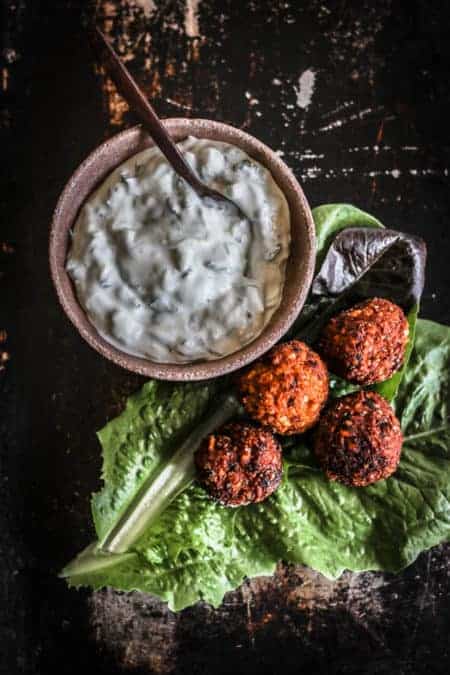 Falafel's most delicious companion if you ask me... Creamy yogurt based goodness studded with garlic and herbs. I could bathe in this stuff!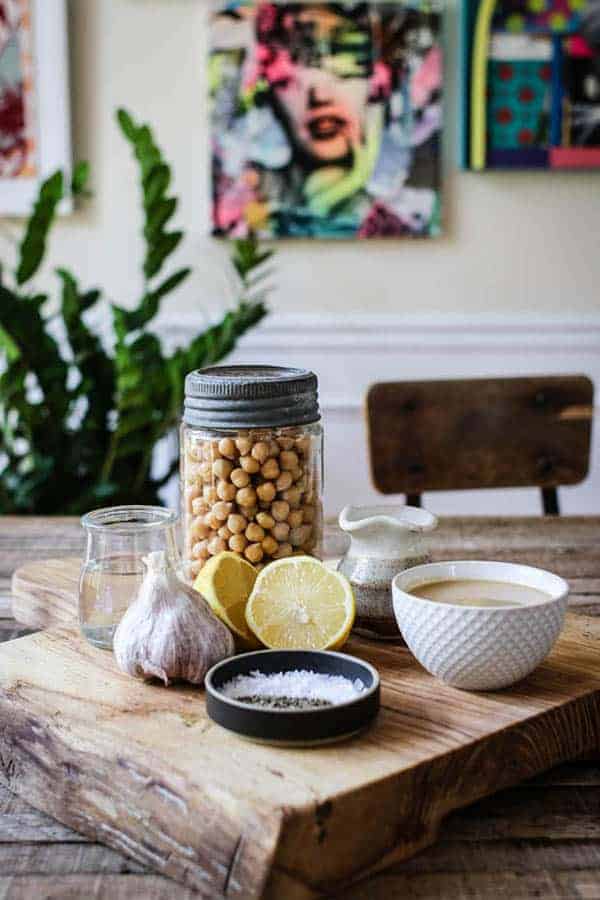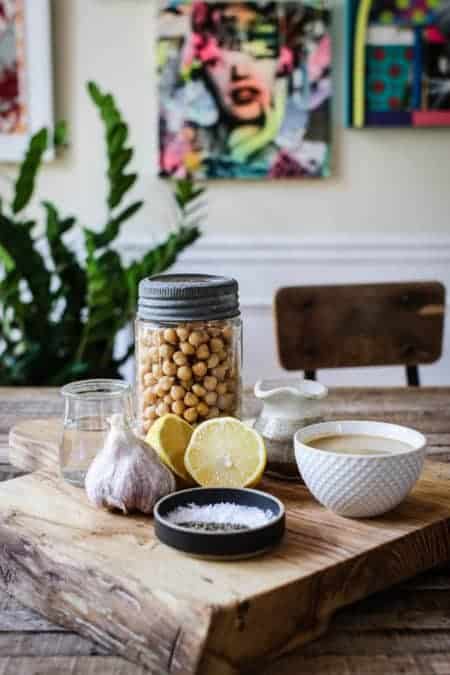 Let's talk about hummus, quite possibly chickpeas most famous starring role in a recipe!
Ask anyone on the planet, the ULTIMATE game day dip is hummus. There are about a million variations all around the internet, but as you've probably guessed I have my own favorite hummus recipes to share with you too!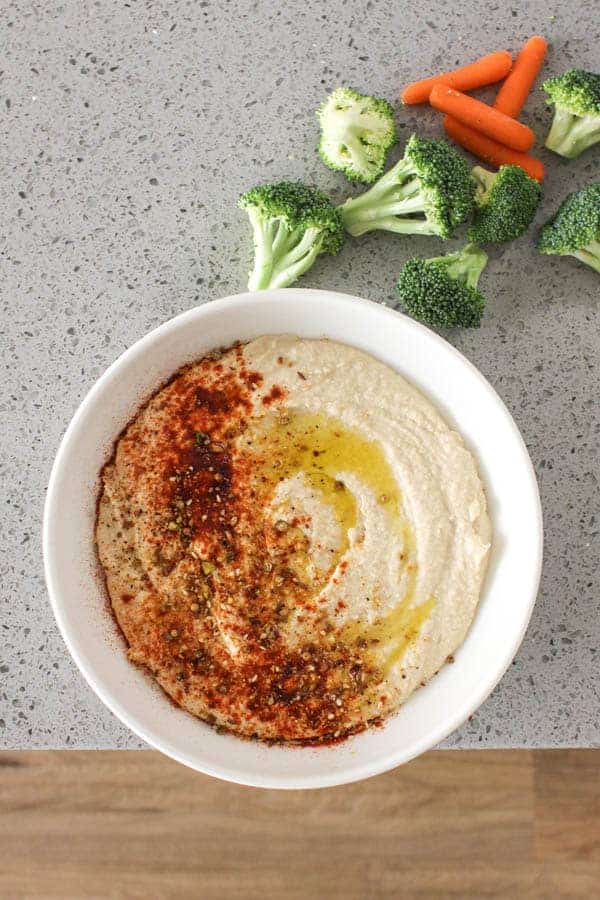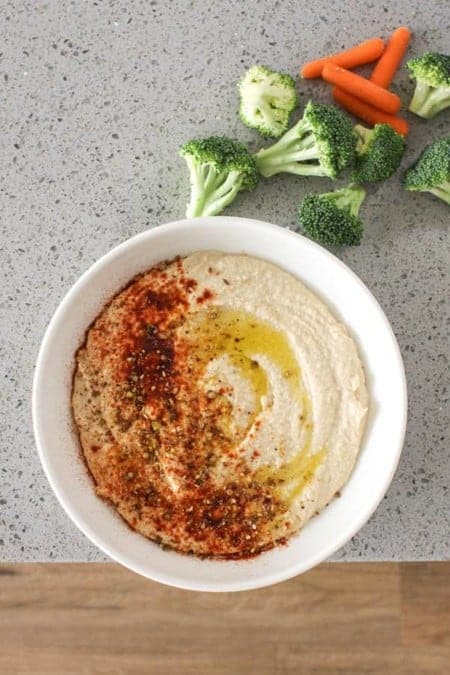 If you have ever found yourself thinking that you don't have time to make a healthy, delicious snack I have the recipe to prove you wrong! My hummus recipe comes together in 5 minutes and is infinitely customizable.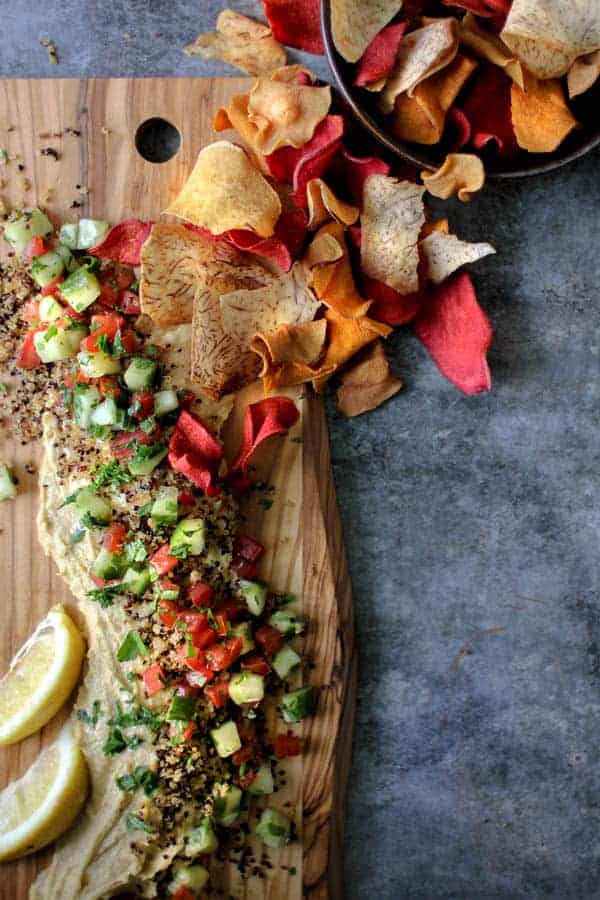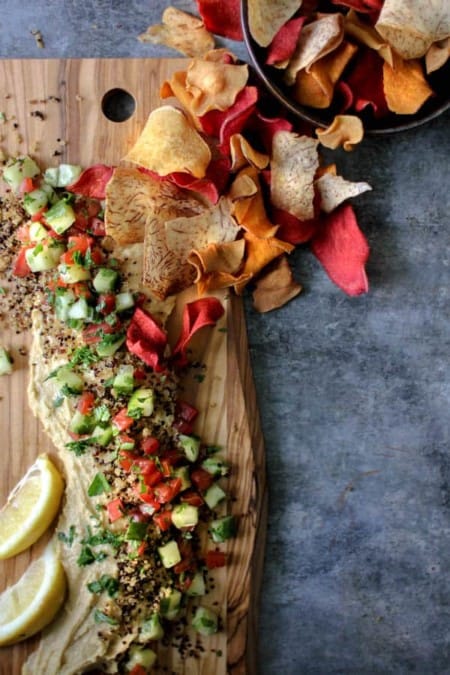 There are about a million and one ways to top hummus on the internet....hands down this is my favorite! Simply spread your favorite hummus, I really dig this Preserved Lemon Hummus, onto a platter and top with diced cucumbers, tomatoes, crispy quinoa, and herbs. Voila!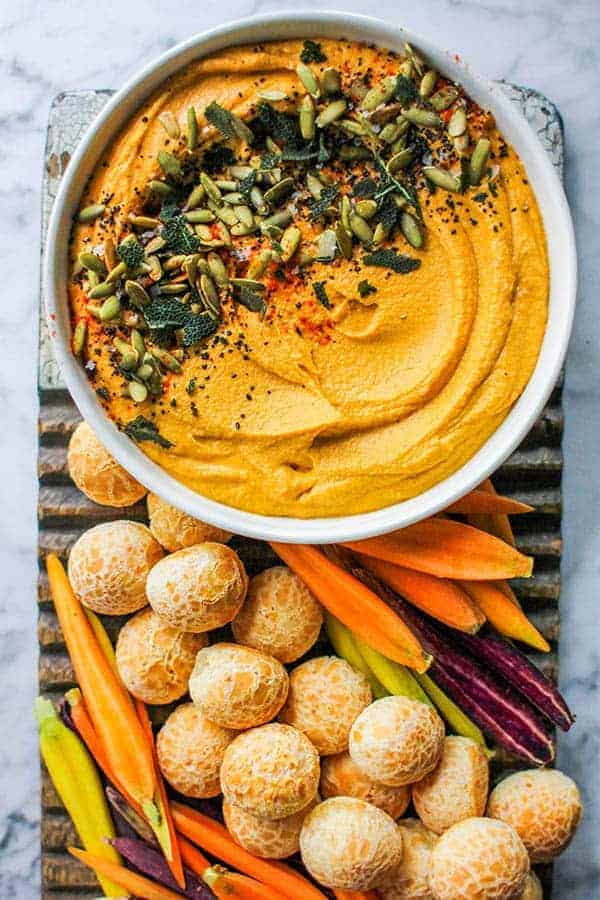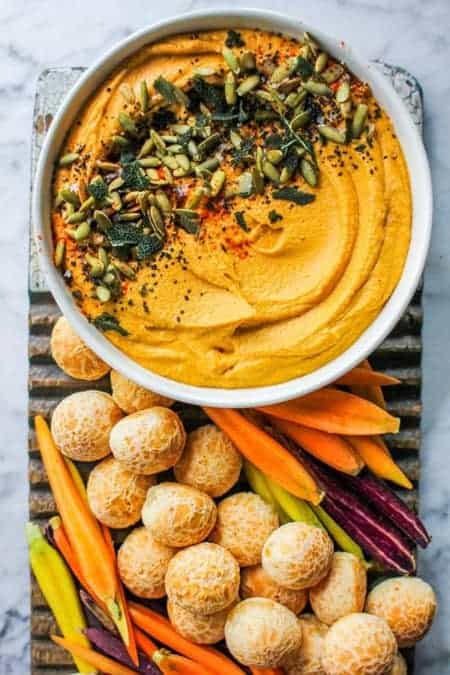 Seasonal hummus, it's a whole thing! My Fall-inspired version really showcases the flavors of roasted butternut squash and crispy fried sage! It is a seasonal showstopper that is not to be missed!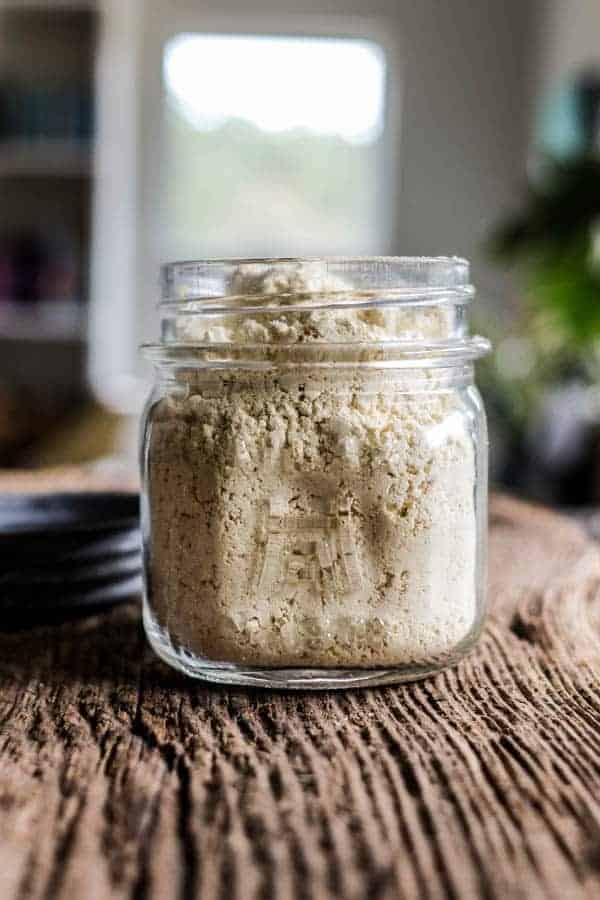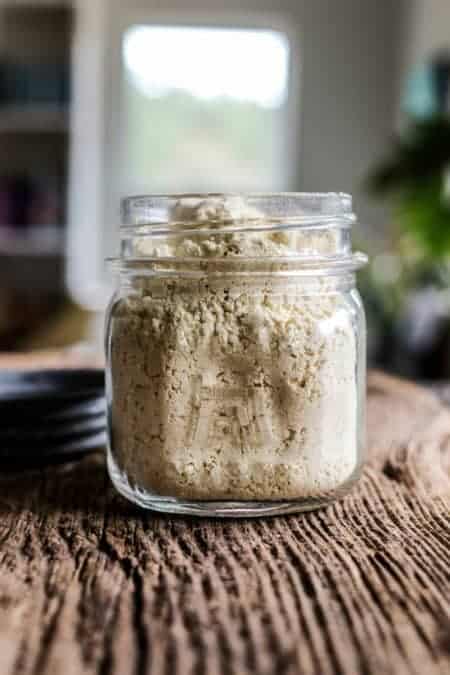 What is Chickpea flour?
Chickpea flour, AKA "garbanzo bean flour", AKA "gram flour", AKA "besan flour" are ALL different words for the same thing! I know, chickpeas are so confusing sometimes, but I digress. This naturally gluten free ultra-fine flour is made of finely milled chickpeas and is the base for countless recipes. You can usually find prepared chickpea flour in health food stores near the other gluten-free flours or in the bulk bins. It is naturally dense, with a stickier texture than all-purpose flour when added to liquids. Incredibly, despite its dense texture, chickpea flour makes an incredibly light batter when frying!
Can I make chickpea flour at home? 
Yep, sure can! It takes some patience a high speed blender, and a sieve, but you can totally make garbanzo bean flour at home! 
Using a high powered blender, blend the desired amount of raw, dried chickpeas (garbanzo beans) for roughly 2 minutes until fine and the consistency of flour.

Sift the chickpea flour through a

sieve

to remove any lumps or big pieces.

Store in a labeled airtight container for 8 weeks in a cool dark place or in the fridge.
Can I substitute recipes with chickpea flour? 
Ok, let's be real here - chickpea flour has a VERY strong flavor, so you won't want to substitute it for all purpose or gluten free flour in every recipe. However, you can substitute 1 cup of regular white all purpose flour for ¾ cup chickpea flour in most recipes. 
Can I make a tempura style batter with chickpea flour?
Totally can! Now can you see just how versatile chickpeas are?! Here is what you do to create an easy tempura-like texture....
Mix chickpea flour with your favorite spices, salt, and club soda to make a wet batter.
Coat veggies by dipping them into the batter and frying them until puffed and golden brown. 
Wondering what else you can make with chickpea flour?
The sky is really the limit, but here are a few recipes from around the internet that we have tried and really liked....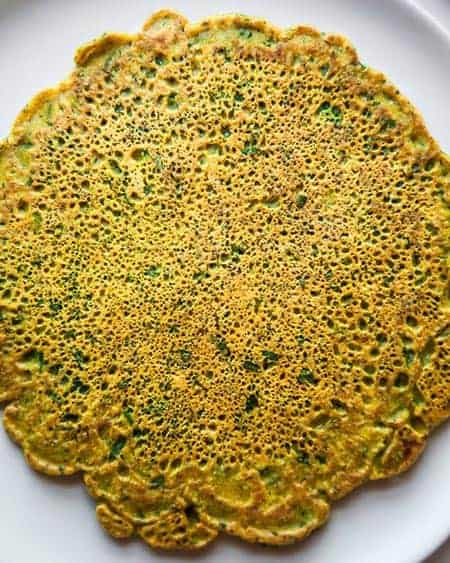 Hearty Herbed Chickpea Pancakes with Zesty Lemon Tahini & Roasted Spring Vegetables from The First Mess (Above image by The First Mess) 
This batter is loaded up with lots of green onions, herbs,  nutritional yeast, onion powder, turmeric, black pepper and a good pinch of salt. As As Laura says in her blog post,  "Welcome to flavour town!"
4-Ingredient Easy Chickpea tortillas from A Sweet Pea Chef 
This easy 4-ingredient chickpea flour tortilla recipe calls for chickpea flour, sea salt, water, and arrowroot starch. The deliciously  chickpea tortillas are vegan, gluten-free, and clean-eating!
Chickpeas Batter Fried Vegetables from New York Times Cooking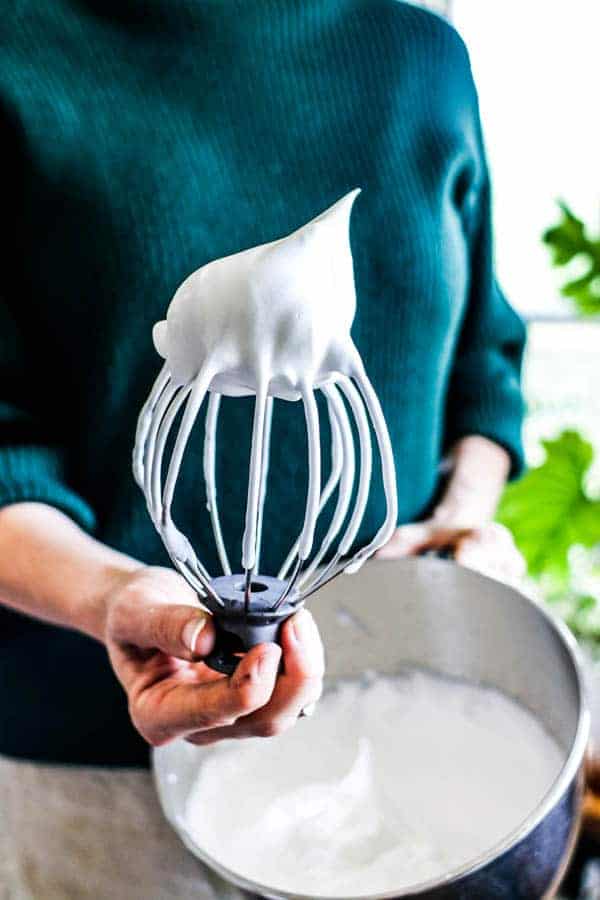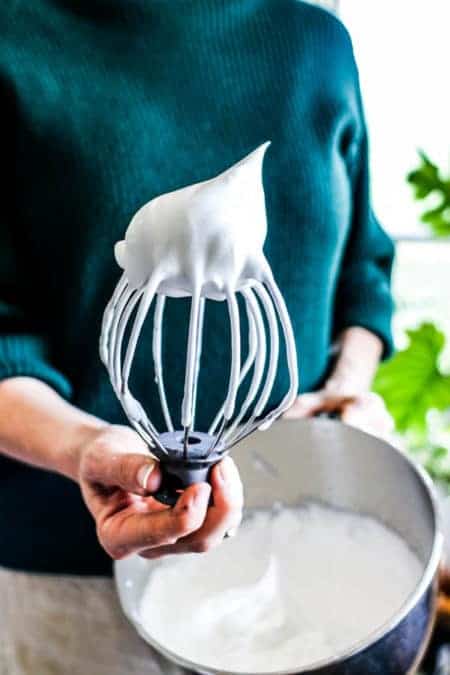 We can't end this article without talking about one more wacky use for chickpeas, or rather, their soaking liquid. Aquafaba!  
America's Test Kitchen quite possibly has the most in depth article on Aquafaba I have ever read, so if you want to know how to whip up a batch I would start there. But, just for anyone curious about what aquafaba is or how it's used I've done a bit of research and here is what I found...
Aquafaba is the liquid in a can of chickpeas or the liquid leftover from cooked chickpeas.
Aquafaba is a great base for making your own homemade vegan mayo, we personally love Minimalist Baker's recipe.
Aquafaba can be used unwhipped as a plant based binder in batters to replace eggs, it can be whipped into semi-stiff peaks and used in recipes that call for folding in whipped egg whites like waffles, or it can even be whipped into stiff peaks for decadent plant based meringues! 
If you've enjoyed our Ultimate Guide to Chickpea Recipes I would be so grateful if you would rate the recipe and let me know what you think in the comments below, I just love hearing from you and your reviews and comments really help others that visit This Mess is Ours! 
Frequently Asked Questions
Can you freeze home-cooked chickpeas?
Chickpeas are a great budget item to stock your pantry with, especially if you buy the dried version. Once cooked, you can store them in the freezer in an airtight bag for up to a year, although the quality will be best if used within 6 months.

Are chickpeas inflammatory?
Chickpeas are loaded with fiber and protein which are naturally anti-inflammatory and antioxidant. Adding at least 2 servings of chickpeas to your diet per week can help combat inflammation issues.
Can you eat chickpeas straight from the can?
You can eat them straight from the can, but you may want to rinse them first. If you separate them from the canning liquid you can use it for other things. Aquafaba is often used as an egg replacement in vegan dishes like waffles or plant-based meringue that call for whipped eggs.
Are chickpeas high in carbs?
Chickpeas have 45 grams of carbohydrates, 12 of which are fiber.
Are Chickpeas good for weight loss?
Chickpeas are loaded with fiber, which keeps you feeling fuller, longer. This makes them great a great addition to your weight loss meal plan.
Is it OK to eat chickpeas every day?
Everything in moderation! While chickpeas are very healthy, their relatively high levels of fiber and protein are good for you as long as your body can process it. Overload may cause issues with gas, bloating, indigestion or acidity.