Greek salads are like a rainbow on your plate—colorful, crisp, and seriously mouthwatering. They combine crunchy cucumbers, juicy tomatoes, sassy red onions, and olives that taste like a Greek summer—they're all there. But hold up, 'cause we're about to shake things up. We're tossing in canned artichoke hearts, and trust me, they're the life of the party.
Taste the Traditions: Crafting the Best Greek Salad Base
Alright, let's talk about Greek salad basics. This delicious salad has cucumbers bringing the crunch, tomatoes bursting with summer vibes, red onions for some zing, nutty artichoke hearts, crispy falafel, and olives just being their briny selves. Combine them, and you've got a masterpiece!
Want to take this salad to the next level? Marinate your onions in oil, vinegar, and spices so theyout all! They'll come out they're taking a quick flavor bath and coming outall smooth and tangy.
The Crispy Delights That Steal the Show
Ah, falafel. If we had to sum it up in two words, they'd be "crispy charm." Golden-brown bites with a tantalizing crunch that gives way to a burst of flavorful goodness as you take that first bite.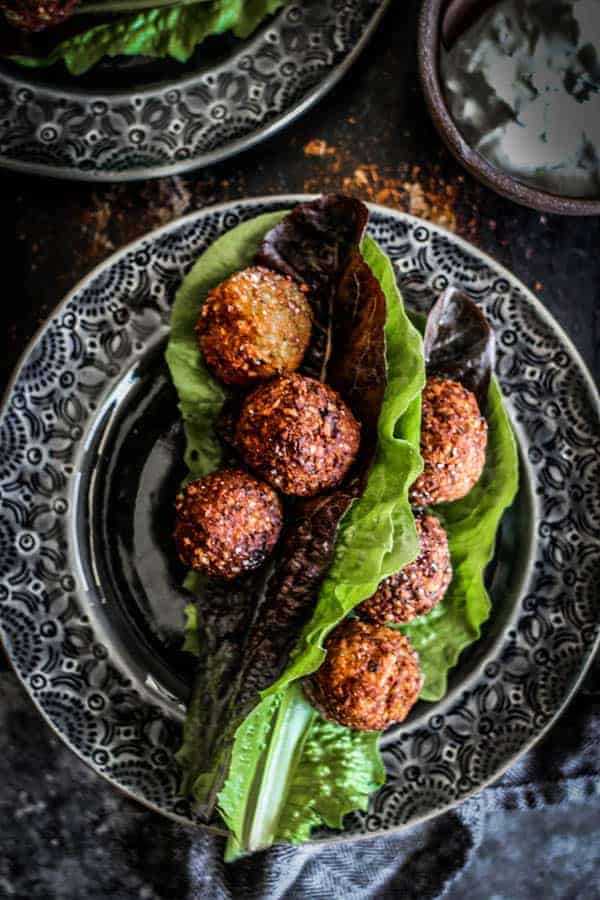 But what's the secret behind this crispy perfection?
Chickpeas! These humble legumes are the foundation of falafel magic. Blended with fresh herbs, spices, and a hint of garlic, chickpeas create a delightful, hearty texture that's simply addictive.
Elevating with Canned Artichoke Hearts
Alright, let's talk about these canned artichoke hearts. They're like the VIPs of the salad world – available, always ready to party, and they level up any event. Just imagine these tender hearts combined with cucumbers, tomatoes, and olives. They add an unexpected twist to the classic Greek salad, and honestly, who can resist that?
Their texture is the real MVP – not too mushy, not too crunchy, just that perfect in-between that adds a whole new dimension. And the best part? You don't have to wait for artichoke season – these canned wonders are ready whenever you are.
Cheese Please! Elevating Your Greek Salad with Creamy Feta
No Greek salad is complete without creamy feta cheese. Like a salty embrace, feta cubes bring a delightful tang and a rich creaminess that tie the flavors together in perfect harmony. As you toss together the fresh vegetables and artichoke hearts, don't forget to make space for this essential ingredient that elevates the dish from good to unforgettable.
The Perfect Partners: Elevating Your Greek Salad Experience
Now that we've made the perfect Greek salad with canned artichoke hearts, it's time to talk about the ultimate power move – pairing it with homemade hummus and Cherry Basil Tabbouleh. Get ready to take your taste buds on a Mediterranean journey they won't forget!
Homemade hummus is the perfect partner for your Greek salad. There's nothing quite like dipping crispy falafel into velvety hummus. YUM! The nutty undertones of garbanzo beans, the zing of lemon, and the hint of garlic all come together to create a dip that's as versatile as it is irresistible.
Cherry Basil Tabbouleh is a refreshing side that tastes like a burst of summer in every spoonful. Fresh cherries add a touch of sweetness, while vibrant basil leaves infuse the dish with an aromatic twist. Mix it with bulgur, parsley, and a zesty lemon dressing, and you've got a side that's both vibrant and comforting, all at once.
Hungry for more recipes with canned artichoke hearts? Keep scrolling!
This delicious recipe with artichoke hearts is completely customizable to your tastes and preferences, bakes in less than 30 minutes, and is a great way to use up those odds and ends you have on hand in the crisper drawer.
It's a good thing I have this yummy recipe for this Kale and Quinoa Bountiful Bowls on hand for the hot summer months; it only takes a few minutes to prepare, but it eats like a meal and tastes like a little bit of heaven.
I bet when you are thinking of a canned artichoke recipe, you aren't thinking about dessert. It turns out canned artichoke hearts packed in water are the perfect, unexpected ingredient in my latest cupcake recipe featured on California Grown!
If you tried this recipe I would be so grateful if you would rate the recipe and let me know what you think in the comments below!
Print
Greek Salad With Canned Artichoke Hearts
Crunchy cucumbers, peppers, juicy tomatoes, sassy red onions, artichoke hearts, & ripe olives taste like summer in this Greek Salad recipe.
Author:
Prep Time:

20 minutes

Marinating time:

30 minutes

Total Time:

50 minutes

Yield:

6

servings

1

x
Category:

Salad

Method:

Assembled

Cuisine:

Greek
1 red bell pepper, large-diced
1 (14-ounce) can of artichoke hearts in water, drained and quartered
1 pint cherry or grape tomatoes, halved
½ red onion, sliced in half-rounds
½ cup black olives, pitted if needed and halved
For the vinaigrette:
2 cloves garlic, minced
1 teaspoon dried oregano
½ teaspoon Dijon mustard
¼ cup red wine vinegar
1 teaspoon kosher salt
½ teaspoon freshly ground black pepper
½ cup olive oil
Instructions
Place the cucumber, peppers, artichoke hearts, tomatoes, and red onion in a large bowl.
For the vinaigrette, whisk together the garlic, oregano, mustard, vinegar, salt, and pepper in a small bowl. Still whisking, slowly add the olive oil to make an emulsion. Pour the vinaigrette over the vegetables. Add the feta and olives and toss lightly. Set aside for 30 minutes to allow the flavors to blend. Serve at room temperature.
Nutrition
Serving Size:
Calories:

339

Sugar:

5.2 g

Sodium:

829.9 mg

Fat:

28.4 g

Carbohydrates:

16.6 g

Protein:

8.5 g

Cholesterol:

33.6 mg
Keywords: Greek, Greek salad, canned artichoke hearts, artichoke hearts
Recipe Card powered by