Behold, black bean falafel, my newest falafel creation! I kind of have a crazy love affair with homemade falafel. I make traditional falafel at least once a month around here, but lately I have been playing around with the recipe and creating new falafel creations like my Thanksgiving Stuffing Poppers and this black bean version. This falafel recipe ditches the garbanzo beans and uses black beans instead, which is my families' favorite legume.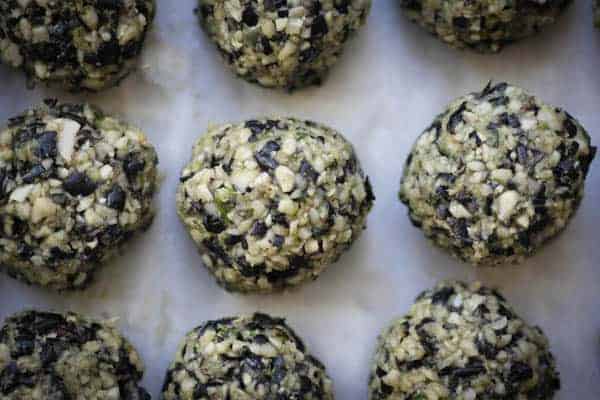 How to serve black bean falafel
Todd and I ate our black bean falafel in grilled tortillas with avocado, homemade tomatillo salsa, heirloom tomatoes, pickled peppers, and cilantro while our kids chose to dip their falafel straight into a fresh batch of guacamole.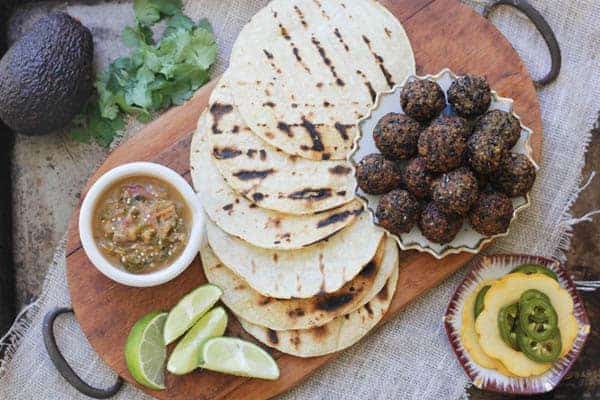 Of course, you don't have to eat these stuffed into taco shells or dipped in guacamole, you can opt for more traditional falafel fare. Anyway you serve these up they are pretty amazing and your family will thank you!
If you've made our Black Bean Falafel recipe I would be so grateful if you would rate the recipe and let me know what you think in the comments below! I just love hearing from you and your reviews and comments really help others that visit This Mess is Ours.
Print
Black Bean Falafel
Don't forget to rate the recipe and let me know what you think about this Black Bean Falafel recipe in the comments below, I just love hearing from you and your reviews/comments really help other people that visit This Mess is Ours! 
2 cups

black beans, soaked in water to cover by 3-inches for

24

hours, drained and rinsed

1

small white onion, roughly chopped

4

cloves garlic, roughly chopped

1 cup

cilantro, leaves and stems roughly chopped
zest of

1

lime

1 tablespoon

cumin

1 ½ teaspoons

coriander

1 teaspoon

paprika
kosher salt and pepper to taste
Grapeseed oil for frying
Instructions
Place all of the ingredients, except the oil, in a food processor fitted with the "S" blade. Alternate between the machine running constantly and pulsing, stopping to scrape the sides, until the mixture is all uniform in size. You want the consistency to be grainy not smooth.
Use a small ice cream scoop or a tablespoon measure to scoop up a small amount of the mixture. Roll it in between the palm of your hands to make a compact, round ball. Proceed with the rest of the batter, lining all of the falafel on a parchment paper lined baking sheet until there is no black bean mixture remaining in the food processor.
Pour the oil into a high sided skillet or dutch oven to a depth of 3 inches and place it over medium high heat. Place a thermometer in the oil and heat the oil until it registers between 360°F and 375 °F.
Meanwhile, line another baking sheet with paper towels or brown paper grocery bags to drain the cooked falafel after they have cooked.
When the oil is to temperature, drop one popper at a time into the oil, being careful not to overcrowd the pan. The oil should sizzle and bubble around each falafel and the falafel should hold together perfectly. Cook until the falafel are golden brown, about 1½ – 2½ minutes; remove from the hot oil with a slotted spoon and place on the paper towel lined baking sheet to drain. Sprinkle the tops of the hot falafel with salt. Repeat the process with the remaining batter until all of them have been cooked.
Recipe Card powered by
Want to be a part of our online community outside of the blog? It's easy!! All you have to do is follow @THISMESSISOURS on FACEBOOK, INSTAGRAM, TWITTER, YOUTUBE, or PINTEREST to see cooking demos, live #CoronaCall 's, and peeks into our day to day life.