Did you enter our $500 Amazon gift card giveaway yet? Click here for you chance to win!!!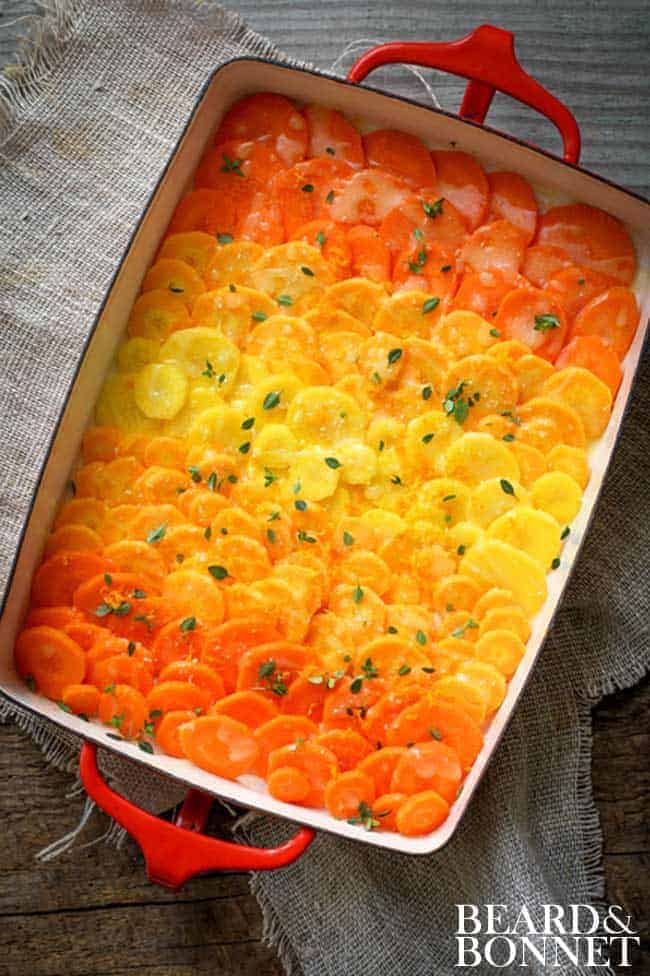 I love the idea of throwing an extravagant holiday party complete with decorations, play lists, and a table full of tapas (That's fancy speak for finger food!) as much as anyone else. My problem is that like most of you I have busy kids, a job, a couple of four legged companions, and a never ending "to-do" list that takes all the fun out of planning a party like that. A lot of times when I search for ideas for party worthy finger foods the recipes I find are just WAY too complicated for me to pull off with my schedule and attention span. So for the past few weeks I have been busy brainstorming new, easy recipes for entertaining during the holidays for busy folks like us.
I have quite a few recipes coming your way over the next few weeks worthy of a place at your holiday gathering or maybe even just a romantic dinner for two with tapas and wine, but I think that this one is my favorite so far! Todd actually came up with the idea of an ombré carrot dish when he saw me working on a fancy version of oven baked potato chips that I will be sharing later this week. Since I just happened to have a bag full of colorful carrots in the fridge I decided to give his idea a whirl.
These carrots would be beautiful served at the table in their baking dish or transformed into small bites for guests by threading them onto skewers. We tested this batch of citrus and thyme roasted carrots with roasted garlic hummus and it was an insanely good combination. I used store bought hummus to cut down on the amount of prep time needed to create this dish for a party and spruced it up with a drizzle of extra virgin olive oil and cracked black pepper. Your guests will NEVER know you took a shortcut with the hummus I promise.
Print
Ombré Citrus Roasted Carrot Skewers (Gluten Free and Vegan Option)
4

-

6

large colorful carrots, I used 2 large dark orange, 2 large light orange, and 1 large yellow carrot.

3 tablespoons

melted butter, melted Earth Balance, or olive oil

1 tablespoon

freshly squeezed orange juice
Zest from

1

orange

2

-

3

sprigs fresh thyme
kosher salt to taste.
Instructions
Preheat the oven to 450° F with an oven rack in the center position. Lightly brush the bottom of a large baking dish with 1 tablespoon of the melted butter or olive oil and set aside.
Wash and peel the carrots then slice thinly with a mandoline so that all of your carrot rounds are similar in size. Mine were about ¼-inch thick to begin with, remember they shrink in the oven so if you slice them paper thin you will not have anything left to work with.Line the sliced carrots in the baking dish however you would like for the pattern to be. (My pattern was dark orange, light orange, yellow, light orange, dark orange.) There is no wrong or right make the pattern however you would like.
Mix the orange juice with the remaining butter and drizzle over the top of the arranged carrots. Sprinkle coarse salt to taste over the top of the dish along with the orange zest and thyme leaves. Roast in the oven for 25-30 minutes depending on the thickness of your carrot slices.
Serve in the baking dish at the table or thread onto skewers once they have cooled slightly along side a dish of hummus for dipping at a party. Serve warm.
Notes
It's hard to put a serving amount on this particular recipe due to varying sizes in carrots you could use and how thick or thin you slice them before roasting. A large baking dish (13 x 9) should feed 4-6 people as a side dish or make 15-20 skewers.
Recipe Card powered by
We would love to hear all of your holiday entertaining tips, easy recipes for gatherings, and time saving shortcuts! Leave us a comment below filling us in on all of your entertaining secrets.
If you are looking for more holiday dessert inspiration my friend Leanne of Healthful Pursuit has you covered with her new eBook Christmas Dessert Freedom and it's only $10!
Christmas dessert helplessness doesn't have to be your reality this go-around. The Christmas Dessert Freedom Cookbook is your complete paleo, vegan, gluten-free, all-around good-for-you, allergy-friendly Christmas miracle. It is a 35-page, full-colour PDF digital/ebook with ten healthy dessert recipes for a guilt-free Christmas.
This cookbook has Christmas recipe favorites like:
· Tiramisu
· Peppermint Patties
· Shortbread
· No bake Pecan Pie Bars
· Peppermint Bark
· Rum Balls
· Gingersnaps
and more! So what are you waiting for? Click here to download your copy!