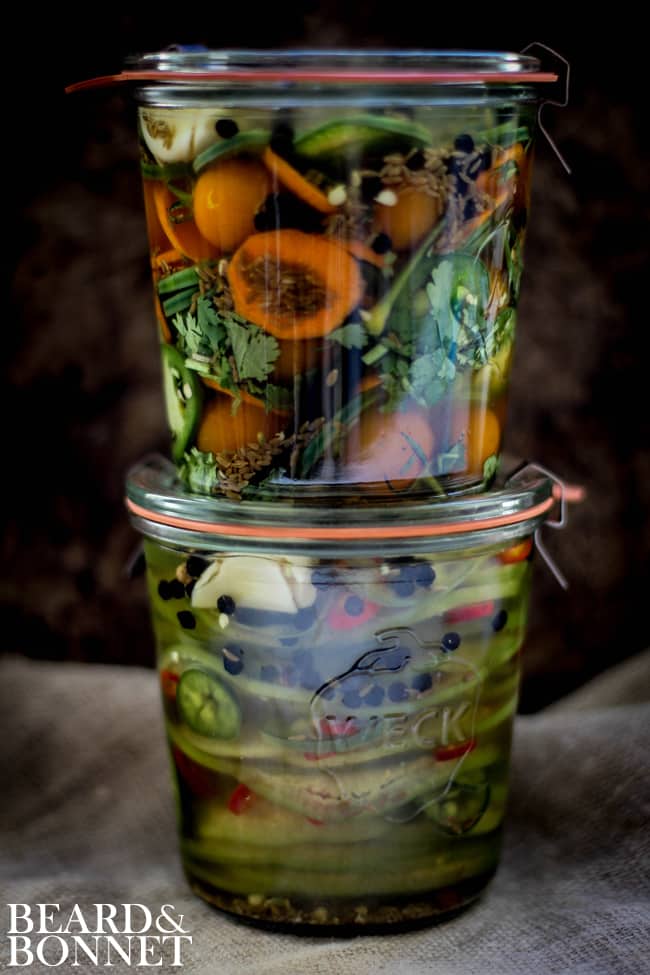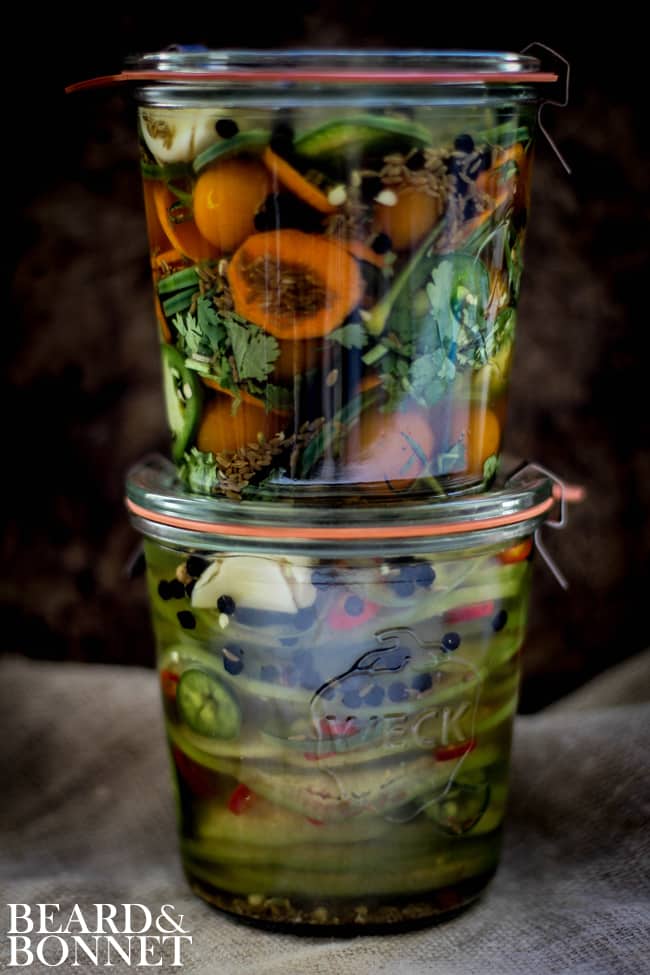 A few weeks ago I shared my recipe for a summer veggie miso bake with you; it's my go-to solution for clearing out the crisper drawer before my new CSA basket comes in every Wednesday. This week I ran into a problem, I didn't have enough veggies or the right types of veggies left to create my usual pre-CSA dish. I had a random assortment of tomatillos, peppers, one carrot, and a small basket of sun gold cherry tomatoes. As I stood looking in the fridge contemplating what to make with this rather random grouping of veggies, I noticed that the small batch of jalapeno pickles I made for Todd last week was running low.Which made me rather curious as to whether or not you could pickle tomatoes and tomatillos? Turns out you can...I know because I Googled it, innovative right?!
Admittedly, I am not a pickle fan, but my husband is so for him, and only him, I pickle things. I really adore him, huh? Todd loves layering pickled jalapenos on the sandwiches that I make him for lunch and he has also been known to adorn every taco I have ever made with pickled veggies. He tosses my homemade giardiniera with pasta for an easy lunch on the weekends and he almost always finds a way to sneak chopped pickled peppers on to his slices of frittata. Seriously, there probably isn't much that he wouldn't top with some pickled thing or another! Seeing that he seems to like every other veggie I have ever pickled I decided to use the veggies in my crisper drawer and make a few small batches of new pickles for him to try.
Since I am not a pickling aficionado I tend to make small batches like this that can be used up rather quickly. My method is simple, I start with sanitized canning jars and lids, that's fancy speak for I run them through the dishwasher, then I slice whatever mixture of veggies and herbs that I am using, I layer them tightly in the jars making sure that they are aesthetically pleasing to the eye leaving a ¼ inch at the top, then I pour the piping hot brine over them to the top of the jar and place the lid on. I allow them to come to room temperature and then I store them in the fridge. Todd will spend the next few weeks happily munching away on pickled veggies and I will be happy knowing I didn't waste any produce. We both win!
I imagine myself using these up in his lunch over the next two weeks by layering his crispy tofu and heirloom tomato sandwich with a few slices of pickled tomatillo, making side salads and studding them with pickled sun gold tomatoes and slivers of pickled carrots, and then of course there will be the usual pickled jalapenos on everything else. What's the weirdest fruit or vegetable you ever pickled?
Small Batch Pickle Brine
You can make a small batch of almost anything with this pickle brine. Simply follow the instructions in the post for layering your veggies and pour the piping hot brine over them. Super easy, wickedly fast!
2 cups

distilled white vinegar

2 Tbsp

peppercorns

1

-

2

Tbsp. sugar, depending on how sweet you like it, I only use one.

2 Tbsp

. kosher salt

2 Tbsp

. cumin seeds

4

garlic cloves, smashed
Instructions
Place all of the ingredients in a medium sized non-reactive saucepan. Bring to a boil over medium-high heat, once boiling immediately reduce the heat and simmer for 5 minutes until the sugar and salt are completely dissolved.
Pour the boiling hot brine over the prepared veggies and seal. Keep in the refrigerator for up to 3 weeks.
Notes
Yield: 1 liter or 2 ½ liters of pickles
For the tomatillo pickles
I combined thinly sliced tomatillos, jalapenos, and serrano chiles.
For the pickled cherry tomatoes
I combined sun gold cherry tomatoes, thinly sliced jalapenos, thinly sliced carrot, about a ½ cup of fresh cilantro sprigs that I chopped and a few whole chiles from our pasilla chile plant.
Recipe Card powered by
Hungry for more pickling knowledge?
Canning 101: Why you can't cook acidic foods in reactive pots: Food in Jars
Refrigerator Garlic Dill Pickles: Tasty Yummies
Canning 101: Can you reuse pickle brine?: Food in Jars
Pickling Primer: How to get started!: The Kitchn
Refrigerator Dills: So...Let's Hang Out