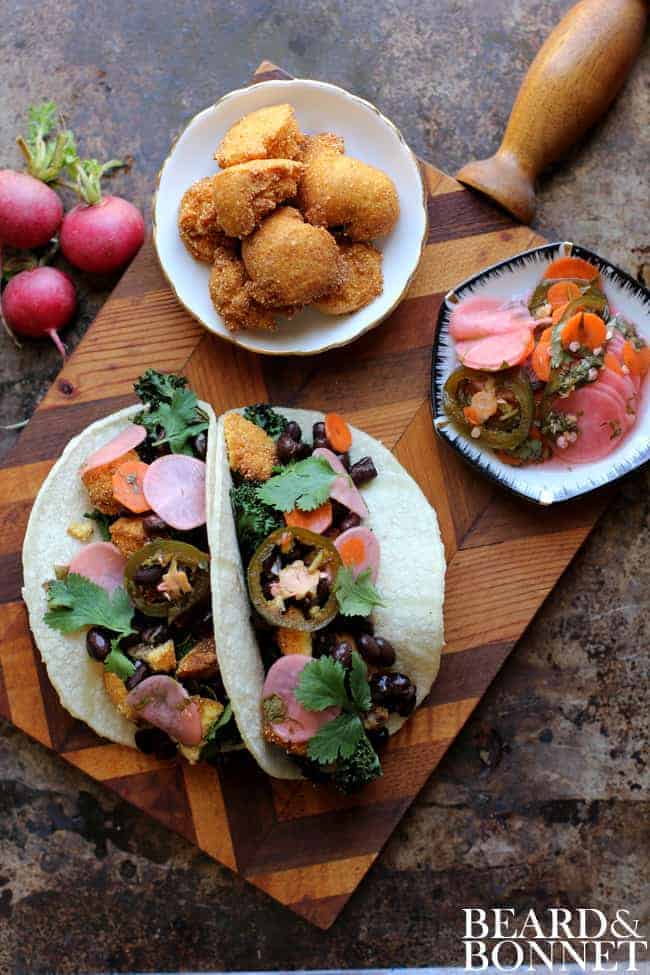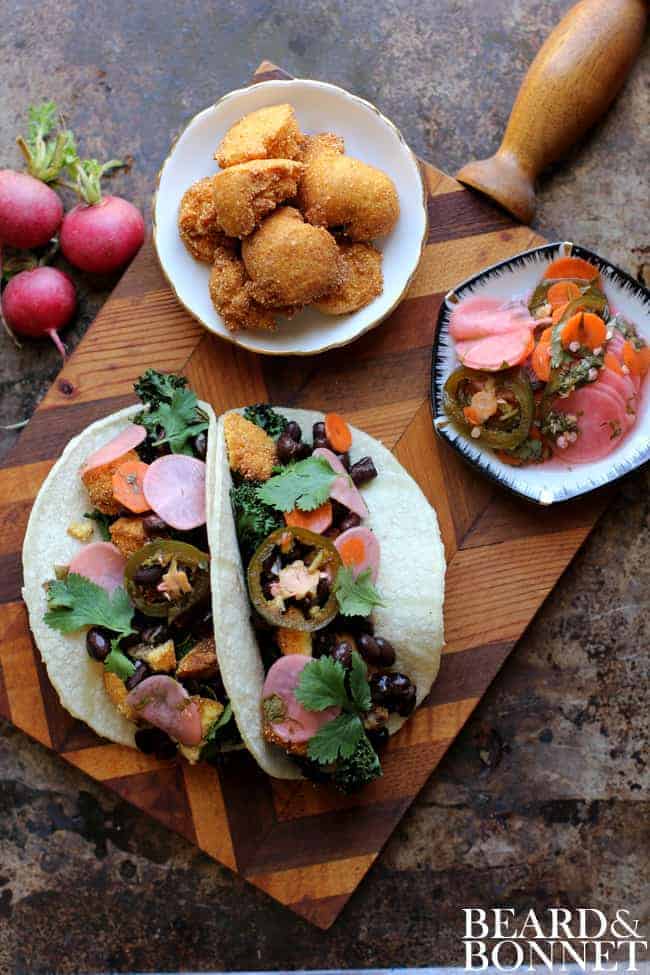 Oh yes, you read the title of this post right! Say that name a few times out loud or in your head, you can't say it without smiling can you? I may have been holding out on you with this one for a while. You see, this dish was a stroke of mad genius on my husband's part and apparently according to my numerous Google searches, a recipe like this has never been posted before. Here is how it all came together....
You see, I make these Taco Spiced Kale Chips pretty frequently now and we like to eat them with  a batch of Fast Smokey Black Beans all stuffed together in a taco shell. It is one of those meals that is constantly in the rotation at our house. A few weeks ago, I was developing the recipe for my Cilantro Hush Puppies , so we enjoyed a fresh batch with our "go-to" taco dinner. Mid-meal I looked up to see Todd stuffing hush puppies into his tacos too, it looked pretty yummy to me so I gave it a whirl. All I can say is WHOA! The hush puppies added such a crunch factor and when they soak up all of that glorious smokey sauce from the beans they just get even better!
As soon as I was done eating I excused myself from the table, rushed to the computer and Googled every combination of hush puppy and taco I could think of to see if anyone else had been enjoying this perfect pairing. I saw a lot of tacos with a side of hush puppies, hush puppies spiced like tacos, and just plain tacos, but I couldn't find one single post that combined the two. Could it be possible that this is the first time anyone has ever stuffed a taco with a hush puppy? I have no clue, but I guarantee you it won't be the last. These tacos are mind numbingly good and I can promise you that our "go-to" taco dinner will never be without the addition of hush puppies again!
Hush Puppy Tacos
Serves 4-5
1 batch of Cilantro Hush Puppies (If you want regular hushpuppies without cilantro increase the buttermilk to ¼ cup and omit the cilantro juice)
1 batch of Taco Spiced Kale Chips
1 batch of Fast Smokey Black Beans
Corn Tortillas, warmed
Condiments: Salsa, Taco Pickles, cheese of choice, sour cream, fresh cilantro
I prepare the three main components of this dish and then set them out on the table with all of the taco fixings. Be sure to put a knife with the hush puppies so that they can be halved or quartered before stuffing into the taco shells.
We are happy to have shared this recipe at the Gluten-Free Friday's link up party hosted by Vegetarian Mamma! Hop on over to find more great gf recipes.