Hot pickled jalapeños are a staple in our pantry. They are Todd's favorite condiment and he believes that they belong on almost every dish. I began making my own because they taste so much better and I am sure that they are better for us than the flimsy pea soup colored variety at the store. I was also concerned about purchasing pickled items at the store because I had read in numerous places that some distilled vinegar's contain gluten. Heinz uses corn as the main ingredient in their distilled white vinegar so it is perfectly safe for us to use in our home. The customer service representatives at Heinz are really helpful if you have any questions and will even send you a complete list of all of their gluten-free products, you can get in touch with them here. I made this 2 pound batch of pickled peppers for about $6 using a combination of Serrano and Jalapeño peppers but you can use any mix of thick flesh peppers that you would like.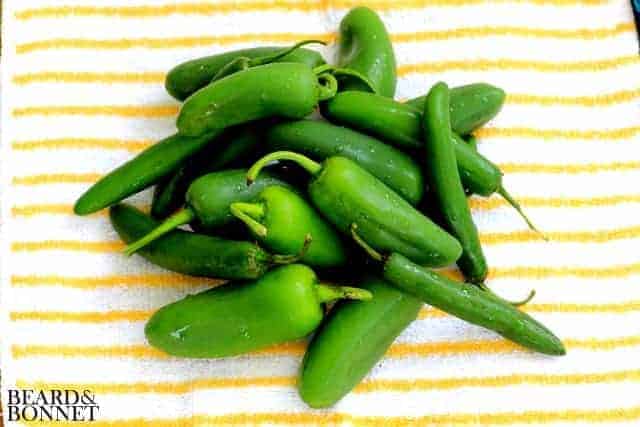 Hot Pickled Peppers: (gluten & dairy free)
Adapted from Michael Symon's Pickled Chili's recipe
Filtered water
Heinz distilled white vinegar
Sugar
Salt
2 bay leaves
1 tbsp. coriander seeds
1 tsp. cumin seeds
4 sprigs of fresh thyme
3 cloves of garlic, smashed
2 tbsp. peppercorns (I use a mix of 4 different colors black, white, pink & green)
1 - 2 lbs. mixed peppers depending on what size canning jar you will be using.
Slice the peppers and pack them into a glass jar until there is no more space. If you would like to leave the peppers whole and slice later you can do that as well just make sure that the jar is packed really tight. I like to leave a few whole peppers and slice the rest that way we have both.
I found this super helpful tip to making pickling liquid over on Michael Ruhlman's site. Seriously, you will never need a pickling recipe on hand if you remember these few simple steps. Once the peppers are packed in the jar cover them with filtered water. Pour the water into a large measuring glass and make note of how much you have. Pour out exactly half of the water and replace it with Heinz distilled white vinegar. Add 2 tablespoons sugar and 2 tablespoons salt for every 3 cups of the water and vinegar mixture. This is your pickling liquid!
Place the pickling liquid and the remaining ingredients into a saucepan and bring to a boil. Reduce the heat and simmer for 10 minutes. Let the liquid cool for a few minutes and then remove the thyme springs and bay leaves. Pour the pickling liquid over the peppers stopping ½ inch from the top. Slide a clean rubber spatula around the inside of each jar to remove air bubbles. Wipe the rim with a clean towel and screw on the lid. Let the pickles rest for a few hours to cool and then shake the jar to distribute the spices evenly. The spices will settle as the pickles sit in the fridge so I turn my jar every few days to let the spices redistribute.
You can use these little beauties as soon as they have cooled but the flavor gets better with time so, if you can resist, let them sit for at least 4-5 days. They will last for up to 2 months in the fridge...maybe even longer. We go through them too fast for me to really know.