Are you looking for a gluten-free sugar cookie recipe that's perfect for icing? Our gluten-free sugar cookies are heavily vanilla-scented and super easy to make. Plus, they roll out in a breeze, don't spread when baking, and are sturdy enough to decorate with icing! What are you waiting for? Let's start baking cookies!!!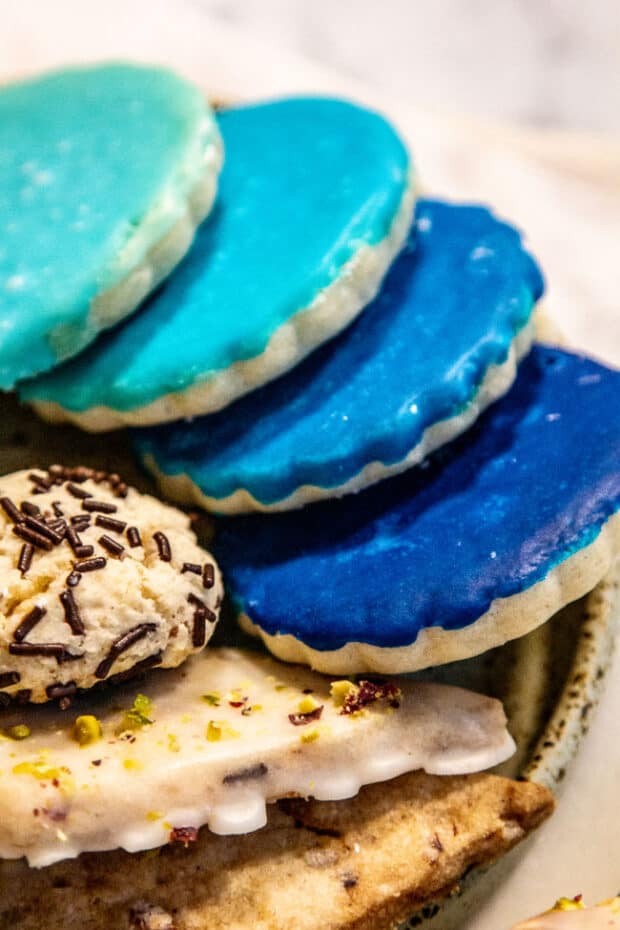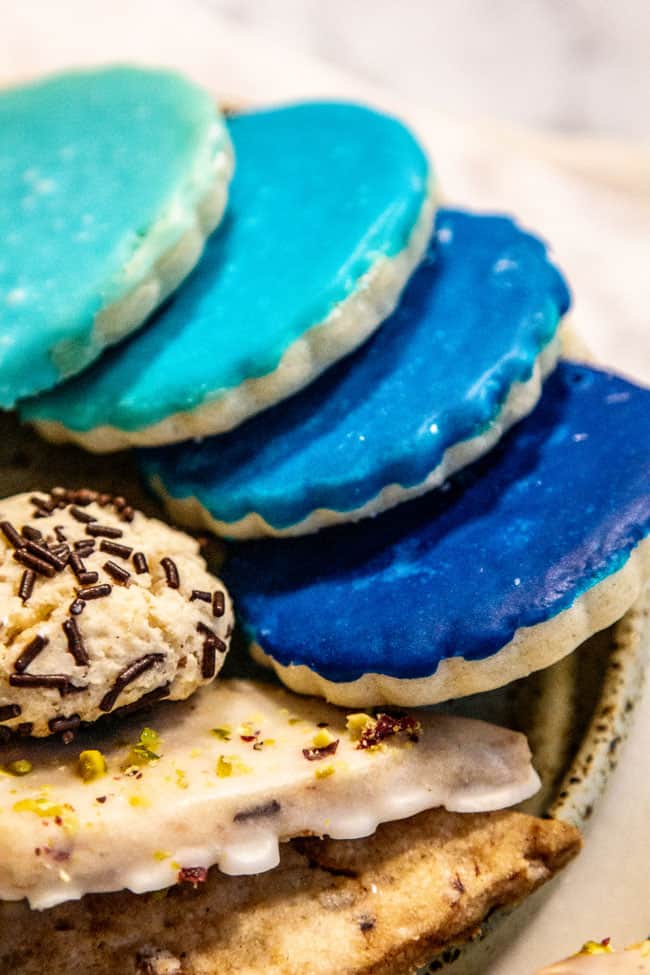 Decorating sugar cookies is a fun and memorable activity for both kids and adults. Kids love to eat the end product, but decorating cookies is a great way for children to use their imagination and develop their fine motor skills in the process. Not to mention decorating cookies is a lesson in patience itself, as it can be difficult at first!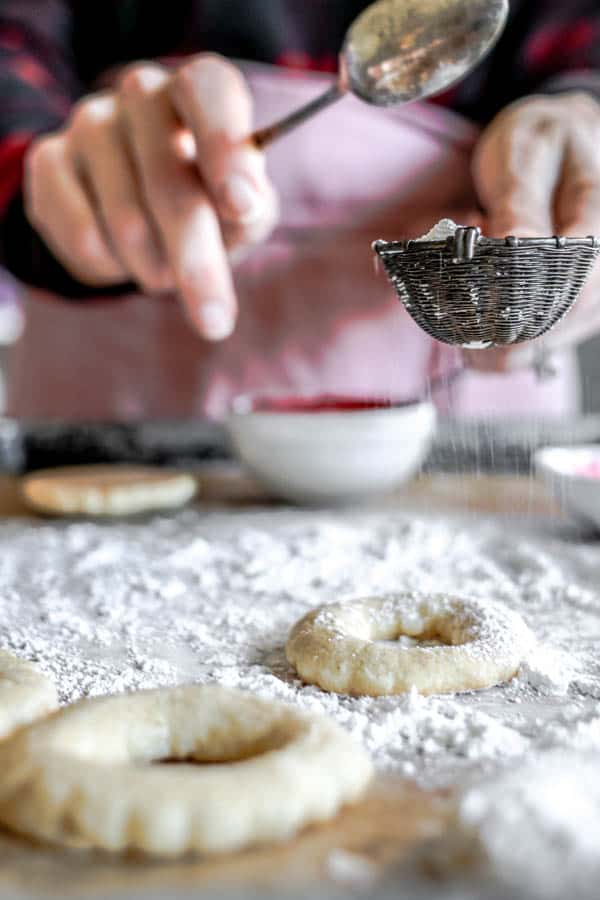 Ingredients needed to make gluten-free sugar cookie dough
It only requires 7 very basic ingredients to make this gluten-free sugar cookie dough. Seven. Sure we could have been fussy and blended flours and starches to get the same end result, but that would have overcomplicated the process of making the dough. Which in my opinion, making cookie dough for a project like this should be easy because all the effort can then go into decorating.
Gluten-free all-purpose flour:
I like King Arthur Flour, Gluten-Free Measure for Measure flour for this particular recipe. I don't typically call out flour brands in our recipes, but here I felt it was appropriate. The whole point of these sugar cookies is to be delicious, yes. But to also be sturdy enough to hold up to being rolled, punched into shapes, baked without spreading, and then iced. It's a tall order for any gluten-free cookie recipe - but this recipe coupled with King Arthur Flour, Gluten-Free Measure for Measure flour has never let me down.
Baking powder
Most bakers make sure to stay stocked with baking powder during the holidays, however, if you do happen to find yourself in a pinch and you don't have any baking powder. Here is how to make baking powder at home:
Combine ½ cup cream of tartar and 4 tablespoons baking soda in a sifter.
Sift together into a large bowl. Repeat the sifting process 4 times.
Your homemade baking powder is ready to use and can be stored in an airtight container for up to 6 months.
Salt
I almost always use coarse kosher salt in my recipes. So if you use table salt or fine sea salt the measure of salt will be different.
½ teaspoon coarse kosher salt is equal to ¼ teaspoon fine grain salt.
Sugar
Nothing fancy here just regular granulated sugar.
Butter
I do use salted butter in my baking which is a bit unorthodox I know, but I like the flavor it lends. If you use unsalted butter be sure to add an extra pinch of salt to the gluten-free sugar cookie dough.
Vanilla bean paste or extract
I am a lover of vanilla and prefer to either use real vanilla beans, my homemade vanilla extract, or vanilla bean paste. The flavor really comes through in this gluten-free sugar cookie dough.
I also love Vanilla Extract from King Arthur Baking Company. They have ethically sourced Vanilla Extract from sustainable farmers in Madagascar. Their Vanilla Extract is great quality and is a pantry staple that you can use time and time again in recipes.
Eggs
When making this gluten-free sugar cookie dough it is important to allow the cold ingredients like eggs and butter to come to room temperature before incorporating them together into the dough.
Now that you know all about the best gluten-free sugar cookie recipe for icing, let's talk about the actual icing and explore some fun ways to decorate them!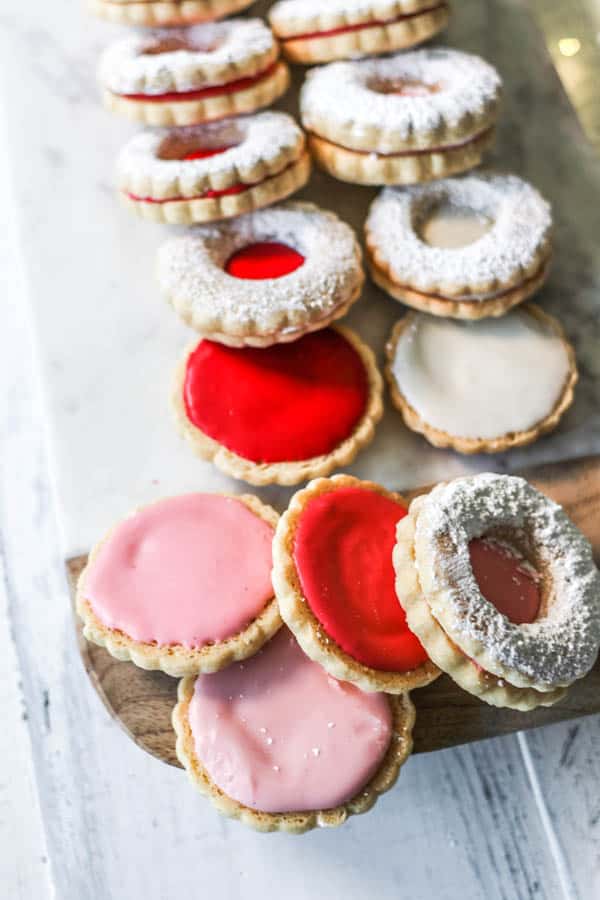 How to make icing for this gluten-free sugar cookie recipe
To make the colorful sugar cookies you see in this post I use a simple powdered sugar and milk icing tinted with food coloring.
2 cups powdered sugar, sifted
4 tablespoons milk
¼ teaspoon vanilla extract
Combine the ingredients for the sugar cookie icing in a bowl and whisk to combine. If you skipped the sifting step you may have lumps in your icing and it will require a bit of elbow grease to whip them out with a whisk.
Now that you have a large batch of icing you can split it up into smaller containers and tint any color your heart desires.
To decorate the cookies as we did, simply dip the top of each completely cooled cookie into the icing to coat, allow excess to drizzle off, then place on a wire rack or parchment for a few hours until the icing has set and cookies can be stacked without the icing transferring from one to another.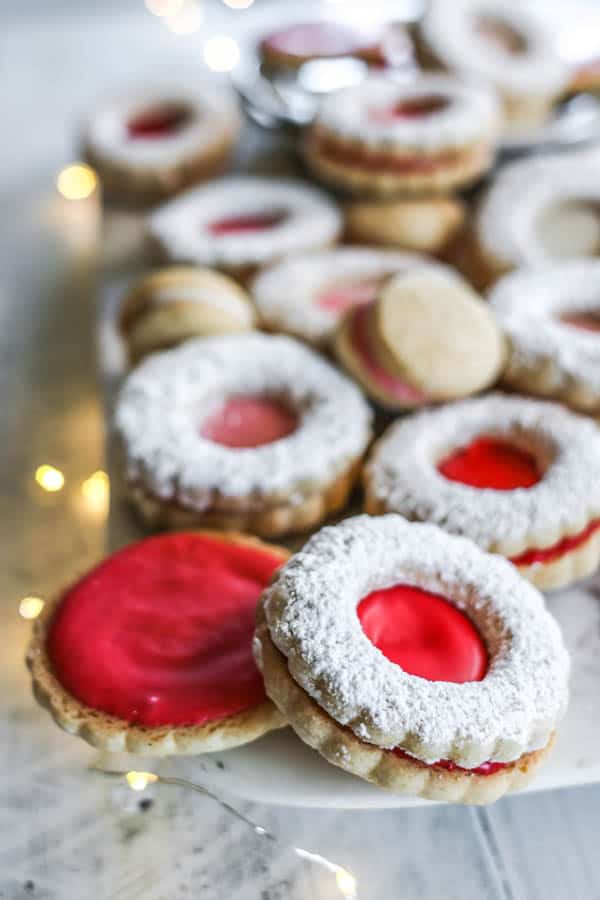 Looking for more ways to decorate gluten-free sugar cookies?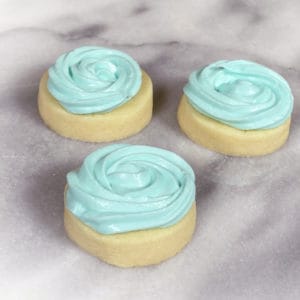 These Sugar Cookie Rosettes from G Free Foodie are so cute and super easy! They're fabulous for the holidays or shower gifts & treats, or to add to a dessert display.
You can make the rosettes any color you want, or mix & match!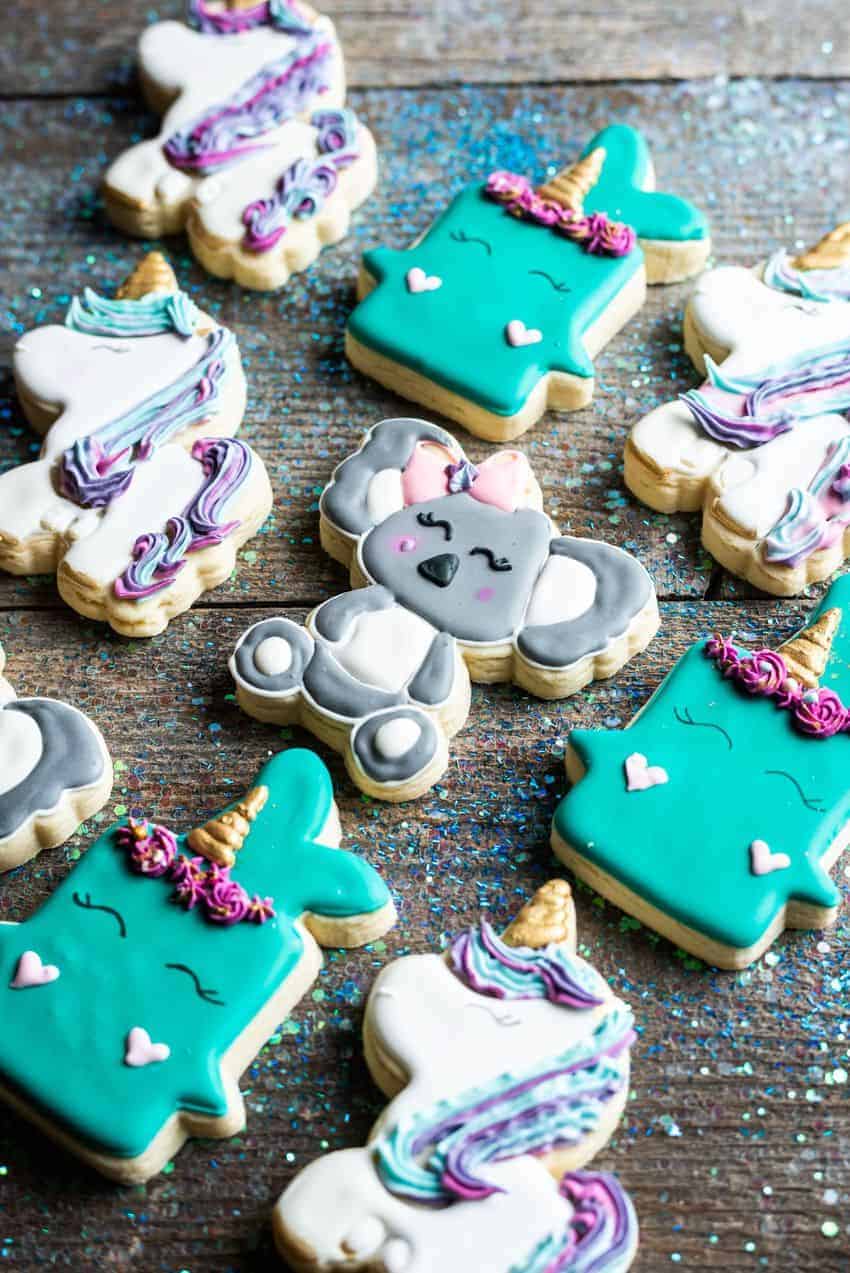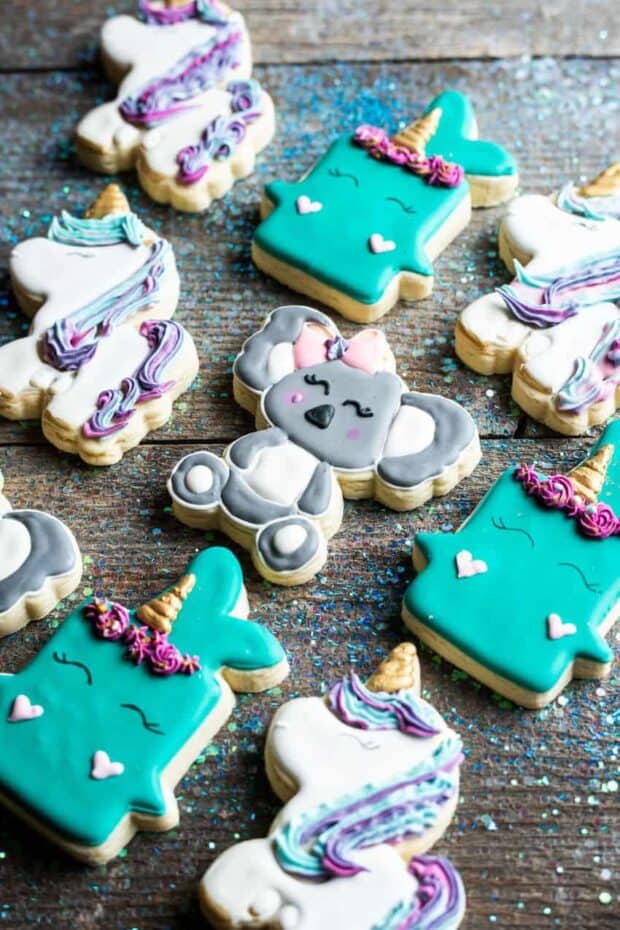 If you are far more ambitious in your decorating than I am you might just want to make a big batch of Royal Icing and my friend G Free Foodie has the perfect recipe.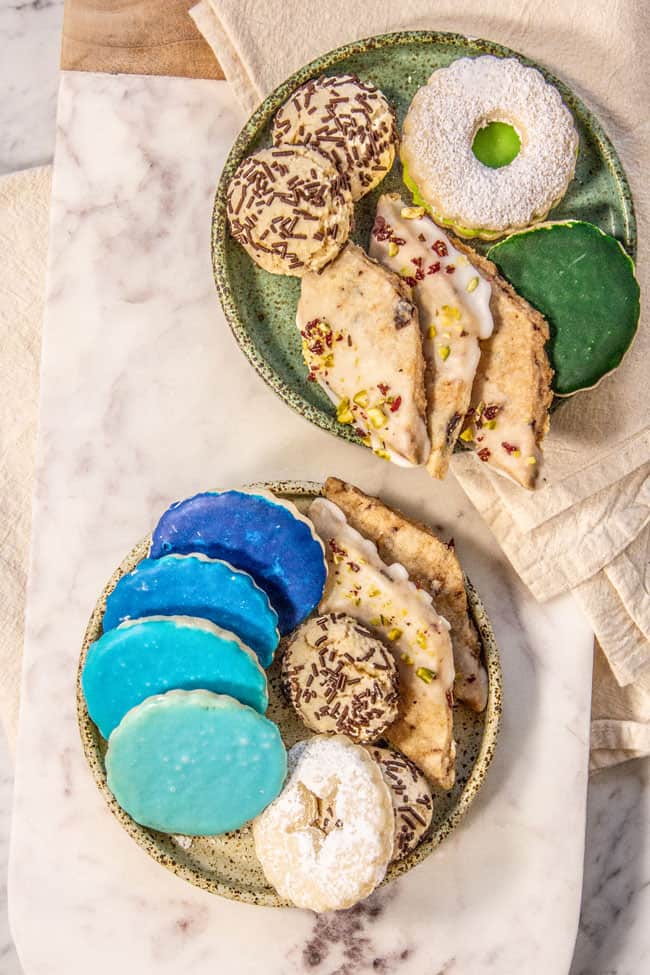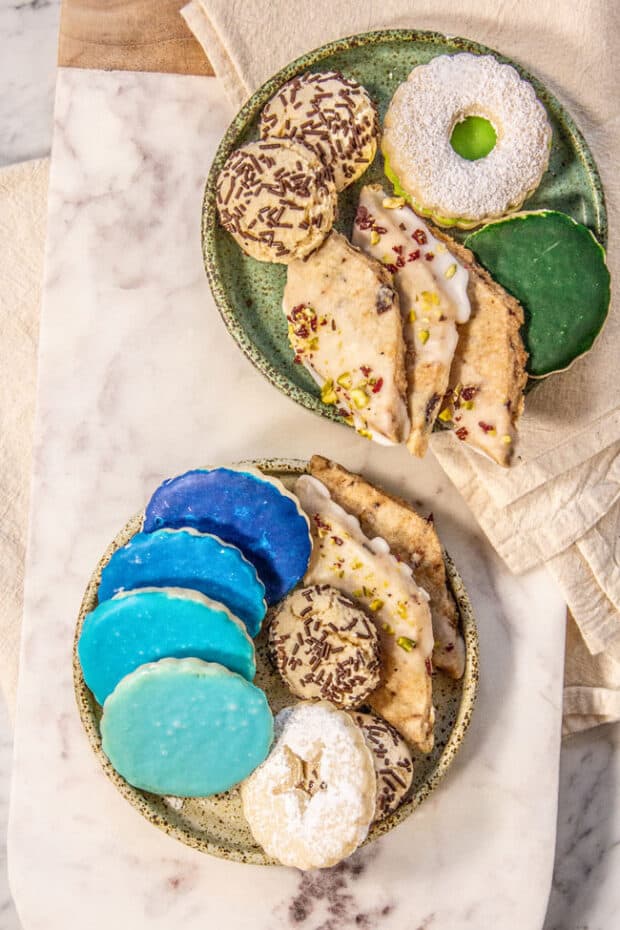 While I do LOVE this gluten-free sugar cookie recipe, I have lots of other holiday favorite gluten free cookie recipes up my sleeve for you too!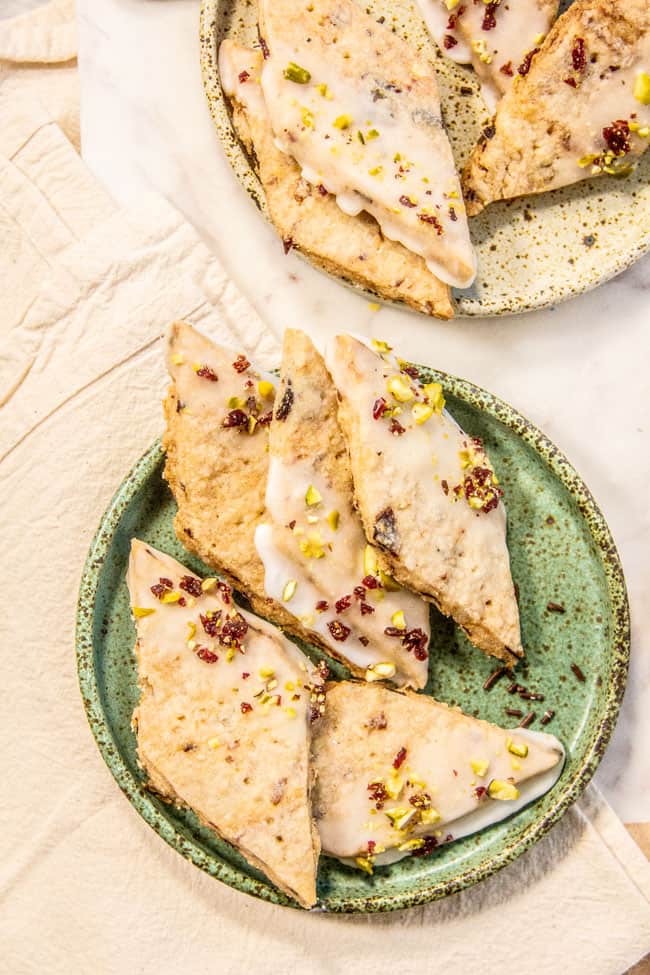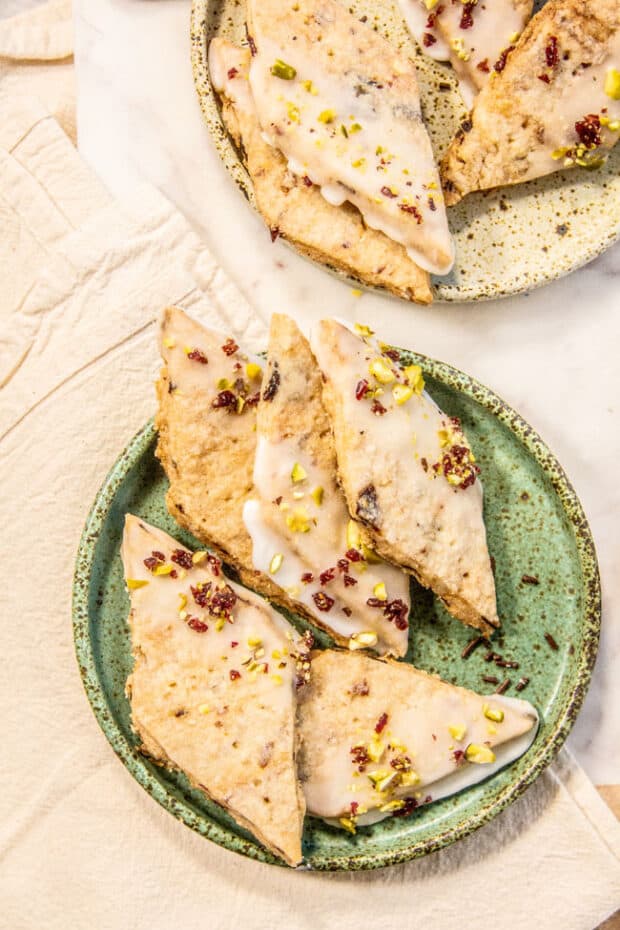 This tender buttery cookie is laced with all the makings of traditional sugar plums folded into the batter like finely diced California prunes, cranberries, dates, and almonds.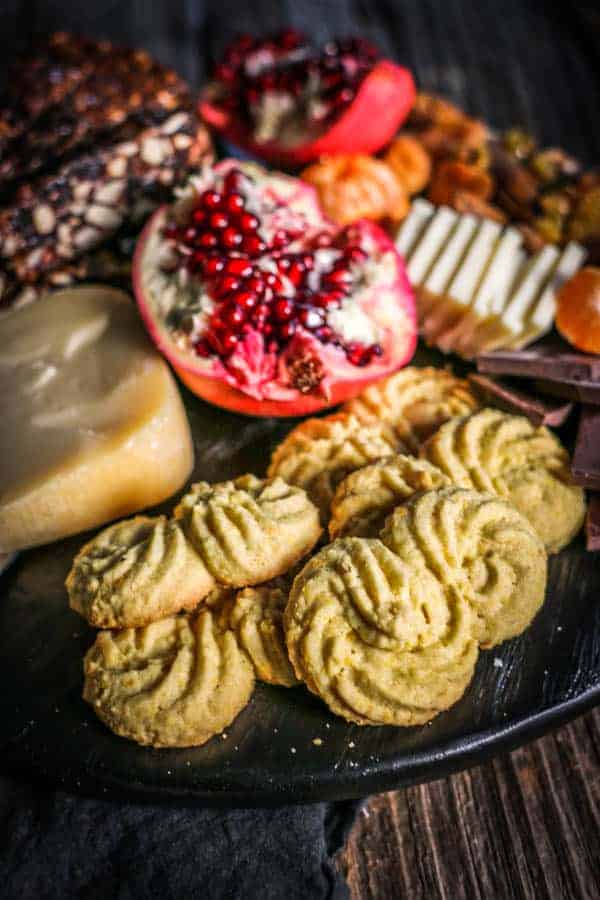 These holiday cookies have just the right amount of crunch in every bite and are loaded with vanilla beans and fresh citrus zest!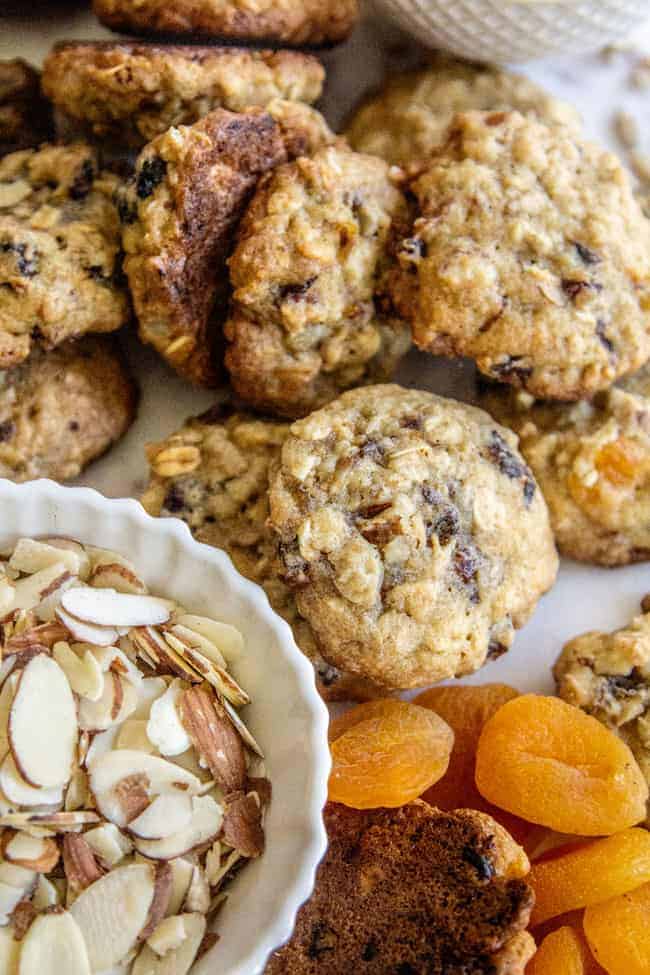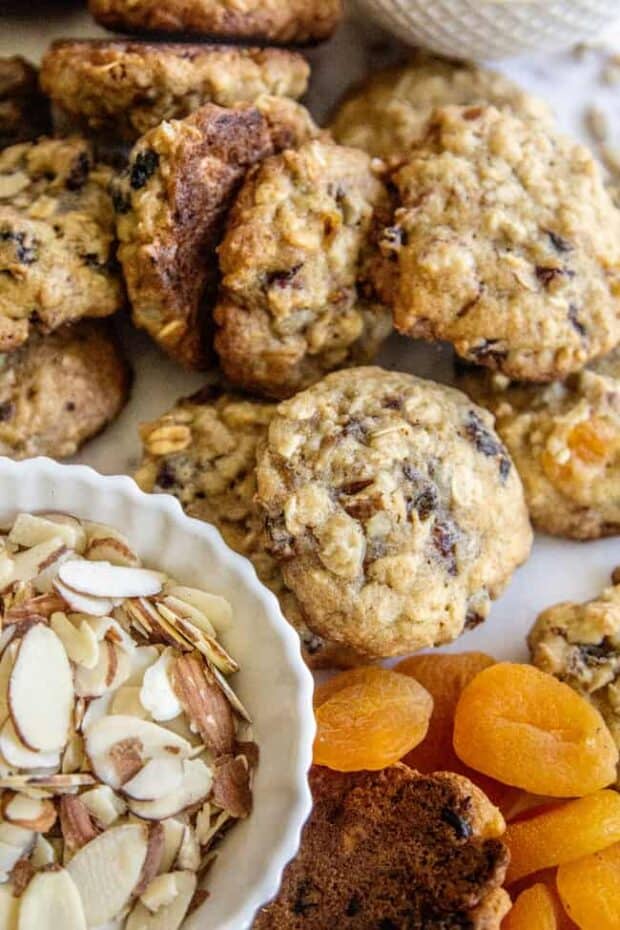 With whole grain oatmeal, four types of dried fruit including California prunes, two types of nuts, and one hearty seed rounding out the ingredient list, these cookies that I created for California Grown are actually a better breakfast choice than your sugar-laced bowl of cereal!
If you've given any of our cookie recipes for the holiday a try I would be so grateful if you would rate the recipe with a star rating and let me know what you think in the comments below!
I just love hearing from you! Your reviews and comments really help others that visit This Mess is Ours.
Print
Gluten Free Sugar Cookie Recipe
Don't forget to rate the recipe, and let me know what you think about these Gluten Free Sugar Cookies in the comments below. I just love hearing from you. Your reviews/comments really help other people that visit This Mess is Ours!
Author:
Prep Time:

20 minutes

Chill Time:

1 hour

Cook Time:

12 minutes

Total Time:

1 hour 32 minutes

Yield:

3 dozen, depends on shape/size of final cookie

Category:

Dessert

Method:

Baked

Cuisine:

American

Diet:

Gluten Free
For the cookie:
2 ½ cups gluten-free all-purpose flour
1 teaspoon baking powder
½ teaspoon salt
1 cup granulated sugar
¾ cup ( 12 tablespoons) butter, softened
1 teaspoon vanilla bean paste or extract
2 eggs, at room temperature
For the icing:
2 cups powdered sugar, sifted
4 tablespoons milk
¼ teaspoon vanilla bean paste or extract
Optional for decorating: powdered sugar, food coloring
Instructions
For the cookies:
Whisk flour, baking powder, & salt together in a bowl.
Beat sugar, butter, & vanilla together in the bowl of an electric mixer until smooth; beat in the eggs, one at a time, until the mixture is smooth.
Mix the flour mixture into the butter in two additions. Mix until completely combined.
Form dough into a disc and wrap with plastic wrap. Refrigerate for at least 1 hour, preferably overnight.
The dough can be made up to 3 days in advance of baking, wrapped, stored in the fridge.
Preheat oven to 325°F and line a sheet pan with parchment.
Roll the dough in between 2 pieces of parchment or wax paper, lightly dusting the papers if needed with powdered sugar.
Cut into shapes using cookie cutters dipped in powdered sugar to prevent sticking. Arrange the cookies on the prepared baking sheet.
Bake for 12-14 minutes until golden around the edges. Cool completely on wire racks.
To make the icing:
Whisk the sifted powdered sugar, milk, and vanilla together until completely combined. Separate smaller portions of the white icing into little bowls and add in food coloring if desired.
Dip the cookies into the icing top-down and allow them to dry completely on a wire rack for a few hours.
Nutrition
Serving Size:

1 cookie

Calories:

147

Sugar:

14.6 g

Sodium:

45.5 mg

Fat:

4.9 g

Carbohydrates:

25 g

Protein:

1.2 g

Cholesterol:

24.6 mg
Keywords: gluten free sugar cookie, sugar cookie recipe, holiday cookie, sugar cookie for icing, gluten free iced sugar cookie
Recipe Card powered by