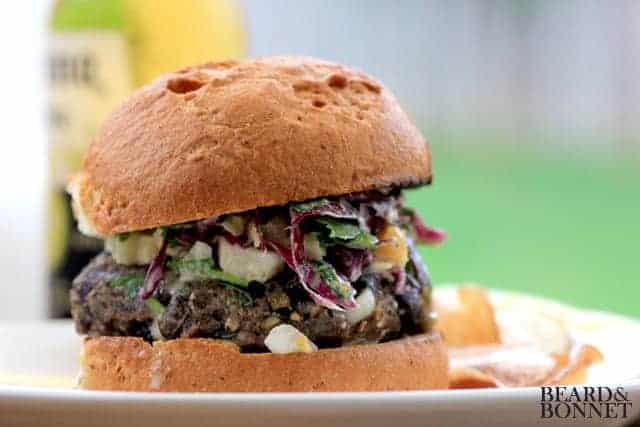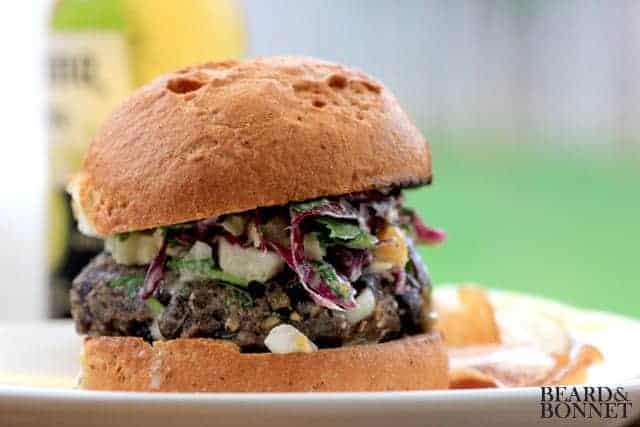 It wasn't easy to find this Black Bean Burger Recipe. Some veggie burgers aren't really like burgers at all. They are mushy in the center and they have a tendency to ooze out of the side of your bun when you bite into them. Ick! I have spent hours prepping to make a veggie burger that sounded like it would be "the one" only to be utterly disappointed when I sat down to eat.
I have been on a mission for over a year to create the perfect burger for our family. Testing and tasting through a countless number of recipes with some victories and quite a few epic failures. After all of this time I am happy to say that I have finally created the burger that is our families "go to" recipe. My black bean patties hold up to being stacked high with toppings and sandwiched between two buns. They won't turn to mush like others you may have tried and they have a great smoky flavor that can't be beat. Best of all, they are so easy you won't dread making them and I promise that you won't be exhausted from prepping and cooking them when it comes time to eat.
Eliza came home from her grandparents' house yesterday and requested these super simple burgers and a side of homemade potato chips. When I asked her how she wanted to top the burgers she decided that they would be really great piled high with our Zesty Cilantro Jicama Slaw and I have to admit, she was right. You can top them any way that you see fit but, if the mountain of yummy slaw goodness looks appealing to you I will be posting the recipe later in the week.
Here are a few suggestions for topping this super versatile black bean burger recipe:
Classic: mustard, ketchup, lettuce, a slice of tomato, onion and pickles.
Tex-mex: chunky salsa, sliced avocado, and pickled jalapeño's. (Click here for my easy pickled peppers recipe.)
Sunny side up with a fried egg and bacon: if you are not vegetarian. Just make sure that you are making gluten-free bacon like this one.
We are happy to have shared this post at the Gluten-Free Friday's link up party hosted by Vegetarian Mama, Eat.Live.Make, and Gluten Freed R.D.! Hop on over to find more great gf recipes.
If you've tried this Perfect Black Bean Burger Recipe, I would be so grateful if you would rate it. Let me know what you think in the comments below. I just love hearing from you, and your reviews and comments really help others that visit This Mess is Ours!
Print
The Perfect Black Bean Burger
Don't forget to rate the recipe, and let me know what you think about this Perfect Black Bean Burger in the comments below. I just love hearing from you. Your reviews/comments really help other people that visit This Mess is Ours!
½ cup

gluten-free rolled oats

2

15-ounce cans of black beans, drained and rinsed

1

large egg

½ tsp

. ground cumin

½ tsp

. ground coriander
Kosher salt

1

scallion, light green and dark green parts only, minced

½ cup

shredded jack cheese or dairy free cheese, Daiya works really well

1

-

2

Tbsp. chopped fresh cilantro
Olive Oil

1

-

2

Tbsp. Butter or Earth Balance
Gluten-free hamburger buns, I use Udi's Buns
Instructions
Pulse oats in your food processor 3-5 times to roughly chop then add in one can of  drained and rinsed black beans. Pulse and additional 5-6 times creating a chunky paste.
Add in the egg, cumin, coriander and salt and blend in the processor until most of the large pieces are gone. You will be left with a thick paste that will act like the "glue" to your veggie burger.
In a medium-sized bowl, mix the remaining can of drained and rinsed black beans with the cilantro, cheese, scallions and the mixture from the food processor then season with salt to taste.
Wipe a little olive oil on a large plate and then with wet hands, form the bean mixture into patties and place on the plate. Don't worry if it seems a little gooey, it is supposed to.
Ideally, I like to make the patties and let them rest in the fridge for 30 minutes or more so that the flavors can all mingle together and get really happy but, in a pinch, you can leave the plate in the fridge for about 10 minutes and they will be good to go.
While you are waiting on the burgers to set up, spread butter or Earth Balance on your hamburger buns and toast them.
Heat a cast iron skillet over high heat until screaming hot. Add 1 tablespoon of olive oil and swirl pan to coat.
Cook the burgers until a nice crispy crust has formed on the outside, about 2-3 minutes, then flip to cook the other side another 3-6 minutes. You will know that the burgers are done when the center of the patty is firm to the touch.
Notes
Makes 5 large, thick patties or 10 sliders.
Nutrition
Serving Size:

1 patty

Calories:

381

Sugar:

1.6 g

Sodium:

1311.3 mg

Fat:

11.6 g

Carbohydrates:

51.7 g

Protein:

15.7 g

Cholesterol:

46.6 mg
Recipe Card powered by
Want to be a part of our online community outside of the blog? It's easy!! All you have to do is follow @THISMESSISOURS on FACEBOOK, INSTAGRAM, TWITTER, YOUTUBE, or PINTEREST to see cooking demos and peeks into our day to day life.
What are the health benefits of black beans?
Black beans are filled with nutrients such as calcium and magnesium which help keep bones strong and healthy, making them a great alternative to meat for vegetarians. Combined with the low sodium content, these nutrients also help to lower blood pressure. The high amount of fiber and low amount of cholesterol in black beans help to manage diabetes and improve heart health.
Click here for more information on the health benefits of black beans.
Frequently Asked Questions