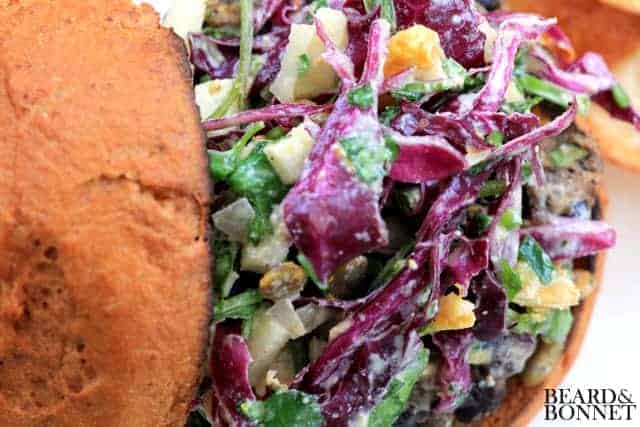 I can't take credit for this yummy slaw but, I can say that it is part of our regular line up of gluten and dairy free dining. Our 10-year old daughter loves this slaw and asks for it whenever we have our black bean burgers. This time we made the slaw together and had so much fun! Eliza was in charge of zesting and making the dressing and I was in charge of slicing and chopping. I love recipes that make enough to last for a few meals and this one does just that. We like to top burgers the first night, tacos the second and if there is any left we have it as a side dish the next night.
Zesty Cilantro Jicama Slaw
makes about 4 cups (adapted from The Family Kitchen)
1 1/2 cups red cabbage, shredded
1 cup jicama, peeled and thinly sliced
1/2 cup orange, diced
1/4 cup white onion, diced
1/2 tsp. lime or orange zest, I use a mixture of both.
2 Tbsp. jalapeno, diced
3 Tbsp. extra virgin olive oil
2 Tbsp. tahini
3 tbsp. pumpkin seeds (pepitas)
3 Tbsp. lime juice
1 cup cilantro (stems and leaves), chopped
1 Tbsp. agave syrup
1/4 tsp. cayenne
salt and pepper to taste
1-2 Tbsp cashew cream, vegan mayo or plain yogurt
Slice, chop and zest all of your veggies.
Combine all of the prepared veggies and pepitas in a large mixing bowl and toss well to combine. In a separate bowl mix all of the wet ingredients for the dressing and stir well to combine.
We add the dressing to our slaw half a cup at a time until it reaches our ideal level of dressing to slaw ratio. There really is no right or wrong here it is all about personal preference. Once dressed, add salt and pepper to taste.
Cover and chill until ready to eat.
(Visited 18 times, 18 visits today)