Say hello to my gluten-free, southern spin on the irresistible classic, Greek Avgolemono Soup! My version is creamy and bright just like an authentic bowl of Avgolemono, but I use one of my favorite Southern pantry staples to make this recipe truly my own!
What is Avgolemono Soup?
The Greek word Avgolemono (pronounced ahv-go-LE-mono) literally means "egg-lemon," with "avgo" meaning "egg" and "lemoni" meaning  "lemon." 
​This soup is usually made with chicken broth, rice or orzo, lemon juice, and eggs, and it is simple, soothing, and nutritious. Avgolemono is creamy and silky smooth in texture with a lemony trademark flavor. But, surprisingly this soup contains neither cream nor butter, only eggs, lemon juice, and broth.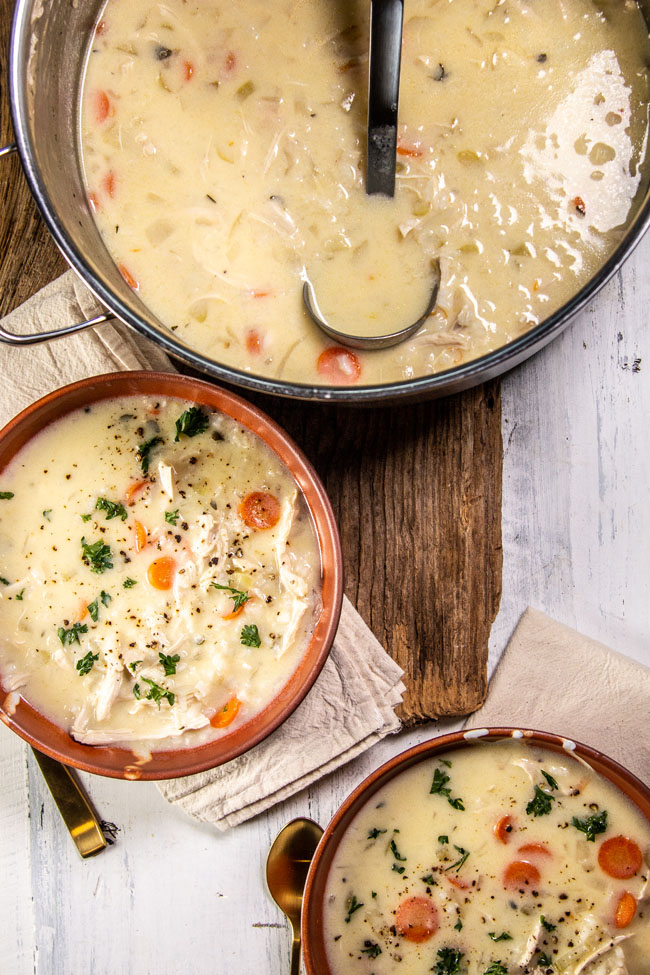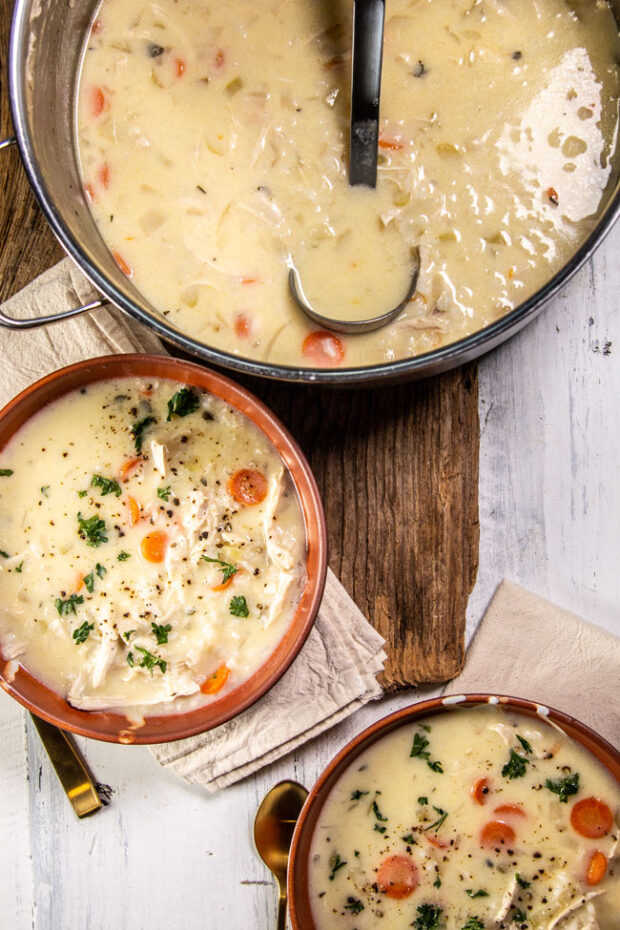 The history of Avgolemono soup
Most food historians link the roots of Avgolemono to southern Europe, implying that Sephardic Jews took the original versions of this recipe to Greece with them.
At that time lemon juice wasn't used as the sour component in this soup. Instead, it was made with the highly acidic juice of pressed unripe grapes, crab apples, pomegranate juice, or bitter orange juice.
But, after the lemon's popularization in the Mediterranean during the tenth century, lemons became the standard souring agent in Avgolemono soup recipes.
Now let's talk about how I put my own unique Southern spin on this traditional Greek soup....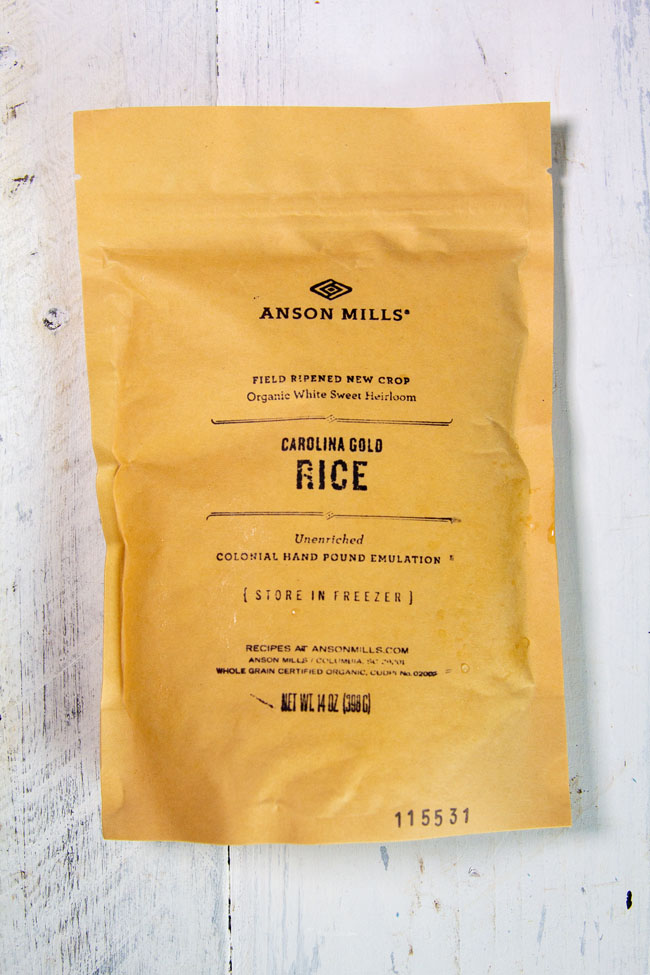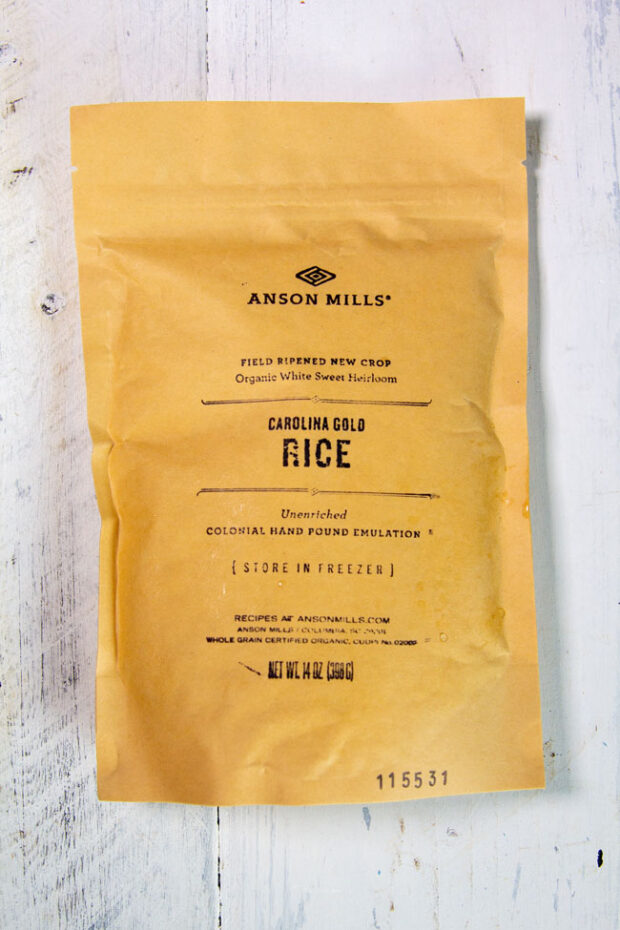 Instead of orzo or standard white rice, I like to make my Avgolemono with a true Southern staple, Carolina Gold Rice. Of course, you can make this recipe without it, opting for regular rice. But, I assure you the Carolina Gold Rice adds a rich, toasted-buttery flavor to the soup that is exquisite.
What is Carolina Gold Rice?
Carolina Gold Rice took top billing as my favorite type of rice the second I tried it! Why? It's superior taste and the ambiguous texture profiles that you can coax out of it.
This rice is a master of disguise and the texture in the final dish all depends on how you prepare it. You can create fluffy, separate grains of golden rice, creamy risotto, or even sticky Asian-style rice.
Just try that with your bag of Basmati - spoiler alert it isn't gonna work!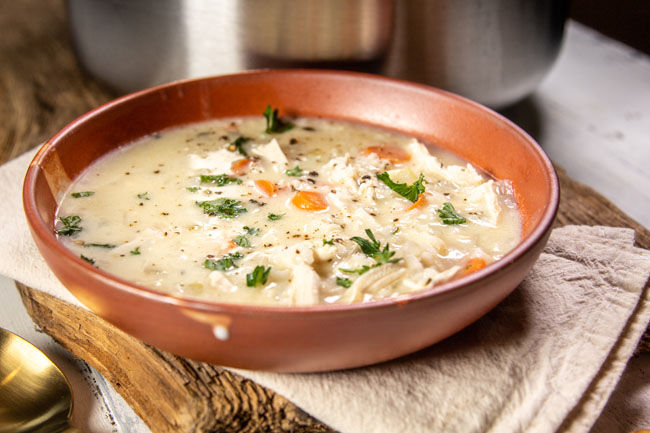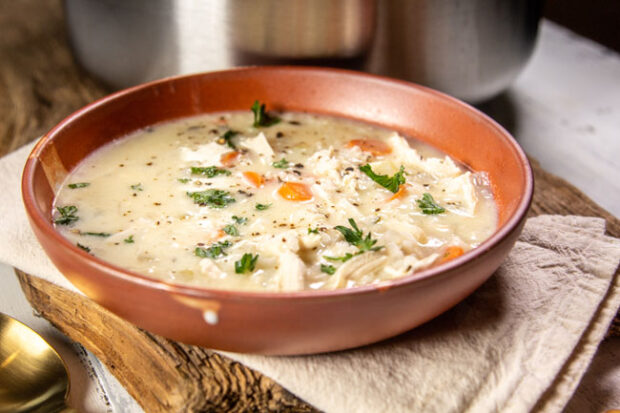 What does Carolina Gold Rice taste like?
Carolina Gold Rice is rich and buttery with a pleasant nutty taste that is reminiscent of toasted hazelnuts or brown butter. It is unlike any rice you have ever tasted and it is possible you will be ruined forever after trying it.
What makes Carolina Gold Rice different from other rice?
While today very few people know about true Carolina Gold rice, it was once the most popular rice grown in America, and the first commercial rice this country ever produced. This heritage grain has a plump, fluffy texture and offers its consumers a hauntingly buttery flavor because the rice's germ and inner bran layer are left intact after being harvested.
Carolina Gold Rice, unlike other rice on your grocery store shelf, is a living grain which means it is packed with more vitamins and nutrients than your typical grocery store's rice has to offer.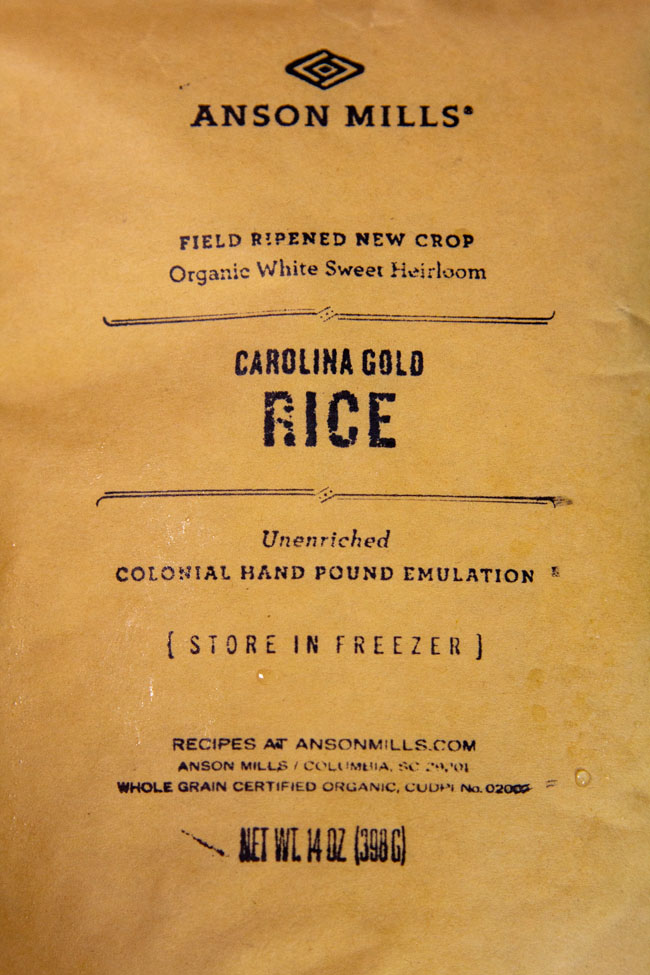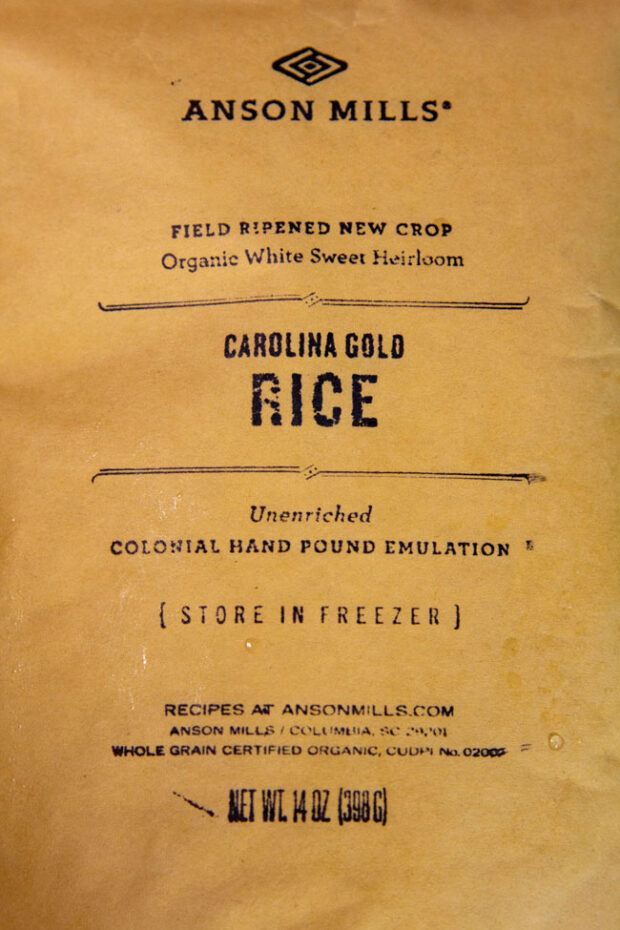 How did Carolina Gold Rice come to America?
Sadly, this grain of rice has a tragic, tumultuous history that was only made worse by its rising success and popularity.
Carolina Gold Rice was brought to this continent on slave ships in the late 1600s from West Africa and was popularized in South Carolina in the 1780s. This grain of rice eventually became the first commercial rice that America ever produced and exported around the world. This rice thrived as America's primary rice crop up until the Civil War, when the end of slavery, and a series of hurricanes, destroyed the majority of South Carolina's rice crops.
During the years of its success, Carolina Gold rice sadly increased demand for more slaves from western Africa, the continent's so-called Rice Coast, who knew better than anyone else how to plant, tend, and harvest the grain in the tidewater areas of South Carolina, Georgia, and North Carolina.
Gold rice ultimately lost popularity to new rice varieties and after the Depression became virtually extinct. That is until the mid-1980s, when a plantation owner from Savannah, GA collected stores of Carolina Gold from a United States Department of Agriculture (USDA) seed bank and brought the grain back to its former home along the coastal wetlands south of Charleston. Because that original strain of rice has died out in Africa as well, it's now uniquely an American crop.
If you are like me you probably wanted to know what happened to the slaves that were brought here to plant and harvest this rice after it became extinct.
Today the descendants of the West and Central Africans who were enslaved and sold to the lower Atlantic States of North Carolina, South Carolina, Florida, and Georgia for work on coastal rice, Sea Island cotton, and indigo plantations are known as the Gullah Geechee.
Because they were held on isolated coastal plantations and barrier islands, many of their indigenous African customs survived. Their cuisine, performing arts, and spiritual beliefs are all examples of this. They also developed a new language, Gullah, which is a creole language spoken only in the United States. You can read more about the Gullah Geechee by clicking here.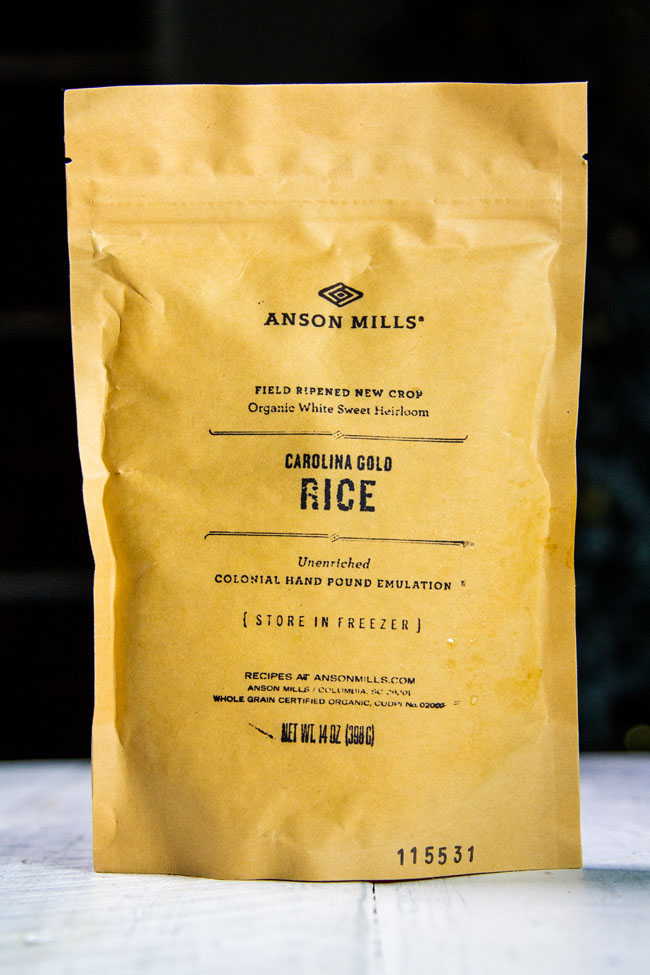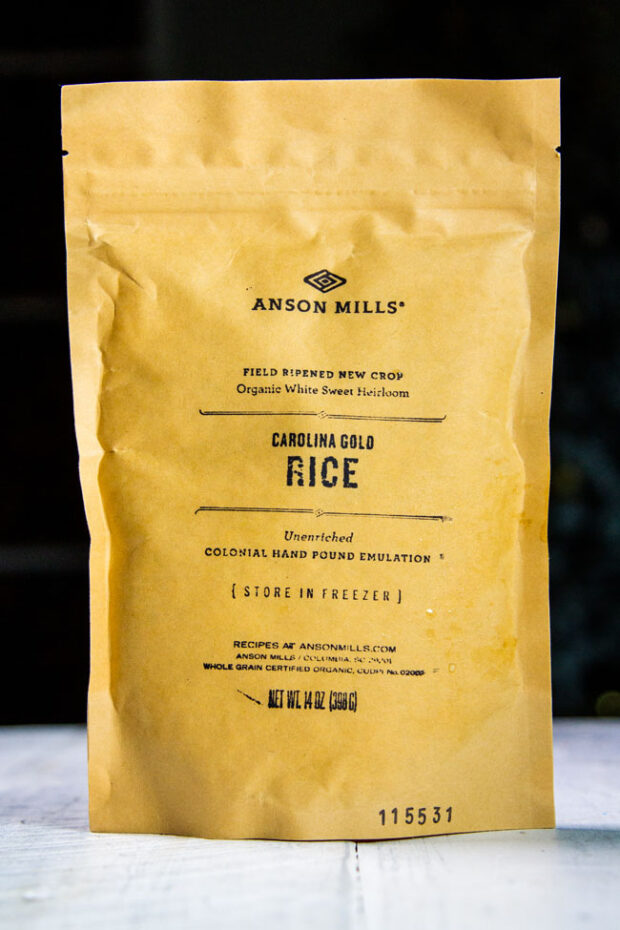 For sticky rice only boil the rice. For fluffy separate grains of rice boil and then finish in the oven.
In a large pot, bring 6 cups of water to a boil with salt.
Preheat the oven to 350 F and line a baking sheet with parchment paper while the water is coming to a boil.
Stir in 1 cup Carolina Gold Rice to the water. Bring the water to a boil again, then reduce the heat to a simmer for about 15 minutes. 
Pour the cooked rice into a strainer and rinse with cool water.
Spread the rice out using the prepared baking sheet, then bake in the oven for 5 minutes. 
Does Carolina Gold Rice need to be refrigerated?
Because the germ—and subsequently the rice's natural oil—is left in, the rice is a perishable product and needs to be stored in the freezer or refrigerator instead of in your pantry. You will also notice that true Carolina Gold Rice is sold in packages that are not made up of transparent film like other shelf-stable rice from the supermarket. Instead, true Carolina Gold will always be sold in packages that block out light further preserving the delicate grain inside.
Looking for a traditional Greek Avgolemono soup recipe?
It is no secret that I'm not Greek and I definitely do not personally have a Yia Yia that taught me how to make Avgolemono soup. But, my friend Joanna is Greek and did have the influence of a very Greek Yia Yia growing up.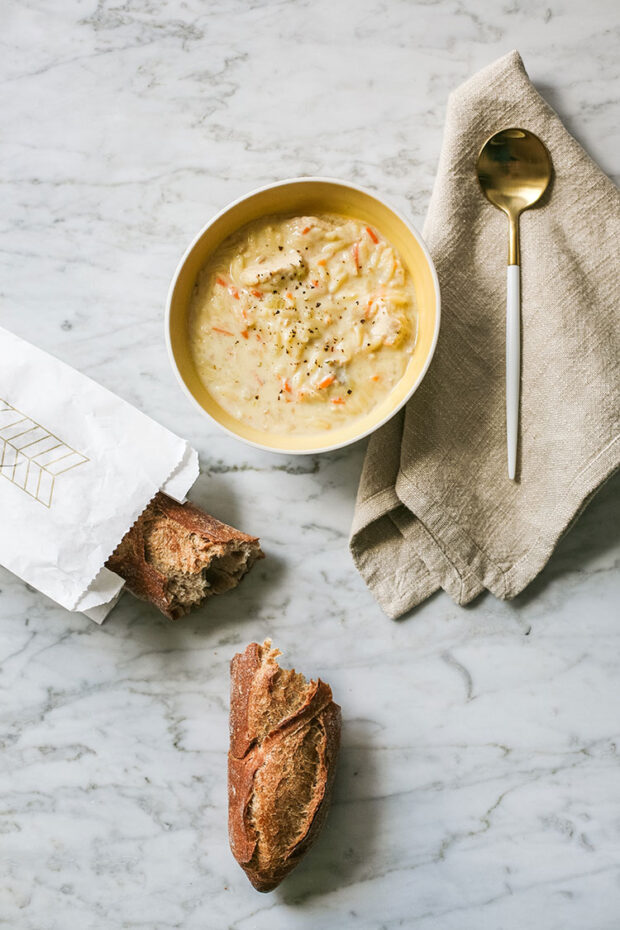 Joanna of JoJotastic was never actually handed down a written recipe for this soup. Instead, it was ingrained in her from a very young age by her grandmother. She had to figure out the actual measurements on her own.
As a young girl, Joanna would watch her Yia Yia prepare, stir, and season this soup all day long when she was growing up and it imprinted on her in a way that we can all relate to.
A bowl of this soup is like coming home and if Joanna's Yia Yia had a signature dish to serve upon arrival, this would be it!
Are you looking for more easy chicken soup recipes to warm your soul?
Whether you have been under the weather or you are just trying to warm yourself up from a brutal Noreaster chicken soup of any sort is the way to go. Here are a few variations on the classic that we just happen to love.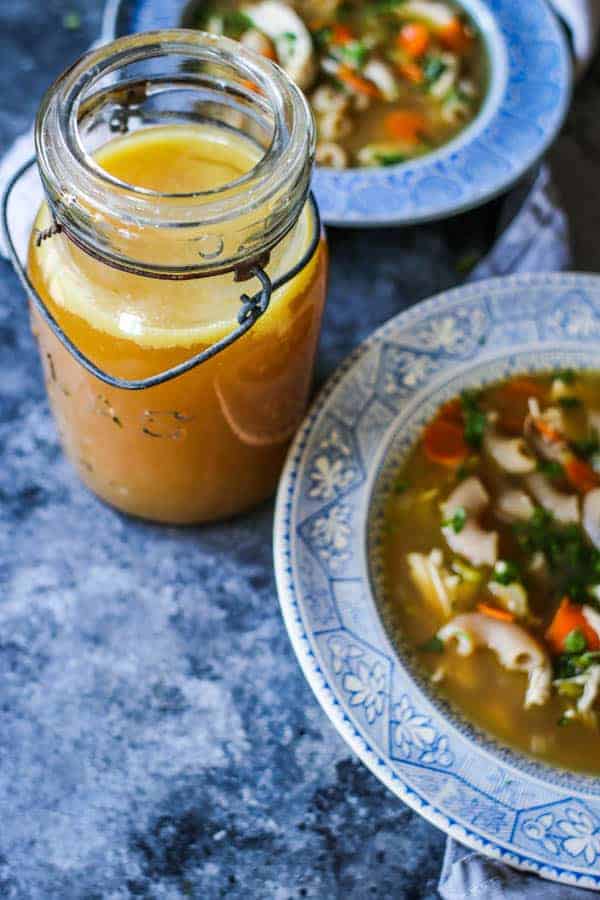 When you simmer the bones and skin from a leftover rotisserie chicken in water with garlic, onion, carrots, celery, and some aromatics for a few hours you are left with a rich, luscious chicken bone broth that is perfect for adding to soups and delicious enough for sipping on its own!
I personally like to make a simple Chicken Noodle Soup with this broth, Start by sauteing onions, carrots, and celery for 5-7 minutes in a bit of olive oil then when the veggies start to tenderize, pour in chicken broth. Once boiling add your favorite gluten-free noodles and cook until tender.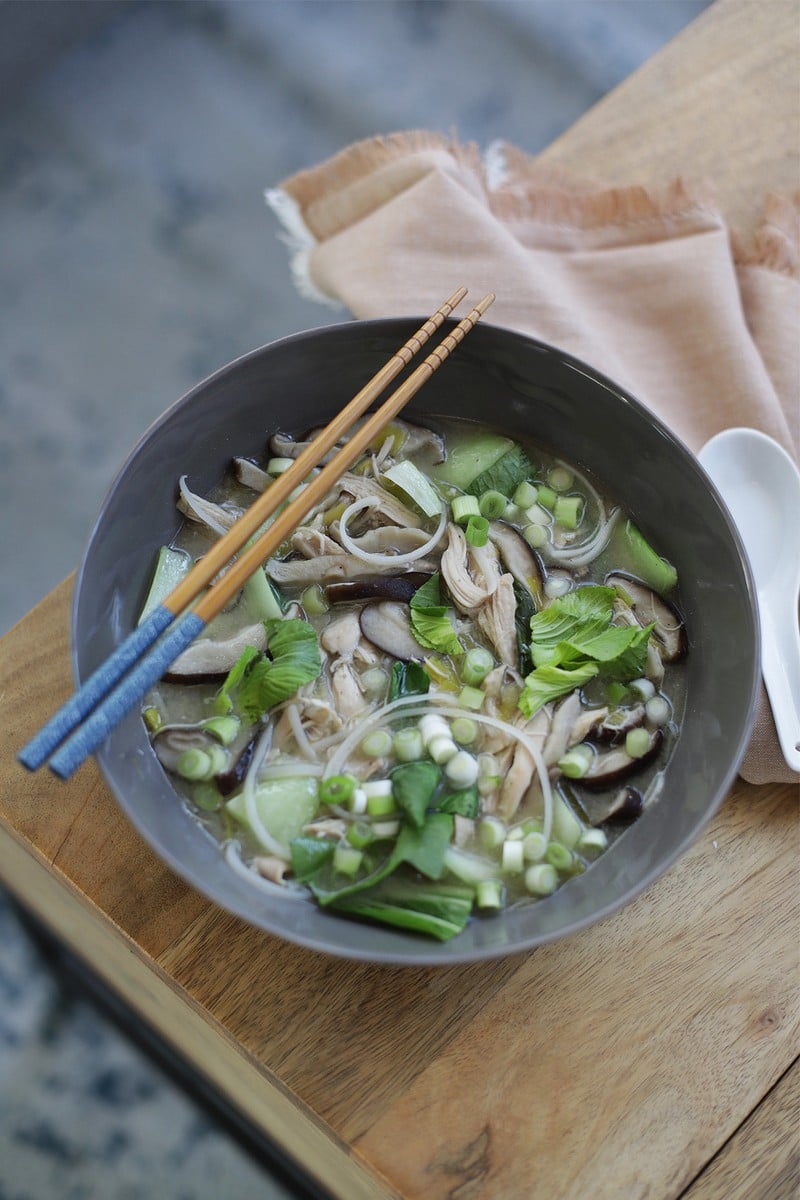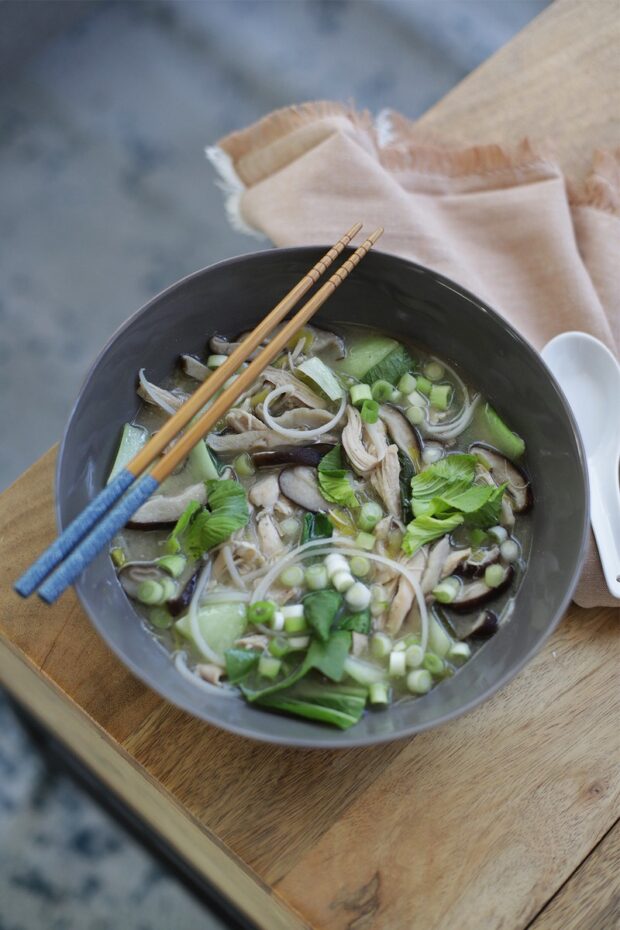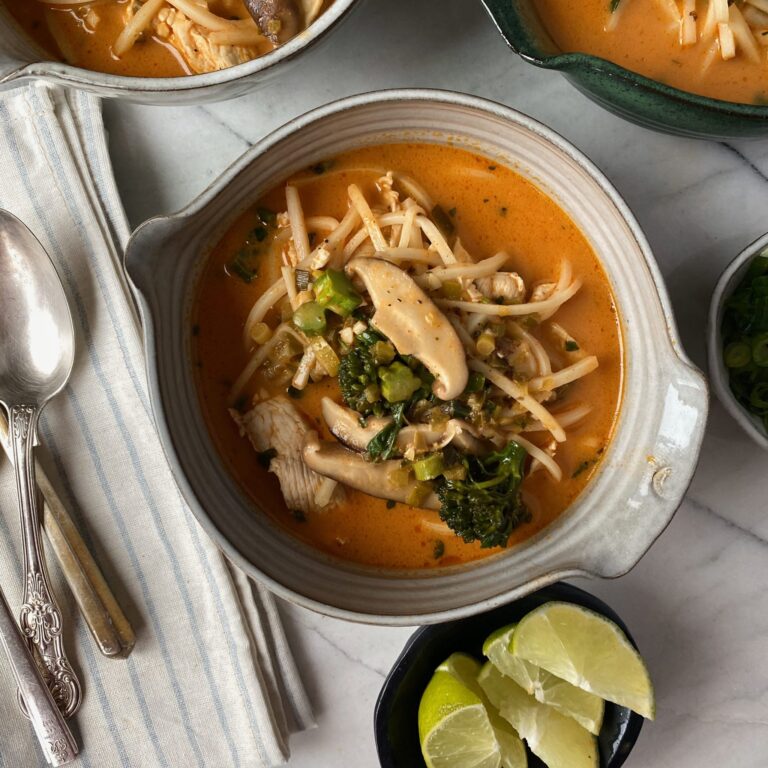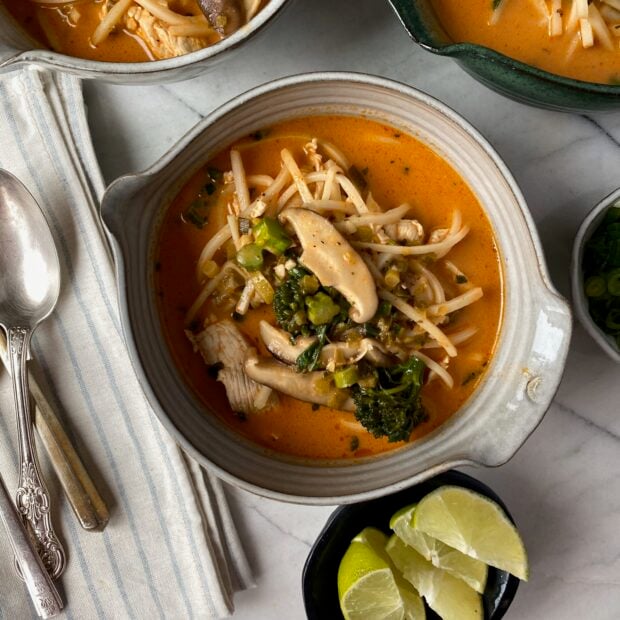 If you have been missing a noodle, this is a life-changing moment from No Crumbs Left. It has everything that you want in a Whole30 soup, and the hearts of palm noodles take it to another level.
The texture they add to the soup is so satisfying that you won't miss "real" noodles at all!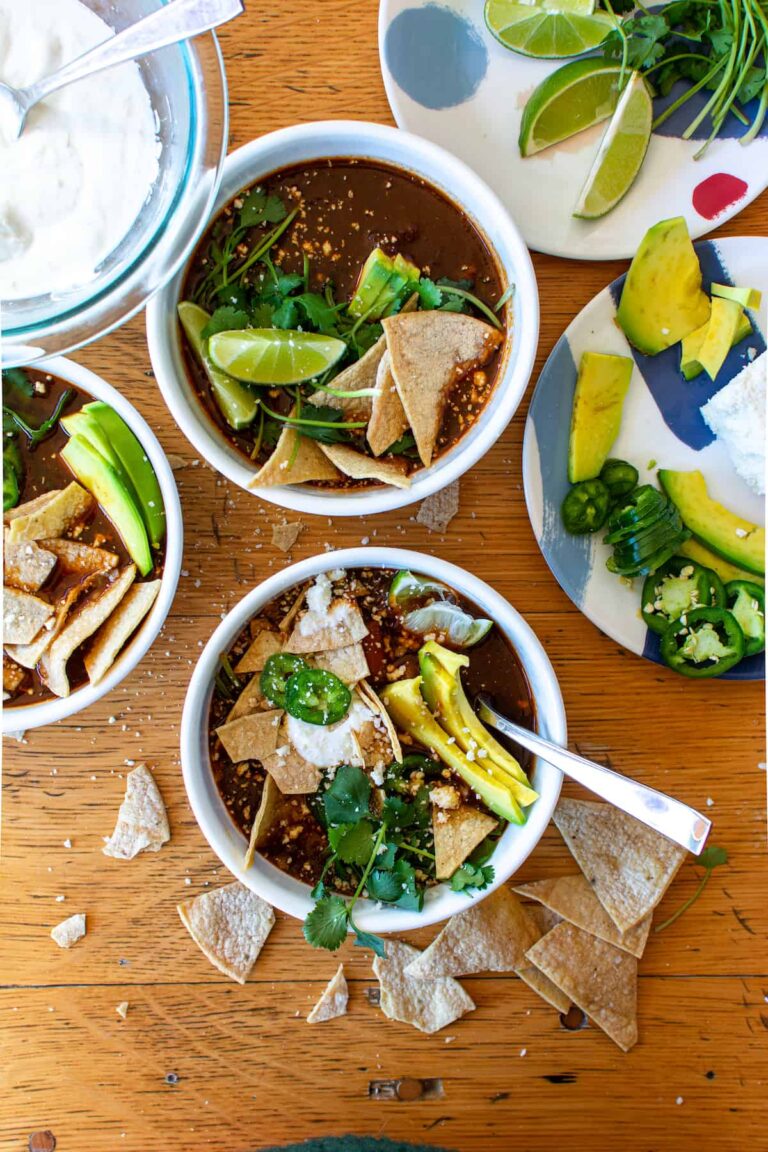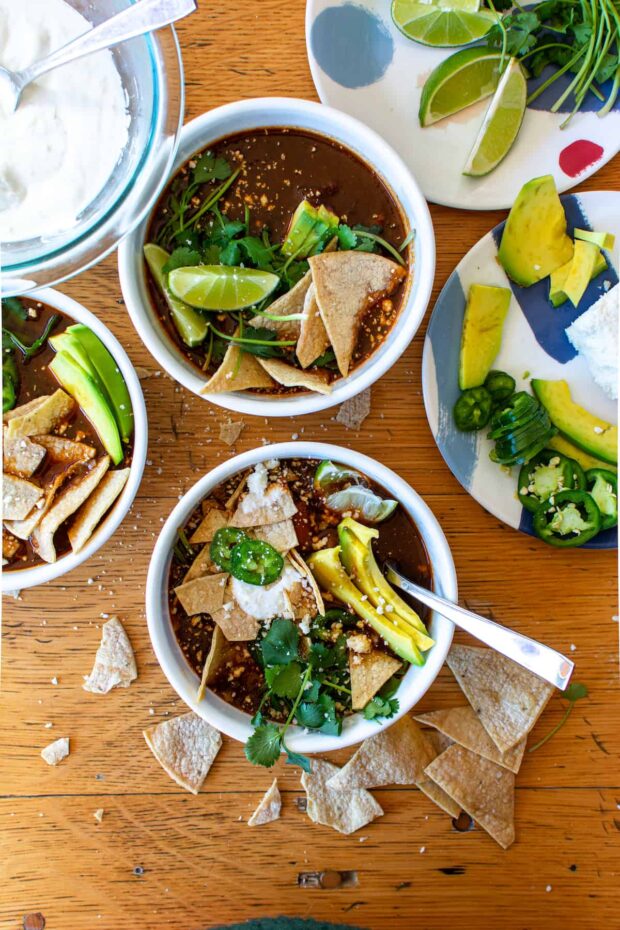 This is a traditional chicken tortilla soup recipe from Hola Jalapeno that is made solely in her Instant Pot. EVEN THE CHIPS!!!
This soup is packed with dried chiles, flavorful charred onions, and homemade crispy tortilla strips.
Now that you are fully stocked on chicken broth, soup, and Avgolemono recipes you should have enough inspiration to get you through the cooler months of the year.
Keep scrolling for the recipe for my southern-inspired Avgolemono Soup!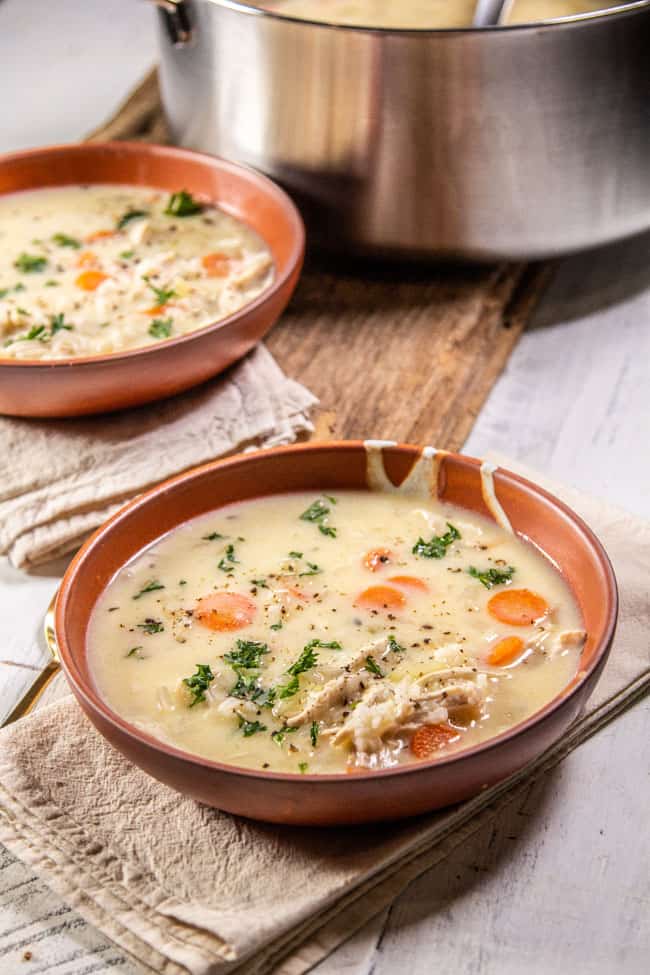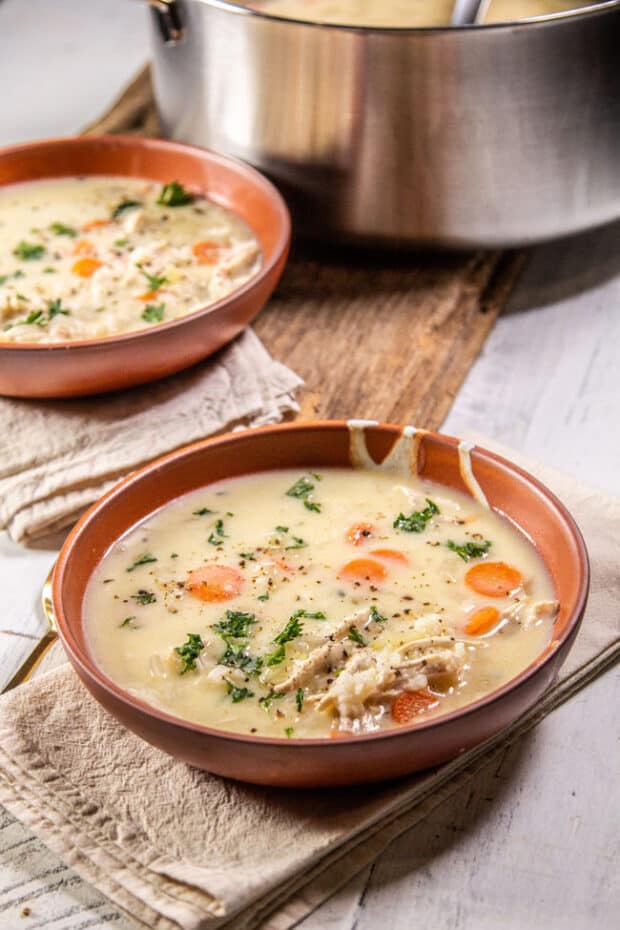 If you've made our southern spin on Avgolemono Soup I would be so grateful if you would rate the recipe and let me know what you think in the comments below!
I just love hearing from you and your reviews and comments really help others that visit This Mess is Ours.
Print
Gluten-Free Avgolemono Soup recipe
This southern spin on the irresistible classic, Greek Avgolemono Soup is creamy and bright just like an authentic bowl of Avgolemono, but this variation is made with a true Southern staple. Carolina Gold Rice!
2 tablespoons

olive oil

2

small yellow onions, chopped

2

ribs celery, chopped

2

carrots, sliced into thin coins 

2 teaspoons

coarse kosher salt, plus more to taste

3

cloves garlic, minced 

3 quarts

 chicken broth or water

3

(approx 1.5 pounds) boneless, skinless chicken breasts
large sprig of fresh thyme

2

bay leaves

1

large, juicy, lemon, scrubbed clean

1 cup

Carolina Gold Rice, rinsed well

3

large eggs, room temperature
freshly ground black pepper
chopped parsley to serve
Instructions
In a large stockpot, heat the olive oil over medium-high heat until shimmering. Add the onions, celery, and carrots to the pot along with a large pinch of salt. Cook until the onions are beginning to turn translucent about 5 minutes. Add the garlic and saute for 1 more minute. 
Add the stock and the chicken breasts to the pot and bring to a boil. Once boiling, reduce to a simmer and cook for 15-20 minutes or until the chicken is cooked through and reaches an internal temperature of 160°F. If any foam forms on the top of the broth, skim it off and discard. Remove the cooked chicken to a plate to cool. Once cooled shred the chicken into bite-sized pieces. 
Meanwhile, while the chicken is cooking, use a sharp vegetable peeler to remove the zest from the lemon in strips, taking as little of the pith as possible. On a flat surface, stack the strips of zest on top of the sprig of thyme and both bay leaves. Tie tightly in a bundle with kitchen twine. 
Add the herb bundle and rice to the stockpot with 2 teaspoons of coarse kosher salt. Stir to combine, cover, then reduce the heat to low and cook for 16-18 minutes, stirring once or twice. Until the rice is tender. 
While the rice is cooking, combine the eggs and 3 ½ teaspoons of lemon juice whisking until combined. 
Place a fine-mesh strainer over a large bowl or large measuring cup and pour the egg mixture through. You may have to use the back of the spoon to encourage the mixture through the sieve. Discard any egg bits remaining in the strainer. Place the bowl with the strained egg in it near the stockpot and, while whisking constantly, slowly ladle in about 2 cups of the hot broth.
Now, while constantly stirring, slowly pour the egg mixture back into the stockpot. Cook over medium-low heat, stirring constantly until the soup is thick enough to lightly coat the back of the spoon, about 5 minutes, making sure the soup never reaches a simmer. 
Remove and discard the lemon zest bundle. Add the shredded chicken into the soup and keep over low heat, stirring constantly for another 2 -3 minutes until the chicken is warmed through. 
Turn off the heat, taste, and season with more salt and a generous amount of freshly ground pepper to your liking. Ladle into bowls and top with parsley to serve if desired. 
Notes
You can use Basmati rice in this soup, but you will miss out on the depth of flavor and texture that the Carolina Gold rice offers. Basmati rice will only need 15 minutes to cook instead of the 16 minutes for Carolina Gold rice.
Nutrition
Serving Size:

1 bowl

Calories:

299

Sugar:

4.5 g

Sodium:

1809.1 mg

Fat:

9.2 g

Carbohydrates:

27 g

Protein:

26.7 g

Cholesterol:

139.3 mg
Recipe Card powered by