Now more than ever we are all trying to stretch our dollars and get the most out of the money we spend at the grocery store. Take rotisserie chicken for example, sure it's a fast, easy, and affordable weeknight meal for 4. But did you know that once you've made use of all of the meat that you can actually make a few quarts of the most delicious homemade rotisserie chicken broth with the leftover skin and bones? It's true! Just use this easy DIY chicken broth recipe.
Simple ingredients, complex flavor
When you simmer the bones and skin from your leftover rotisserie chicken in water with garlic, onion, carrots, celery, and some aromatics for a few hours on the stovetop you are left with a rich, luscious chicken broth that is perfect for adding to soups and delicious enough for sipping on its own!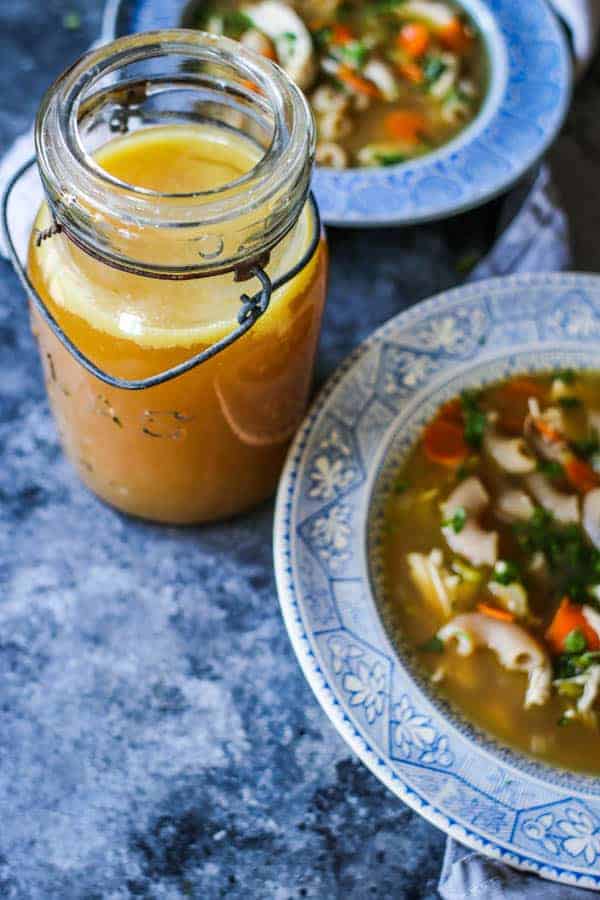 What ingredients do you need to make the easiest DIY Rotisserie Chicken Broth recipe?
Honestly, the essential ingredients needed to make this chicken broth recipe are probably hanging out in your kitchen right now!!! No need to worry about prepping and peeling all sorts of vegetables or dicing anything either. That would complicate things and you can't include the words "the easiest" in the name of a complicated recipe now can you?! Let's talk about the ingredients you will need....
Leftover skin & bones from 1 rotisserie chicken
You don't need a whole chicken for broth, you only need the bare minimum for maximum flavor and a few hours to allow it to work its magic in simmering water. Don't have a few hours right now? That's ok! You can freeze the leftover bones and skin from a rotisserie chicken for up to 3 months.
Head of garlic
Grab an entire head of garlic and slice it horizontally through the middle so that the cloves are still intact in each half. No need to peel or separate cloves here - just slice the head in half and set it aside.
Yellow onions
2 small or 1 large yellow onion will work here and don't even bother peeling them! Just slice the whole onion in half through the root end, then slice the onions into quarters. No yellow onions on hand, no problem! You can use white onions, shallots, or even scallions in this chicken broth. The end result may very in flavor a bit and the onion may be a bit more intense if you use a few scallions as opposed to an entire onions but your broth will still be delicious. I have yet to try making broth with a red onion, in my experience they taste amazing, but they can also change the color of a dish like broth. If you give making broth a try with a red onion let me know how it goes in the comments ok?!
Carrots
3 carrots to be exact, scrubbed super clean! No need to peel our slice - just break each carrot into thirds with your bare hands. Or, I guess you could use a knife, but breaking them is WAY more fun!
Celery
4 celery stalks will do it for an entire pot of broth. Wash them real good, break them into thirds with your hands or a cut them with a knife.
Optional aromatics
There are all sorts of goodies that fall under the category of 'aromatics', but whole black peppercorns, fresh ginger, and fresh flat leaf parsley are my personal favorites for making a bold flavored homemade chicken stock.
Salt
This ingredient is a no-brainer, but it's SUPER important for a rich and flavorful broth! Salt to taste and salt liberally when you are making broth. In our house chicken broth is the foundation of lots of other dishes that I make, so it's important to me that I season every layer well starting with the most basic, broth.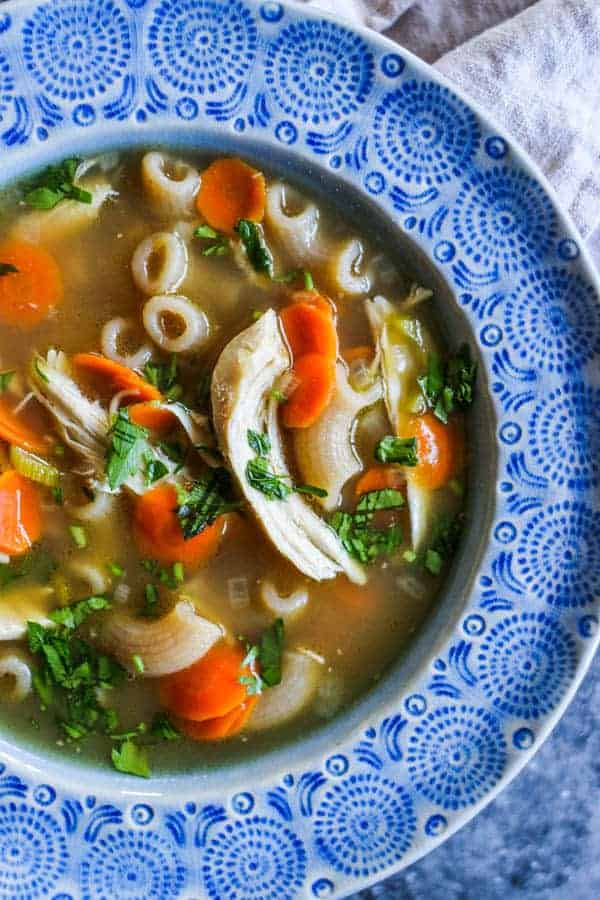 How do you make the easiest DIY Rotisserie Chicken Broth recipe?
While making homemade chicken broth sure does sound intimidating, using the bones and skin from your leftover rotisserie chicken makes the process easy peasy! Plus, your house smells heavenly for hours, it's like a cozy, savory potpourri in a way. I recently shared the entire process on Atlanta & Company so you can watch it my clicking this link or read on to learn how easy it is to make homemade chicken broth!
Step 1
Combine the leftover skin and bones from 1 rotisserie chicken, garlic, onions, carrots, celery, and black peppercorns in the largest stock pot with 4 quarts of water. Don't worry if you can't fit all 4 quarts of water into your stock pot, just fill it up until there is about 2 inches of space left at the top. Bring everything to a boil then reduce to a simmer and allow the broth to simmer and bubble away uncovered for 3 hours, adding additional hot water as needed to keep the level of the liquid in the pot.
Step 2
Cover the pot and cook for 1 hour.
Step 3
Add the aromatics to the pot and any additional water then cover and cook for 1 more hour.
Step 4
Cool, strain, and store! You can keep chicken stock refrigerated for up to a week, but frozen it lasts for up to 3 months!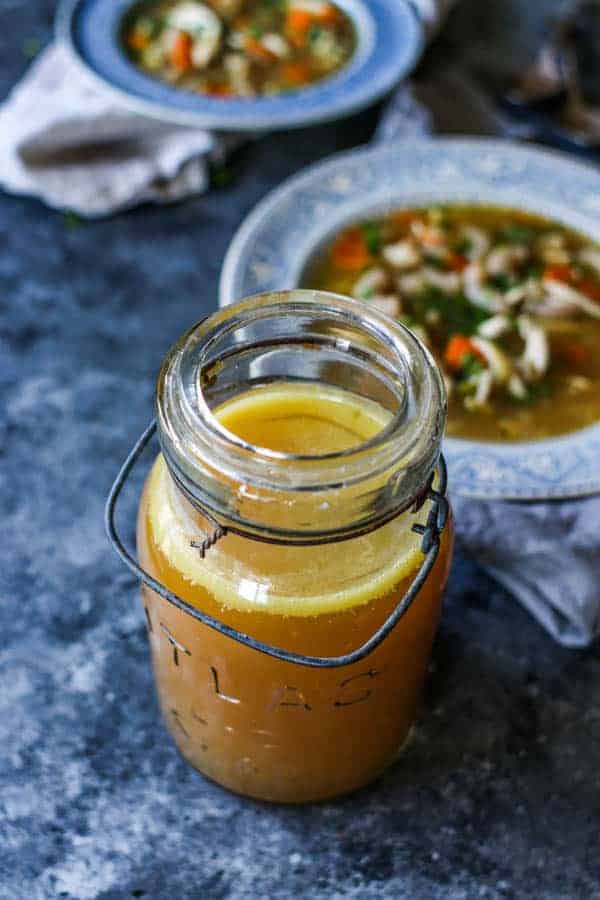 What equipment do you need to make the easiest DIY Rotisserie Chicken Broth?
Honestly not much! Really the only thing you will need is a really big stock pot. I do put my electric kettle to work when I am making broth though! I keep my kettle on the counter and ready to go during the cooking process so that I can additional boiling water back into the pot as the liquid reduces during cooking. While you can totally use water straight from the tap, I do suggest that you make sure the water is hot when you add it to the simmering stock. This will keep your stock at the optimal simmering temperature for the entire cooking time.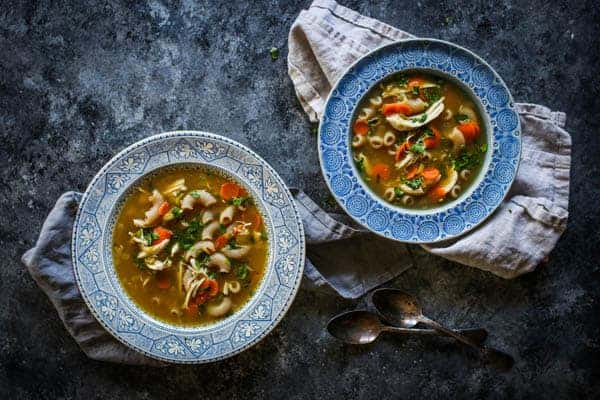 Like I said in the beginning of this blog post, making chicken stock at home is EASY, AFFORDABLE, and DELICIOUS!! I can't wait for you to give it a try!
If you've tried The Easiest DIY Rotisserie Chicken Broth Recipe I would be so grateful if you would rate the recipe and let me know what you think in the comments below, I just love hearing from you and your reviews and comments really help others that visit This Mess is Ours!
Print
Rotisserie Chicken Broth Recipe
Don't forget to rate the recipe and let me know what you think about this Rotisserie Chicken Broth Recipe in the comments below, I just love hearing from you and your reviews/comments really help other people that visit This Mess is Ours! 
Author:
Prep Time:

5 minutes

Cook Time:

6 hours

Total Time:

6 hours 5 minutes

Yield: about

3

-

4

quarts depending on how reduced the stock is

1

x
Category:

Dinner

Method:

Stovetop

Cuisine:

American

Diet:

Gluten Free
Bones and skin from 1 rotisserie chicken

1

head garlic, halved, no need to peel

2

small, yellow onions, quartered, no need to peel

3

carrots, cleaned well and broken into thirds

4

stalks celery, broken in thirds

1 teaspoon

whole black peppercorns
Aromatics like ginger, fresh parsley
salt to taste
Instructions
In a large pot, bring the chicken, garlic, onions, carrots, celery, black peppercorns, and 4 quarts of water to a boil over medium-high heat. Reduce heat and simmer the stock, uncovered, for 3 hours. Skim off any foam that rises to the top and add water as needed to maintain the same level of liquid in the pot.
Add additional liquid if necessary, but cover the pot and simmer for 2 hours more until a rich stock forms. Add the aromatics and simmer for another hour until a rich stock forms, about 1 hour more. Let cool slightly. Using a fine-mesh strainer, strain the stock into a large bowl; season with salt. Let cool. Transfer to an airtight container. Refrigerate for up to 1 week or freeze for up to 3 months.
Notes
No time to make broth today?
No problem, you can freeze chicken bones and skin for up to 3 months in a freezer safe container, so you can make broth whenever you are ready.
Nutrition
Serving Size:

1 cup

Calories:

95

Sugar:

2.4 g

Sodium:

652.1 mg

Fat:

2.5 g

Carbohydrates:

9.8 g

Protein:

8.5 g

Cholesterol:

22.1 mg
Keywords: chicken stock, chicken broth, the easiest chicken stock, chicken, rotisserie chicken
Recipe Card powered by
Want to be a part of our online community outside of the blog? It's easy!! All you have to do is follow @THISMESSISOURS on FACEBOOK, INSTAGRAM, TWITTER, YOUTUBE, or PINTEREST to see cooking demos, live #CoronaCall 's, and peeks into our day to day life.
What are the health benefits of homemade chicken broth?
Homemade broth made from animal bones is rich in calcium and magnesium. The bones include collagen that will help provide amino acids which are the building blocks of proteins. Bone broth is known to help protect your joints from stress and to fight osteoarthritis.
Click here for more information on the health benefits of chicken broth.
Frequently Asked Questions about Chicken Broth
What is the difference between chicken broth and chicken stock?
The main differences between the two are consistency and usage. Broth has a thin consistency and is mainly used in soups. Chicken Stock, on the other hand, is thicker and is usually used to cook with rather than eat.
Is it bad to drink chicken broth every day?
There is virtually no negative health impact to eating/drinking chicken broth. Having some every day will do wonders for your body.
How does broth help your gut?
Collagen from the bones helps repair the walls of your intestines. Broth is very beneficial for anyone with digestion or intestinal issues. It heals your gut and soothes the stomach.
Looking for more ways to savor rotisserie chicken? We have you covered!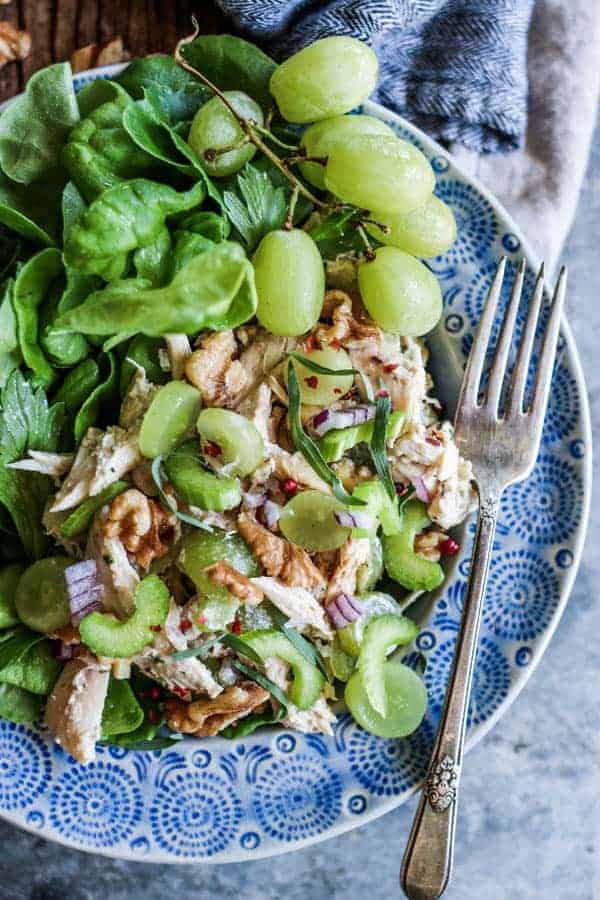 Easy Rotisserie Chicken Salad Recipe || This easy rotisserie chicken salad recipe makes a perfect healthy lunch! You can whip up four servings worth in just under twenty minutes and the finished dish has a subtle honey mustard flavor vibe that I just cannot get enough of. This salad combines shredded rotisserie chicken, crunchy celery, sweet grapes, and toasty walnuts that have all been enrobed in a simple dressing made of Greek yogurt, Dijon mustard, and fresh tarragon. Take back your lunch hour with this light and refreshing rotisserie chicken salad that you are sure to love!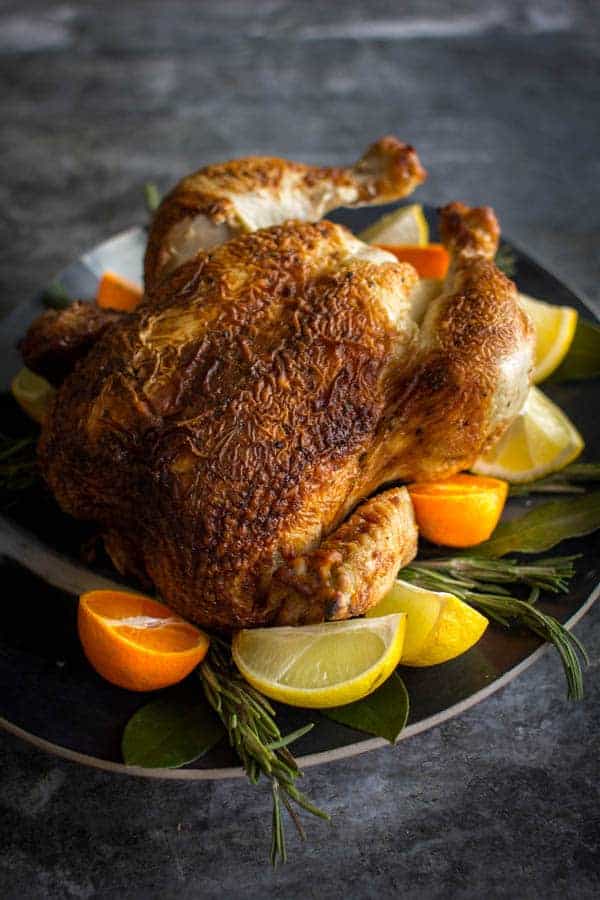 5 Tasty Ways to Serve Rotisserie Chicken
Looking for a few new ways to spruce up that rotisserie chicken from the supermarket? I have a mix of vegetarians and meat eaters at our family table so its imperative I have something for everyone. A simple rotisserie chicken really boosts the protein factor in some of our favorite vegetarian mains like curry, lettuce wraps, grille salads, and more!