With the holiday season right around the corner, there will be lots of leftovers to reinvent. This is the best recipe with rotisserie chicken leftovers: Chicken Broccoli Cheddar Casserole! This is a classic creamy casserole recipe that will be an instant hit in your house.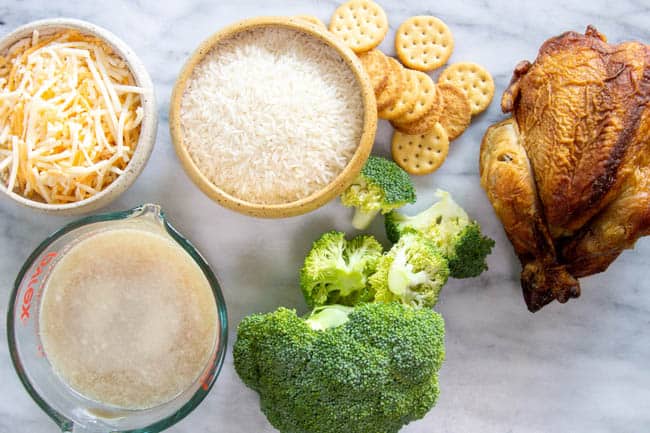 This quick, simple weeknight supper will have your picky eaters licking their plates and will still leave a few leftovers for tomorrow. One of the meals that my family enjoys the most is this chicken casserole it is packed full of flavor thanks to the broccoli, cheddar, & rotisserie chicken.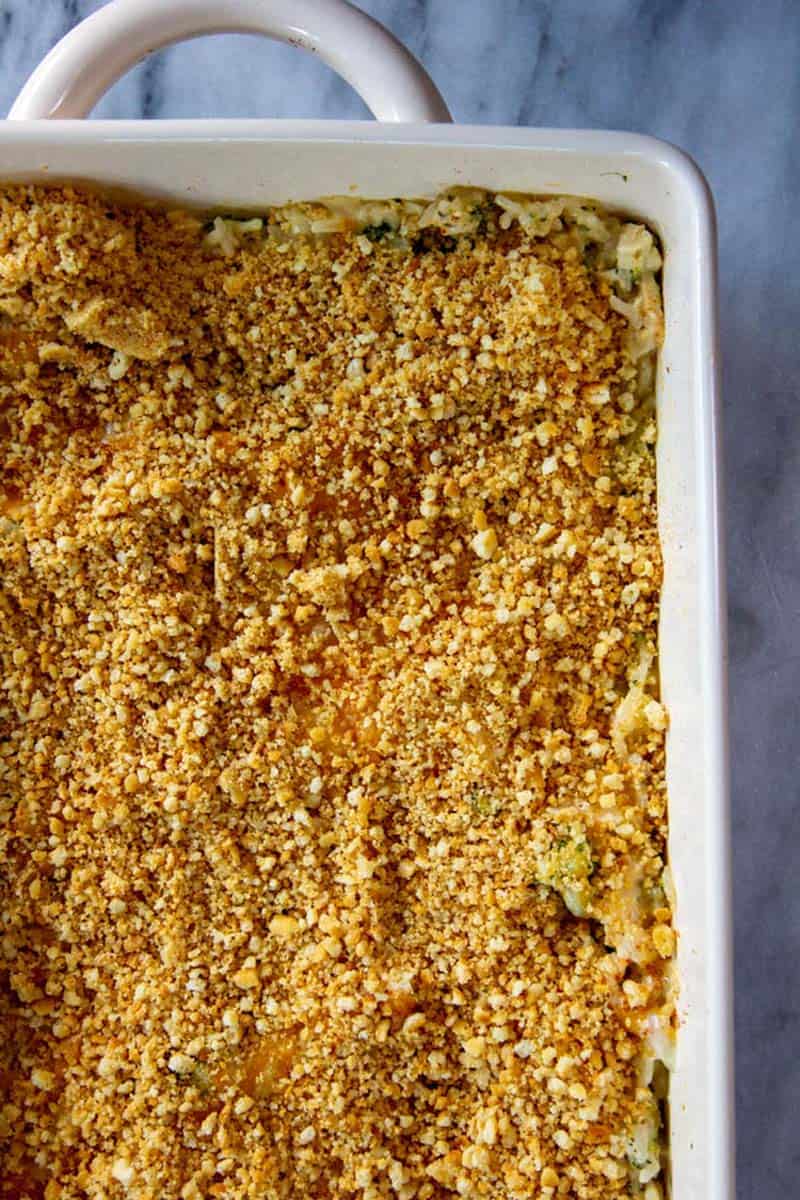 What is Rotisserie Chicken?
"Rotisserie chicken" refers to a chicken that is cooked on a rotisserie over direct heat. While you can make rotisserie chicken at home with the right equipment most people purchase it directly from the grocery store.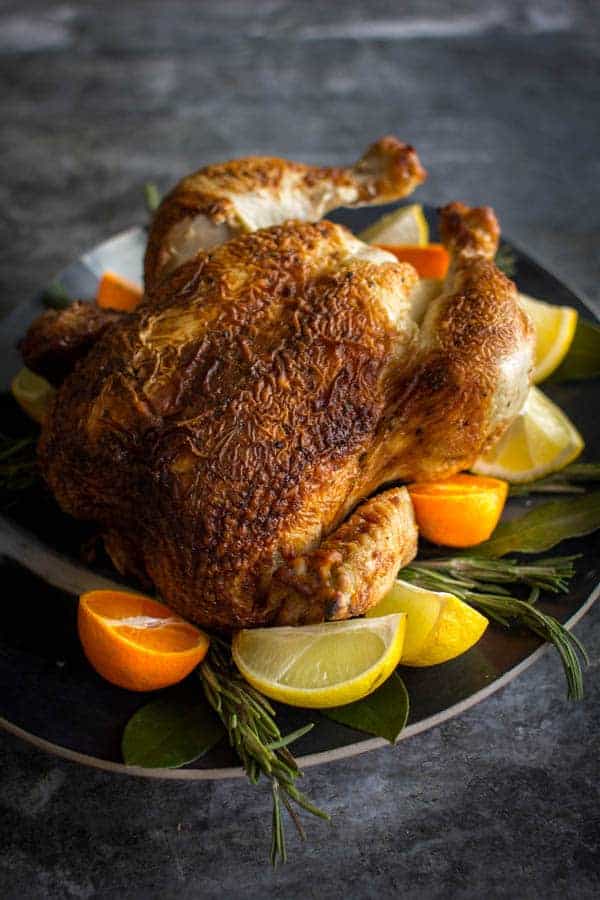 How long is Rotisserie Chicken good for in the fridge?
A rotisserie chicken is good for three to four days as long as it is in the fridge! Since rotisserie chicken doesn't keep for a super long time this recipe with rotisserie chicken leftovers is going to be your best friend. If you need more ideas for ways to use rotisserie chicken check out the recipe for my easy rotisserie chicken broth below.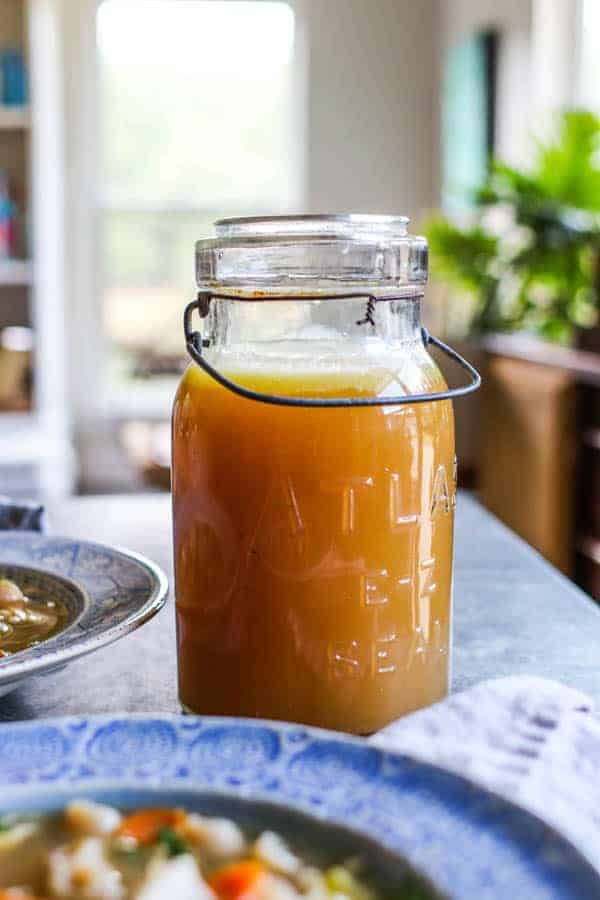 Are you always serving up rotisserie chicken the same way? Are you getting tired of the same old, same old when it comes to quick and easy rotisserie chicken dinner ideas during the week? I have been there too friend and I am here today to serve up a little rotisserie chicken inspiration for your hectic weeknight dinner meal plan!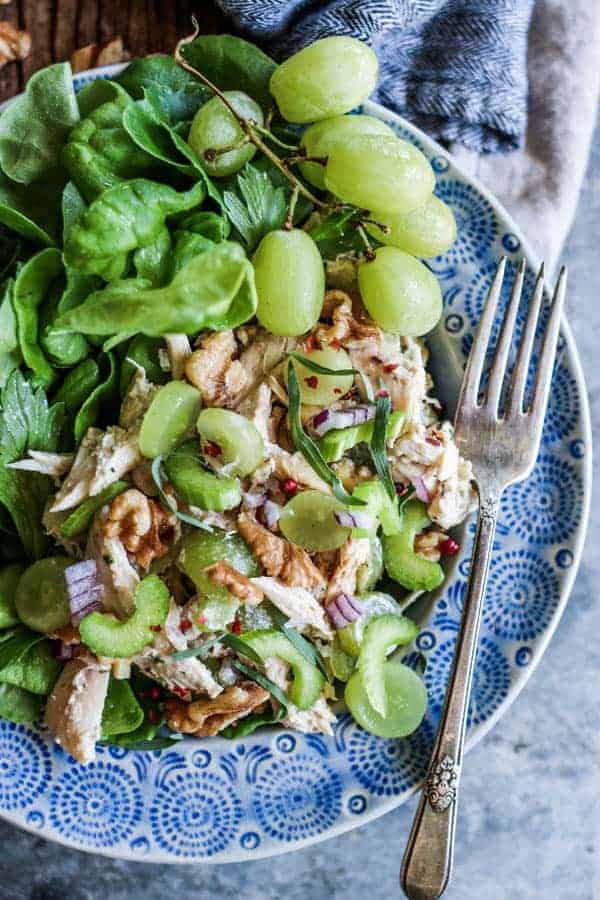 This salad combines shredded rotisserie chicken, crunchy celery, sweet grapes, and toasty walnuts that have all been enrobed in a simple dressing made of Greek yogurt, Dijon mustard, and fresh tarragon.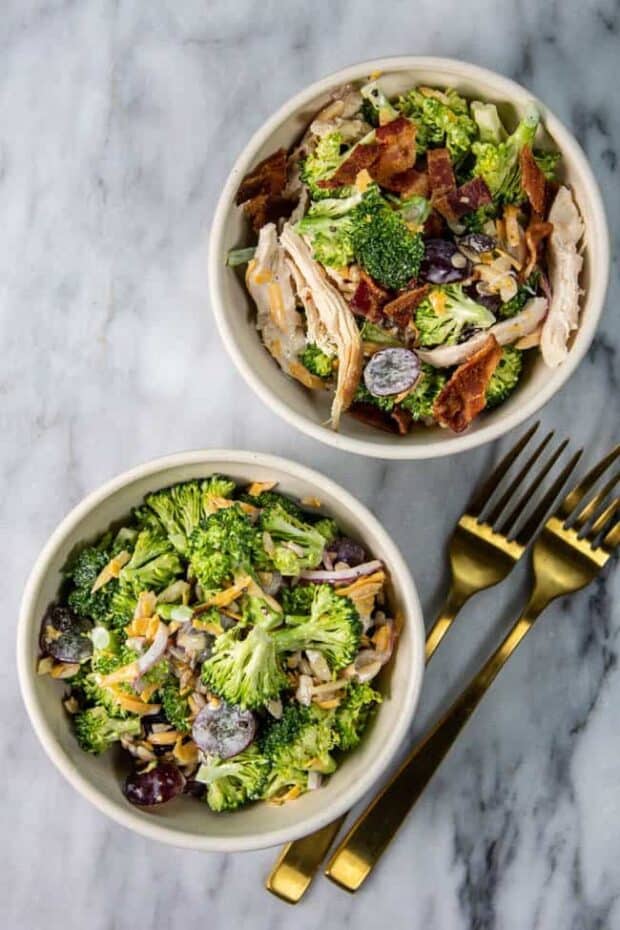 I created this recipe with rotisserie chicken leftovers for California Grown. The broccoli salad base recipe is a hearty one-bowl salad situation that is best suited as a side dish, but when you add shredded chicken and chopped bacon to the mix this side salad takes center stage as the easiest supper-sized salad on the planet.
What is a casserole?
A casserole is a type of meal that is baked in a big, deep dish and contains a range of veggies, meats, and other fillings such as rice and cheese.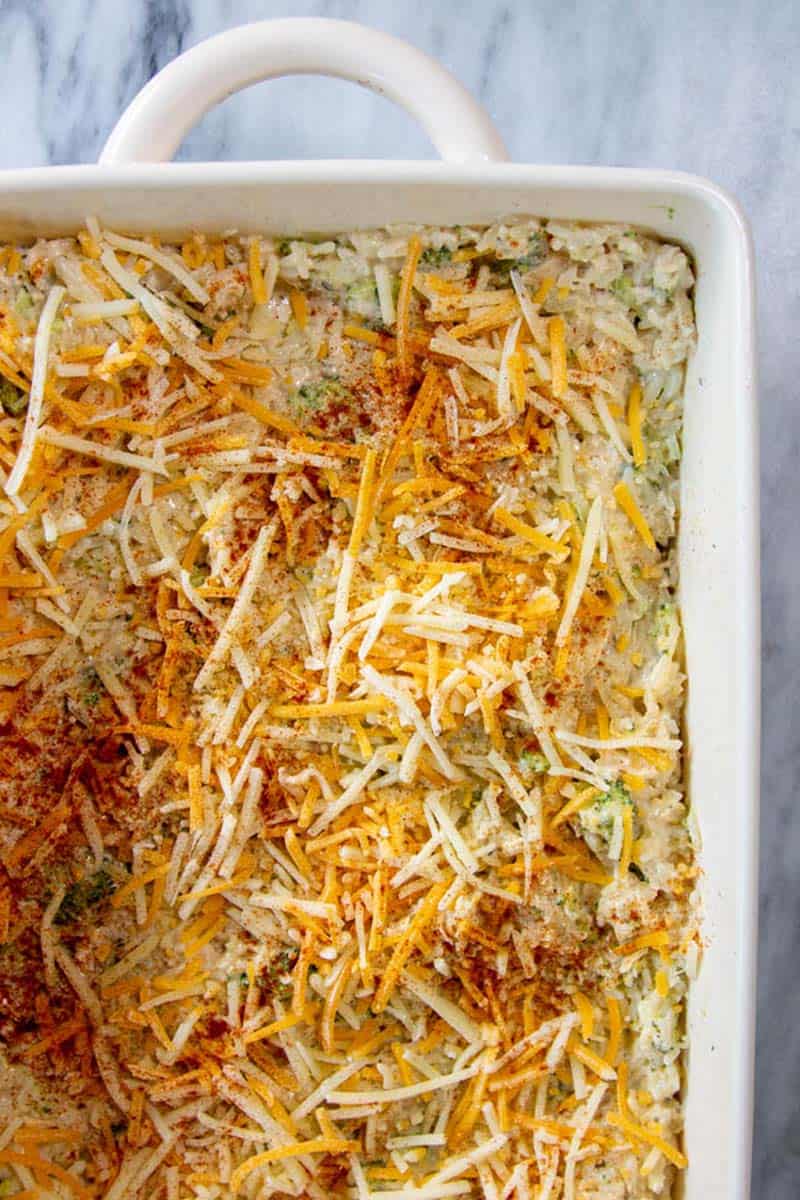 Let's Talk Ingredients:
Rotisserie Chicken: When it comes to seasonings there are quite a few types of rotisserie chicken, but I honestly think that just a plain rotisserie chicken with no seasonings works the best for this recipe.
Broccoli: There is just something about chicken & broccoli that pair so well together. Especially with the addition of cheddar cheese. *Chefs kiss*
Sharp Cheddar Cheese: What is a casserole without cheese? Sharp cheddar cheese is my favorite cheese to use for this recipe. Combined with the broccoli, it reminds me of the flavors in my favorite Broccoli Cheddar Soup!
Rice: Rice is the starch that holds this whole casserole together. I most often use Basmati rice for this casserole, but if you happen to get your hands on a bag or two of Golden Rice it is really delicious in this casserole too. It imparts a really nutty, almost buttery flavor that is irresistible to me.
Your favorite buttery crackers: Crackers add the BEST crunch to this casserole, making each bite a perfect mix of textures. You can use regular or gluten-free crackers without any problem. In a pinch, I topped this casserole with crushed potato chips once and it was pretty delicious too.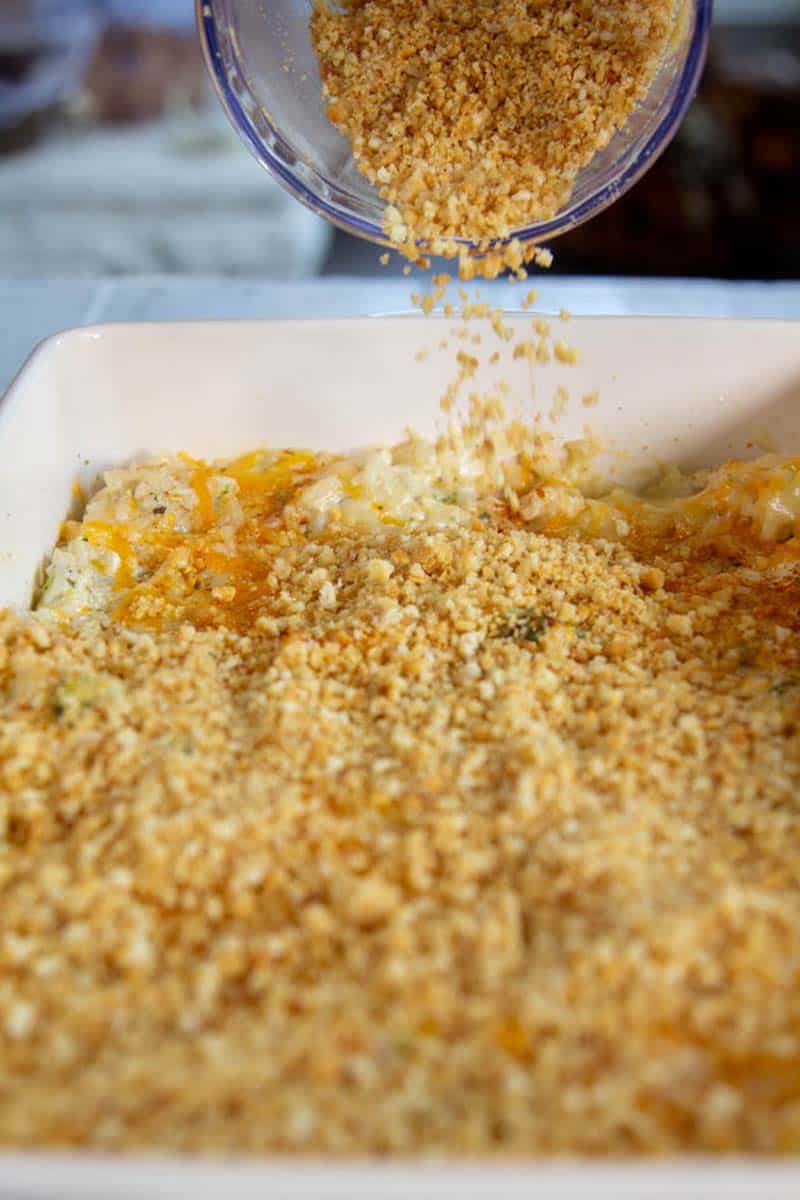 How to store this recipe with Rotisserie Chicken leftovers.
Storing this recipe with rotisserie chicken leftovers is super easy! Simply cover the dish you cooked the casserole in once it has cooled with a tight-fitting lid or saran wrap. This casserole is good chilled for 3 days.
If you tried my easy rotisserie chicken salad recipe and enjoyed it, I would be so grateful if you would rate the recipe and let me know what you think in the comments below.
I just love hearing from you and your reviews and comments really help others that visit This Mess is Ours!
Print
Chicken Broccoli Cheddar Casserole
This is the best recipe with rotisserie chicken leftovers! It is easy to make with minimal hands-on time and very few ingredients. 
Author:
Prep Time:

15

Cook Time:

45

Total Time:

1 hour

Yield:

8

servings

1

x
Category:

Dinner

Method:

Baked

Cuisine:

American

Diet:

Gluten Free
2 ½ cups rotisserie chicken broth
2 tablespoons olive oil
1 ¼ cups long-grain white, basmati, jasmine rice, or long-grain brown rice
2 ½ cups broccoli florets chopped small
3 cups rotisserie chicken meat, cubed or torn into small pieces
1 teaspoon Italian Seasoning
1  ½ cups sour cream
1 gluten-free chicken bouillon cube, crumbled
½ cup whole milk
½ teaspoon garlic powder 
coarse kosher salt, black pepper
2 cups shredded cheddar cheese, divided
1 cup buttery crackers, gluten-free if needed
2 tablespoons melted butter 
1 - 1 ½ teaspoons Piment d'Ville chile powder or smoked paprika.
Instructions
Lightly grease a 9x13-inch casserole dish with olive oil and set aside.
Combine the chicken broth, olive oil, and rice in a large pot. Bring to a boil, then reduce the heat to a simmer. Cover tightly and cook for 7 minutes.
Add the broccoli and replace the lid, cook for 8 minutes more without stirring.
Turn off the heat and leave the lid on the pot. Let the rice stand for 10 minutes, without stirring. The steam will cause any rice stuck to the bottom of the pot to release, there is no need for you to stir. 
Preheat the oven to 350F. 
Mix the sour cream and the crumbled bouillon cube together. Add the sour cream mixture, chicken, Italian Seasoning, milk, garlic powder, and 1 cup of cheddar cheese to the cooked rice and broccoli. Stir to combine. Taste then season with coarse kosher salt and black pepper to your liking.
Pour this mixture into the prepared baking dish, top with the remaining 1 cup of shredded cheddar cheese then cover with foil and bake for 15 minutes.
Meanwhile, melt the butter and crush the crackers then combine them together to create the topping. 
After the initial bake time, remove the foil, sprinkle the cracker topping over the top of the casserole, and sprinkle the Piment d'Ville chile powder or smoked paprika across the top. 
Bake for an additional 10 minutes. Then let the casserole rest for 5 minutes before serving. 
Nutrition
Serving Size:

1 big scoop

Calories:

390

Sugar:

1.9 g

Sodium:

627.3 mg

Fat:

21.3 g

Carbohydrates:

28.7 g

Protein:

21.3 g

Cholesterol:

76 mg
Keywords: rotisserie chicken, recipes with rotisserie chicken leftovers, Chicken Broccoli Cheddar Casserole, broccoli cheddar casserole, casserole
Recipe Card powered by