This easy rotisserie chicken salad recipe makes a perfect healthy lunch! You can whip up four hearty servings worth in just under twenty minutes and the finished dish has a subtle honey mustard flavor vibe that my family just cannot get enough of. This salad combines shredded rotisserie chicken, crunchy celery, sweet grapes, and toasty walnuts that have all been enrobed in a simple dressing made of Greek yogurt, Dijon mustard, and fresh tarragon. Take back your lunch hour with this light and refreshing rotisserie chicken salad that you are sure to love!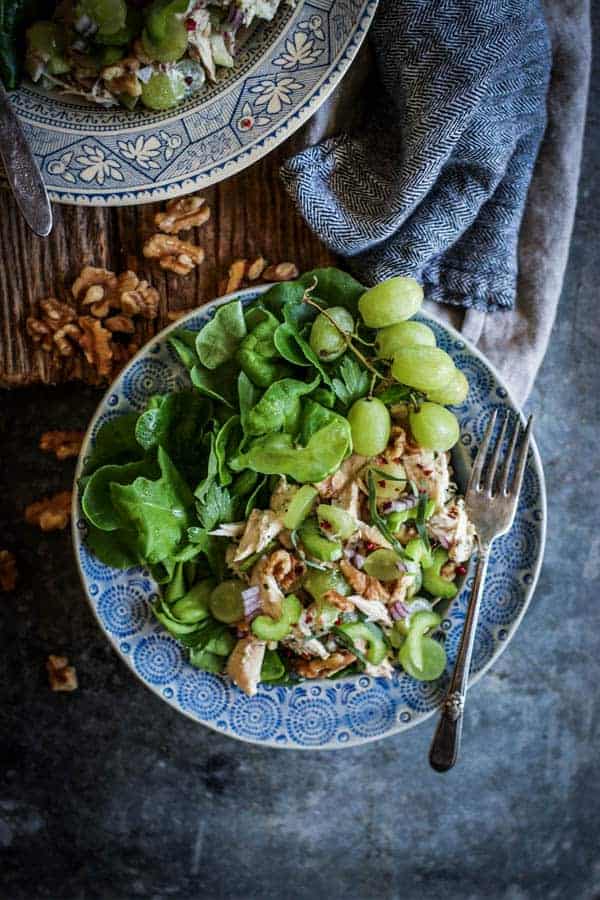 Looking for an easy, healthy lunch idea? Try this Rotisserie Chicken Salad Recipe!
This easy rotisserie chicken salad recipe makes a perfect healthy lunch for busy weekdays! It easily does double duty as a super simple dinner for hectic weeknights too. It's the perfect back pocket recipe for all sorts of circumstances, even for entertaining, you know - whenever we can do that again. Let's talk about some of the ingredients....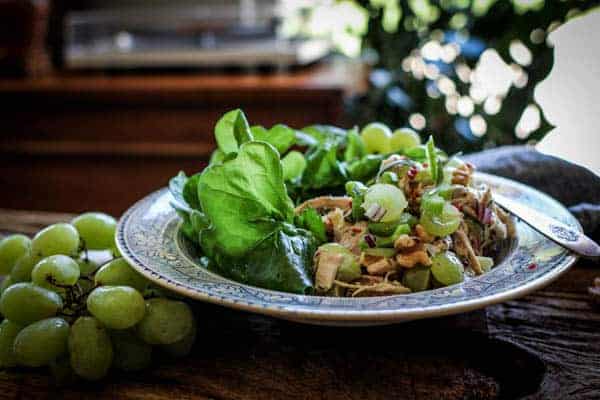 Simple ingredients, complex flavors
Shredded chicken ||
There is nothing easier or more affordable than a rotisserie, and shredded chicken is a lifesaver for fast and easy weekday meals! I shred our rotisserie chickens as soon as I get them home from the grocery store for easy storing. Then I either whip up a dish like this
rotisserie chicken salad recipe
for easy snacking, or I store the shredded chicken as-is for a quick add to tacos and quesadillas. One thing I always do though is save the skin and bones for making my
DIY Rotisserie Chicken Broth!
I am all about stretching our dollars, and making homemade broth from the remnants of our rotisserie chicken is one of the best ways I know how! Plus, its incredibly delicious. Click here for the
easiest DIY rotisserie chicken broth recipe ever!
Grapes ||
What mom doesn't have a crisper drawer FULL of grapes?! You can use red, green, or purple grapes for this salad, the color doesn't really matter, it is just important that they are seedless grapes. Remember that 'subtle honey mustard vibe' I mentioned to describe the flavor of this
rotisserie chicken salad recipe
in the first paragraph of this blog post? Well, seedless grapes are how that flavor profile is achieved! The grapes naturally sweeten this dish just slightly so the flavors of the Dijon spiked dressing, the grapes, and the chicken all meld together to create an irresistible flavor nod to honey mustard and I am totally here for it!!! No more saving all the seedless grapes for the kiddos friend - put them to work for you in this
healthy lunch recipe or go a step further and try my Roasted Grape and Arugula Salad - it does not disappoint either!
Grape Benefits
Are grapes good for you? Of course! Grapes are packed with loads of nutrients, especially vitamin C, vitamin K and antioxidants which help to ward off chronic disease. Diets that are high in antioxidant-rich foods, such as grapes, have been linked to a lower risk of cancer.
Celery ||
You cannot have chicken salad without celery, right?! It's peppery bite and classic crunch are trademark! Leaving it out of this recipe because you aren't a celery fan would be a tragedy. I too have an aversion to celery stalks on their own, I don't enjoy them with peanut butter, and I often have avoided adding it to recipes - even when called for. But, here in this
rotisserie chicken salad recipe celery works and it is actually needed to cut through the sweetness of the seedless grapes. Just trust me, you won't regret it!
Celery Benefits
Celery is loaded with antioxidants which protect your body from oxidative damage and is an anti-inflammatory with more than 25 compounds that can reduce inflammation. It also supports digestion and has a compound that has been shown to reduce stomach ulcers and actually improve the lining of your stomach. Not only that, but it is low on the glycemic index so celery offers a slow and steady effect on your blood sugar. Wow!
Walnuts || It may be just a coincidence that the shell of a walnut looks like a tiny brain, but research suggests that this nut may indeed be good for your mind too!!!
Walnut Benefits
Walnuts contain certain nutrients that may help protect your brain from damaging inflammation and support good brain function as you age. What busy mom doesn't need a little help in that department? No walnuts on hand? It's ok - almonds are great in this chicken salad too!
Greek Yogurt ||
When it comes to chicken salad people fall into one of two camps - mayo lovers and mayo haters! I happen to fall into the haters camp. The only time I use mayo is when I am making my homemade
pimento cheese.
Outside of that recipe I typically swing towards Greek yogurt as a mayo replacement - it's tart, tangy, and super good for you! Greek yogurt has TWICE the protein content of other yogurts and it contains probiotics which are great for your gut.
Greek Yogurt Benefits
Protein, protein, protein! Greek yogurt is a fantastic way to boost protein which helps to build muscle, keep your skin healthy and fight off disease. It's also packed with probiotics that are great for the digestive system. You might not know that probiotics also add support to your immune system! For all of these reasons (and more) it also makes a great workout recovery food.
Fresh tarragon ||
If you have never tried fresh tarragon before you are in for a treat! This bright and punchy herb has and underlying flavor note that is reminiscent of licorice - but as someone that has an aversion to black licorice, classifying it as that makes me incredibly nervous! It's overall flavor is very subtle but it definitely comes through in this
rotisserie chicken salad recipe.
Fresh tarragon benefits
Fresh tarragon contains few calories but packs a punch when it comes to nutrients. It contains manganese for brain health, iron for fatigue and potassium for heart, nerve and muscle function.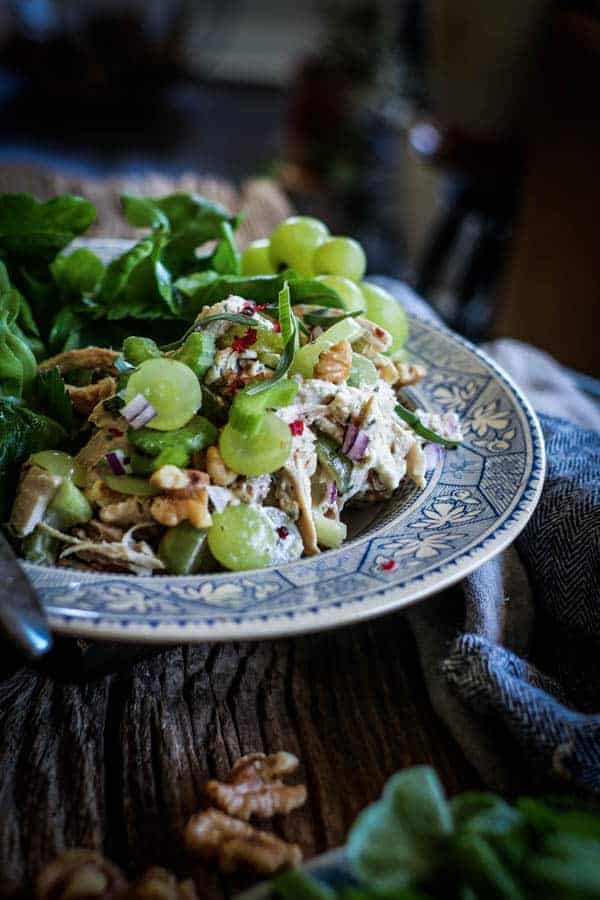 Looking for a healthy lunch or an easy dinner, quick? This Easy Rotisserie Chicken Salad recipe is for you!
If you tried my easy rotisserie chicken salad recipe and enjoyed it, I would be so grateful if you would rate the recipe and let me know what you think in the comments below, I just love hearing from you and your reviews and comments really help others that visit This Mess is Ours!
Print
Easy Rotisserie Chicken Salad Recipe
Don't forget to rate the recipe and let me know what you think about this Easy Rotisserie Chicken Salad Recipe in the comments below, I just love hearing from you and your reviews/comments really help other people that visit This Mess is Ours! 
Author:
Prep Time:

20 minutes

Total Time:

20 minutes

Yield:

serves 4

Category:

Lunch

Method:

No Cook

Cuisine:

American

Diet:

Gluten Free
¼ cup nonfat Greek yogurt
3 tablespoons freshly squeezed lemon juice
2 tablespoons finely chopped tarragon
1 tablespoon Dijon mustard
½ teaspoon coarse kosher salt, plus more to taste
freshly ground black pepper to taste
1 pound shredded rotisserie chicken
½ cup chopped celery
2 tablespoons finely chopped red onion
1 cup seedless grapes, halved
¼ cup chopped toasted walnuts
Instructions
In a large bowl, whisk to combine the Greek yogurt, lemon juice, tarragon, salt and pepper.
Add the shredded chicken, celery, red onion, grapes halves, and toasted walnuts to the bowl. Toss to combine.
Serve over a bed of greens for a hearty salad or serve on a croissant or bread for a sandwich.
Notes
Make the flavor of this chicken salad your own by swapping up the fresh herbs!
Tarragon is great in this chicken salad, but herbs like basil, parsley, or rosemary would be delicious too!
Nutrition
Serving Size:

1 large scoop

Calories:

273

Sugar:

7.4 g

Sodium:

347.2 mg

Fat:

12 g

Carbohydrates:

11.5 g

Protein:

29.2 g

Cholesterol:

79.3 mg
Keywords: rotisserie chicken, rotisserie chicken salad recipe, healthy lunch, easy dinner, easy dinner quick
Recipe Card powered by
Looking for more ways to savor rotisserie chicken? We have you covered!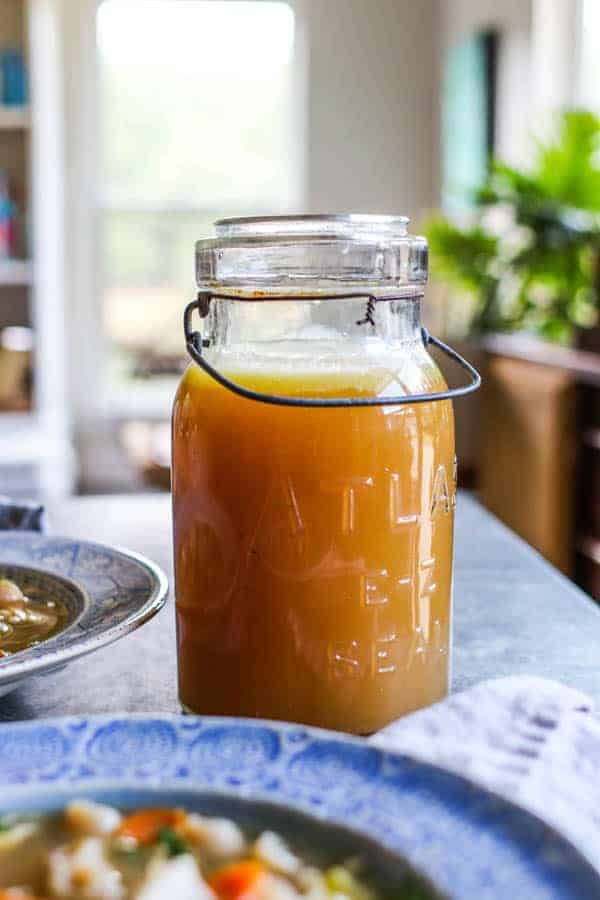 The Easiest DIY Rotisserie Chicken Broth Recipe || Now more than ever we are all trying to stretch our dollars and get the most out of the money we spend at the grocery store. Take rotisserie chicken for example, sure it's a fast, easy, and affordable weeknight meal for 4. But, did you know that you can actually make the most delicious, homemade chicken stock with the leftover skin and bones? It's true! Try simmering the bones and skin from your leftover rotisserie chicken in water. Just add garlic, onion, carrots, celery, aromatics and let simmer for a few hours. You'll be left with a rich, luscious chicken broth that is perfect for adding to soups and delicious enough for sipping on its own!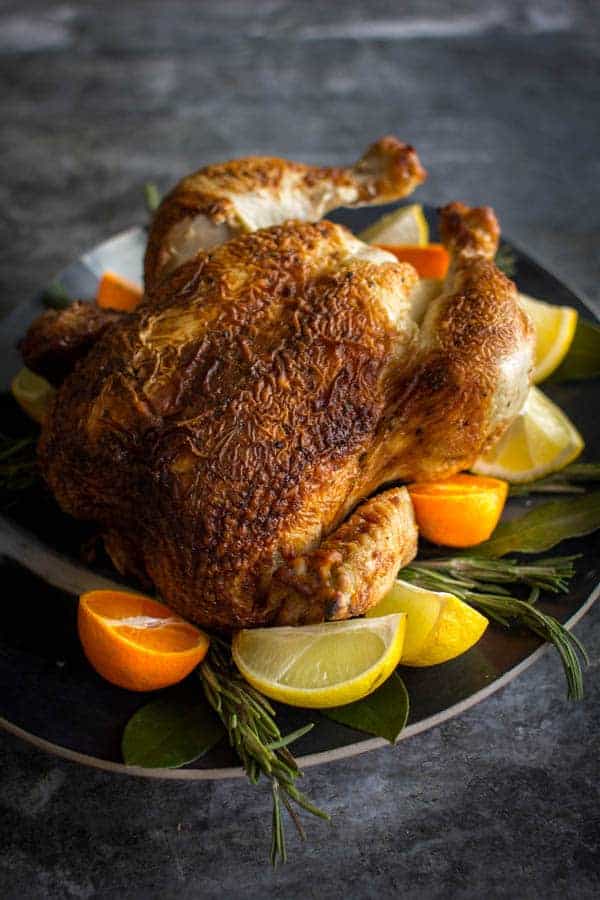 5 Tasty Ways to Serve Rotisserie Chicken || Looking for a few new ways to spruce up that rotisserie chicken from the supermarket? The mix of diets at my table means I need something for everyone! Adding shredded chicken boosts the protein in some of our favorite vegetarian mains. Try adding it so some of your faves, like curry, lettuce wraps, grille salads, and more!
Want to be a part of our online community outside of the blog? It's easy!! All you have to do is follow @THISMESSISOURS on FACEBOOK, INSTAGRAM, TWITTER, YOUTUBE, or PINTEREST to see cooking demos and peeks into our day to day life.