In our home, the holiday season means roaring fires in our wood-burning fireplace for Christmas and festive S'mores by the fire pit outside with Hot Chocolate. Building a great fire is an art form that starts with having the right supplies like our DIY Wax Fire Starters.
*** Please note, DIY Wax Firestarters like these should only be used in wood-burning fireplaces or outdoor wood-burning fire pits. Do not use in wood-burning stoves or gas fireplaces. Also, this post contains affiliate links. Click here to read what that means and thank you for your continued support of our small business.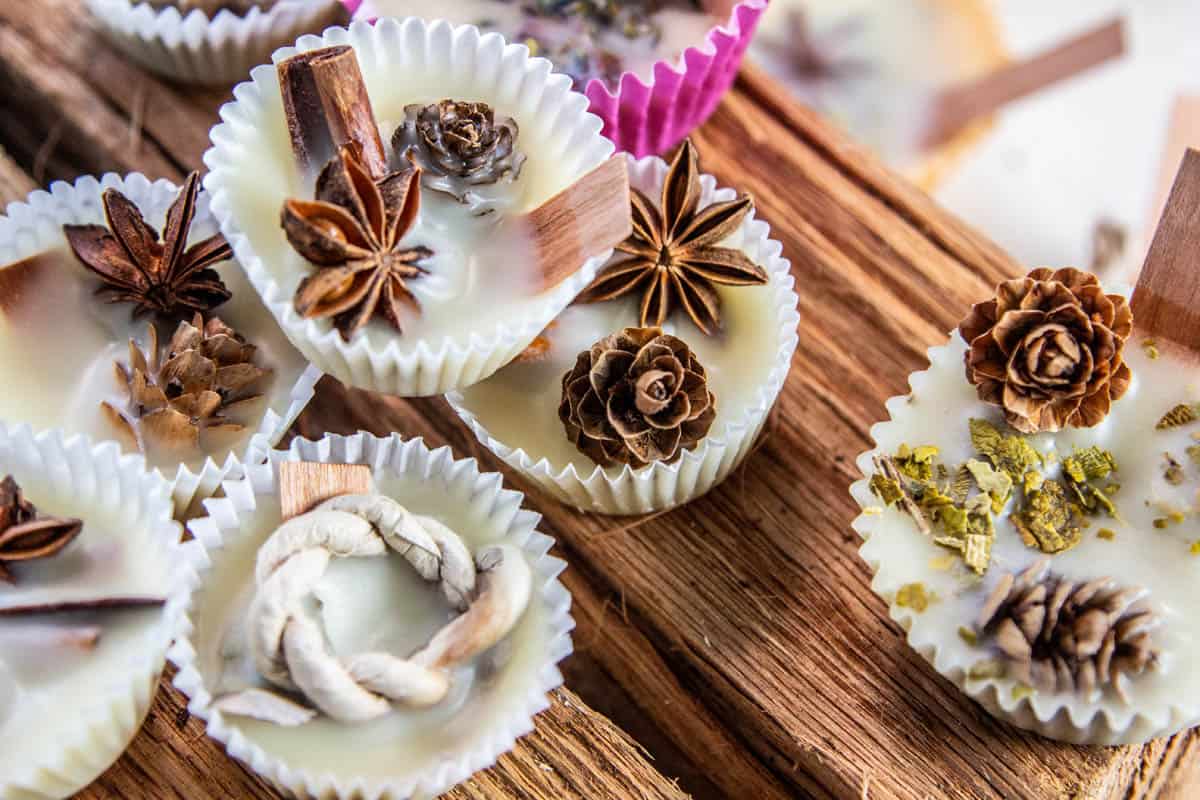 When we moved into our over 60-year-old house we realized it was the first time we'd had a wood-burning fireplace in more than a decade. Turns out we were a little rusty at starting really great fires which can be super frustrating when you are really cold.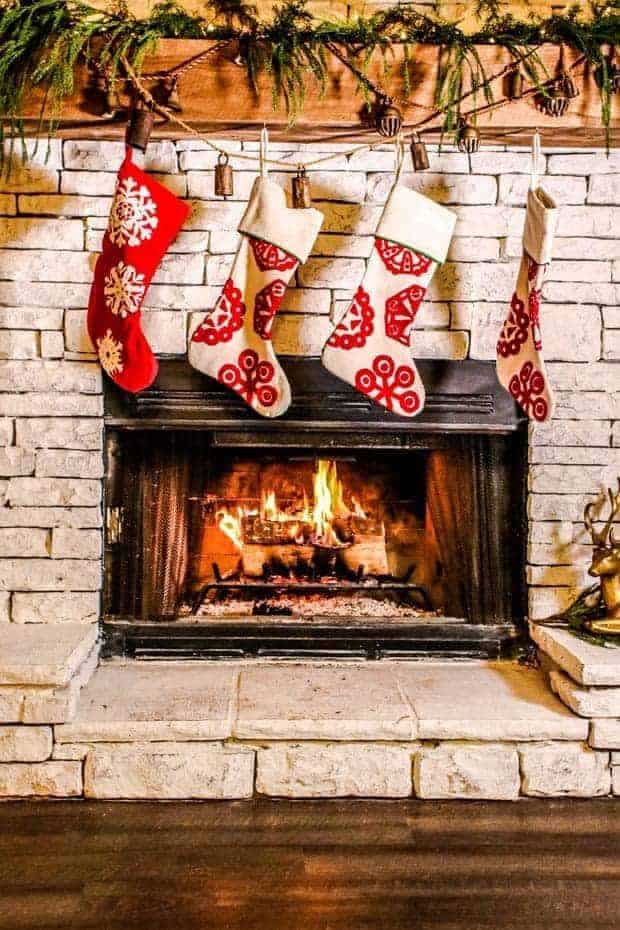 We were so rusty in fact that we had to research how to build a fire.
We tried lots of suggestions and methods, but the upside-down fire quickly rose to the top of our list of ways to build a fire.
When researching how to build a fire we quickly learned that we needed to create a fireplace kit that included all of the essentials for building a fire quickly and easily.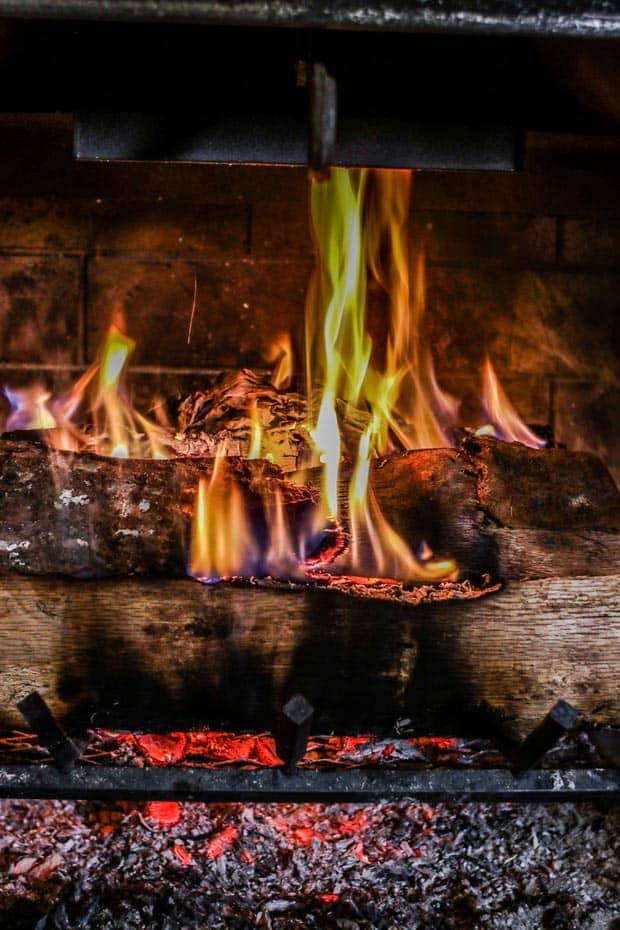 Our fireplace kit consists of a handful of essential items:
With these supplies on hand, we always have what we need to build a perfect fire.
Some of the items on our list like split wood and kindling can be gathered around our wooded property. This saves us money and just feels really good when we see the fruits of our manual labor all gathered together.
Another item on our fireplace kit that I can DIY and make at home are these super cute and fragrant DIY Wax Fire Starters. They add a real festive flair to the fireplace for Christmas not only with their scent but how pretty they are too!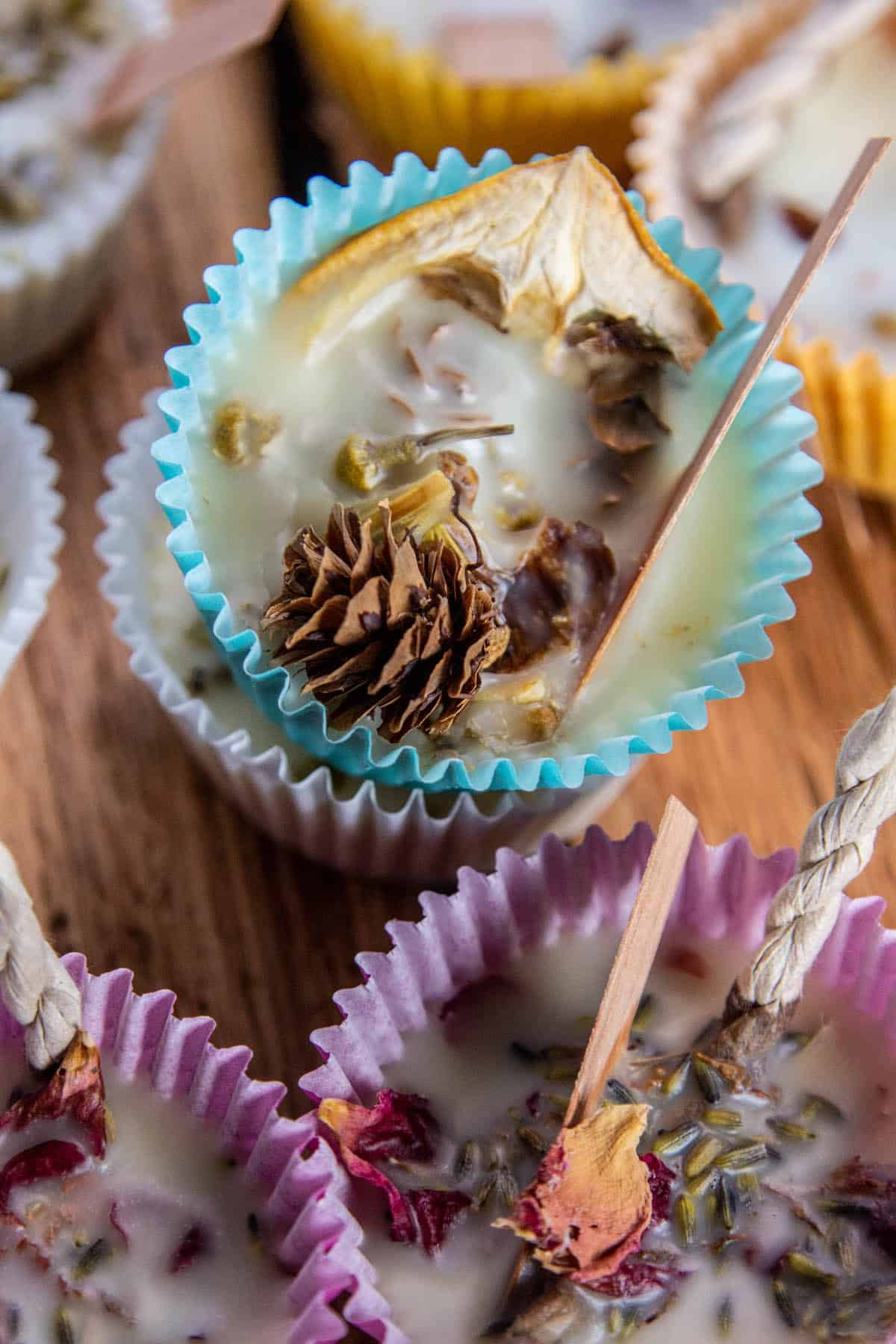 Not only are these DIY Wax Fire Starters pretty, but they're super helpful when it comes to starting fires. Like little candles, these fire starters burn just long enough to turn hard-to-light firewood into a blazing inferno. Plus, they make super cute holiday gifts too!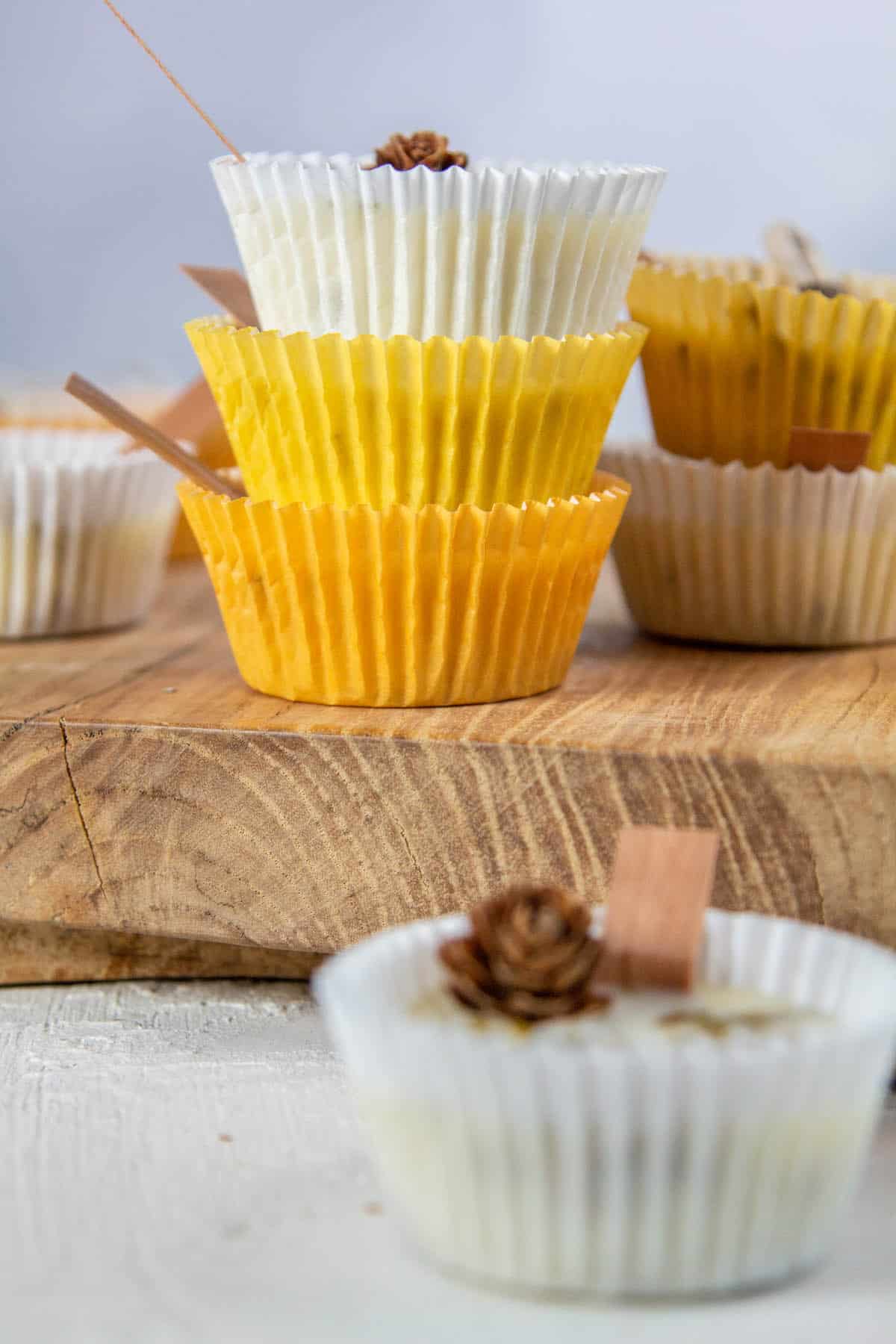 Step-by-step how to make DIY Wax Fire Starters.
This is one of those situations, much like cooking, where you will need to gather your supplies first. The process moves relatively quickly once you get the wax melted, so it is important to make sure you have everything you need at your fingertips.
The first step to making wax fire starters is to melt the soy wax. This step takes the longest and can be dangerous if done incorrectly, so it is important to know how to melt soy wax correctly.
Soy wax is very versatile - you can melt it in the microwave or use a double boiler setup. Melting in the microwave is ok, but it is much harder to gauge the temperature, so I always use the stove-top double boiler method below.
Fill a large saucepan about half full with water and place it on the stove to heat.
Place your wax in a pouring pitcher, clean coffee can, or smaller saucepan. Once a pan is used for melting wax, it can no longer be used to prepare food, so be sure to pick your pan wisely.
Put the smaller container in the larger saucepan and heat over medium-low heat until the wax is completely melted. Carefully add more water to the larger saucepan as needed to prevent the water from evaporating.
The wax should be heated to a temperature of 130 - 200 F to melt. Do not heat the wax above 200 F. If the wax is held at higher temperatures for long periods of time it will discolor. 
When the wax is melted you are ready to pour. Do so carefully and cautiously.
A few safety precautions to note when making wax fire starters at home.
Double boilers should never be left unattended.
Remember, once a pan is used for melting wax, it can no longer be used to prepare food.
Always keep a fire extinguisher close by for emergencies and know how to operate it.
Ok, now that our general safety brief is out of the way and your soy wax is melting it is time to go over the steps of how to make a wax fire starter.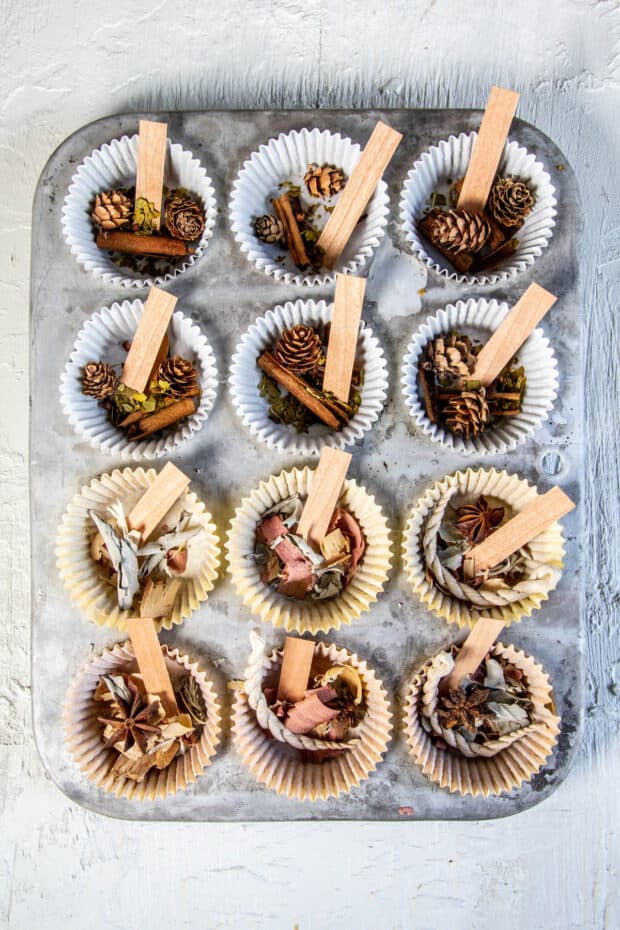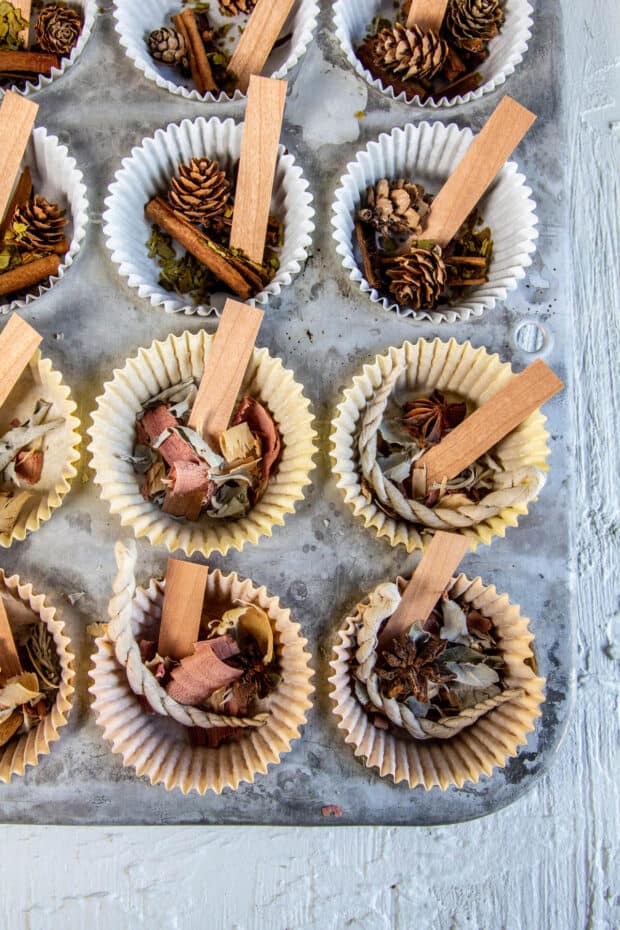 Place the wick and kindling filler.
Cedar wicks come in long pieces that will need to be cut down. It is important to leave the wick long enough that it sticks up out of the muffin liner a good bit.
This will ensure that the flame has time to catch before hitting the wax.
Once each liner has a wick begin adding the filler. The more the merrier - you want these paper cups full of fire-catching materials so that they will burn long enough for the fire to get going.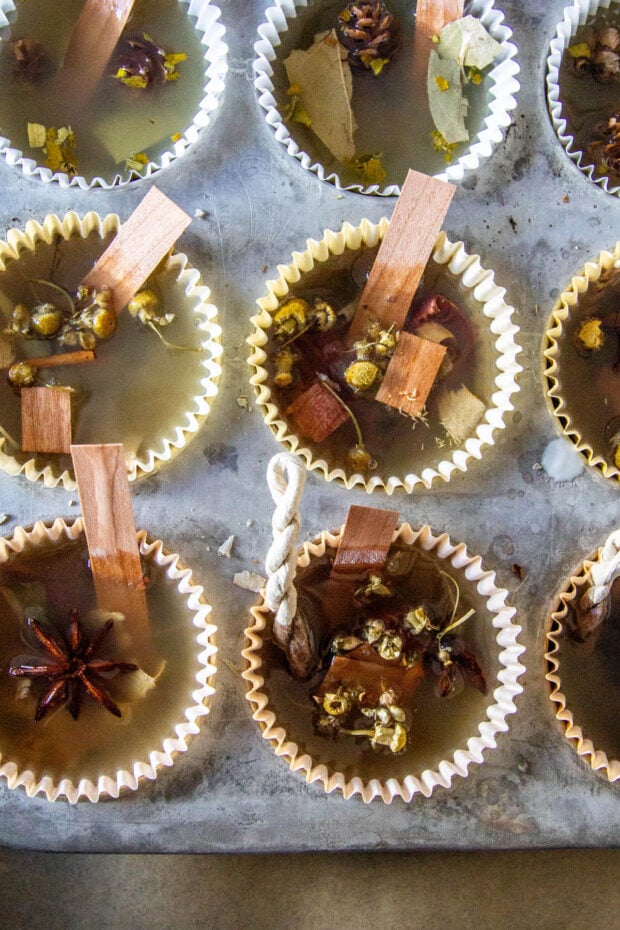 Add the melted wax to the liners.
Once all of the paper liners are prepared and filled carefully, pour the melted soy wax into the paper liners leaving a small paper rim all the way around the edge.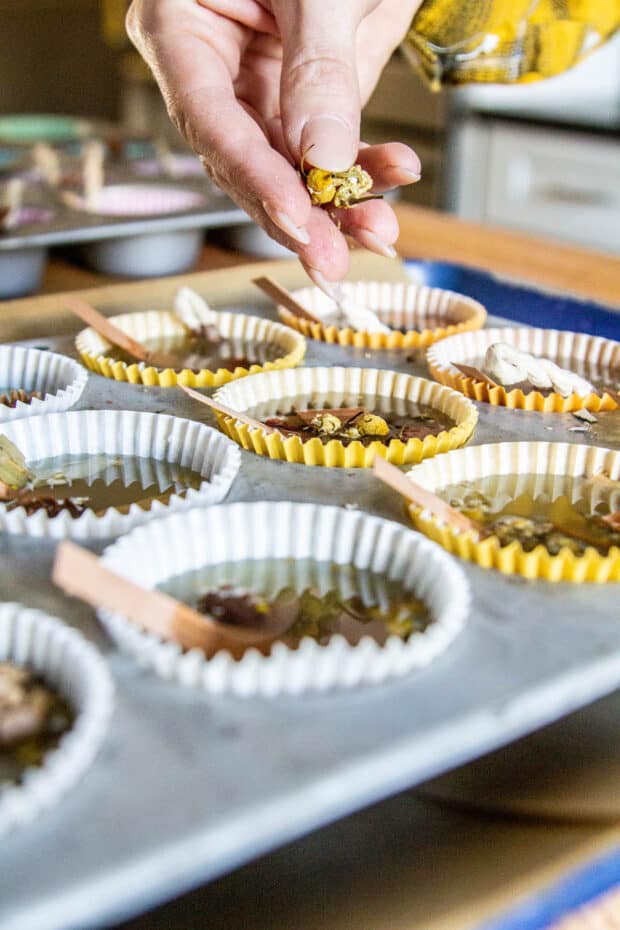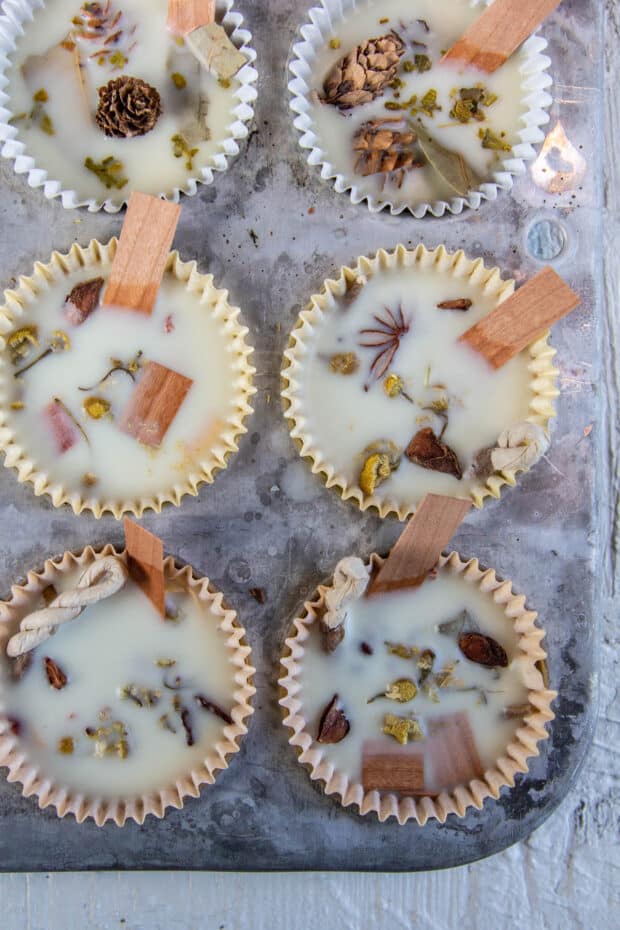 Let it cool and set.
The hot wax will start to cool immediately and will turn from clear to white as it solidifies.
Once completely cooled the wax fire starters are ready to use. They can be stored decoratively in a large glass jar, can be stored in a large plastic bag out of site, or can be wrapped and gifted to friends and family for the holidays!
If you tried our method for making DIY Wax Fire Starters for the fireplace and found it helpful and delicious I would be so grateful if you would rate the recipe and let me know what you think in the comments below!
Print
DIY Wax Fire Starters
Author:
Prep Time:

20

Cook Time:

20

Total Time:

40 minutes

Yield:

2

dozen small

1

x
Category:

DIY
muffin pans and paper liners
1 pound soy wax flakes
cedar wicks 
4-5 cups kindling filler/s of choice; bay leaves, cinnamon sticks, cedar shavings, mini pine cones, dried lavender, tea bags, dried chamomile flowers, dried rose petals, incense ropes, star anise, cloves, shredded paper.
old pan for melting wax. 
Instructions
In a double boiler melt the soy wax as directed in the blog post above over medium heat. 
Meanwhile, line the muffin pan/s with paper liners. 
Then place a few larger pieces of filler in the bottom of each paper cup then snuggle the cedar wick down in between the pieces so that at least ½-inch of the wick extends past the paper liner. Fill in around the wick with more kindling filler of choice making sure to pack the liners full.
As soon as the wax has melted pour an even amount into each well. You want some of the items to be completely submerged and some to still be poking out of the top. 
Sprinkle additional decorative filler across the top of the melted wax before it sets.
Let cool completely. 
Once cooled and the wax has solidified - remove the fore starters from the muffin tin and store in an airtight container. You can also wrap these and give them as gifts. 
To use a fire starter: 
Nestle the firestarter amongst the kindling on a stack of firewood in a fireplace or between the logs in a fire pit. Light the wick and allow to burn. 
Notes
Firestarters like these should only be used in wood-burning fireplaces or outdoor wood-burning fire pits. Do not use in wood-burning stoves or gas fireplaces. 
Keywords: wax fire starter, diy, fireplace for christmas, soy wax, whole spices
Recipe Card powered by
Frequently asked questions about making and using DIY Wax Fire Starters
What types of items can be used as kindling in a wax fire starter?
You can use any dried herbs and whole spices from the pantry. I suggest using items that are past their prime and need to be replaced. Natural items like pine cones, cedar shavings, dried lavender or rose petals, rosemary leaves, and pine needles are perfect.

The only requirement is that it has to be dry enough to burn when you light your wick.
Can I use a wax fire starter in a gas fire place?
No! Wax fire starters are only for wood-burning fireplaces and outdoor wood-burning fire pits.