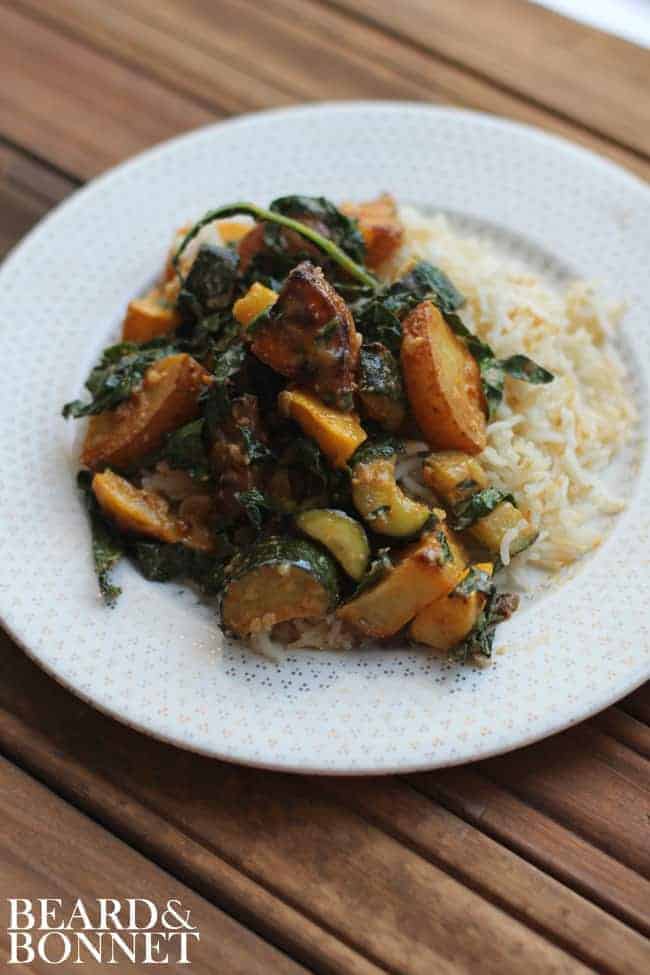 *It has been a few weeks now since Google shut down Google Reader and I just have to say that I really have grown to love Bloglovin! Follow my blog with Bloglovin and you too can wake up every morning to a constant stream of posts from all of your favorite bloggers.
I have been making a version of this dish almost every week since we have arrived here in So Cal. Usually it appears on my dinner table on Tuesday night, when I am trying to use up the last of the produce from the previous week's CSA before my new box arrives at the Farmer's Market on Wednesday. I have substituted every veggie and green known to man in this easy veggie bake and we have liked them all, but this was by far my families' favorite. *Hence the last minute photo of the very last serving before it was devoured by our daughter! Besides the amazing flavor that this dish delivers it is also one of my favorites because once it goes in the oven I can pretty much walk away and get a few more things off my agenda for the day while it is cooking. I almost always serve a side of Basmati rice with this dish spiked with a tablespoon of white miso in the cooking liquid. It really can't be beat! If you haven't used a lot of miso before there is a great article on the Just Hungry blog that really tells you just about everything you could ever want to know.
Do you have a go-to dish that you make every week? Feel free to leave recipe links in the comments!
Print
Summer Veggie Miso Bake
I love this veggie bake, because I can substitute any vegetable and any green I have on hand for those listed here and it always comes out great! My family particularly likes this version.
1

large zucchini squash, cut into large chunks

1

large yellow squash, cut into large chunks

4

medium new potatoes, unpeeled, cut into quarters

¼ cup

olive oil

¼ cup

white miso*

1 Tbsp

. red Thai curry paste
juice of

half a

lemon

1 ½ cups

Lacinato kale, tough stems removed and chopped

1 cup

fresh spinach, chopped

⅓ cup

basil, chiffonade
Instructions
Preheat the oven to 400°F with a rack in the middle. Wash all of the vegetables and cut them into ½ inch thick cubes or half moons and place in a large mixing bowl.
In a separate large bowl, whisk together the olive oil, miso, and curry paste. Measure out ⅓ cup of the mixture and and toss it in with the vegetables. Mixing until every veggie is coated in the sauce.
Place the veggies on a large, rimmed baking sheet in a single layer and roast for 25-30 minutes, tossing every 10 minutes, until all of the veggies are tender and browned with crisp edges.
While the veggies are roasting, whisk the lemon juice in with the remaining miso-curry dressing, then add the kale, spinach, and basil; toss until coated completely.
Remove the roasted veggies from the oven and place them directly into the bowl with the greens and extra dressing. Toss to mix everything together and serve immediately over rice.
Notes
The American Miso Company makes several varieties of miso under the Miso Master brand. All are organic and many are gluten free, including chickpea (also soy free), brown rice, red miso, mellow white and sweet white.
Recipe Card powered by