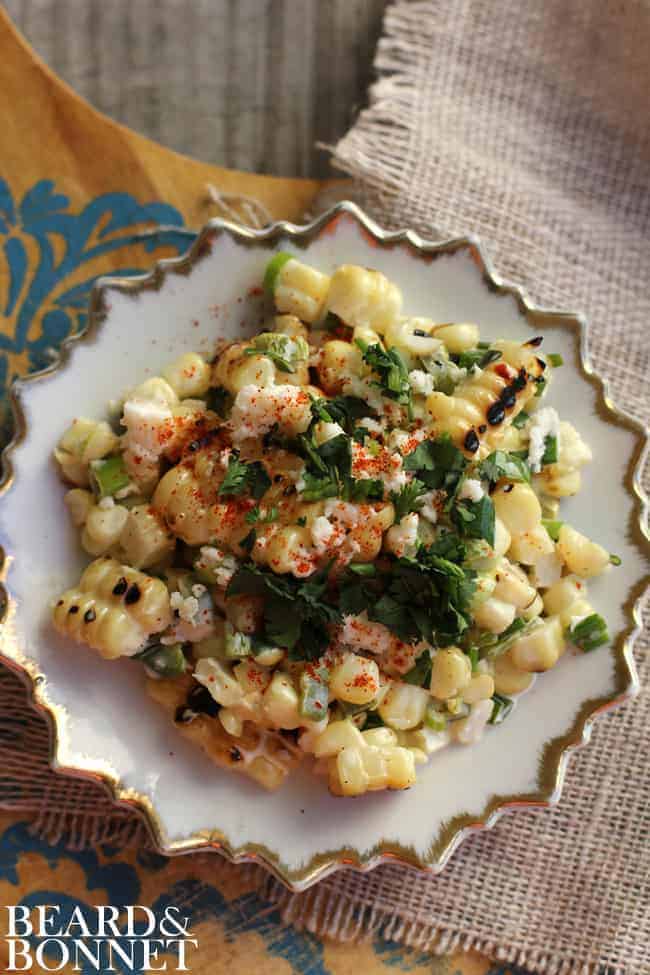 Did you know that July is national grilling month? Seems fitting since everywhere I look people are posting recipes about grilling, snapping pics of their loaded grills on Instagram, and Facebooking drool worthy recipes every time I log in. I love that everyone is spending more time outdoors, and is there really anything better than that smoky grilled flavor? My only problem is that I don't own a grill, which makes those posts and pictures more like tasty torture than grilling inspiration. However, I do own a grill pan and it can grill a mean veggie kabob or ear of corn when I need it to.
When the 4th came around a few weeks ago and everyone else was grilling outdoors I pulled out my trusty grill pan and went to work on a side dish that just may have stolen the show at our party.  I know you have had Mexican Street Corn at fairs and carnivals before…if you haven't you are really missing out. The only problem is that it's really messy to eat so don't plan on keeping your dignity intact while eating it. This salad takes all of the work out of the corn on the cob version and just allows you to enjoy all of the flavors without the hassle or dirty face. Did I mention that I lightened it up a bit from the fat laden carnival version too?
Head on over to The Balanced Platter for the recipe to this simple street food inspired salad.
UPDATE 10/13/16 
Unfortunately, The Balanced Platter website did not notify us before taking their site down and we were unable to retrieve these recipes. We are working to develop new recipes to replace these and will post them asap. Sorry for the inconvenience!
(Visited 1 times, 1 visits today)