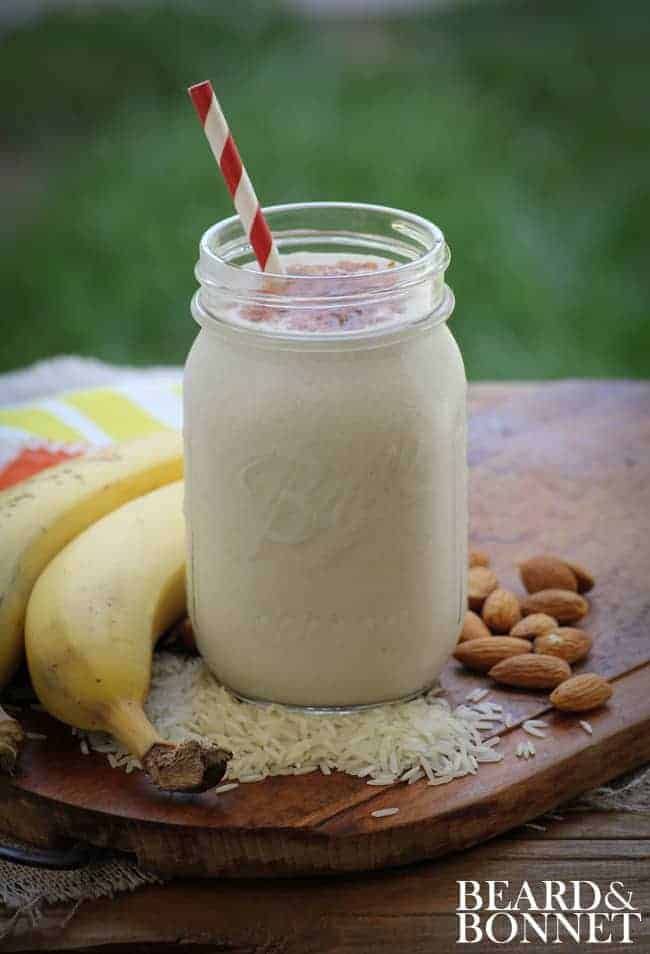 I love horchata! I love to make it, I love to drink it, I love to say it, and I even love songs named after it. Obsessed, maybe? One sip of a nice creamy horchata and you will agree there really isn't much that can surpass it. It is the perfect treat on a hot summer day and each time I see a stand at the market selling horchata I immediately take a place in line, because I simply cannot pass it up. This summer I have been experimenting with making horchata at home for my family and I am really amazed at how something so incredibly simple to make can taste so amazing.
A few days ago while brainstorming frozen recipe ideas for Beard and Bonnet I decided to combine 2 of my favorite things: milkshakes and horchata. The outcome of these 2 treats meshed together was a smoothie unlike any other smoothie I have ever had before it was rich and velvety, with the perfect mix of coconut and cinnamon. I used no sugar added coconut ice cream in the smoothie so I threw in a banana for a little natural sweetness. My family loved this smoothie, in fact little Kash drank all of his and then stole what was left of mine, good thing he is so darn cute! Have you ever made horchata at home?
Horchata Coconut Milk Smoothie
For the smoothie
1 cup

organic long-grain white rice, rinsed very well

3 cups

water

4

medium sized cinnamon sticks

¼ cup

sliced almonds, toasted

¼ tsp

. ground cinnamon

¼ cup

canned coconut milk, full fat

1

banana

1 pint

vanilla coconut milk ice cream, I used So Delicious no sugar added

½ cup

ice
For topping
½ Tbsp

cinnamon

½ Tbsp

. coconut sugar
Instructions
In a medium sized bowl cover the rice with the water, add the cinnamon sticks and allow to soak at room temperature at least 3 hours or overnight. In the morning, discard the cinnamon sticks and transfer the rice and its soaking liquid to a blender. Add the toasted almonds and puree for about 2 minutes. Strain the horchata through a fine sieve into a bowl and rinse out the blender.
To make the topping, combine the ½ tablespoon of cinnamon and ½ tablespoon of coconut sugar, stir well to combine and set aside.
Return the horchata to the blender and add the coconut milk, banana, ¼ teaspoon of ground cinnamon and puree until combined. Add the ice cream and ice and blend until smooth. Pour the smoothie into glasses and generously sprinkle the the top of each one with the cinnamon sugar topping.
Notes
To prepare the horchata in advance complete through the first blend then transfer the horcahata to a pitcher and store in the refrigerator until you are ready to mix up the smoothies.
I named this drink a smoothie because of its consistency, it is not thick like a true milkshake. The ice cream simply lends a creaminess to the smoothie, it doesn't thicken it.
Recipe Card powered by