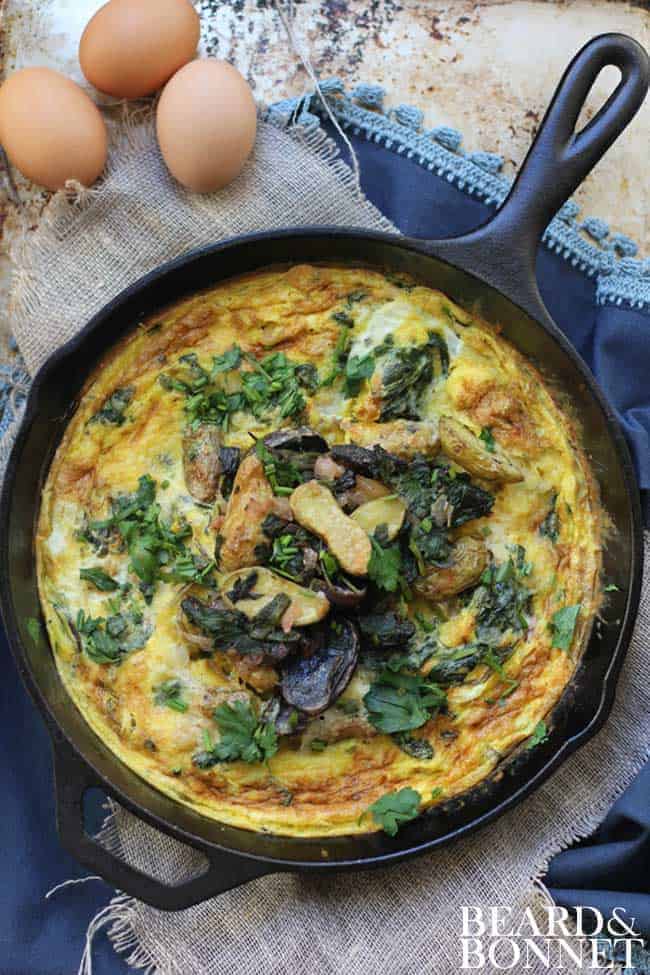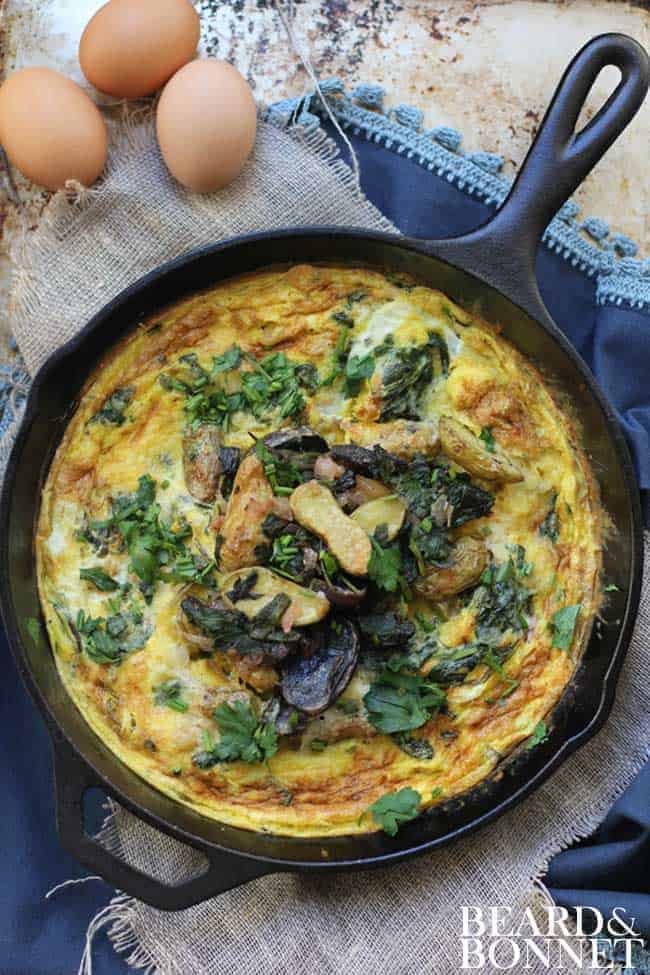 One of my favorite dishes to make is frittatas. They are easy to pull together, fast to get on the table, and are perfect for feeding a hungry crowd. Best of all, they are one of those dishes that can be served for breakfast, lunch, or dinner. There really aren't any rules when it comes to serving up a great frittata--you can practically put just about any combination of veggies in them and it would turn out great. In the spring and summer I like to use veggies like asparagus and zucchini, but in the winter months I opt for a heartier filling of potatoes and greens. For this particular version I used roasted fingerling potatoes that I had left over from dinner the night before and an assortment of greens that I had on hand in the fridge.
You may not be new to making frittatas, but here are a few tricks that I have learned along the way that have helped me to master the art of the frittata:
For the fluffiest frittata possible, beat and salt the eggs just before cooking. If you combine the eggs and the salt before you start cooking and allow them to sit, the eggs will become watery.
Make sure that the broiler has had time to heat up before placing the pan in the oven. This intense blast of heat will cause the eggs to puff like a soufflé.
Do not stir the eggs in the pan while cooking them on the stove, instead draw a heatproof spatula across the bottom of the pan in deliberate strokes to create large curds. Push the cooked eggs toward the center and allowing the runny parts to gather underneath. This will help to prevent scorching on the bottom of your frittata.
Frittatas are perfect for entertaining because they are just as good warm or at room temperature as they are hot.
I am so happy to have shared this recipe on Potluck by Oh My Veggies! Click here for the recipe.
Also this week I shared 12 Gluten-Free Holiday Gifts From the Kitchen on Henry Happened! Hop on over for a little homemade gift inspiration by clicking here.