In the ever-changing world of culinary delights, Brussels sprouts have quickly gained a reputation as a star ingredient. They're cherished not just for their nutritional value but also for their versatility on various tables. Today, we're unlocking the delicious secret to roasted Brussels sprouts – and it's all about the heat.
Perfectly Roasted Brussels Sprouts: Why High Heat Is Key
If you've ever wondered how to make roasted brussels sprouts that are crispy on the outside, tender on the inside, and full of rich, caramelized flavors, the answer lies in one word: heat.
High heat is the culinary key that will lift your Brussels sprouts to gourmet status. When you crank up the temperature, something wonderful happens. The heat makes these humble greens undergo a stunning transformation, creating coveted golden-brown exteriors and bringing out their natural sweetness. It's the secret ingredient that turns Brussels sprouts from ordinary to extraordinary.
Choosing the Perfect Brussels Sprouts
Before diving into the process of high-heat roasting, it's essential to begin with the best Brussels sprouts you can find. Freshness is the first step to making roasted Brussels sprouts, so look for sprouts that are firm, vibrant, and free from any signs of wilting or yellowing.
How to Prepare Brussels Sprouts for Roasting
If you're fortunate enough to encounter them on the stalk, consider it a special treat. When preparing your Brussels sprouts, take care to trim the ends and remove any damaged or loose leaves.
To unleash the power of high-heat roasting, you don't need a long list of ingredients. In fact, the recipe's simplicity is what makes it so effective. All you need are three key players: olive oil, salt, and black pepper.
Evenly coating the sprouts with olive oil is an important step. This ensures a consistent, crispy exterior during roasting. The salt adds a savory element, while black pepper contributes a touch of heat. Together, these simple ingredients enhance and balance the flavor of roasted Brussels sprouts' inherent goodness.
With your Brussels sprouts prepared and seasoned, it's time to jump into the roasting process. This is where the magic happens, where those tiny green cabbages undergo a complete makeover.
What Temperature is Best for Roasting Brussels Sprouts?
High-heat roasting, often done at temperatures around 400°F, is the key to achieving that perfect caramelization. The roasted Brussels sprouts should cook until they're golden brown, crispy on the outside, and tender on the inside.
The Best Ways to Serve Roasted Brussels Sprouts
Of course, these Roasted Brussels Sprouts are insanely delicious on their own, but we couldn't resist taking it to the next level. To elevate the dish, we introduced a pop of color and flavor: a red pepper sauce and fresh pomegranate.
The red pepper sauce adds a burst of color and flavor. It's an easy-to-make accompaniment that takes the dish from everyday to gourmet. Fresh pomegranate seeds add a delightful pop of sweetness and texture, making this recipe a total winner in our book!
Keep Scrolling for More of Our Best Roasted Vegetable Recipes.
Honestly, lots of vegetables and fruits benefit from high-heat roasting. Here are a few of our favorite recipes for you to try next.
If you're looking for an easy appetizer recipe that's sure to impress your guests, look no further than our roasted olives. With just a few simple ingredients and minimal hands-on time, you'll have a delicious and flavorful appetizer that everyone will love!
Slicing the potatoes this way before they're roasted causes them to fan apart, leaving perfectly crisp edges and tender centers that practically melt in your mouth.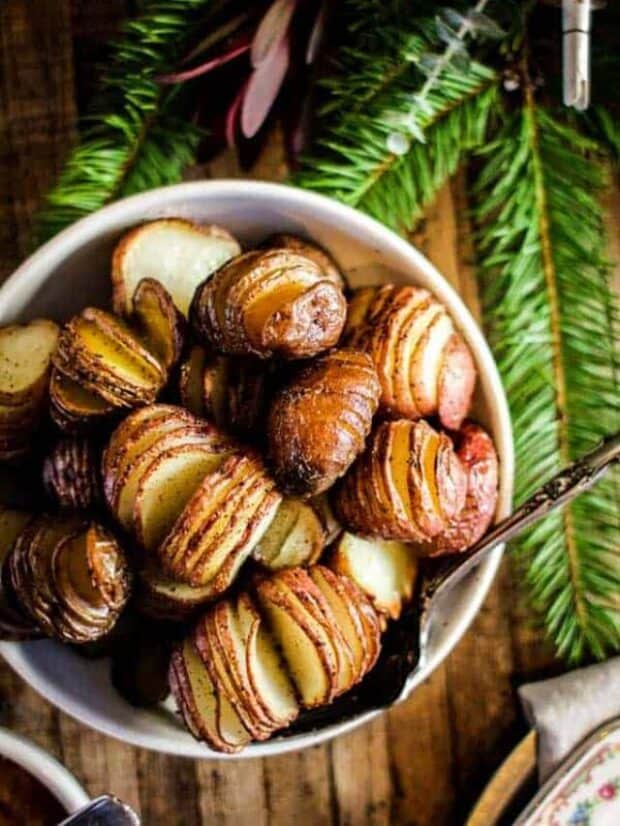 If you've made these Roasted Brussels Sprouts, I would be so grateful if you would rate the recipe and let me know your thoughts in the comments below!
Print
Roasted Brussels Sprouts with Pomegranate & Red Pepper Sauce
Indulge in crispy, caramelized roasted Brussels sprouts for a simple side dish. This recipe makes a delightful addition to any meal.
Author:
Prep Time:

5

Cook Time:

25

Total Time:

30 minutes

Yield:

6

servings

1

x
Category:

Side dish

Method:

Roasted

Cuisine:

American

Diet:

Vegan
For the roasted Brussels Sprouts 
1

pound Brussels sprouts

2 tablespoons

olive oil
Salt and black pepper to taste
For the Red Pepper Sauce
2

red bell peppers, seeded & roughly chopped

¼ cup

red wine vinegar

1 teaspoon

kosher salt
To serve
½ cup pomegranate arils
Instructions
To make Roasted Brussels Sprouts:

Preheat your oven to 425°F. This high temperature will help the Brussels sprouts become crispy and caramelized.

Start by cleaning the Brussels sprouts. Rinse them thoroughly under cold running water to remove any dirt. Pat them dry with a clean kitchen towel or paper towels.

Trim the tough ends of each Brussels sprout with a knife. Then, cut each sprout in half from top to bottom. If you have very large sprouts, you can quarter them for even roasting.

Place the halved Brussels sprouts in a large mixing bowl. Drizzle the olive oil over them, ensuring they are evenly coated. Season with salt and pepper to taste. You can also add other seasonings like garlic powder, paprika, or balsamic vinegar for extra flavor.

Gently toss the Brussels sprouts in the bowl to make sure they are well-coated with the oil and seasonings.

Spread the Brussels sprouts in a single layer on a baking sheet. Make sure they have some space between them to allow for even cooking.

Place the baking sheet in the preheated oven and roast the Brussels sprouts for about 20-25 minutes. Halfway through cooking, give the sprouts a gentle shake or stir to ensure they cook evenly.

The Brussels sprouts are ready when they are tender on the inside and have crispy, browned edges. You can check doneness by piercing them with a fork; they should be tender but not mushy.

To make Red Pepper Sauce:

In a small pot, cook red bell peppers on medium high heat until they begin to soften. Add salt and vinegar and reduce heat to medium and allow to simmer for about 5 minutes. Place ingredients in a blender and mix until smooth.

To serve:

Transfer the roasted Brussels sprouts to a platter. Drizzle with red pepper sauce and sprinkle pomegranate arils to serve. 

 
Notes
Any leftover red pepper sauce is great tossed with pasta, spread on sandwiches, or even drizzle on roasted potatoes.
Nutrition
Serving Size:

10 g

Calories:

38

Sugar:

3.6 g

Sodium:

780.7 mg

Fat:

2.1 g

Saturated Fat:

1.3 g

Trans Fat:

0 g

Carbohydrates:

4.2 g

Fiber:

0.2 g

Protein:

0.5 g

Cholesterol:

1.6 mg
Keywords: roasted brussels sprouts, brussels sprouts, easy side dish, red pepper sauce
Recipe Card powered by