There is nothing more delicious than these crispy oven-roasted potatoes, NOTHING! This 5-ingredient recipe requires very little hands-on time and almost effortlessly creates potatoes that are ultra crispy on the outside and smooth and silky on the inside! Literally, it's like biting through a perfectly crisp french fry to reveal creamy mashed potatoes inside.
Ok, let's cover all of the oven roasted potato making basics!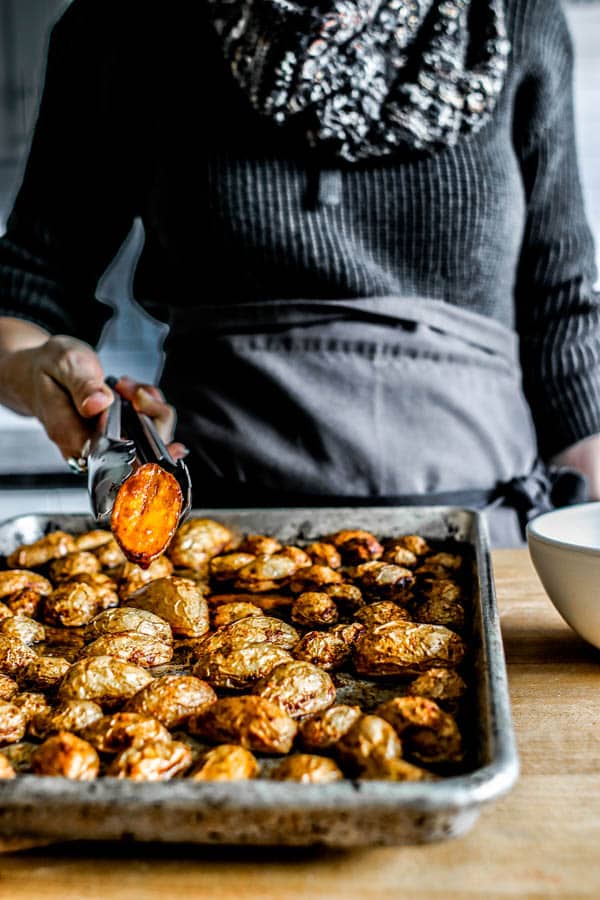 Which potatoes are best for roasting?
Technically, you can roast all varieties of potato, but there are some that are more suited to this type of preparation than others which means that they create a more superior end result. For the sake of simplicity though, let's just talk about the variety of potato that you need to use to make this oven roasted potatoes recipe, baby Yukon golds!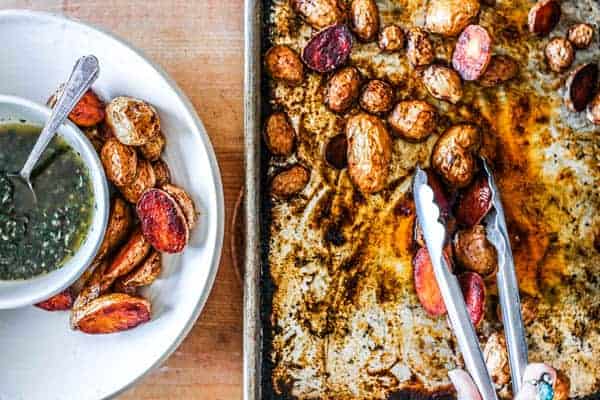 Baby Yukon gold's are round to slightly oblong shaped potatoes with thin, yellowish light brown skins, and buttery yellow to golden waxy flesh. They are low to medium in starch and have a moist, creamy, succulent texture with a buttery flavor. They are well suited for boiling, steaming, mashing, grilling, and for making these oven roasted potatoes!
[mv_video doNotAutoplayNorOptimizePlacement="false" doNotOptimizePlacement="false" jsonLd="true" key="p2mmf9sttwy30q1wzled" ratio="16:9" thumbnail="https://mediavine-res.cloudinary.com/v1613607898/fu4bkemr7abhzehbzyne.jpg" title="Crispy Oven Roasted Potatoes" volume="70"]
Is it important to soak potatoes in water before roasting?
Not for this oven roasted potatoes recipe!! If you were making French fries you would want to though. Because soaking peeled, washed and cut fries in cold water overnight removes excess potato starch, which prevents fries from sticking together when you are frying them and helps achieve maximum crispness.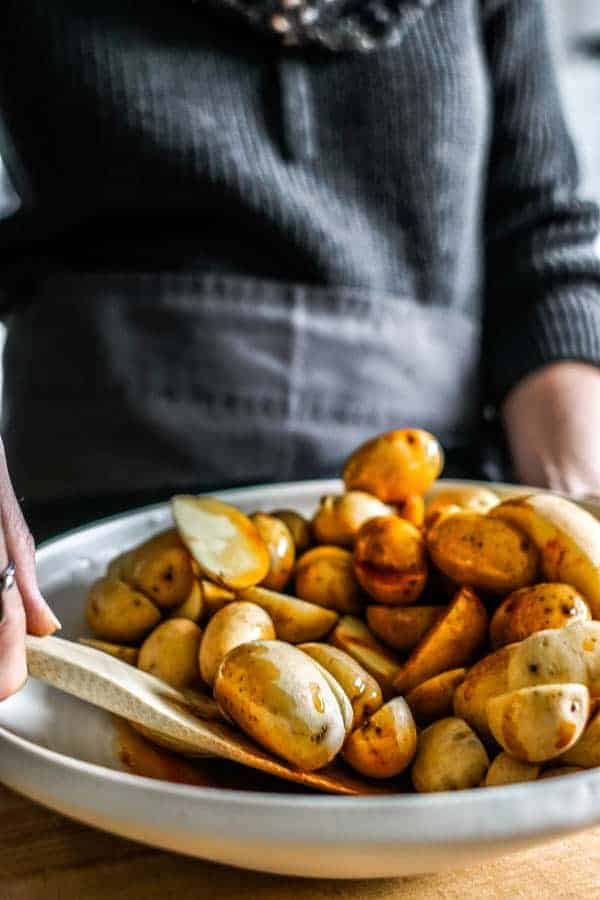 Is it necessary to boil potatoes before roasting?
For some oven roasted potatoes recipes the answer is yes, but not for this one! I loathe extra steps in the kitchen, so boiling potatoes before roasting them is out of the question for me.
Using Baby Yukon Golds in this recipe as opposed to a larger variety of potato ensures that the oven roasted potatoes cook evenly, quickly, and have a luxuriously creamy interior without any extra steps involved.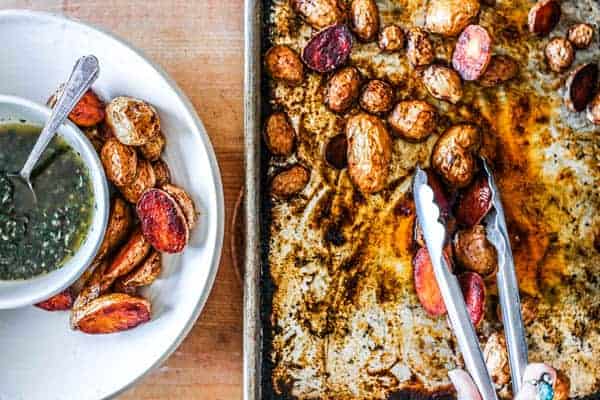 This is the secret behind how I get these crispy oven roasted potatoes so crispy....
For this recipe, the crispiness comes from a BLAST of high heat at the beginning of the cooking process. Before you even start slicing potatoes for this recipe you will place the sheet pan you plan too use in the oven and preheat it to 500°F for 30 minutes. This ensures that the pan is smoking hot when you pour the seasoned potatoes onto it.
Another step in this oven roasted potatoes recipe that ensures maximum crisp factor for your potatoes is that once the potatoes are on the hot pan, they are flipped cut side down. This places the maximum amount of potato real estate next to that smoking' hot pan, so the surface can sear.
Alright, let's make a batch of these oven roasted potatoes together!
It is important to note that for this recipe you will need to start by preheating a sheet pan in the oven at 500°F for 30 minutes before you do anything else.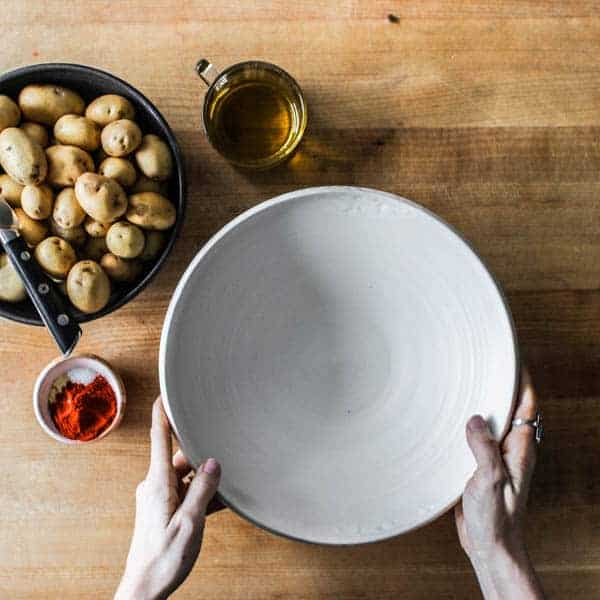 Gather the ingredients.
You will need baby Yukon gold potatoes, sweet or smoked paprika, garlic powder, salt, and olive oil.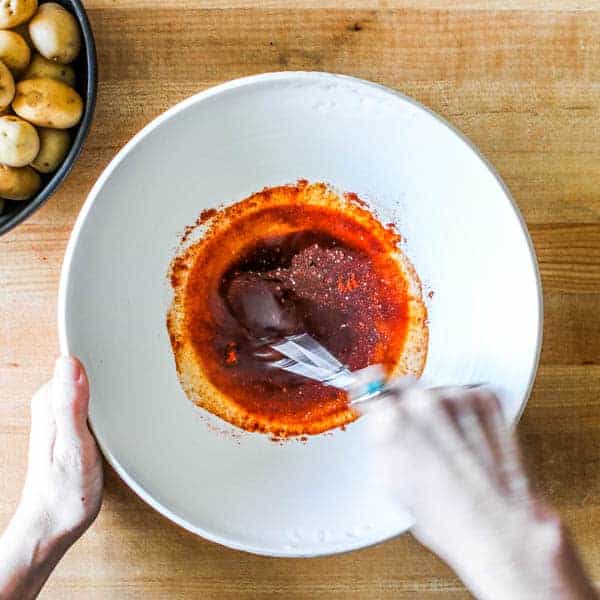 Combine the seasonings.
Combine all but 2 tablespoons of the oil, paprika, salt, and garlic powder. whisk to combine.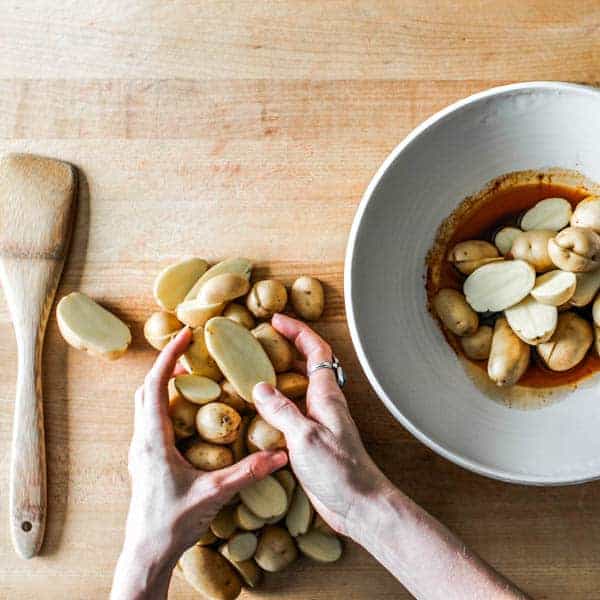 Slice the potatoes in half.
Add to the bowl and toss to coat.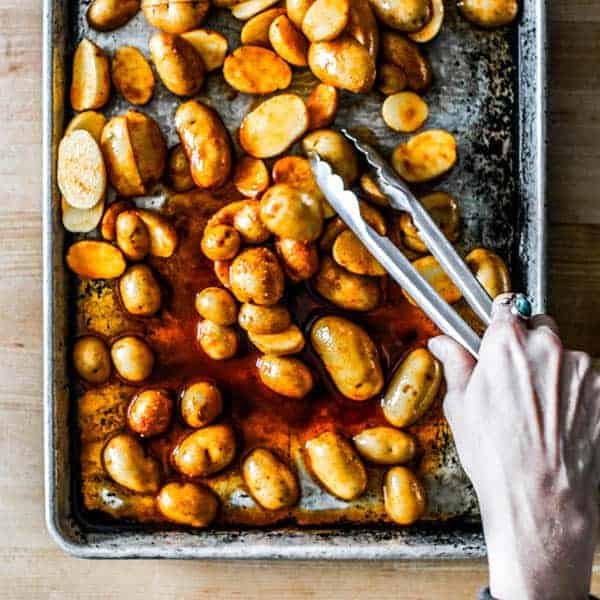 Get ready for the sizzle!
Carefully, remove the hot pan from the preheated oven and reduce the temperature to 425°F. Drizzle the remaining oil onto the hot pan followed by the entire contents of the potato bowl.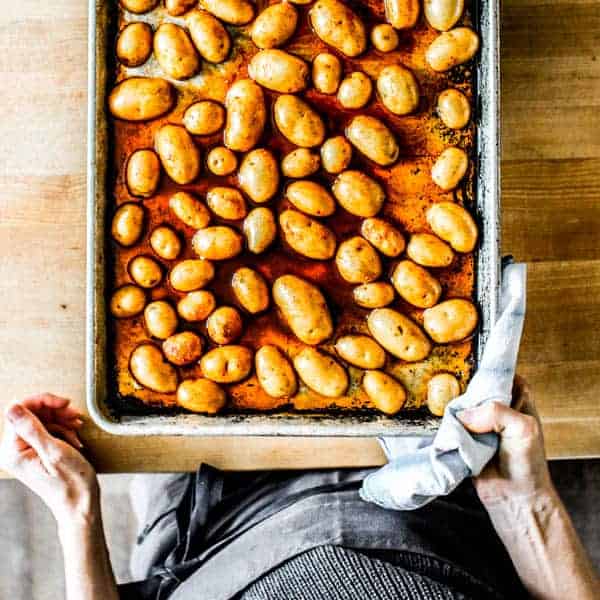 Bake for 25-30 minutes
Bake undisturbed for 25-30 minutes then immediatley remove from the oven and transfer to a serving dish.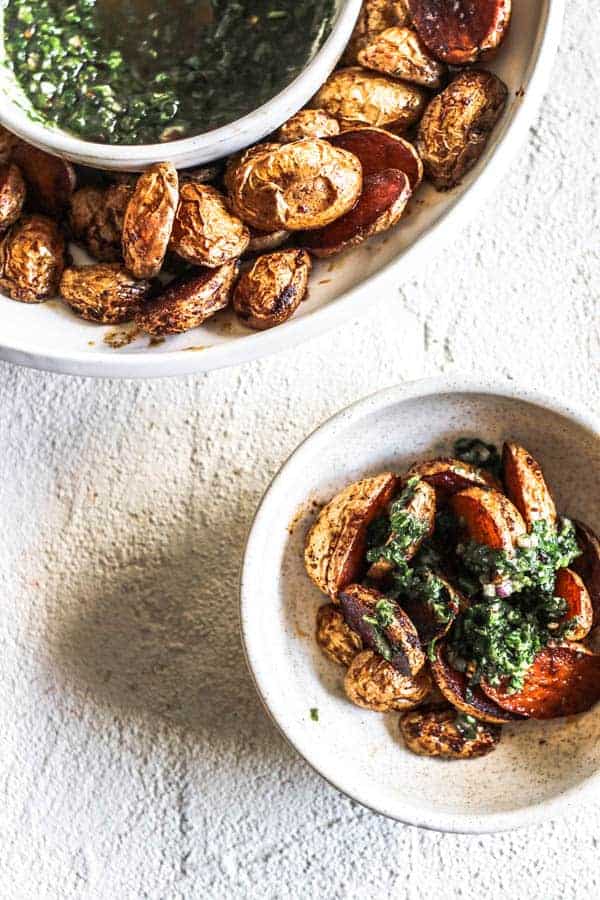 Here are a few of our favorite ways to prepare potatoes!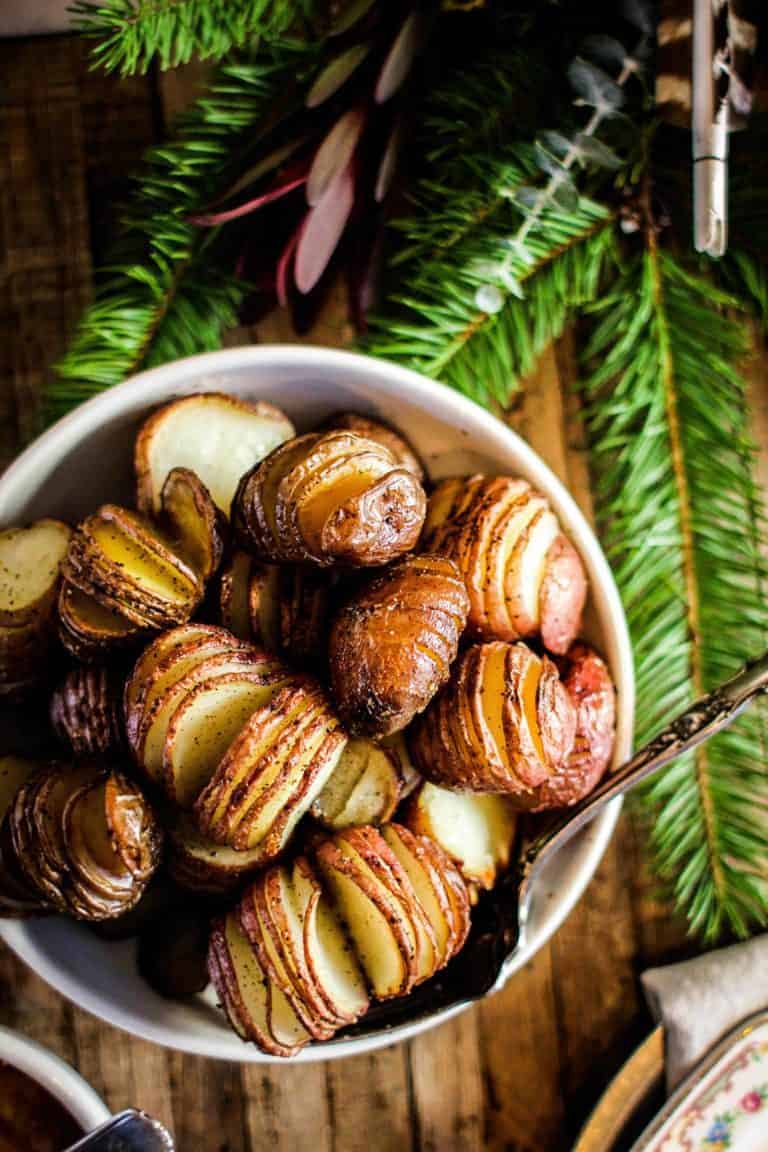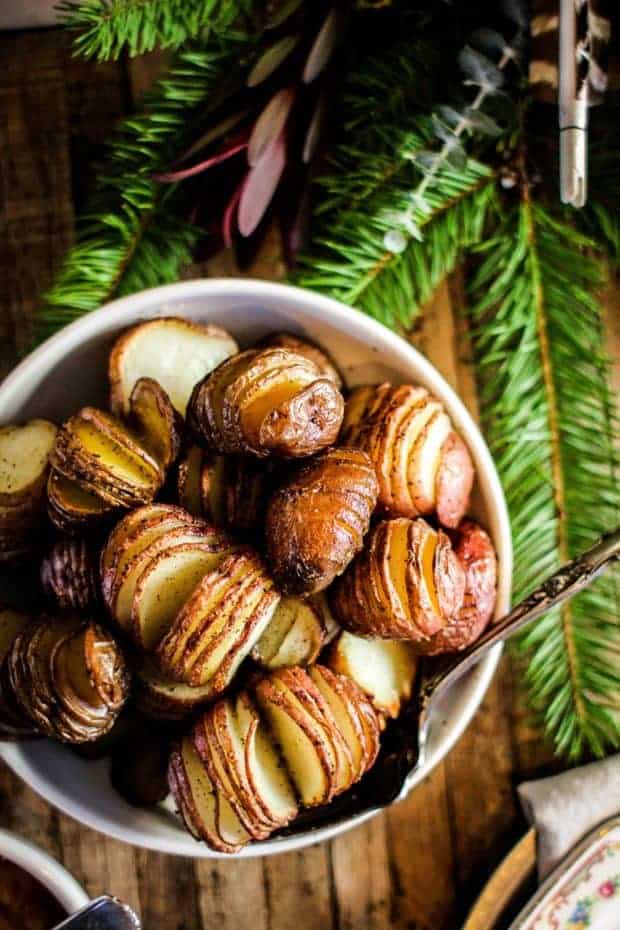 Perfectly Roasted Christmas Potatoes
Don't let the name fool you, these potatoes are a welcome addition to the dinner table all year! The hasselback treatment creates the perfect combo of crisp and creamy!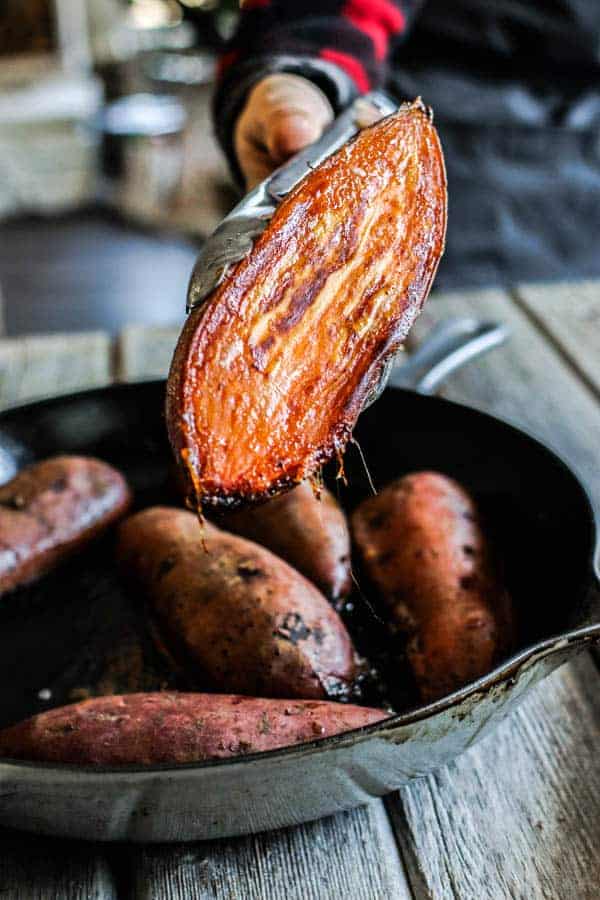 Perfectly Roasted Sweet Potatoes
Nothing quite hits the spot like a perfectly roasted sweet potato. Tender and sweet, oven roasted sweet potatoes are the perfect canvas for all sorts of toppings!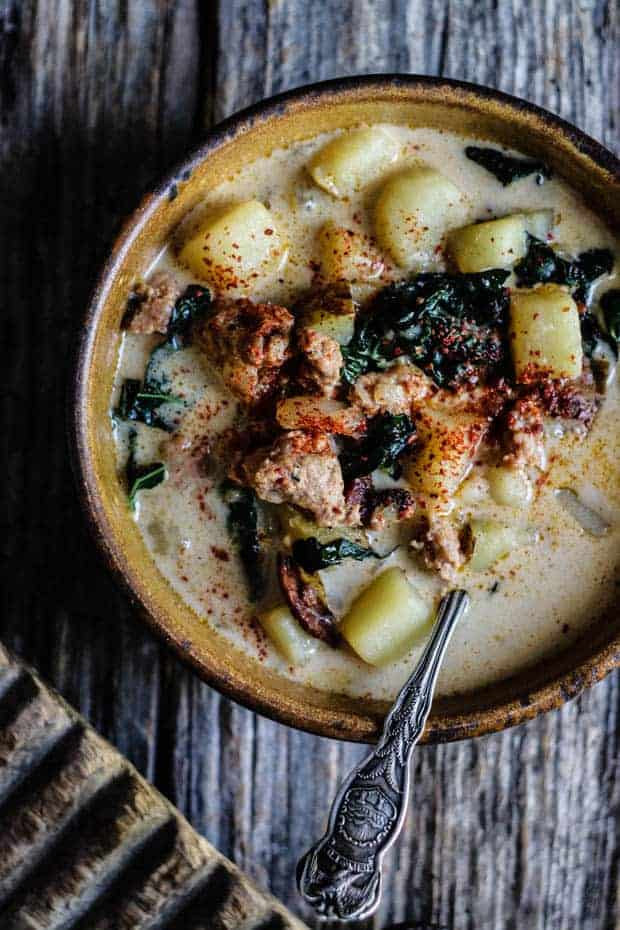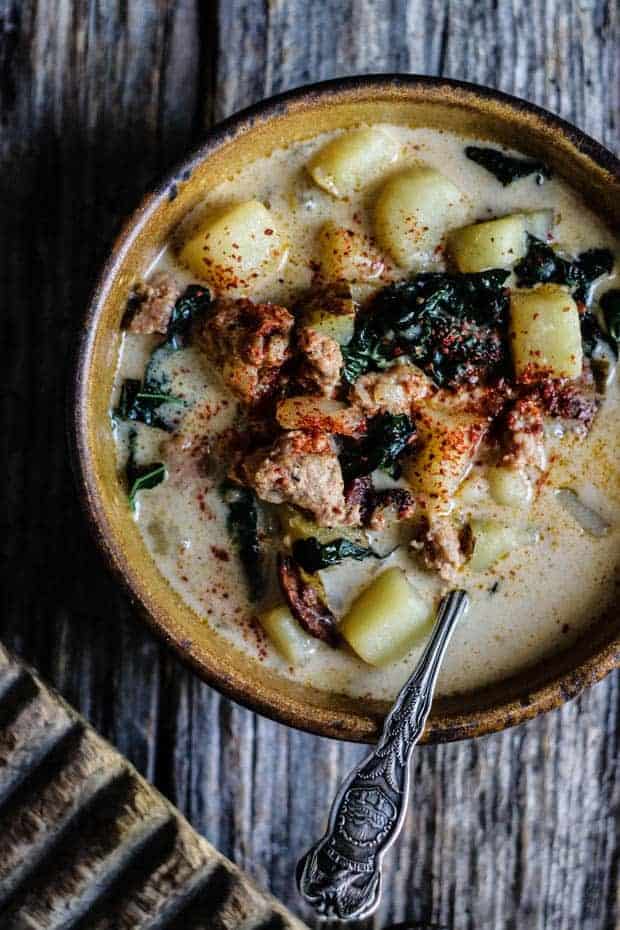 Zuppa Toscana Soup
This soup has all the basics, lots of hot Italian sausage, crispy bacon, tender potatoes, a hefty dose of heavy cream and a few handfuls of greens. It's simple and rustic, but is pure bliss for your tastebuds.
If you've made our Oven Roasted Potatoes I would be so grateful if you would

rate the recipe and let me know what you think in the comments below!
Print
Crispy Oven Roasted Potatoes
Don't forget to rate the recipe with a STAR rating and let me know what you think about this Crispy Oven Roasted Potatoes recipe in the comments below. I just love hearing from you. Your reviews/comments really help other people that visit This Mess is Ours!
Author:
Prep Time:

5 mins

Cook Time:

55 mins

Total Time:

1 hour

Yield:

4

servings

1

x
Category:

Side dish

Method:

oven

Cuisine:

Classic

Diet:

Gluten Free
1 ½ pounds baby Yukon Gold potatoes or Dutch yellow Potatoes
½ cup olive oil, divided
2 tablespoons paprika
½ tablespoon kosher salt
½ teaspoon garlic powder
Instructions
Preheat the oven to 500°F and place a baking sheet inside. Set a time for 30 minutes. 
Meanwhile, slice the baby potatoes in half and set aside. In a large bowl whisk ¼ cup + 2 tablespoons of the olive oil and the paprika, salt, and garlic powder together. Add the potatoes and toss to coat.
When the oven has been preheating for the entire 30 minutes, carefully remove the screaming hot pan and place it on a trivet or surface that is heat safe. Pour the remaining 2 tablespoons of oil onto the hot pan, then pour the seasoned potatoes onto the pan. Use tongs or a fork to quickly flip the potatoes cut side down on the pan and arrange them so that they are in an even layer. 
Reduce the oven temperature to 425°F. 
Bake the potatoes for 25-30 minutes depending on size*, do no disturb them. When the time is up remove the potatoes from the oven and transfer the potatoes to a serving vessel immediately. Serve with your favorite dipping sauces.  
Notes
Cook time reflects the 30 minutes needed to preheat the oven.
*The oven roasted potatoes in the images and video took 30 minutes to cook. 
Nutrition
Serving Size:

a few scoops

Calories:

306

Sugar:

1.4 g

Sodium:

382.2 mg

Fat:

22.9 g

Carbohydrates:

25.5 g

Protein:

3.2 g

Cholesterol:

0 mg
Keywords: potatoes, crispy oven potatoes, easy potato recipe, oven roasted potatoes
Recipe Card powered by
I just love hearing from you! Your reviews and comments really help others that visit This Mess is Ours. Want to be a part of our online community outside of the blog? It's easy!! All you have to do is follow @THISMESSISOURS on FACEBOOK, INSTAGRAM, TWITTER, YOUTUBE, or PINTEREST to see cooking demos, and peeks into our day to day life.
Frequently asked questions