I don't care if some people think it's kid food, I love this homemade Instant Pot Applesauce! Store-bought applesauce doesn't hold a candle to this richly flavored homemade applesauce recipe. It's easy to make, cooks up really fast in the Instant Pot, and is endlessly customizable!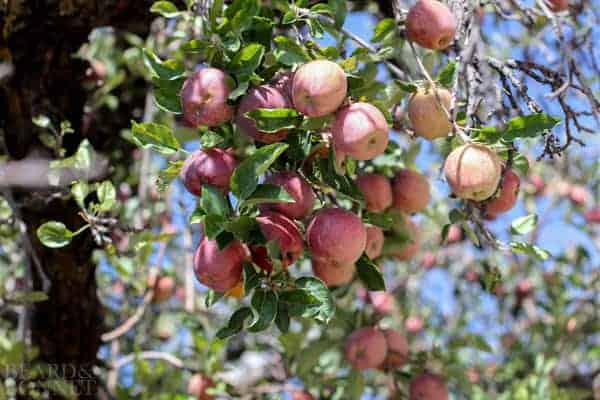 Trust me, this is one of those times that you should forgo the store bought alternative and put in the extra effort to make your own. You won't be disappointed! Let's cover the applesauce making basics.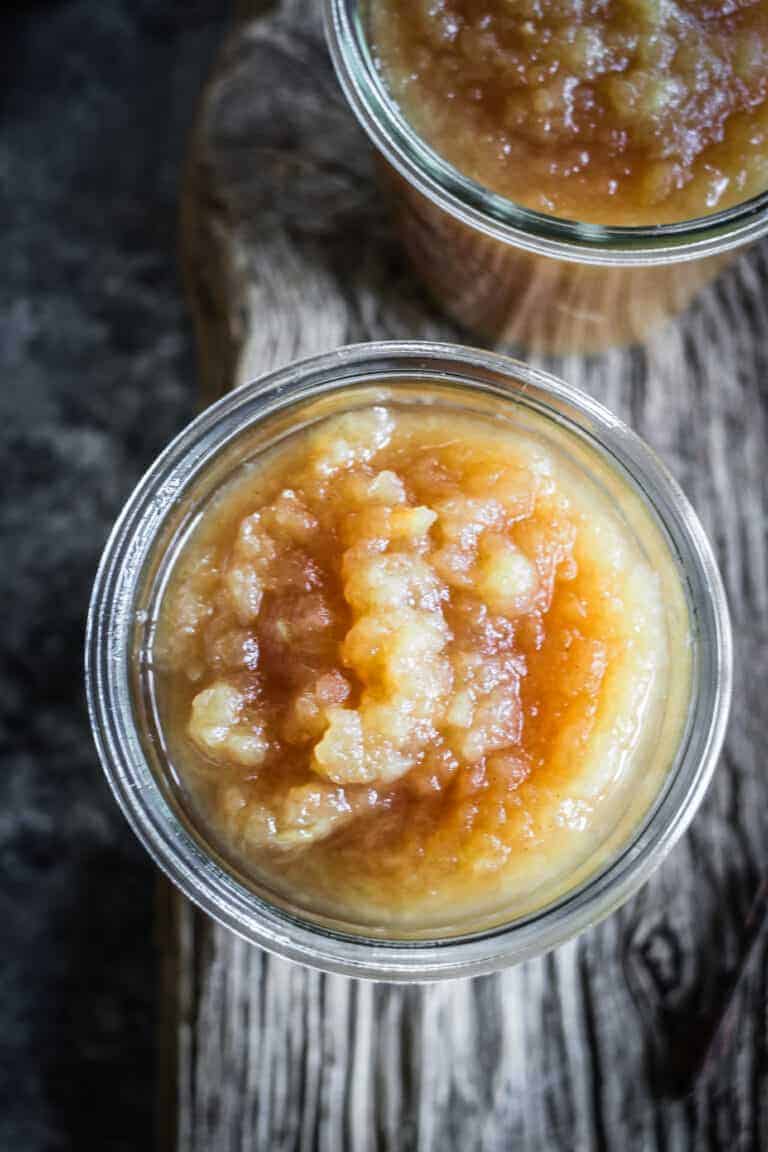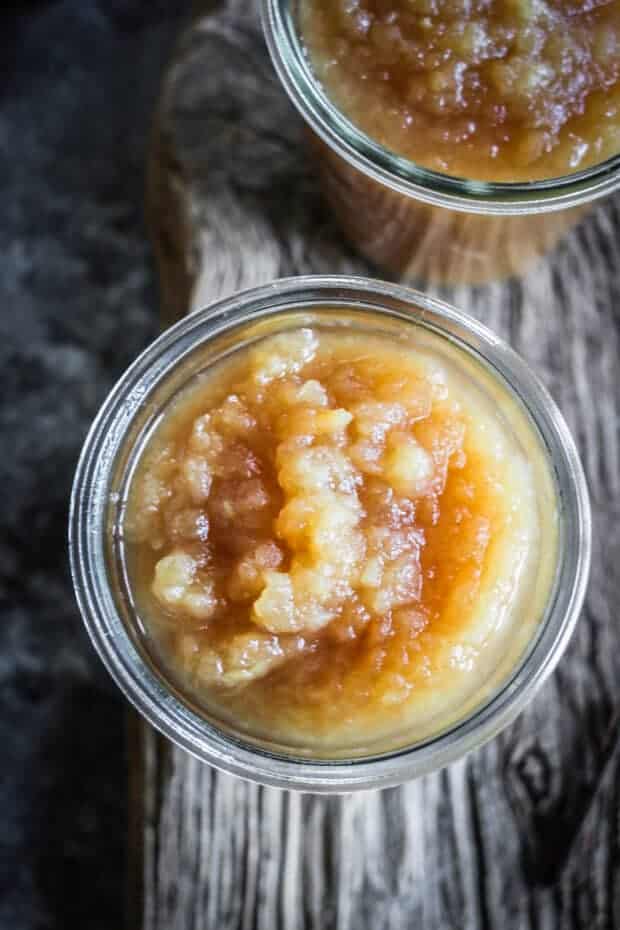 Is there a "Best" Apple for making Applesauce?
Look, let's be real here, you can use ANY combination of apples that you happen to have on hand to make applesauce. Honestly, if someone tells you that you have to use a certain variety they are just being fussy.
That being said, there are some varieties of apples that have textures and flavors that are best suited for making homemade applesauce. Personally, I love mixing and matching any and all of the varieties below to create a combination of both tart and sweet apples in my applesauce.
[mv_video doNotAutoplayNorOptimizePlacement="false" doNotOptimizePlacement="false" jsonLd="true" key="zozcu6jcitsjq6knhwup" ratio="16:9" thumbnail="https://mediavine-res.cloudinary.com/v1613330645/qvcnwbxto03hrstqaf77.jpg" title="Easy Instant Pot Applesauce" volume="70"]
The best apple varieties for making homemade applesauce....
There are 7,500 varieties of apples in existence throughout the world—2,500 of which are grown in the United States. below are some of our favorite, readily available varieties for you to look out for at the grocery.
Golden Delicious
Fuji
McIntosh
Golden Delicious
Granny Smith
Honey Crisp
Pink Lady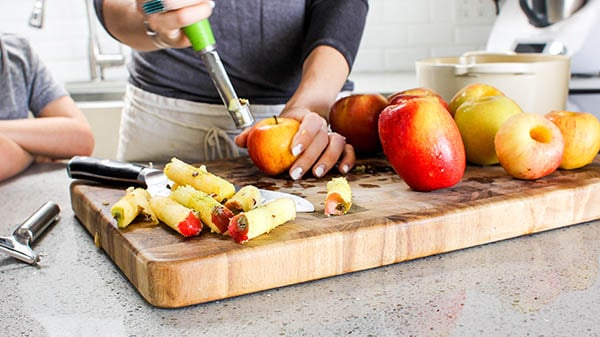 To Peel or Not to Peel? How to prep apples for Instant Pot Applesauce.
This is more personal preference than anything really. You can totally leave the skin on the apples when making applesauce for an extra vitamin boost and more texture. We personally prefer our apples peeled for applesauce, so I have outlined the steps for that below, but you do you friend!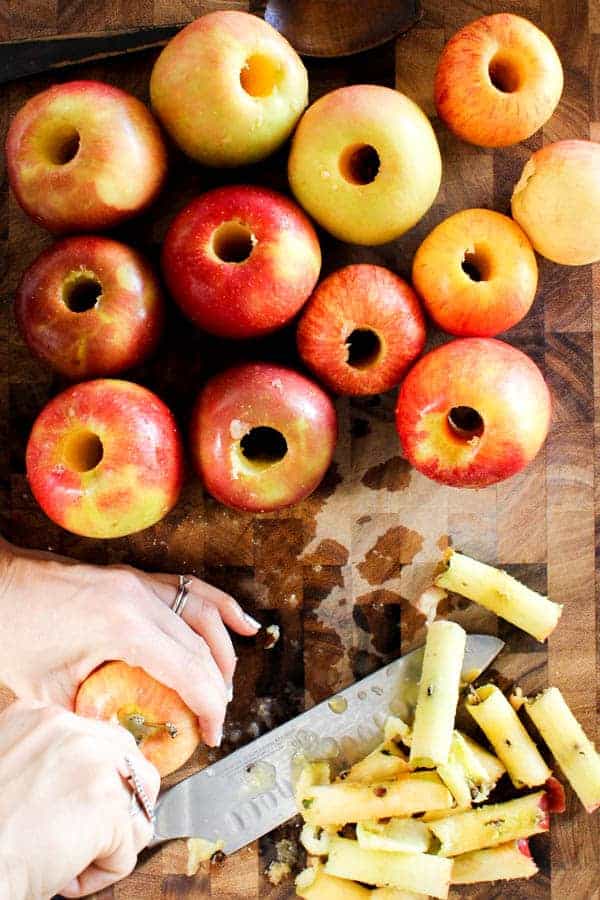 What Spices to Use for Applesauce?
Try them all or leave them out, and see which combination you like the most!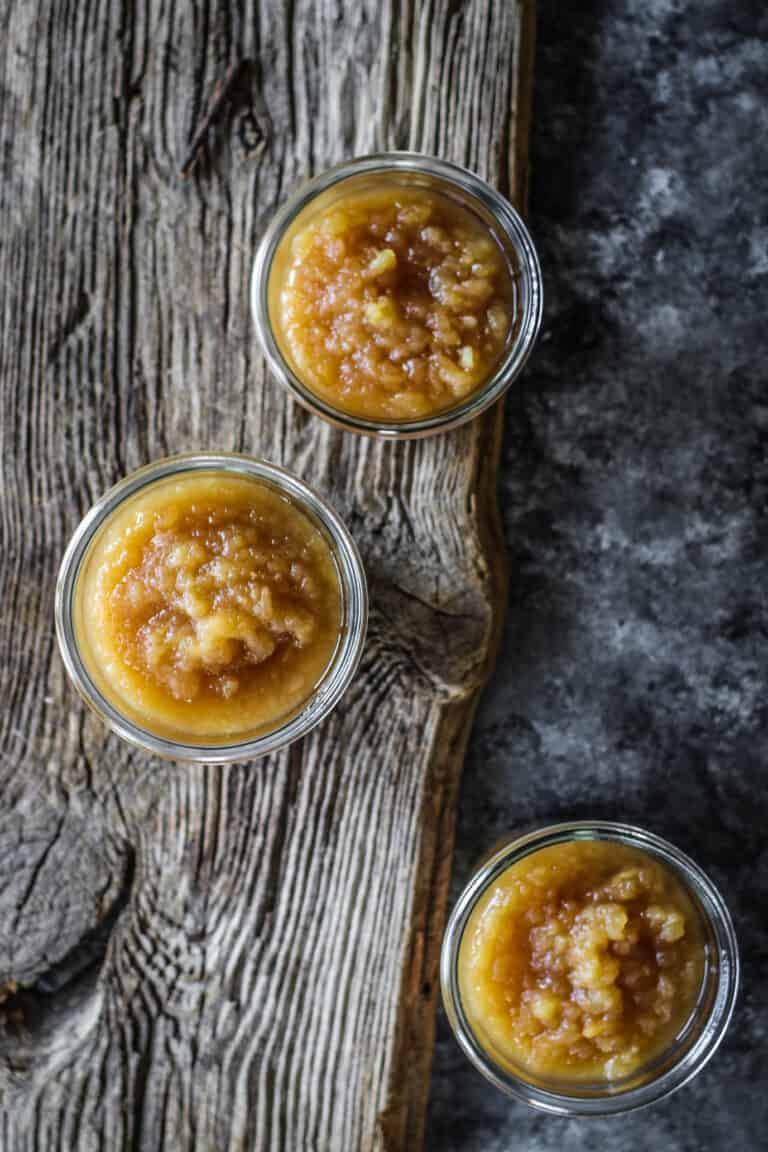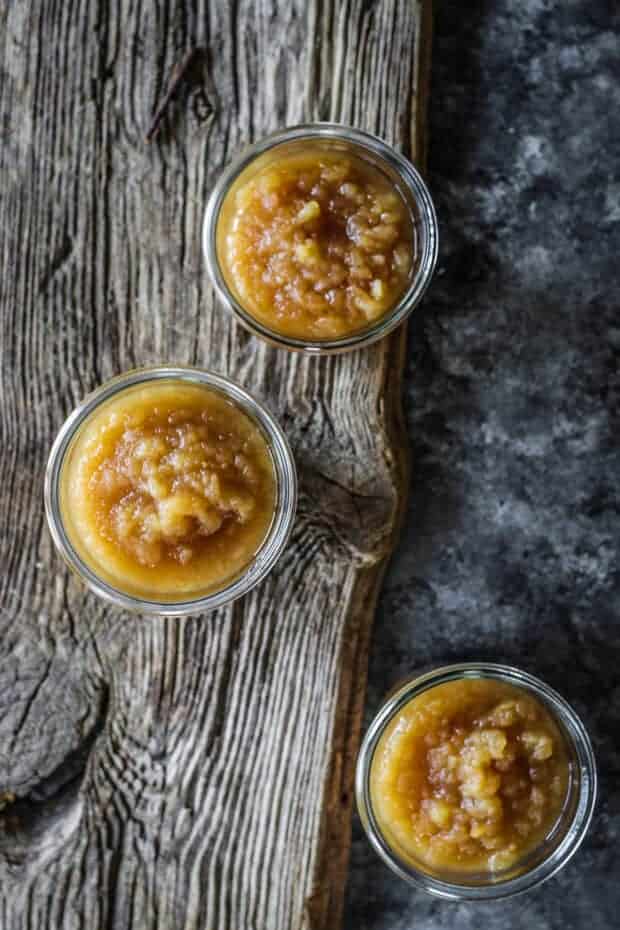 What Sweetener to use for Applesauce?
Any sweetener will work when you are making homemade applesauce. Granulated white sugar, light brown sugar, honey, and light agave nectar are all good options. But more often than not, applesauce needs no sugar at all because apples have just the right level of sweetness on their own.
Is Lemon Juice Required for Applesauce?
Adding a bit of lemon juice into your applesauce will help slow down oxidation, but it's optional. You can also add a pinch of salt to help break down the apples, but again it's optional. See what I mean about applesauce being the easiest, most customizable recipe on the planet?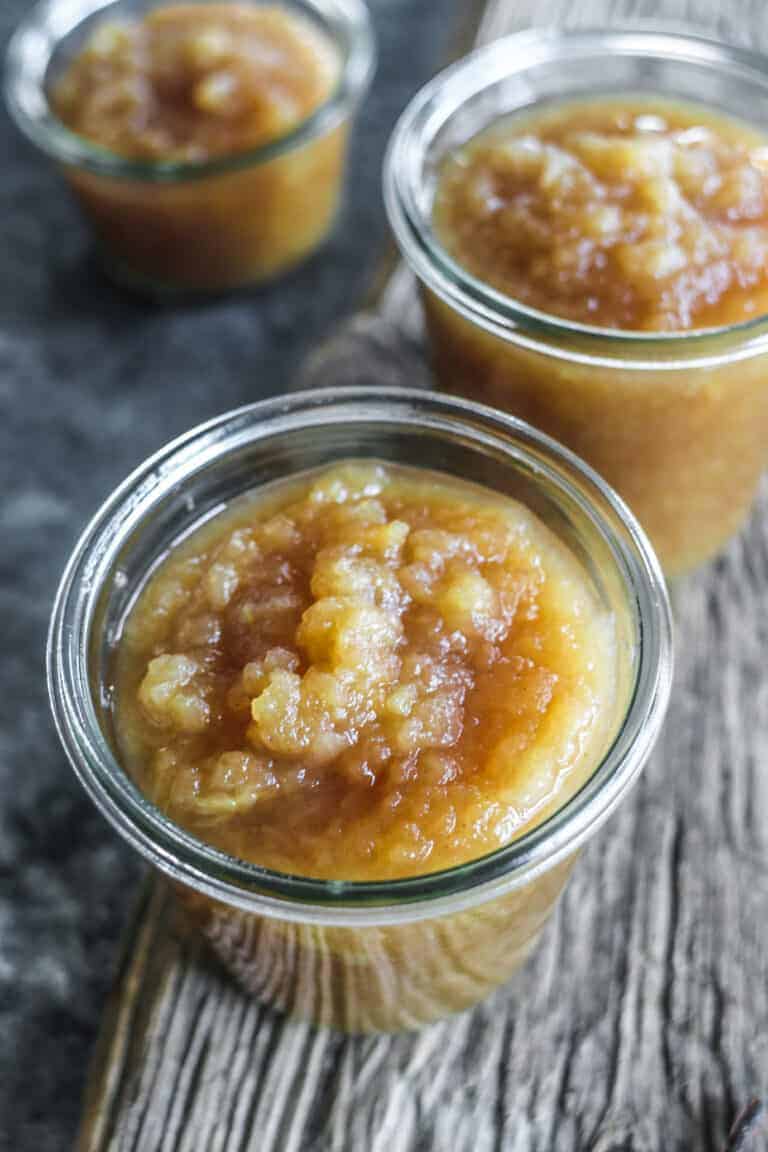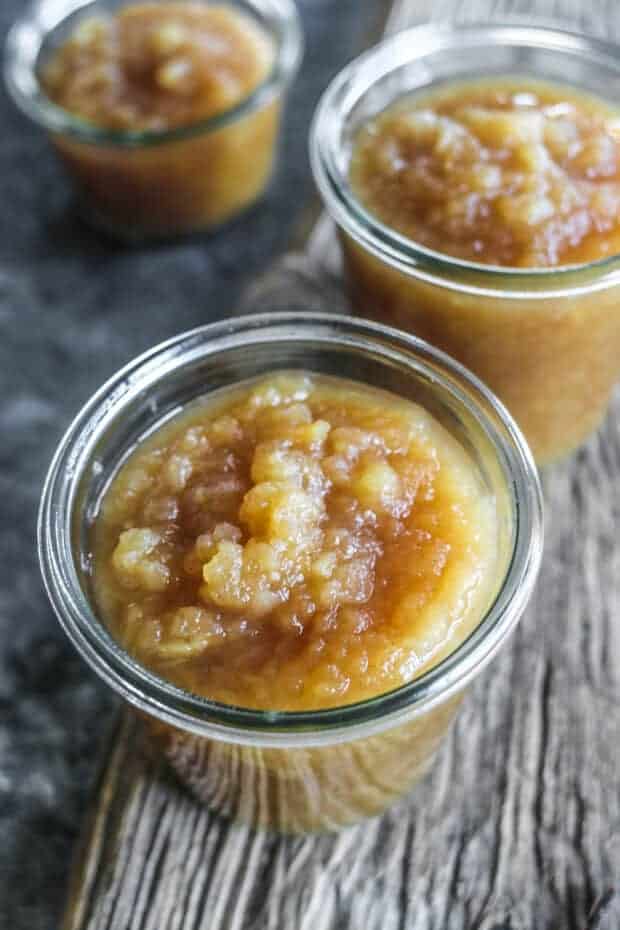 Should I Use Water or Apple Juice when making Instant Pot applesauce?
I personally like to work smarter, not harder in teh kitchen so I use super flavorful fresh apple cider in my Instant Pot applesauce. Most grocery stores carry fresh cider in the refrigerated section near the orange juice. It lends a super intense flavor to my homemade applesauce. But, you could use regular apple juice or even water too. Just know that the flavor will be considerably milder if you choose water.
Should apples be cut into chunks or quartered when making homemade applesauce?
Dear Lord, don't be difficult! Just core, peel if you want to, half those apples and slice them. The Instant Pot doesn't care whether you chunk or quarter the apples, so neither should you!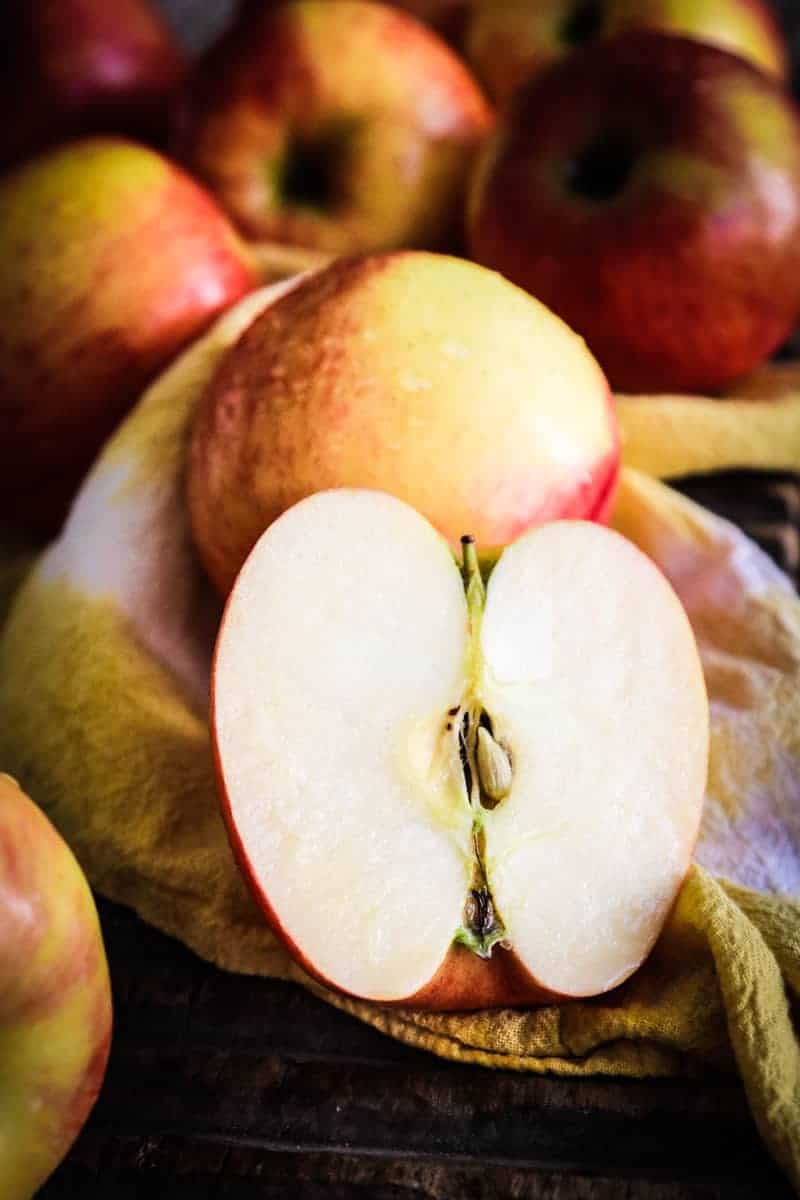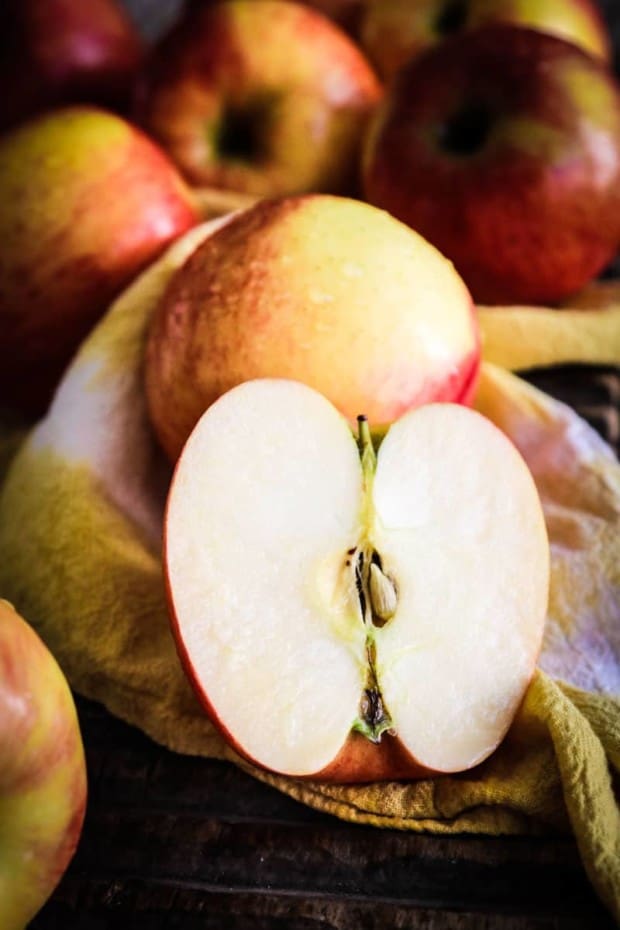 Natural Release or Quick Release?
Release most of the pressure naturally. This prevents a foamy, overcooked applesauce (rapidly releasing the pressure causes the sauce to boil and potentially overcook).
These are the best ways to blend homemade applesauce
You can use a fork or potato masher for chunky applesauce or blend with an immersion blender or regular blender for a smooth applesauce. Either is fine
Can I make applesauce in the crockpot?
YES! If you don't have an Instant Pot, no worries! You can easily make this applesauce recipe in the slow cooker.
Add all of the ingredients to a slow cooker and cook on low for 4 to 6 hours, stirring occasionally so the apples don't stick. When the apples are soft and tender use a potato masher for chunky applesauce or blend with an immersion blender for a smooth applesauce. If you don't have one of those handy dandy immersion blenders, you can always carefully pour the applesauce into a blender and blend until smooth. Just be careful if transferring to a blender carafe. the apples and liquid will be very hot!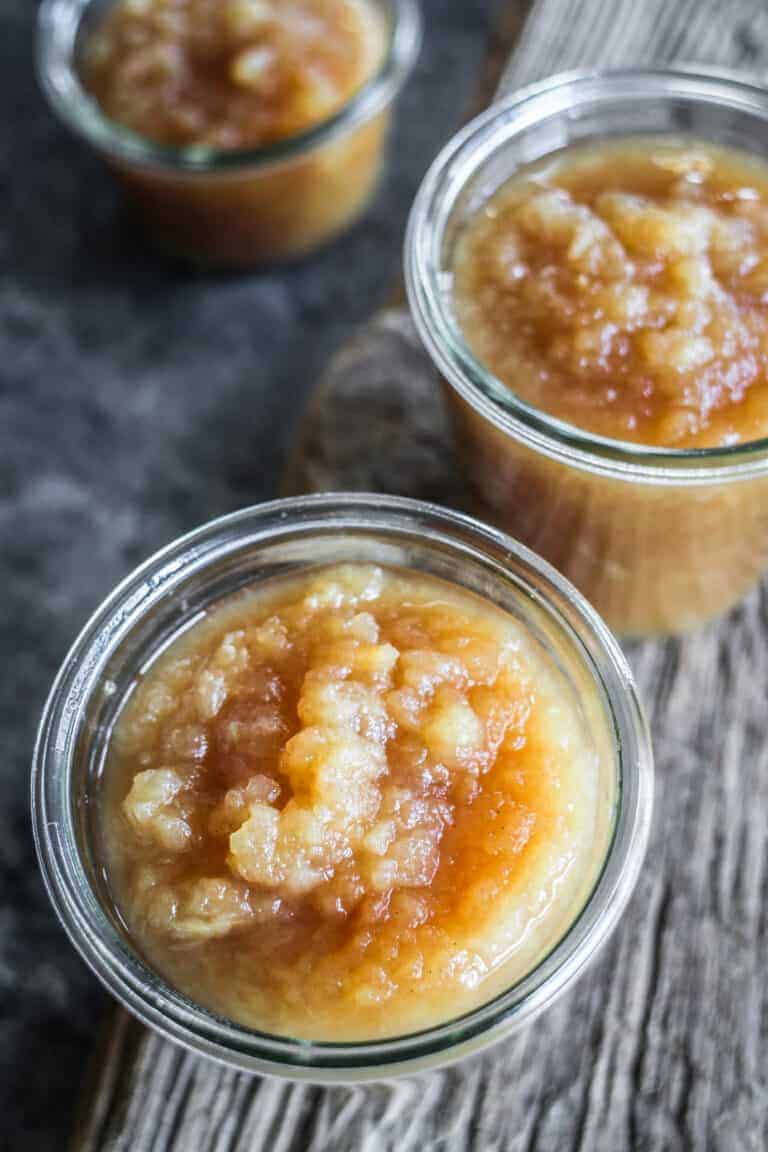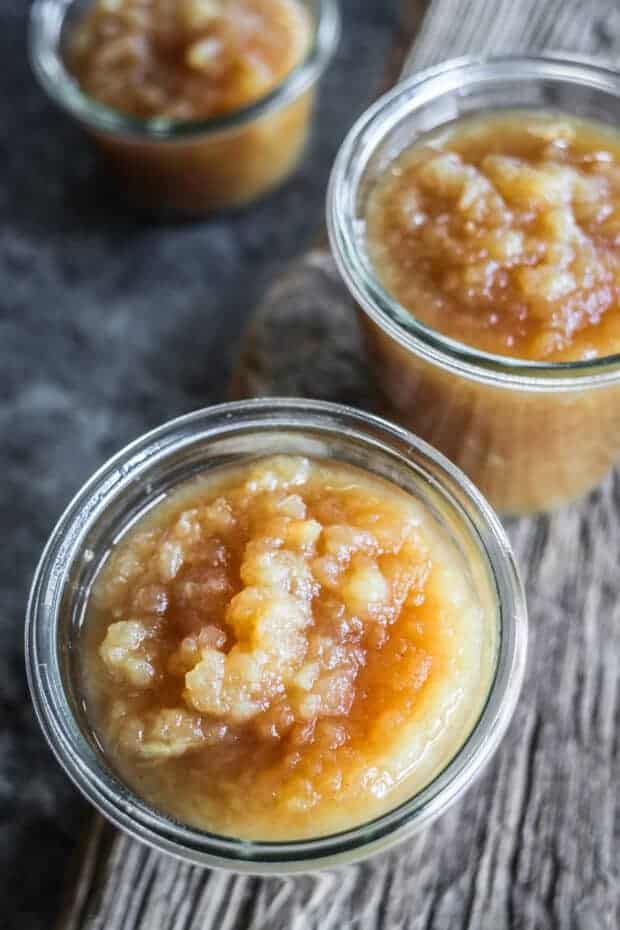 How long does homemade applesauce last?
Homemade applesauce can be refrigerated for a week to ten days; it can also be frozen or canned for longer-term storage.
Unexpected ways to use homemade Instant Pot Applesauce
Believe it or not there are LOTS of uses for applesauce outside of just packing it in a lunchbox or serving it in bowl! Here are a few of our favorite ways to use applesauce in our kitchen.
You can use applesauce as an egg replacement in your favorite pancake recipe! Simply replace the eggs for ¼ cup of applesauce.
Top your morning yogurt bowl with a generous scoop of Instant Pot applesauce!
Add applesauce to your morning smoothie.
Mixed this Instant Pot applesauce into a bowl of oatmeal with bit of cinnamon and forget all about those prepackaged flavored oatmeals from the store once and for all!
You can use applesauce as a subsititue for oil in many recipes.
For what it's worth, warm applesauce over a scoop of vanilla ice cream is like little bits of heaven for your tastebuds!
Eat applesauce with a favorite tangy cheese. Manchego from Spain or extra sharp cheddar are my favs, but any tangy or sharp cheese will do nicely.
Looking for more apple inspired recipes?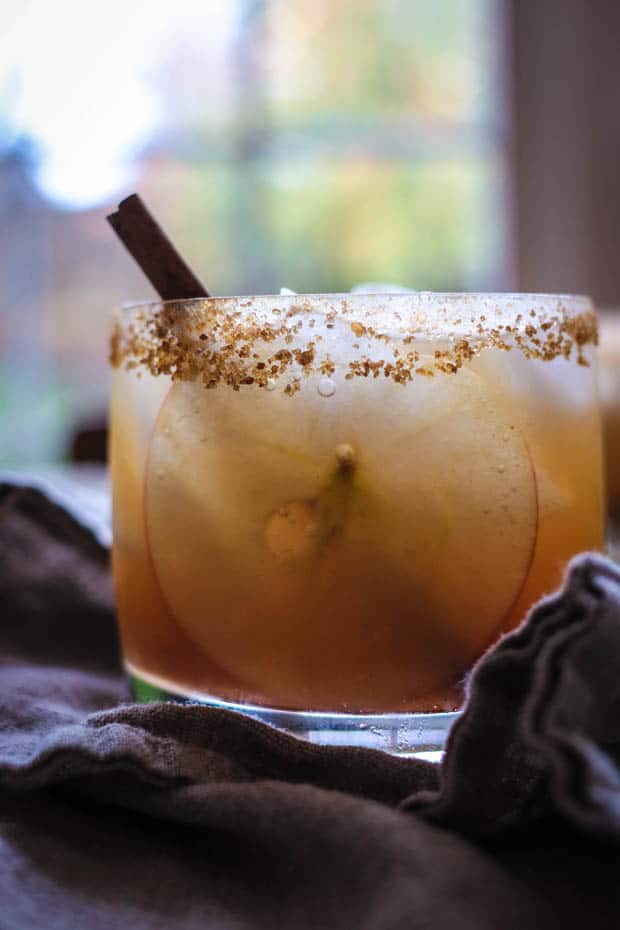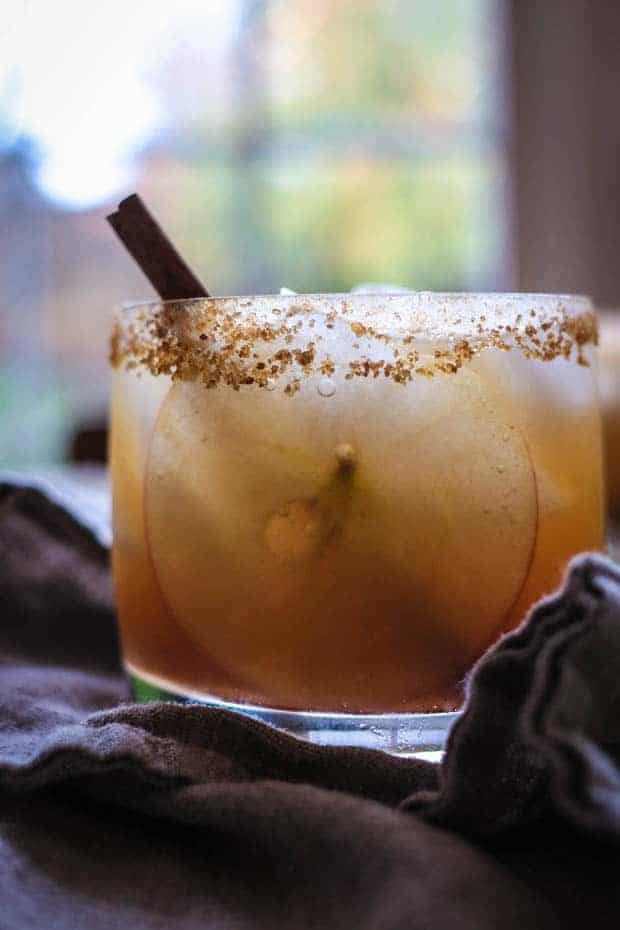 This is the best way I know to use up leftover apple cider and homemade applesauce from the holidays! This cocktail literally screams fall with every sip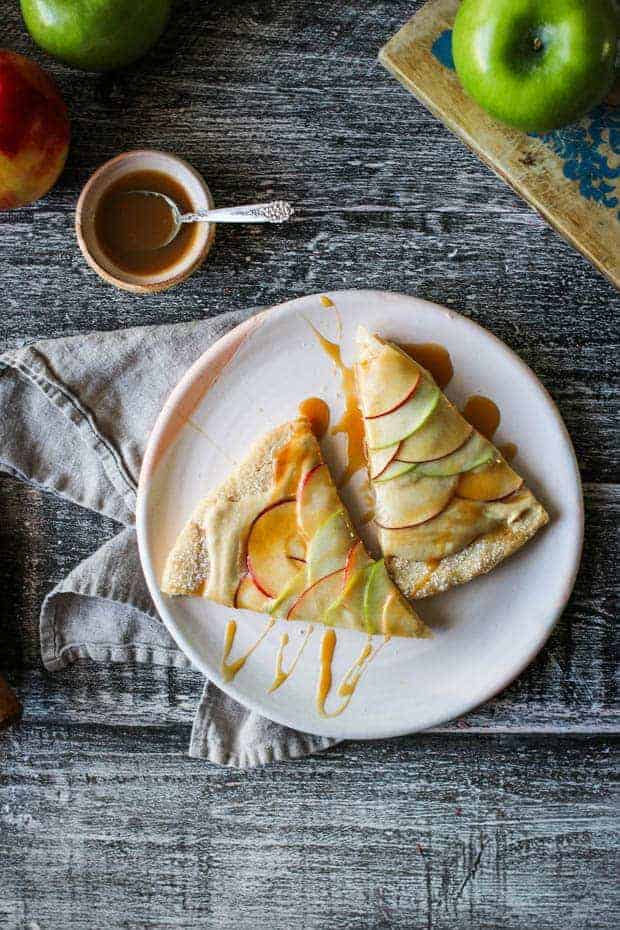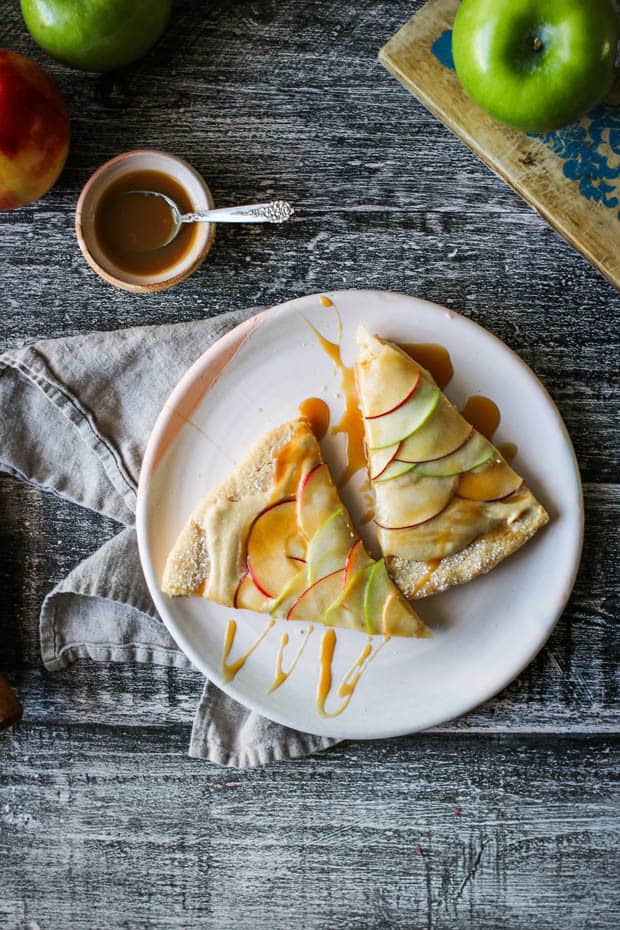 A perfectly tender, sugar cookie crust that's topped with a brown sugar cream cheese "sauce", and paper thin slices of apple all drizzled in caramel!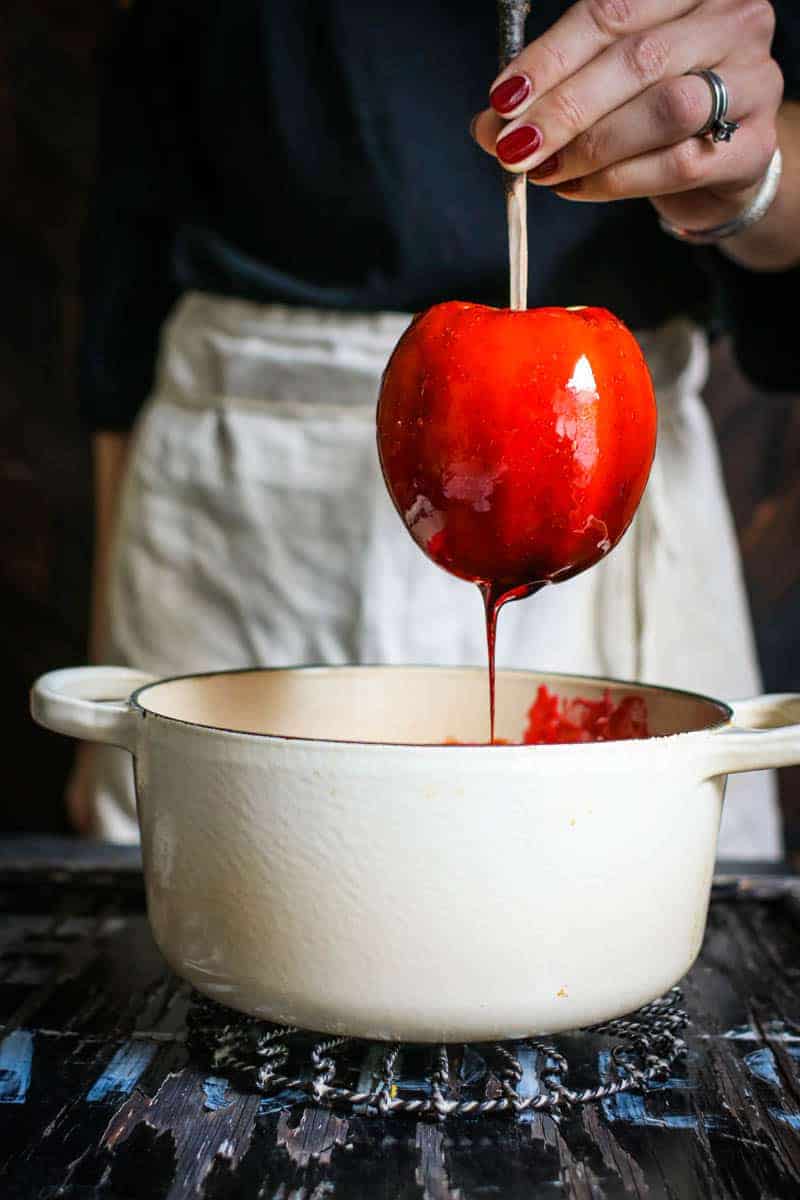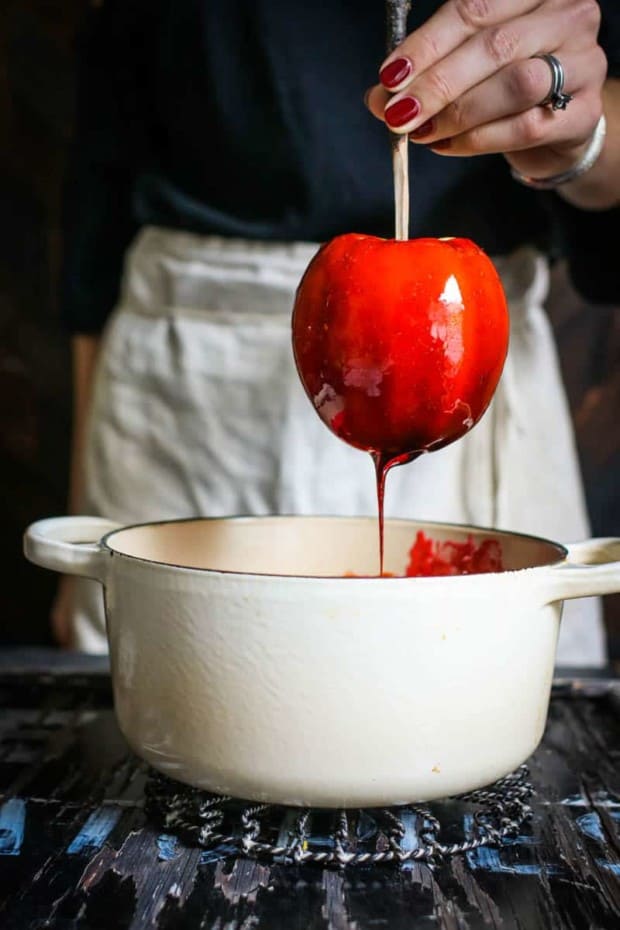 Candy apples are the quintessential treat of Halloween. Our version of this holiday classic is packed with all the flavors of a delicious cup of apple cider!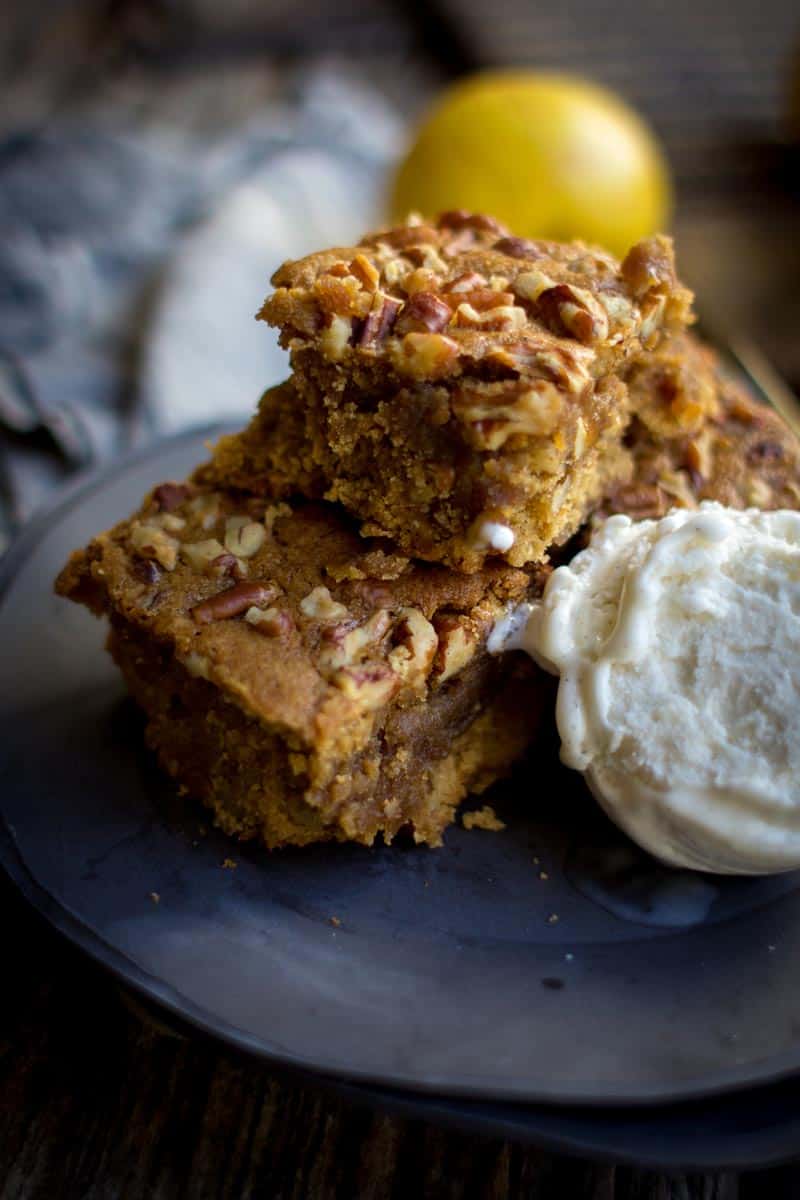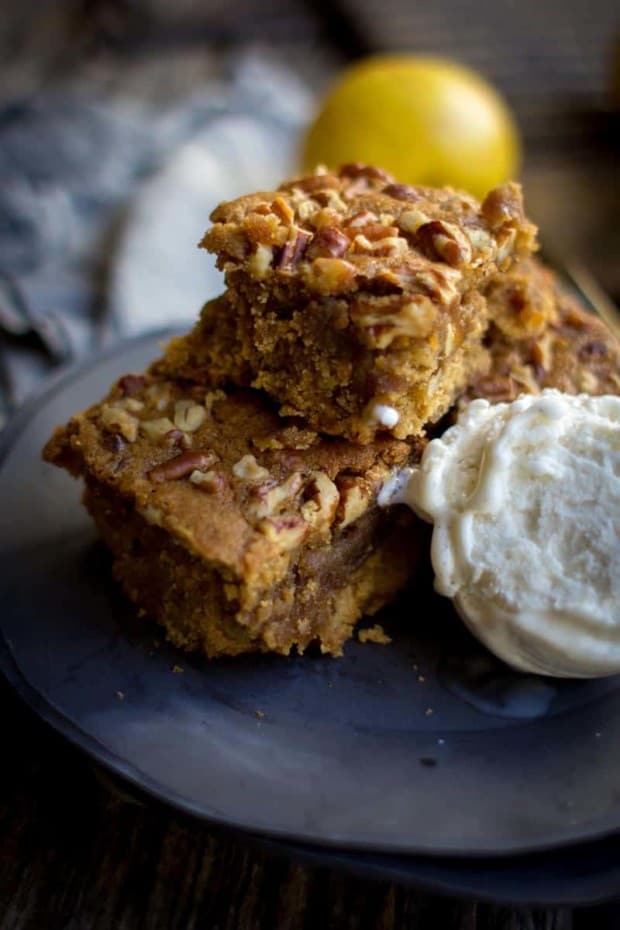 Lucious blondies with shredded Granny Smith Apple, a ribbon of rich apple brown butter running through them, and lots of crunchy toasted pecans. Pure fall bliss for your taste buds!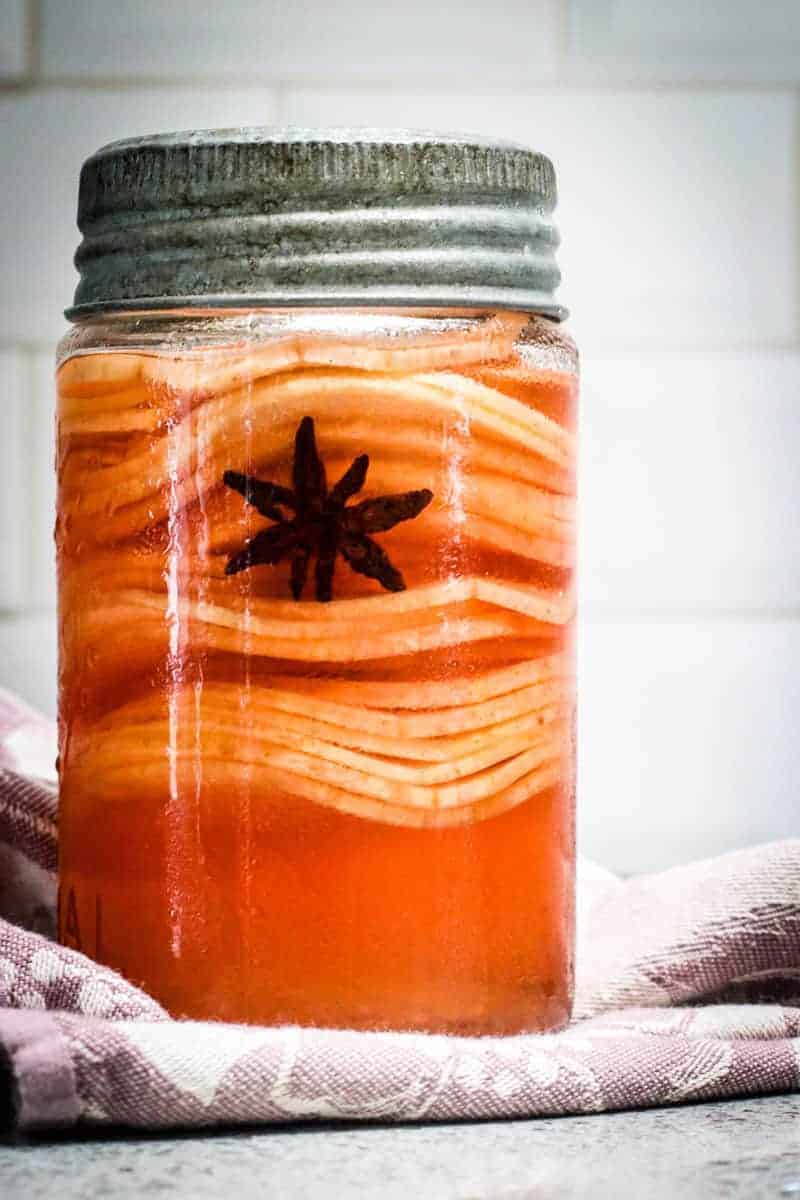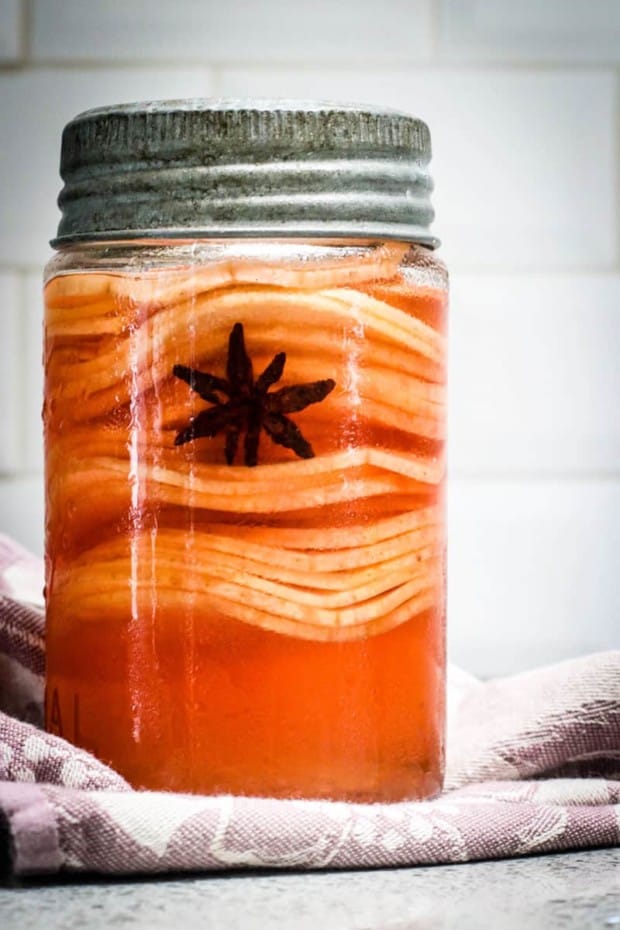 These quick pickled apples are tart, tangy, sweet, & a bit sour all at the same time making them the perfect pop of flavor to brighten up salads, sandwiches, & cheese boards. While they're delicious enough to stand alone, they can also provide a much needed burst of acidity when paired with rich meaty mains like pork roast.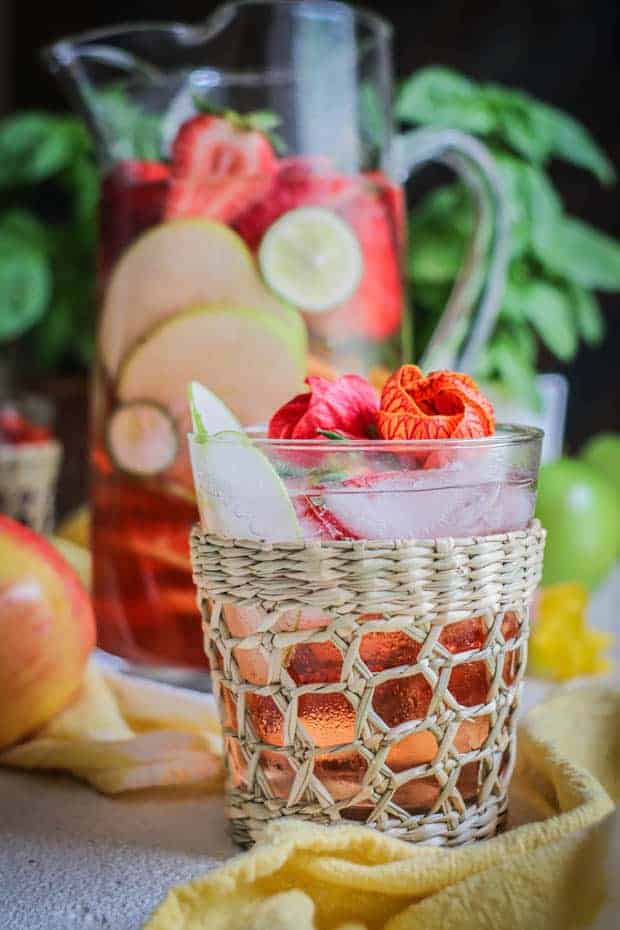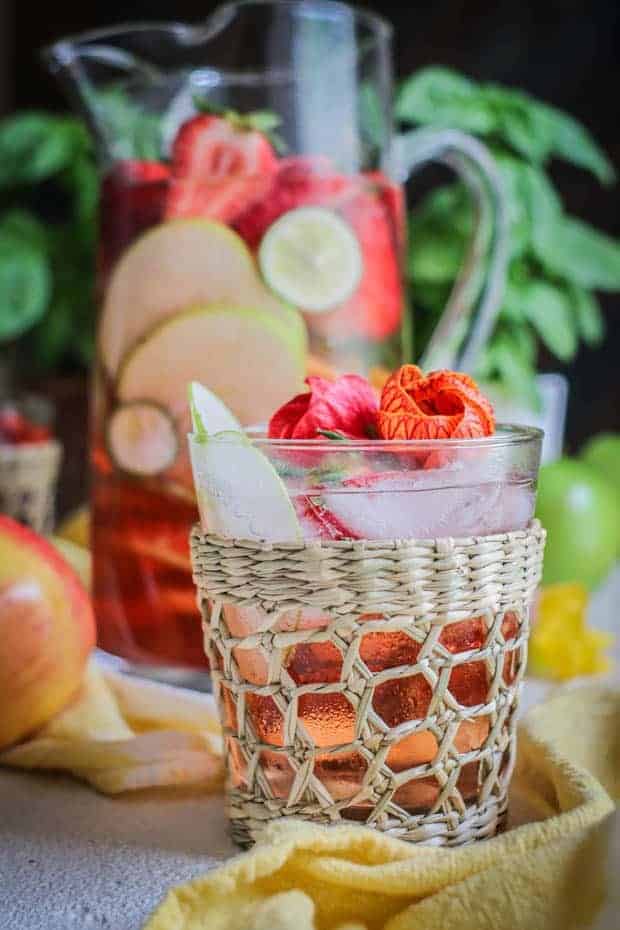 This sangria combines rosé, elderflower liqueur, both sweet and tart apples, strawberries, and limes for the ultimate sangria!
If you've made our Instant Pot Applesauce recipe I would be so grateful if you would rate the recipe and let me know what you think in the comments below!
Print
Instant Pot Applesauce recipe
Don't forget to rate the recipe with a STAR rating and let me know what you think about this Instant Pot Applesauce recipe in the comments below. I just love hearing from you. Your reviews/comments really help other people that visit This Mess is Ours!
Author:
Prep Time:

15 minutes

Cook Time:

15 minutes

Total Time:

30 minutes

Yield:

5 cups

1

x
Category:

Side dish

Method:

Instant Pot

Cuisine:

American

Diet:

Gluten Free
4 pounds mixed apples, cored, peeled if desired, and chopped 
¾ cup fresh apple cider, apple juice, or water
2 tablespoons light brown sugar, packed
1 teaspoon ground cinnamon
⅛ teaspoon coarse kosher salt
Instructions
Prep the apples and set aside.
In the insert of an Instant Pot combine the apple cider, brown sugar, cinnamon, and salt. Whisk to combine. Add apples and toss to coat.
Lock the lid onto the Instant Pot and set the knob to "sealing". Press the "manual" or "pressure cook" button and the "+" or "-" until the display reads 5 minutes.
When the cook time is over, allow the pressure to release naturally for 10 minutes, then follow the manufacturer's instructions to perform a quick release for the remaining steam. 
Remove the lid, stir or mash with a potato masher for chunky applesauce or use a blender or immersion blender for silky smooth applesauce.
Notes
Cook time DOES NOT reflect the 20 minutes or so it takes for the Instant Pot to come to pressure. 
Nutrition
Serving Size:

½ cup sauce

Calories:

45

Sugar:

9.3 g

Sodium:

17.5 mg

Fat:

0.1 g

Carbohydrates:

12 g

Protein:

0.2 g

Cholesterol:

0 mg
Keywords: applesauce recipe, apple sauce recipe, instant pot applesauce recipe, applesauce, easy applesauce
Recipe Card powered by
I just love hearing from you! Your reviews and comments really help others that visit This Mess is Ours. Want to be a part of our online community outside of the blog? It's easy!! All you have to do is follow @THISMESSISOURS on FACEBOOK, INSTAGRAM, TWITTER, YOUTUBE, or PINTEREST to see cooking demos, and peeks into our day-to-day life.